On the corner of the block where I live are three easy dinner options: Chinese, pizza, and barbeque. On a busy week it's tempting to alternate between the three of them so I have a few go-to recipes that are almost as quick and easy.
This pasta bake is one of them. Boil some pasta, throw a few ingredients in a frying pan, add the sauce ingredients, mix everything together, and throw it in the oven to bake while you take a shower, do the laundry, or make yourself and gin and tonic.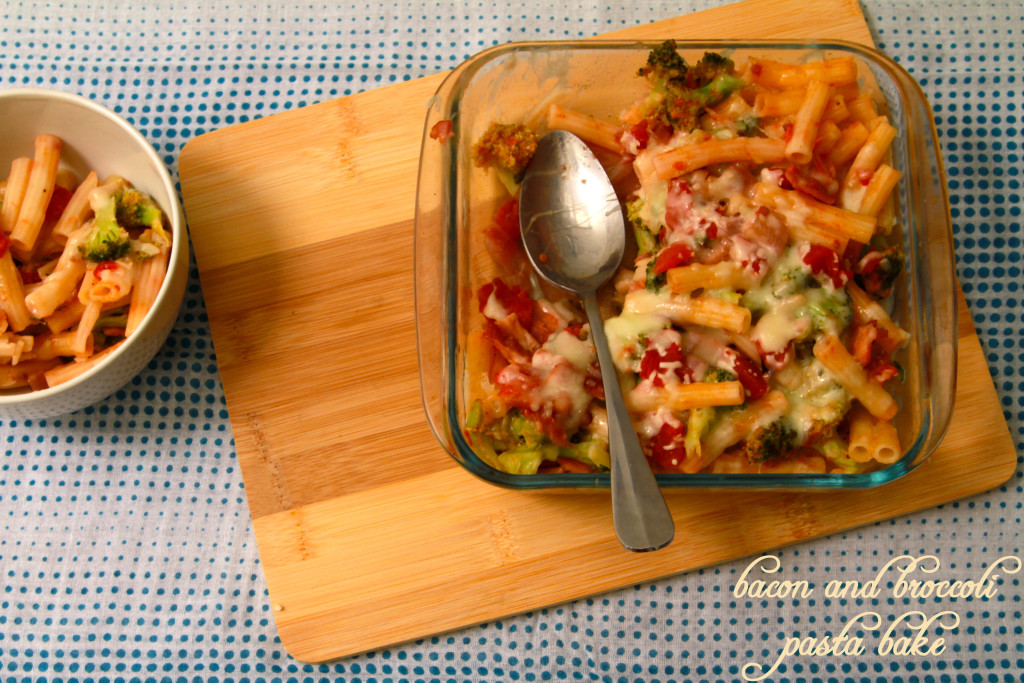 Bacon and Broccoli Pasta Bake
Serves 4
Ingredients
250g pasta (I used gluten free)
1 teaspoon olive oil
6 rashers of bacon
1/2 red onion, chopped
1 cup broccoli florets
2 cloves garlic, crushed
1 (14oz) can chopped tomatoes
1/2 teaspoon salt
1/2 teaspoon sugar
1/4 teaspoon freshly ground black pepper
1/2 cup cream cheese (1/2 an 8oz package)
1/2 cup grated mozzarella cheese
Directions
In a large pot, boil pasta until al dente. Drain and set aside.
In a frying pan over medium heat, fry bacon until crispy. Remove from the pan and drain all but 1 tablespoon of bacon juices.
In remaining bacon juices, fry onion. Add broccoli and cook for a few minutes, until tender. Add garlic for the last minute. Add tomatoes, salt, sugar, and pepper and cook for about 5 minutes, reducing the liquid. Remove from heat and stir in cream cheese. Pour into a 9×9 inch baking dish and sprinkle with cheese.
Bake at 350°F (175°C) for 20 minutes.
Recipe source: British Girl Bakes