Many years ago, I worked in a rib restaurant in Canada for a few summers and shamelessly exploited my staff discount on their Carolina Honey basted baby backs. Since an outdoor grill has been on my and Jeff's shopping list for over two years now, we bake our ribs in the oven and I can honestly say that they rival the heaping plates I enjoyed all those summers ago.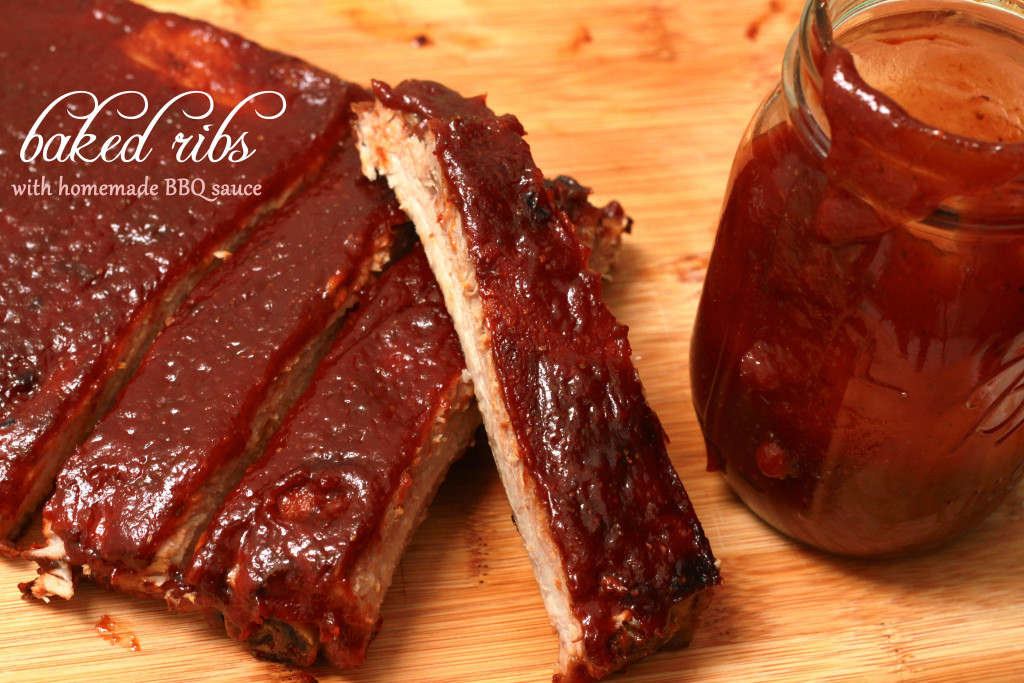 These slowly baked ribs are so tender that the meat falls off the bone and broiling them at the end gives them a crisp caramelized coating enhanced by homemade BBQ sauce. Making your own sauce is easy and once you taste it, you'll never buy it in a bottle again. You probably have all of the ingredients in your kitchen except for maybe celery seed and mustard seed, which you can find at most grocery stores. This recipe is my preferred balance of sweet and tangy but feel free to play around with the amount of sugar and vinegar.
Baked Ribs with Homemade BBQ Sauce
Serves 4
Ingredients
For the rub:
1/2 cup brown sugar
1 tablespoon paprika
1 teaspoon ground mustard
For the BBQ sauce:
1 teaspoon salt
1 teaspoon celery seed
1 teaspoon mustard powder
2/3 cup brown sugar
1/4 cup vinegar (white, apple cider, red wine… any type is fine)
1 tablespoon paprika
1 tablespoon Worcestershire sauce
Directions
Preheat oven to 300°F. Mix the rub ingredients together and rub into both sides of the ribs. Place the ribs on a large baking sheet, meaty side facing down. Bake in preheated oven for 2 – 2 1/2 hours. To check that they're done, lift them in the middle with tongs and if the sides drop down, they're ready.
Meanwhile, mix all of the BBQ sauce ingredients together in a small saucepan and simmer for 5 minutes. Set aside.
Set oven to broil. Brush the ribs with about 1/3 of the BBQ sauce and broil for 2 minutes. Flip them so that the meaty side is facing up and brush with remaining BBQ sauce. Broil for another 2 minutes and serve.
Recipe source: British Girl Bakes