I love roast ham and I love having leftovers for days but eventually everyone gets bored of eating ham sandwiches. Do something special with your leftovers and try this gourmet grilled sandwich with creamy brie and tart apple.

At this point I couldn't resist the sandwich anymore. I had to take photos one-handed while devouring half of the sandwich with my other hand.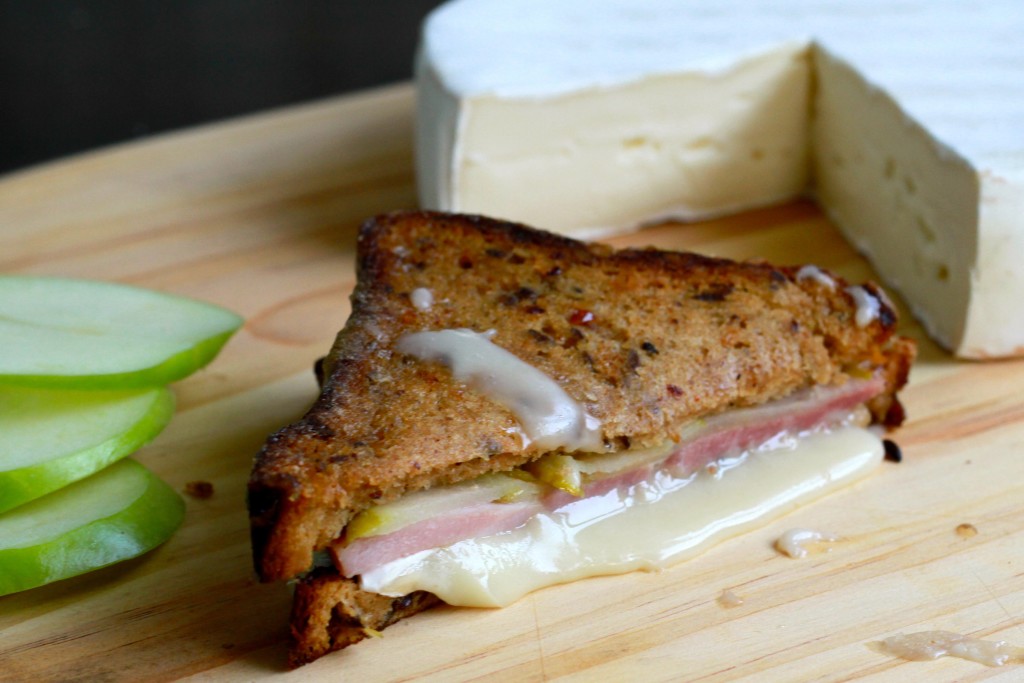 Grilled Ham, Brie and Apple Sandwich
Serves 1
Ingredients
2 tablespoons butter
1 Granny Smith apple, sliced thinly
2 slices cooked ham
1/4 of a small wheel of brie
Directions
In a frying pan over medium high, melt 1 tablespoon of butter. Add apple slices and cook gently until soft, about 3 minutes.
Remove apple from the pan and add ham to warm through. Set side and reduce heat to medium low.
Spread two slices of bread with butter on one side. Turn the first slice butter side down and on the side without butter, arrange the apples in a layer. Add a layer of ham and a layer of brie.  Top with the second slice of bread with the buttered side facing up.
Place sandwich in the pan with another pan on top, using canned food to press the top pan down on the sandwich. Cook for two minutes and then flip it over and cook for another two minutes.
Serve with the remaining slices of apple to garnish.
Recipe source: British Girl Bakes