On my first trip to California a few years ago I was shocked by Starbucks and ATM drive-thrus and being able to fast forward commercials. After six months of living here I still haven't caved in to any of these, party because we have an ATM and coffee shop on the corner of our block and we don't have cable. I understand the convenience but it makes me sad that life has become so fast-paced. So I rebelled against convenient, processed, fast-forwarded lifestyles and dusted off my mortar and pestle.
I wanted to make a mojo from scratch but several grinds of my rebellious garlic cloves later, I had a slightly crushed mixture that definitely didn't resemble anything that could be served as a sauce. I broke down and transferred everything to my new Vitamix and five seconds later – done.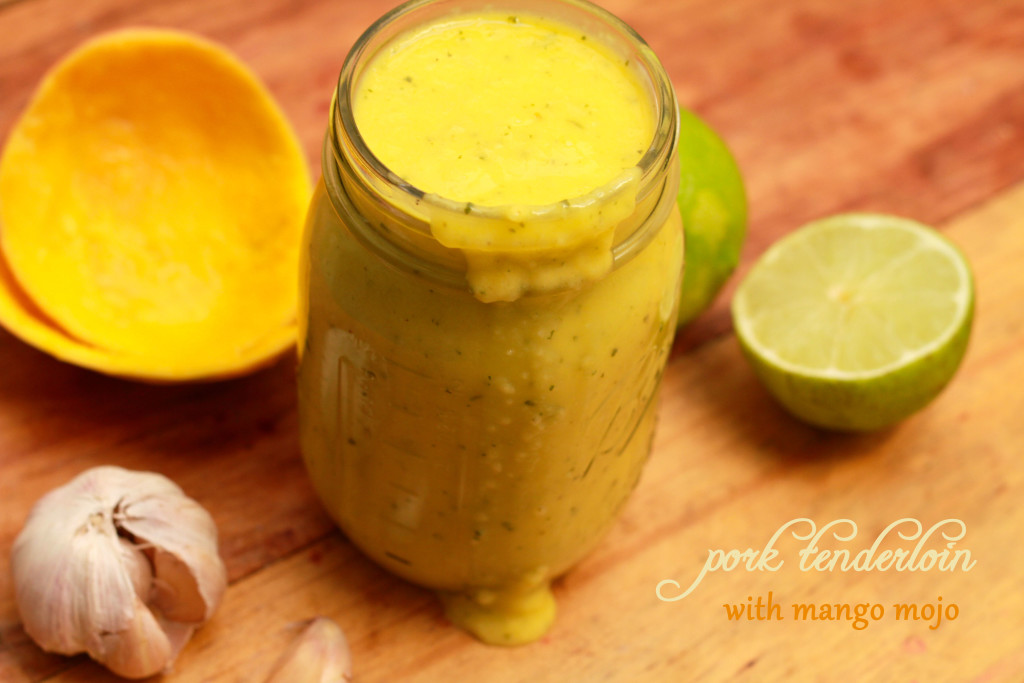 I love this recipe because it's quick to prepare (especially if you have a food processor or blender) but looks like you've slaved away for hours in the kitchen. The citrusy mango mojo will take you straight to Cuba or Miami or whatever tropical place you'd like to go. Serve with salads and warm tortillas or crusty bread.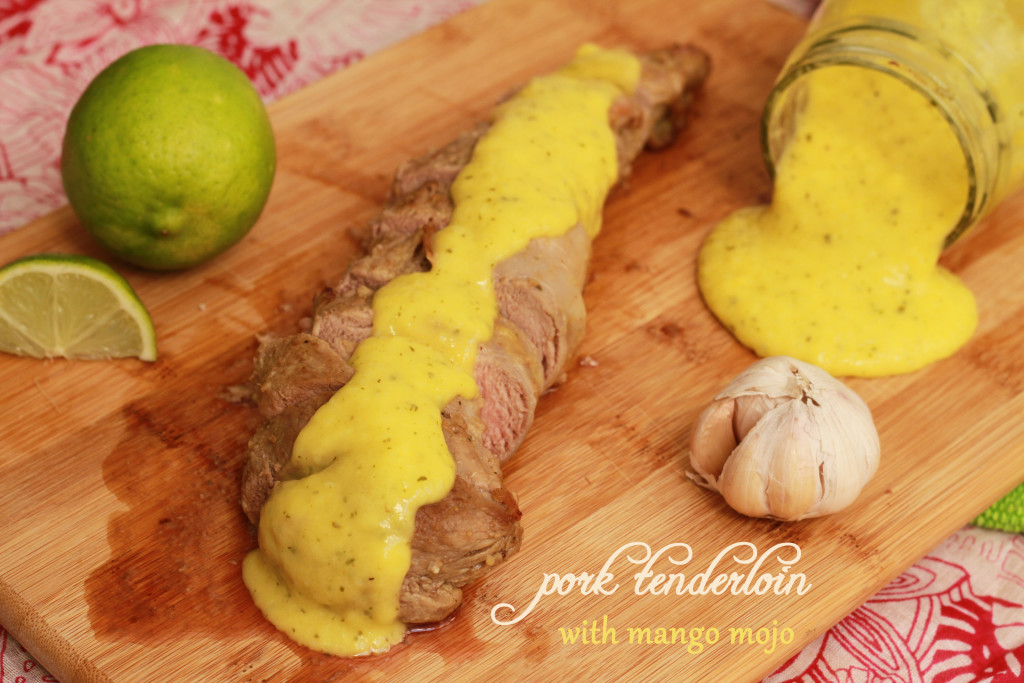 Pork Tenderloin with Mango Mojo
Serves 6
Ingredients
1 tablespoon oil
2lb – 3lb pork tenderloin
For the mango mojo:
1 mango, peeled with stone removed
2 limes, juiced
1 teaspoon salt
1/2 teaspoon freshly ground black pepper
1 tablespoon white wine vinegar
2 tablespoons sugar
4 cloves garlic
1/2 onion
1/4 cup olive oil
1 small handful of fresh cilantro (coriander)
1/2 jalapeño, deseeded (you can adjust this depending on how spicy you do or don't like things)
Directions
Place mango, lime juice, salt, pepper, vinegar and sugar in a food processor or blender and blend to make  a smooth puree. Add garlic, onion, olive oil, cilantro and jalapeño and pulse to combine. Set aside.

Trim the fat and tendons from the pork tenderloin with a sharp knife. Preheat oven to 425°F (220°C).

Place a roasting pan over two oven burners at medium-high heat. Drizzle with 1 tablespoon of oil and when it gets hot and starts to ripple, put the pork tenderloin in the pan. Sear for 2-3 minutes each side.

Brush or rub the pork with 1/4 cup of the mojo and place in the oven in the roasting pan. Cook for 15-20 minutes, until the internal temperature is 140°F.
Meanwhile, pour remaining mango mojo into a small pan over medium high heat and bring to a boil. Reduce heat and simmer for 3-4 minutes. Set aside to cool.
Remove the pork tenderloin from the oven and place on a serving dish covered with foil. Let it rest for 5 minutes before slicing and serving with warm mango mojo.
Recipe source: British Girl Bakes