When I packed my bedroom into boxes and headed to university, everyone told me these would be the best years of my life. In the hours I didn't spend in lectures or the library I learned to cook, explored Scotland with new friends, ran my first half marathon, and drank a lot of wine. But I didn't feel that this was as good as it would get. And I was right. Moving to Costa Rica, teaching English with girls who were equally confused about what to do with their lives, learning Spanish from the locals, starting up a business, throwing myself into it and watching it grow… those years were more challenging, more exciting, and more rewarding. I couldn't imagine that things could get any better.
Then I met The One and my life was rocked out of the neat compartments I had built. Gradually, over the next two years, everything has slid into place. I filled out mountains of paperwork, got a visa for the US, sold my business and moved to California with him. He found a job, we found a gorgeous apartment, and I saw an advert for my dream job and fought for it for a month until they gave it to me. We had the most perfect wedding I could have imagined and after friends and family went home to the countries they had come from, life continues. And that's where we are right now.
Working, exploring, planning, and smiling a lot. One of the many things that makes us smile is this Sweet Potato Tart.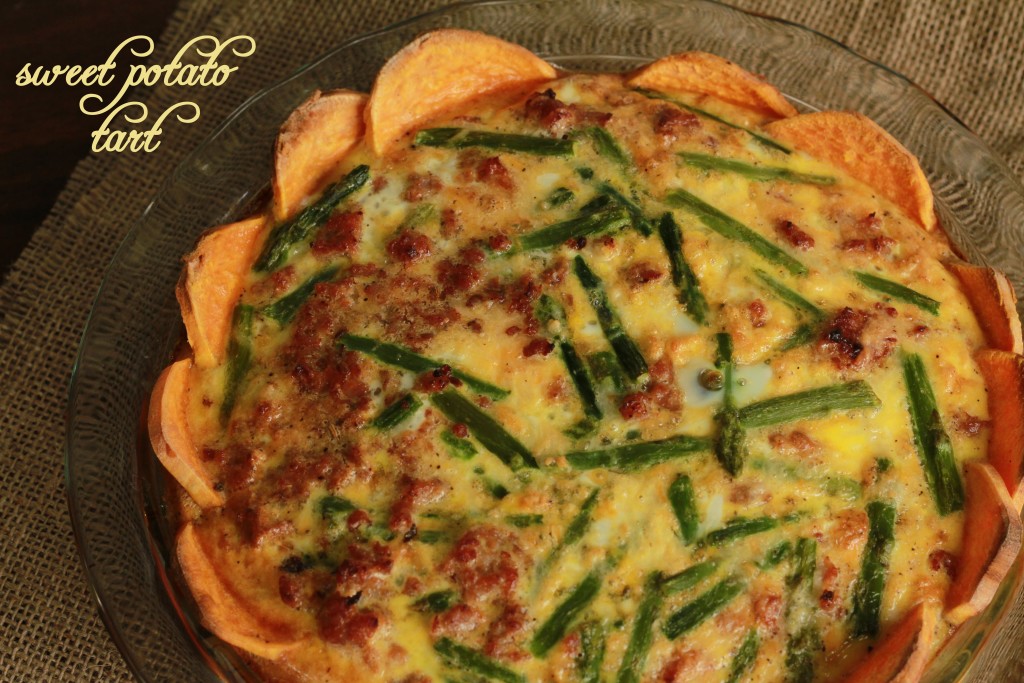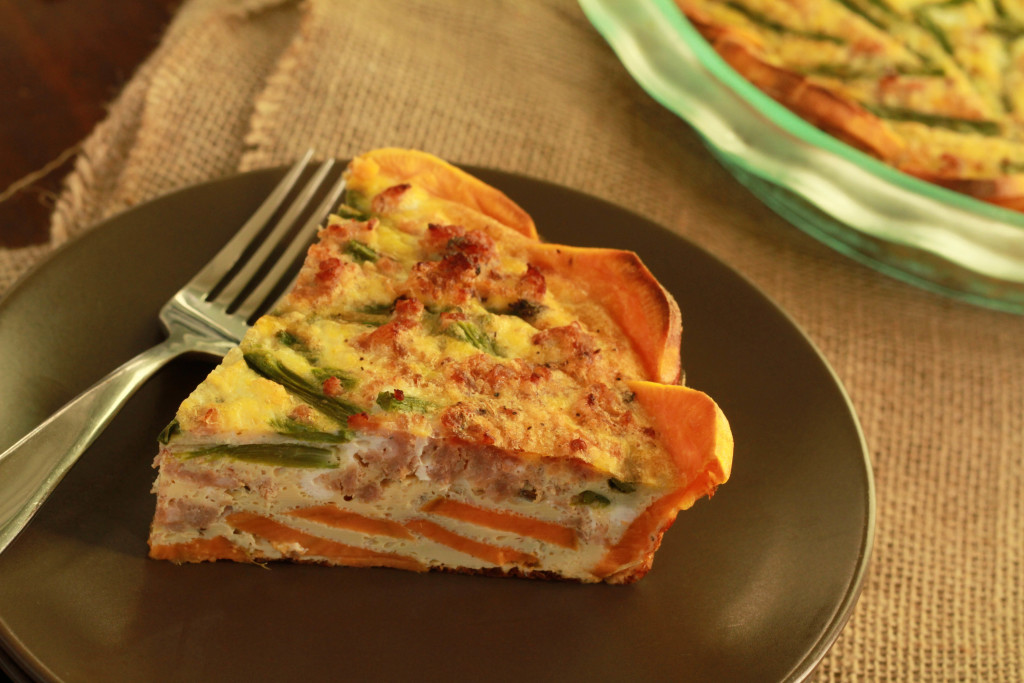 Tender slices of sweet potato make up the crust of this tart, which is filled with a mixture similar to a frittata. My favorite fillings are spicy sausage and asparagus but you can add whatever you like. Eat the tart hot out of the oven and enjoy leftovers cold or warm them up – both ways are delicious.
Sweet Potato Tart
Serves 4-6
Ingredients
cooking oil spray
2 medium sweet potatoes
about 2 cups of vegetables fillings, chopped (try asparagus, broccoli or bell peppers)
about 1 cup of meat fillings (I like sausage, bacon or ham)
8-12 eggs
salt and pepper to taste
Directions
Preheat oven to 375°F.
Spray a 9 inch pie dish with cooking oil. Peel sweet potatoes and slice thinly into rounds. Line the base and sides of the pie dish with sweet potato slices, overlapping them slightly to cover the whole surface of the dish. Spray again with cooking oil and bake in preheated oven for 20 minutes to soften the sweet potato.
Steam any vegetables you are going to use as fillings and cook, shred, dice or crumble any meat.
When the sweet potato base is tender, remove it from the oven and sprinkle with fillings.
In a bowl, beat 8 eggs and season with salt and pepper. Pour over the tart. How many eggs you need depends on how many fillings you have so if there are fillings sticking out above the egg, beat more eggs and add.
Bake in preheated oven for 40 minutes.
Recipe source: British Girl Bakes