1 Frosting Recipe for 100s of Flavours!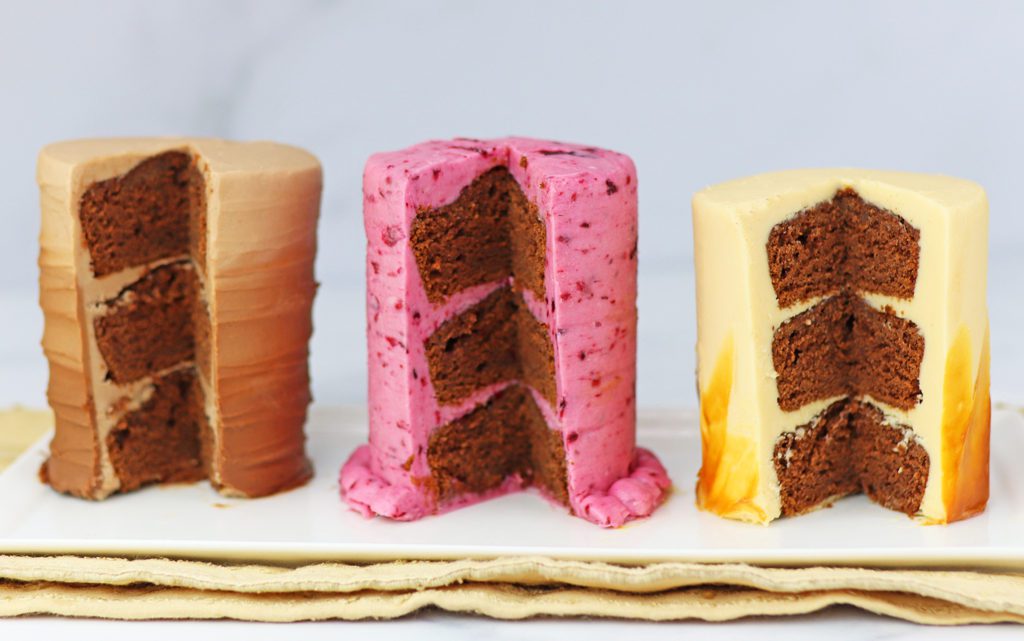 My 4 Minute Buttercream is the easiest and quickest frosting to make! It's delicious on its own or  you can add any flavour to it with a few simple tweaks. In this tutorial I'll share the adjustments necessary to add different types of flavour ingredients.
If you prefer to watch a video of this tutorial, scroll to the bottom of the page.
Buttercream is made with butter and powdered sugar or icing sugar and the consistency you'll need is different depending on what flavour ingredients you're adding. (More on that in a minute!) No matter what flavors you add later, it's always essential that the butter is at room temperature so that it's soft. If it's cold you can warm it in the microwave for 10 seconds.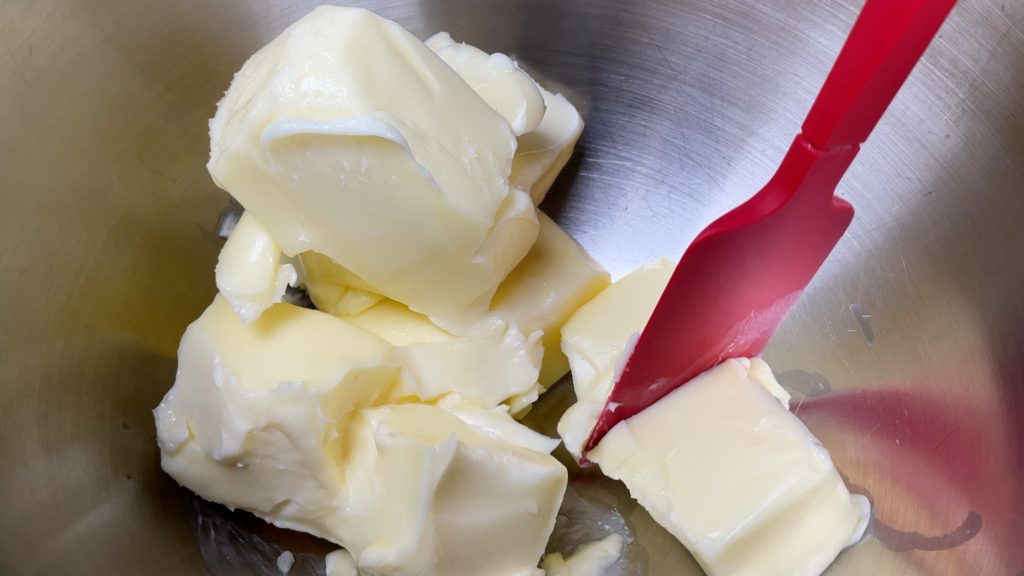 Mix the butter and sugar together (click here for the recipe) and your frosting will be thick and stiff. You can see the rough texture here which shows how stiff it is, and this is when you'd normally add milk or cream to thin it out. However, if you're going to add a liquid with a runnier or more liquid consistency, this stiff consistency is perfect so don't add the milk or cream yet!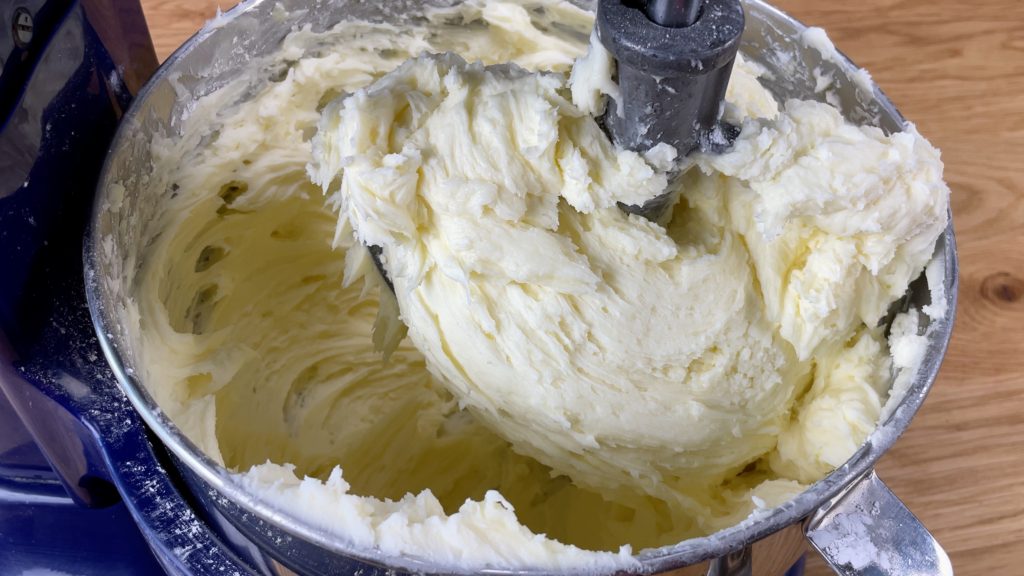 You can flavour an entire batch of buttercream or divide it into bowls and add different flavour ingredients to each bowl.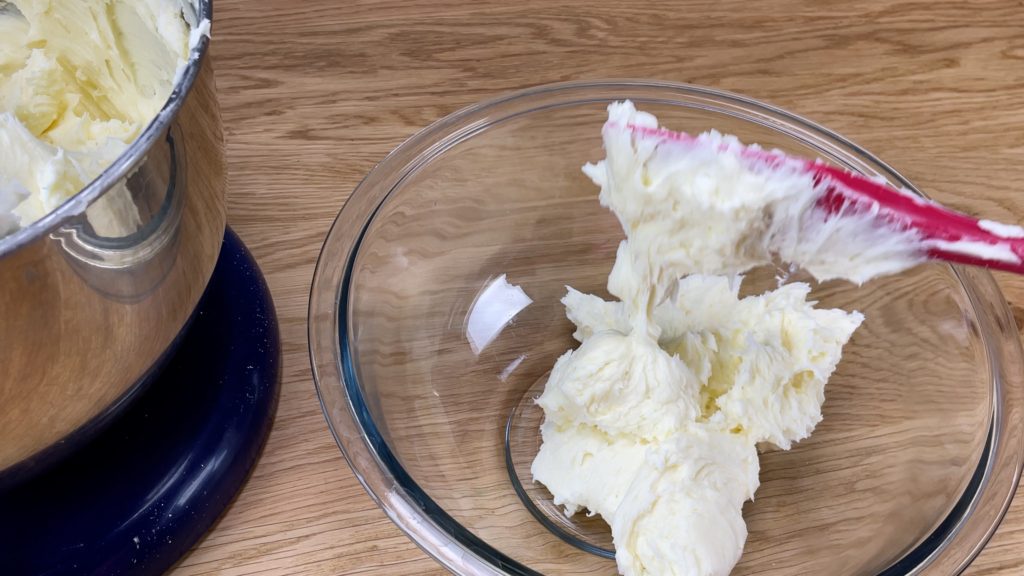 Wet flavour ingredients
For any flavour ingredient that's more liquid than buttercream, starting with a stiff consistency of buttercream allows you to add a LOT of that flavour ingredient without make the frosting too runny. This means you can add several spoonfuls of ingredients like dulce de leche or caramel.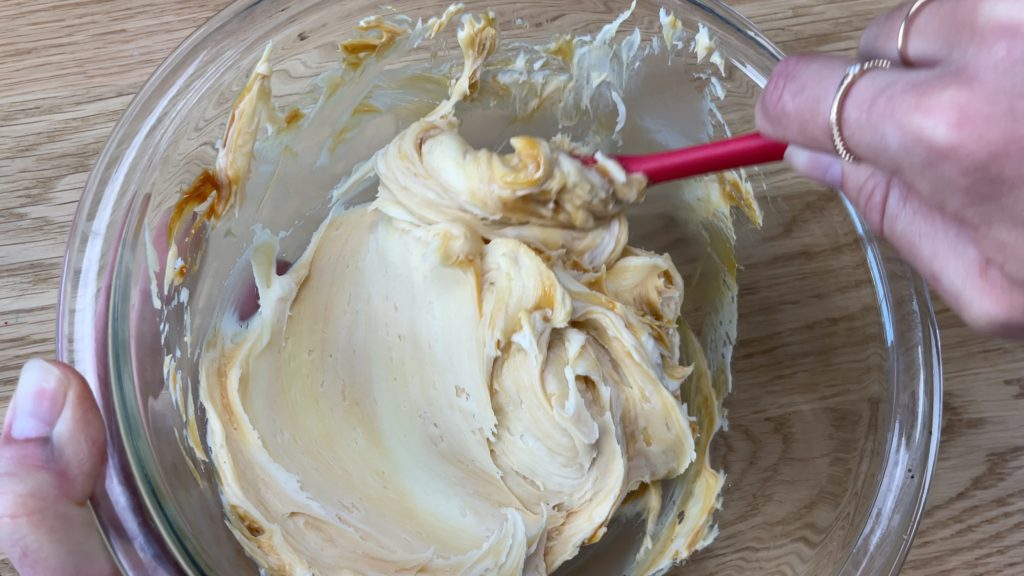 Adding runny caramel will thin out the buttercream in the same way that milk or cream would, resulting in a silky smooth consistency that spreads and smooths onto a cake beautifully.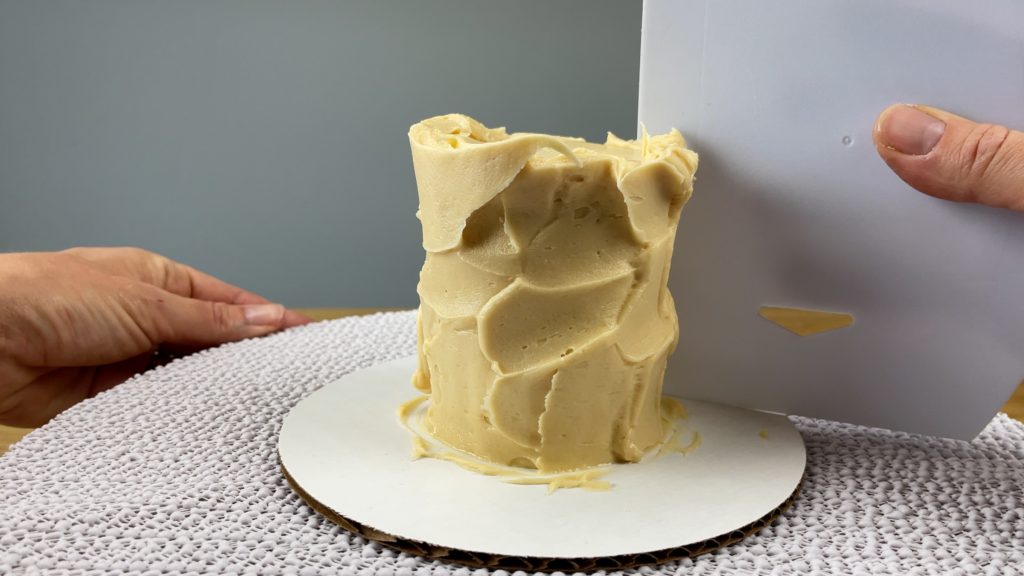 Even liquid coffee can be added in large amounts without making buttercream too runny if you start with stiff buttercream and use coffee as the thinner. You can either add strongly brewed coffee, or mix instant coffee granule with a few drops of hot water to make a very thick liquid and that will give the buttercream a stronger flavour.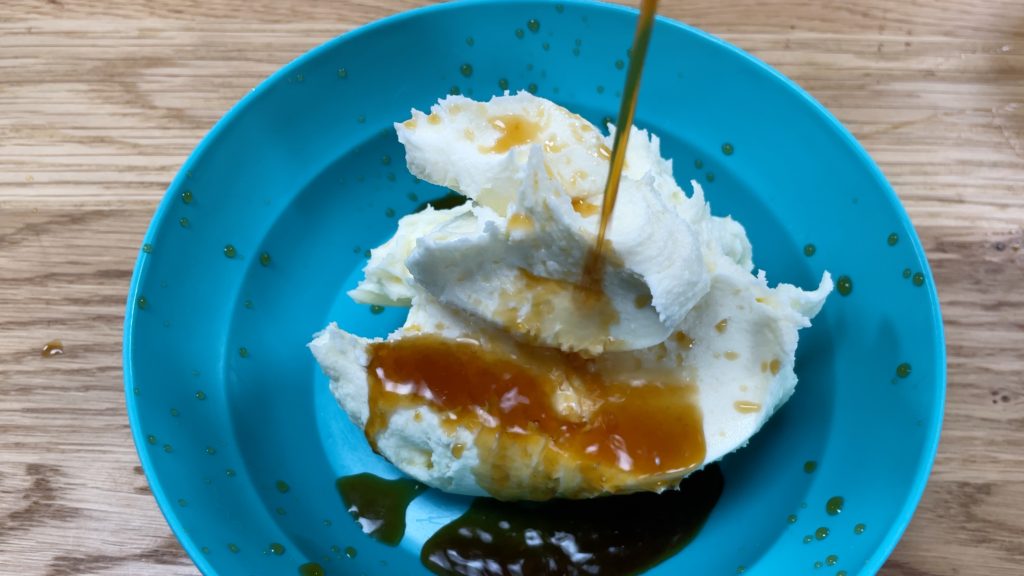 Peanut butter, lemon curd, orange juice and cream cheese are all examples of wet ingredients that can be added to stiff buttercream. Cream cheese frosting is very easy to make if you start with a stiff buttercream base. Let the cream cheese come to room temperature before adding it to the buttercream because if it's cold, straight out of the fridge, it can make the buttercream lumpy.
Chocolate buttercream is my favourite and it's easy to make if you follow a few tips. To melt chocolate, put it in the microwave for 30 seconds at 80% power and this way you'll melt it without overheating it. If you stir it for maybe 30 seconds and the chocolate chips still aren't melting, put the bowl back in the microwave for about 30 seconds at 80% power. If it gets too hot it will seize and get grainy and lumpy, so 80% power is important.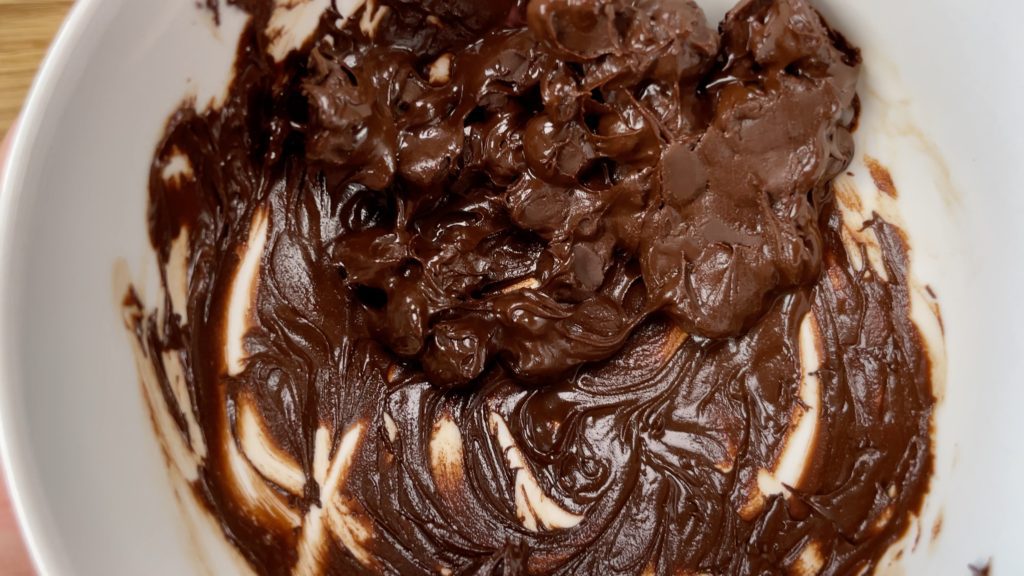 Wait for the chocolate to cool before adding it to your buttercream otherwise it will melt the butter in the buttercream. Just like with other liquid ingredients, start with a stiff consistency of buttercream and add the melted chocolate to thin it out.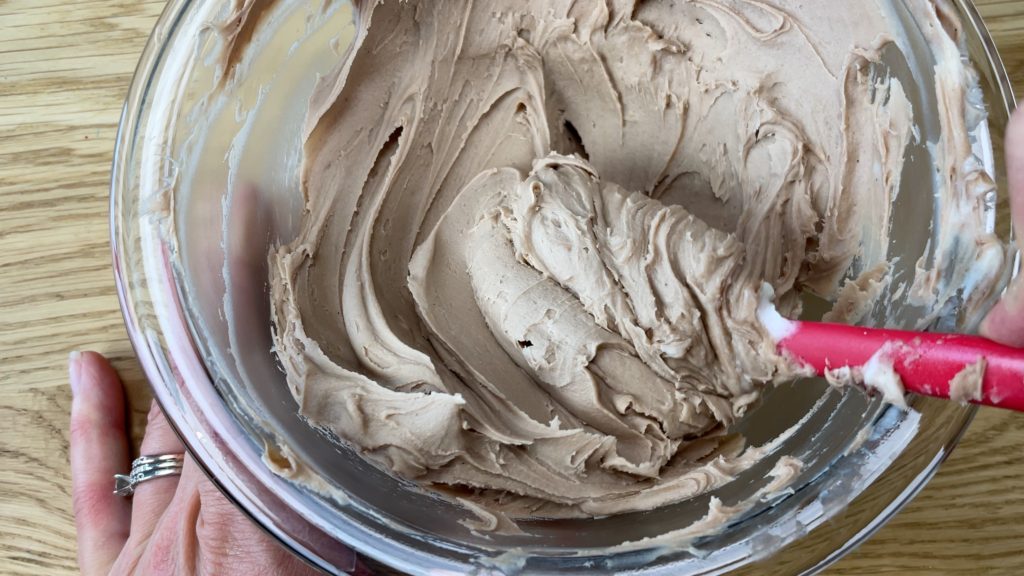 The buttercream should have a silky smooth consistency that's easy to stir and that's easy to spread and smooth onto a cake. You can add as much chocolate as you like and you'll notice the buttercream the darker with more chocolate.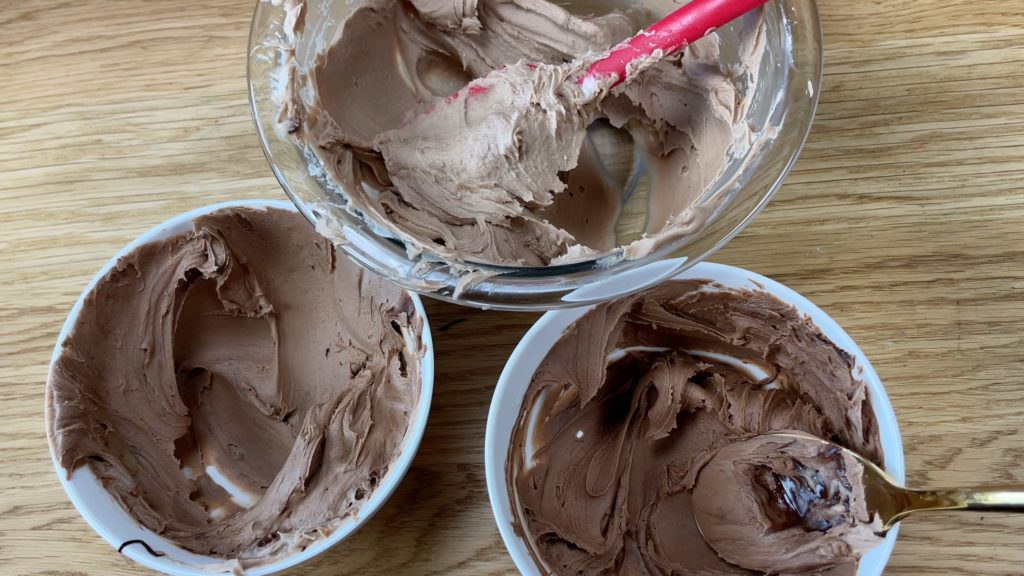 To incorporate berries into buttercream, I find the best way is to cook them first. Raw berries can split the buttercream but by simmering either fresh or frozen berries with a tiny bit of sugar, just a teaspoon per cup of fresh or frozen berries, you'll make a concentrated puree that's full of flavour and that mixes perfectly with buttercream.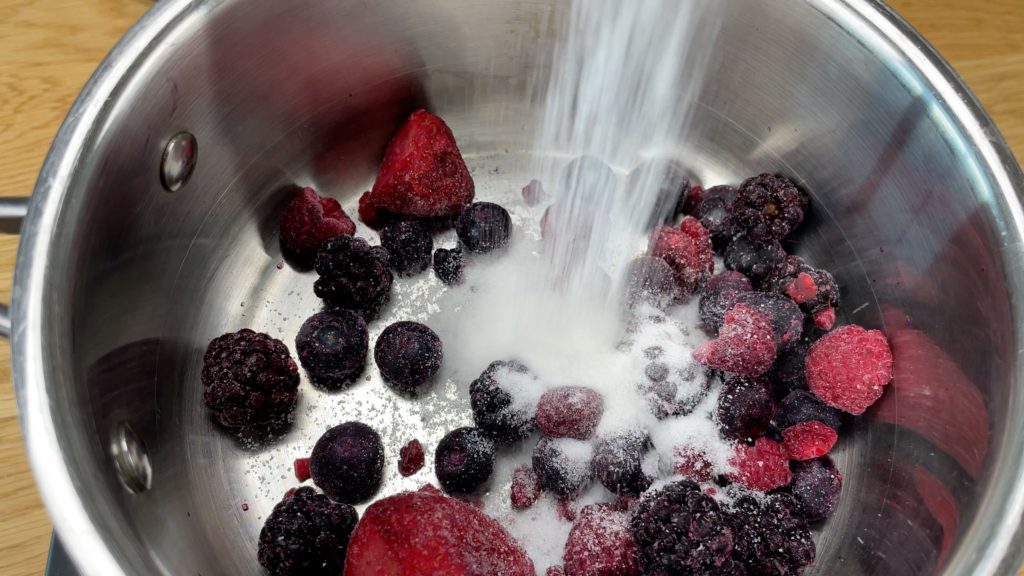 As the berries cook they'll release liquid, especially if you're using frozen berries. The liquid will simmer down into a thicker liquid and when the berry mixture cools it will become even thicker.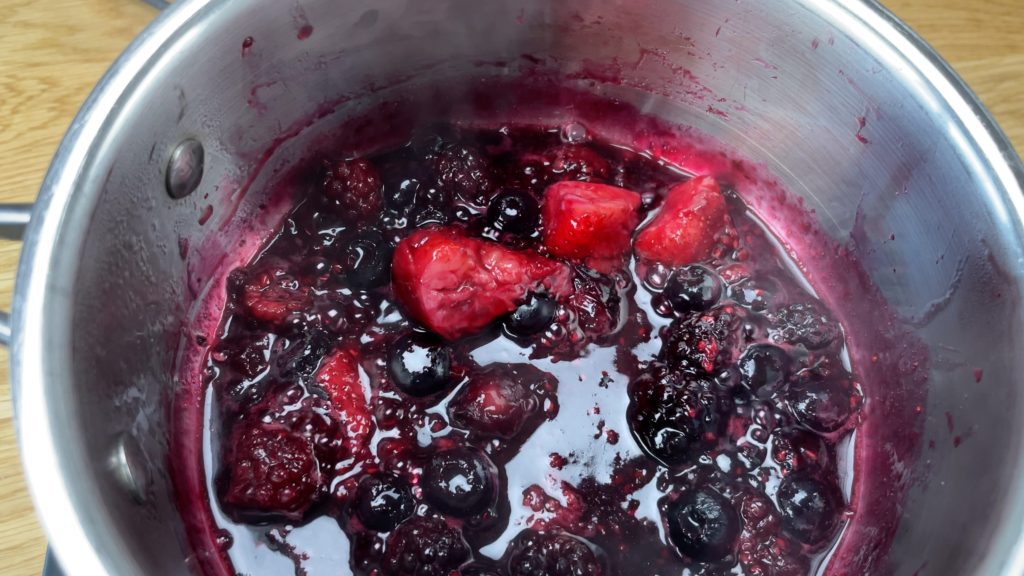 Unless you want large chunks of fruit in your frosting, blend the cooks berries in a food processor or blender to make a smooth puree. Add a squeeze of lemon or lime juice to keep the tartness of the fruit, even after adding a bit of sugar while cooking it.
Let the berries cool completely before adding it to your buttercream. I wish you could taste this through the screen – it's incredible! It spreads and smooths beautifully onto a cake and the flecks of berries will make your mouth water.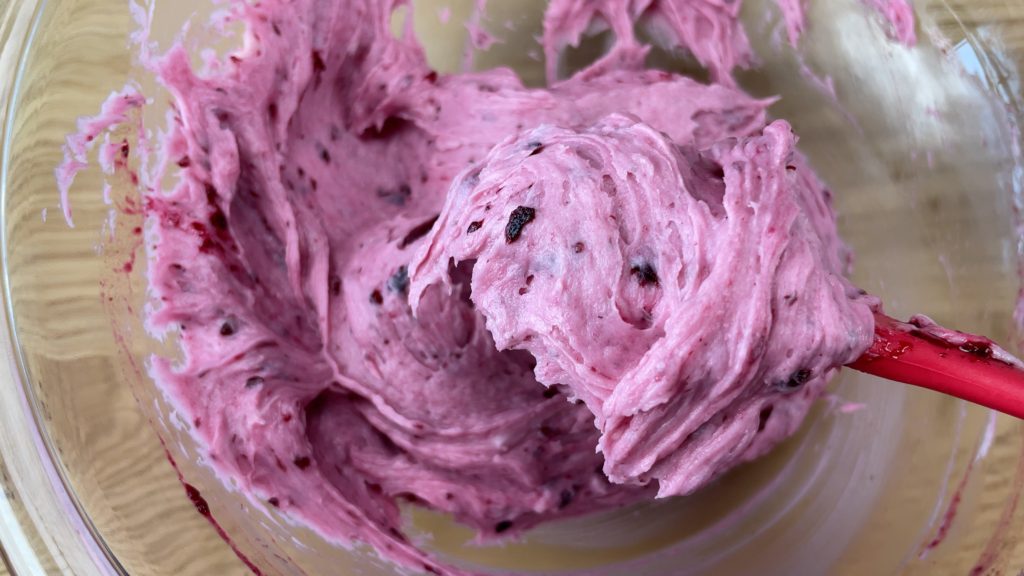 Flavoured buttercream pipes perfectly as long as the hole or gaps in the shape of the piping tip aren't too narrow for any pieces of berry (or any other ingredient) in the buttercream.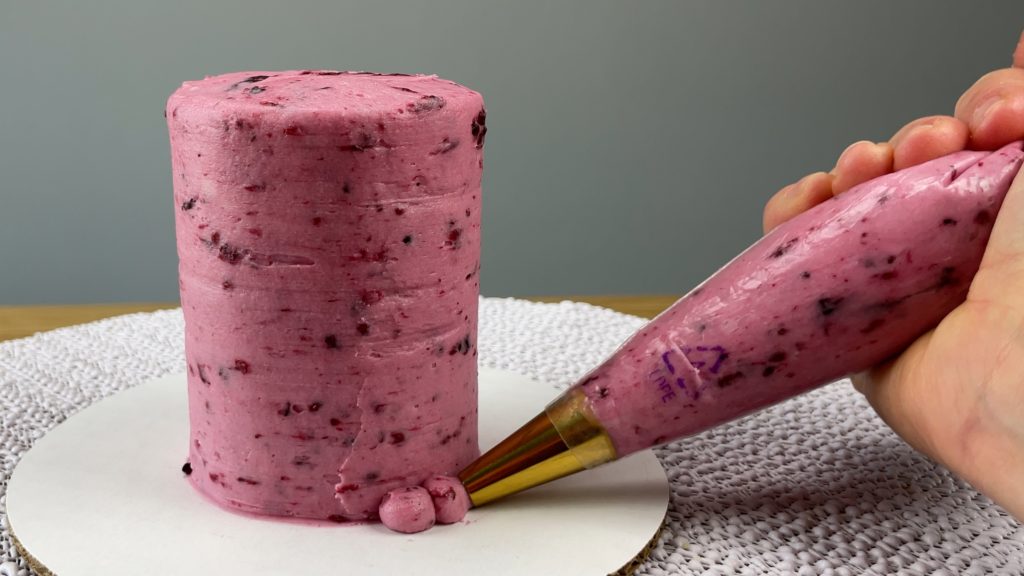 Dry flavour ingredients
The process of flavoring buttercream with dry vs. wet ingredients is a little bit different. For dry ingredients, when you make your buttercream follow the whole recipe, adding the milk or cream at the end of the recipe so that the buttercream is the right consistency for frosting a cake.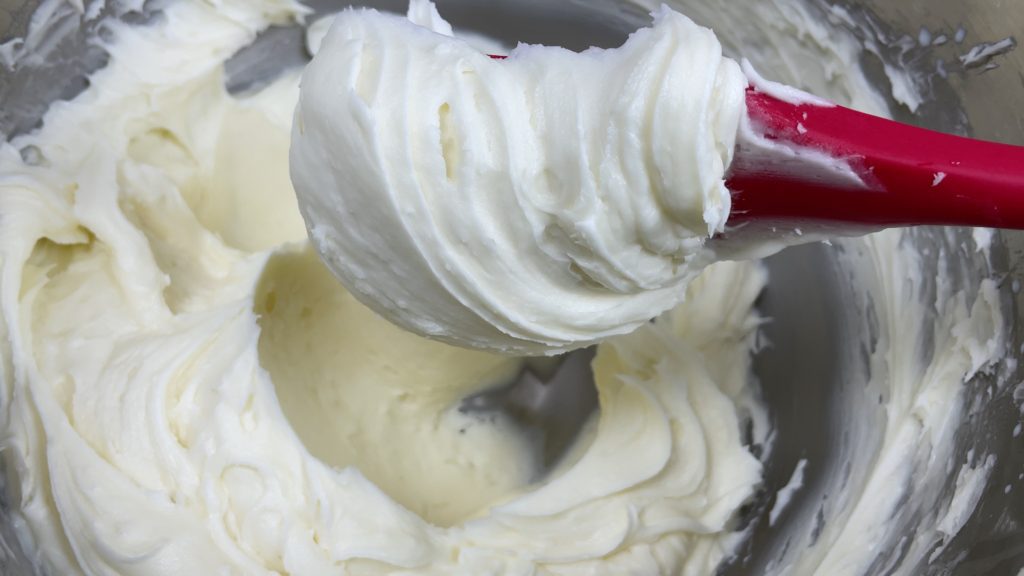 Dry ingredients don't affect the consistency of the buttercream, so get the consistency right first before adding the flavour ingredients, and you'll see why in a minute.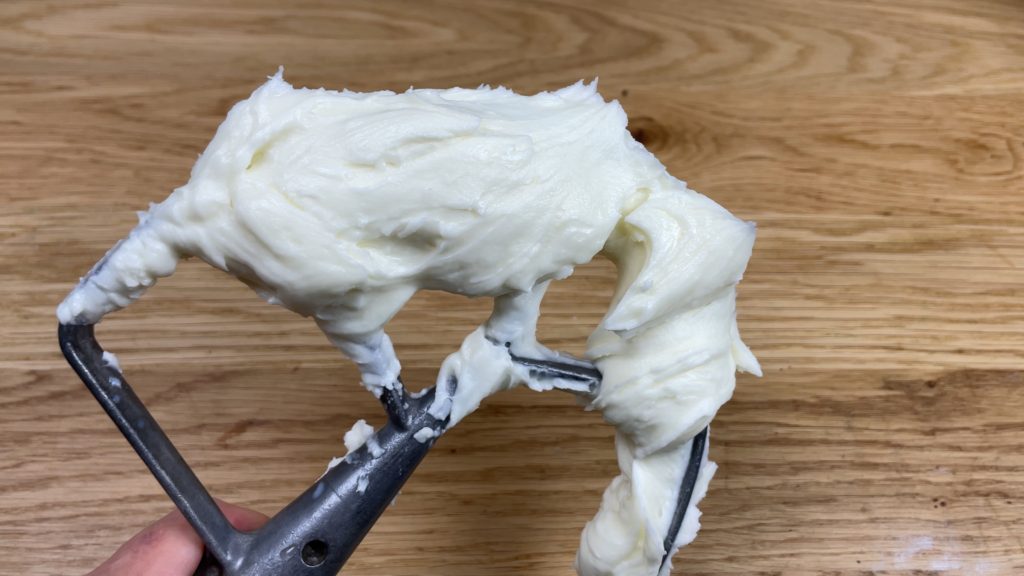 Oreos are a popular dry ingredient to make cookies and cream frosting, by smashing the Oreos or blending them in a food processor or blender and then stirring them into buttercream.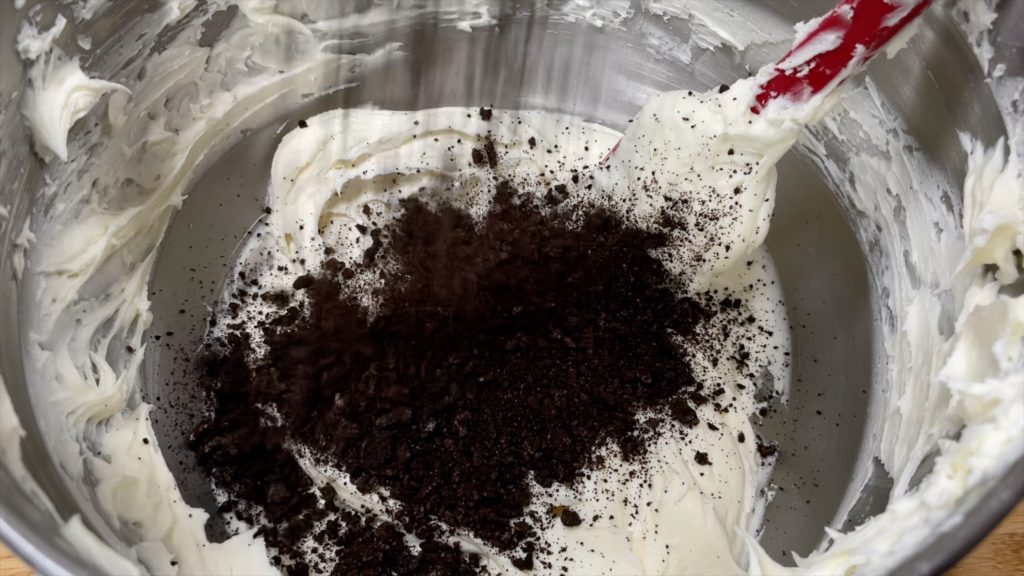 The tiny flecks of black cookies in the white frosting are what makes the flavour recognizable, and that's why you add the cookie crumbs right at the end, because if you over-mix it the frosting will turn grey.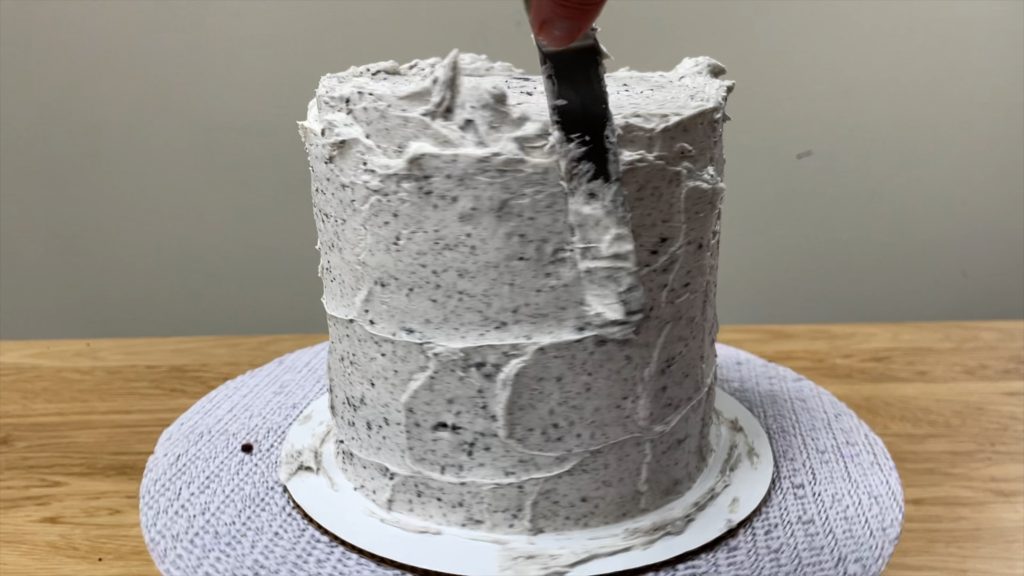 You can add freeze-dried fruit to buttercream instead of cooking and blending berries like I showed you earlier, and sprinkles are fun to add in too – not really a flavour ingredient but they look so colourful and pretty, I wanted to mention them anyway!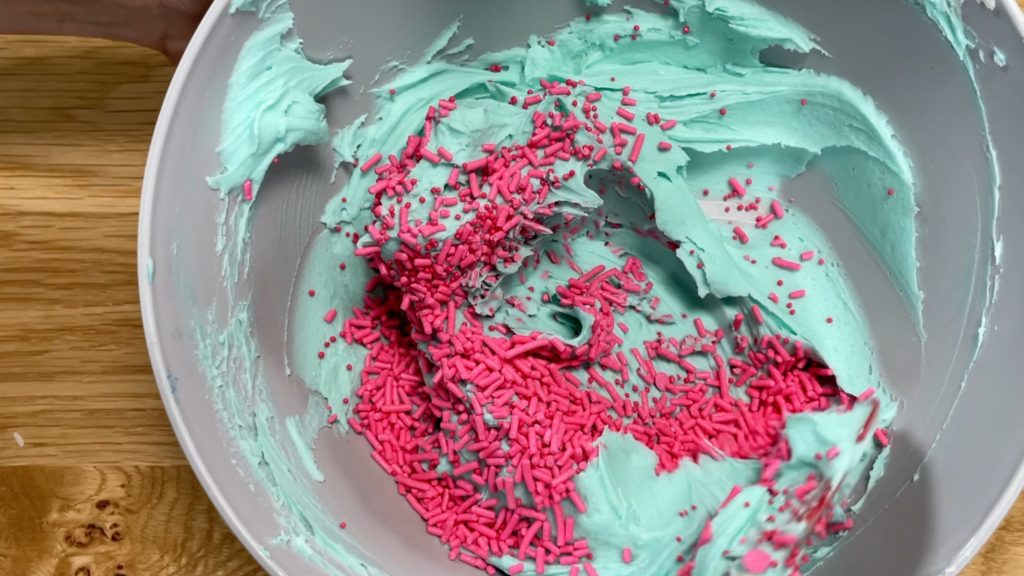 Frosting a cake with sprinkles in the buttercream is slightly different to using smooth buttercream and I teach how to do that, along with 49 other techniques, in my online course on 50 Easy Cake Decorating Techniques.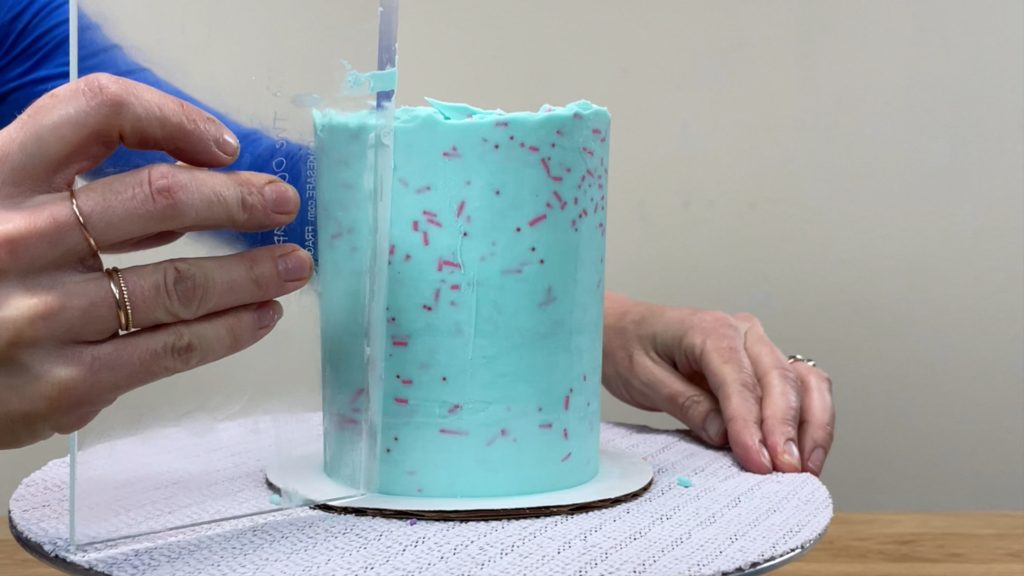 Flavour extracts
After wet and dry ingredients, the final type of flavour ingredient is to add a flavour extract. Buttercream recipes will list vanilla extract as an ingredient but other delicious flavors are almond and mint. There are lots of flavour extract options available in supermarkets or grocery stores and at baking shops, and online.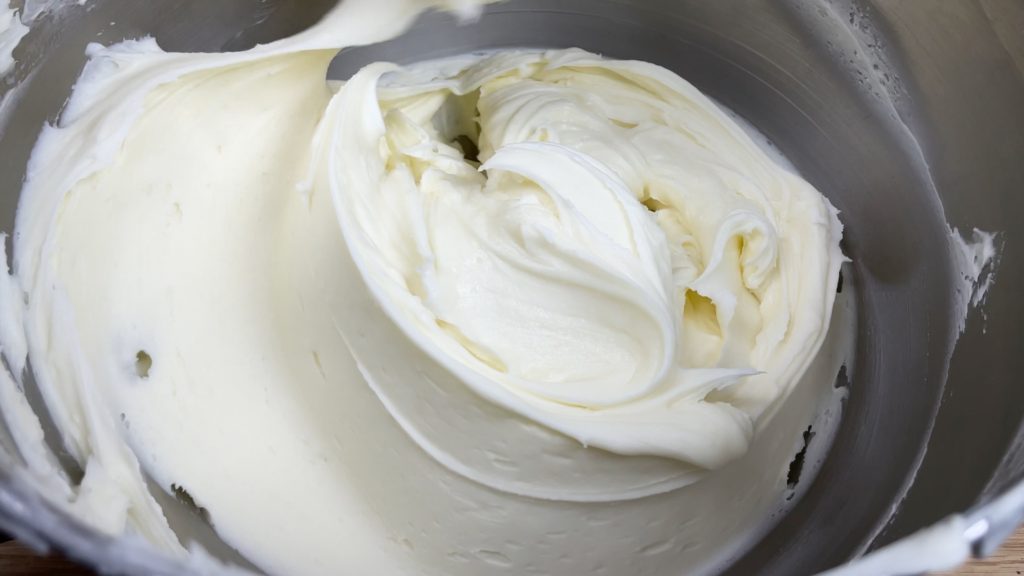 They're very concentrated so you only need a tiny amount, depending on the flavour it's usually less than a teaspoon for an entire batch of buttercream. That's such a small amount of liquid, it won't affect the consistency of the buttercream so when you're making your buttercream, you can just add it at the end to mix it in.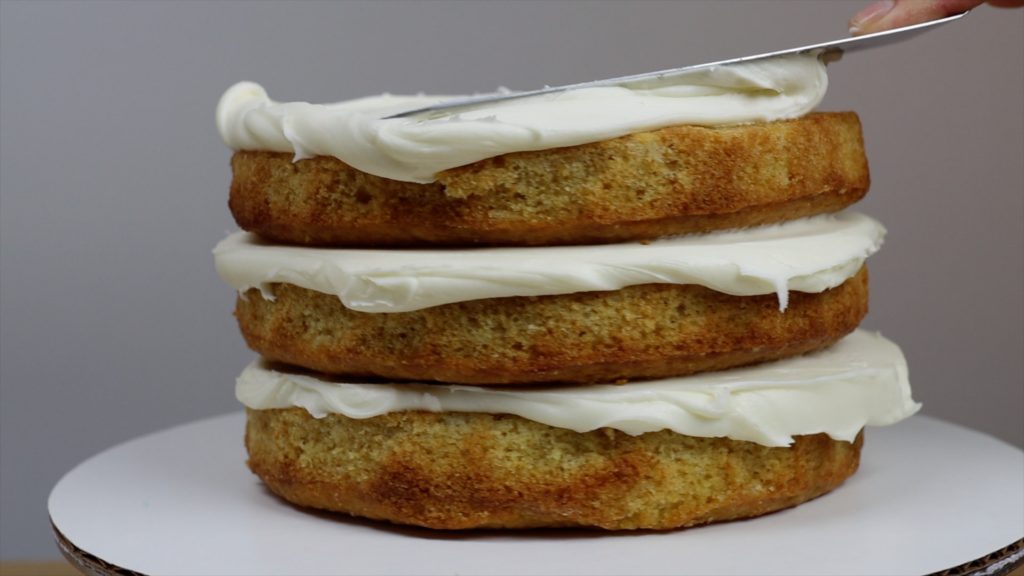 I hope this tutorial has been helpful! Check on my online course on the Basics of Buttercream for everything you need to know about buttercream including how to tint it any colour, how to store it, and how to use it for lots of different cake decorating techniques.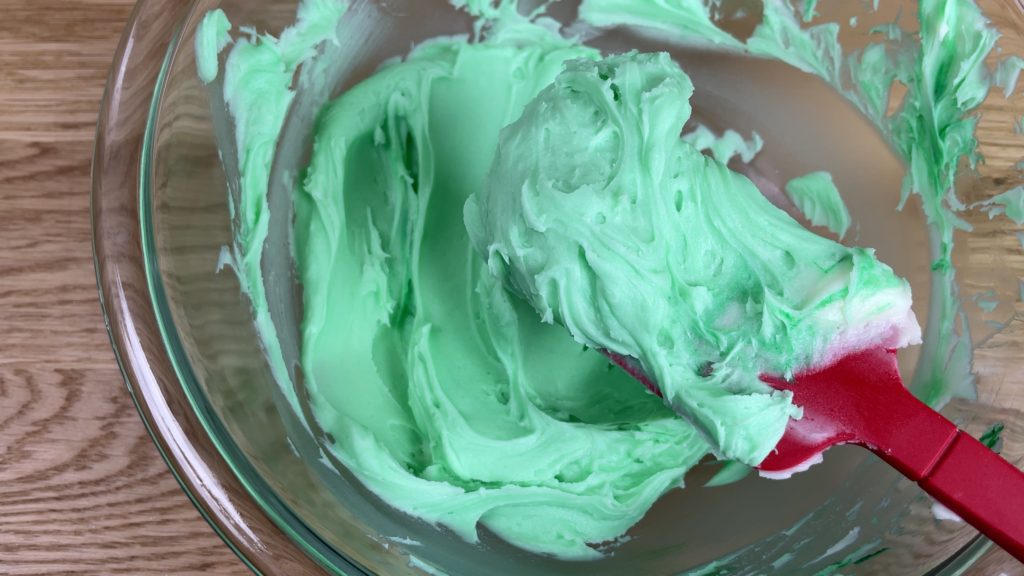 Here's the video version of this tutorial: