Project Description
Decadent discs of chocolate chip cookie dough are sandwiched between layers of vanilla cake and buttercream, topped with sprinkled cookie dough balls!
This recipe makes a tall (6″ high) 4″ cake or the measurements for larger cakes are included below. The video tutorial for how to make and decorate this cake is at the bottom of the page.
Ingredients
For the cake:
1/2 stick (1/4 cup or 55g) unsalted butter
1/3 cup (66g) sugar
1 egg
1/2 teaspoons vanilla extract
1/2 tablespoon vegetable oil
2 tablespoons (30ml) buttermilk
2/3 cup (75g) plain / all-purpose flour
1/4 teaspoon baking soda
1/2 teaspoon baking powder
1/8 teaspoon salt
2 1/2 cups of 4 Minute Buttercream
For the cookie dough:
1 cup plain (all-purpose) flour
1 stick (1/2 cup or 110g) unsalted butter
1/3 cup sugar
1/3 cup brown sugar
1 teaspoon vanilla extract
1/2 teaspoon salt (omit if using salted butter)
2 tablespoons milk
1/4 cup chocolate chips
1/4 cup sprinkles (optional)
For larger cakes, follow the scaled recipe measurements for the vanilla cake here. For a 6″ cake, double the buttercream and cookie dough ingredients and for an 8″ cake, triple them.
Method
1. To make the cake, in a mixer with a beater attachment beat butter and sugar on medium high speed until pale and creamy, about 2 minutes. Scrape down to the bottom of the bowl once during mixing to make sure no butter or sugar is stuck at the bottom.
2. Add egg and vanilla, mixing on the lowest speed until incorporated, about 1 minute seconds.
3. In a small bowl or measuring jug, mix room temperature buttermilk and oil. Add half to the butter mixture and mix on lowest speed to incorporate.
4. In a bowl sift flour, baking soda, baking powder and salt. Add half of the flour mixture to the mixing bowl and mix on lowest speed to incorporate, scraping down to the bottom of the mixing bowl to check that batter is evenly mixed. Repeat with the remaining buttermilk mixture and then the remaining flour mixture.
5. Spray the inside base and sides of 2 cake pans. Divide batter between cake pans.
6. Bake at 160ºC or 325ºF for 25-30 minutes, or until a toothpick inserted into the middle of the cake comes out clean.
7. Leave cake to cool for 5 minutes. Use a spatula to loosen cake from the edges of the cake pan and then turn onto a wire cooling rack. Leave to cool completely before dividing each layer in half horizontally and use a knife or leveller to trim the tops if they are domed.
8. To make the cookie dough, put flour on a baking tray and shake to form a thin layer. Bake at 350F (175C) for 5 minutes and let cool. Meanwhile, in a mix beat the butter and sugars until smooth. Add vanilla and mix to combine. Add flour, mixing until crumbly, and then add milk and mix to make a dough.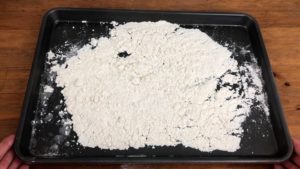 9. Transfer a third of the cookie dough into a small bowl and set aside the remainder to make cookie dough discs. To make cookie dough balls, optionally mix 2 tablespoons of sprinkles into the cookie dough. Use a tablespoon to scoop and level the cough dough, rolling it into balls between your hands and setting them aside to decorate the cake with later. I recommend 6 balls for a 4″ cake, 8 for a 6″ cake and 12 for an 8″ cake.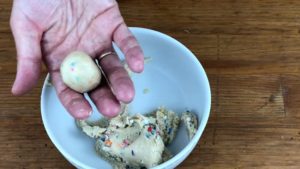 10. To make cookie dough discs, stir in chocolate chips into the remaining dough. You'll need one less disc than cake layers, so for example if you baked 2 cake layers and divided them to make 4 layers, you'll need 3 cookie dough discs so divide the remaining dough into 3 equal parts. For each disc, line a baking pan (the same size as you used to bake your cake) with cling film and press a cookie dough down into the base to cover it. Wrap the cling film over the cookie dough disc and refrigerate for about 30 minutes to set. Then lift or tip the cling film-wrapped cookie dough disc out of the pan and unwrap.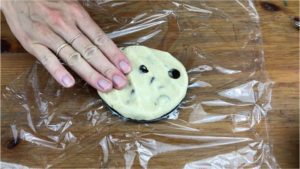 11. To assemble the cake, spread or pipe 1/3 cup of the buttercream onto the first layer of cake. Place a cookie dough disc on top and spread a smear of buttercream on top to attach the next layer. Press a layer of cake on top and repeat, finishing with the final layer of cake.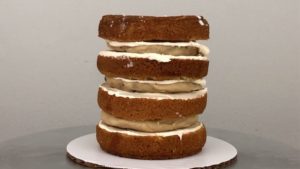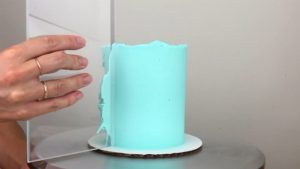 13. Straight after frosting, pour 2 tablespoons of sprinkles out onto a towel or plate and dip your finger in a glass of water, tapping off the excess. Press your finger into a sprinkle so that it sticks to you and then press it gently into the frosting on the side of the cake to attach it. Continue with the rest of the sprinkles.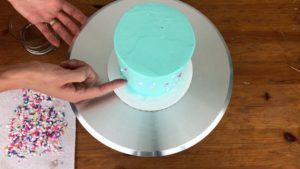 12. Put the remaining buttercream into a piping bag fitted with a 1M tip and pipe swirls of buttercream around the outer edge of the top of the cake. Match the number of swirls to the number of cookie dough balls you made and press a cookie dough ball into each swirl.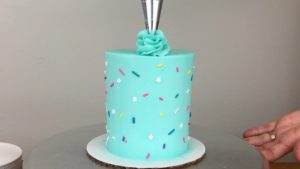 13. Refrigerate the cake until 2 hours before serving.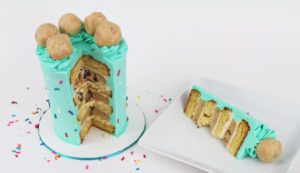 Emily
2021-01-22T18:27:53-08:00