In this tutorial I'm going to show you 4 ways to use cookie dough to make delicious desserts! For my recipe for cookie dough that you can safely eat straight out of the bowl, click here. For a video of this tutorial, scroll to the bottom of the page.
#1: Incorporate cookie dough in cupcakes by baking a batch of cupcakes as normal and once they're cool, scoop a hole out of the middle of each one. Hold a knife at an angle as you cut in a circle to cut a cone shape.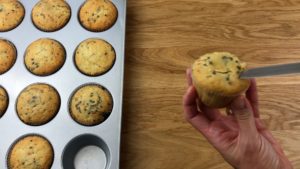 You can make the hole as wide and deep as you like, depending on how much cookie dough you want to use. The idea is for the cookie dough to be a filling in the middle of the cupcake, so make sure you don't cut all the way down to the bottom of the cupcake.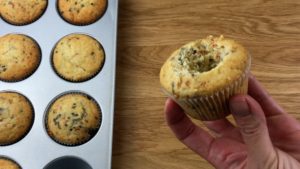 Take a spoonful of cookie dough and roll it between your hands into a ball, however big you want it to be. Now push it into the hole, pressing it down gently. It's fine if it sticks up above the top of the cupcake like this. As you can see, I like a LOT of cookie dough!
Now pipe frosting onto the cupcake as normal. If your cookie dough is sticking up, pipe a ring of frosting around it and then spiral up over the top of it to cover it up.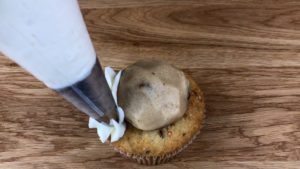 I used my 4 Minute Buttercream and a 1M star tip for this swirl. When you bite or cut into the cupcake you'll find a ball of deliciousness right in the middle!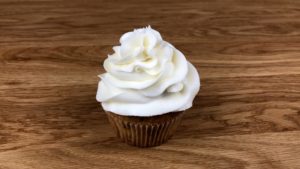 #2: Turn cookie dough into frosting by mixing equal parts of cookie dough and frosting. You'll need plain cookie dough without any chunks of chocolate or candy, so if you like you can set aside some for this before adding those treats to the rest of your batch. I'm using my 4 Minute Buttercream for this, too.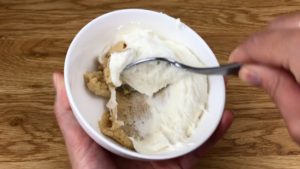 When you mix this together it will be silky smooth and you'll be able to pipe it beautifully. If you had chocolate chips in the cookie dough, those would get wedged in the piping tip and block the frosting as you pipe.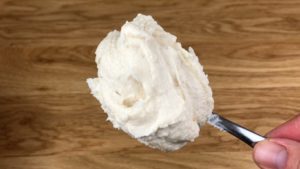 This frosting tastes just like cookie dough scooped out of the bowl, but with the addition of buttercream it's even creamier and since it's smooth enough to pipe, it looks beautiful, too!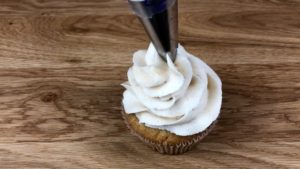 #3: Make cookie dough balls to serve as they are or to decorate a cake! Scoop up some cookie dough with a tablespoon and level it off with a spatula or knife so that every ball is the same size.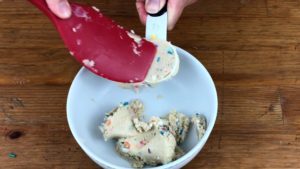 Roll the spoonful of cookie dough into a ball between your hands. I've put sprinkles in this batch of cookie dough but this would work with chocolate chips, candy, or whatever you want to use. After rolling all of your balls, put them in the fridge until you're ready to serve them or decorate with them so that they firm up and hold their shape.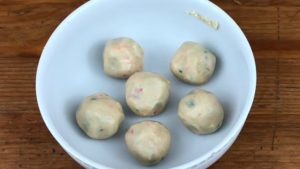 To decorate a cake with these cookie dough balls, pipe some swirls of buttercream on top of your cake and straight away, while the buttercream swirls are still soft and sticky, press a ball down into each one to attach it.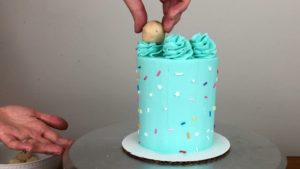 #4: Use cookie dough as a filling in cakes and the easiest way to do this is to make discs of cookie dough which you can stack between layers of cake.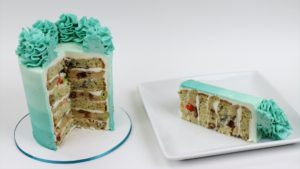 Use a piece of cling film or Saran Wrap to line the pan you used to bake your cake, pushing it down to cover the bottom of the pan and drape up over the sides of the pan. Grab a handful of cookie dough and push it down into the pan.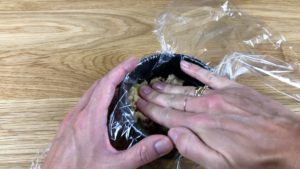 Push the cookie dough right up to the edges of the pan so that when you use this disc later as cookie dough filling in your cake, the disc will be the same size as the layers of cake you baked. Try to get the top flat so you'll have an even surface at the end.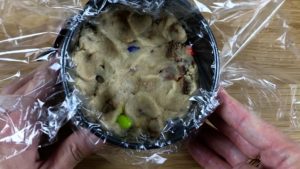 Fold the plastic wrap over the cookie dough so it doesn't dry out. You can make several of these at the same time using several pans or by making the next one on top of this one. Put the pan with the cookie dough inside it, into the fridge or freezer for about 30 minutes to harden.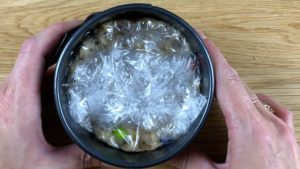 When you're ready to assemble your cake, take the pan out and lift up the wrapped cookie dough and unwrap it and it will be a firm disc that you can move around easily. Spread some buttercream on your first layer of cake to act as glue.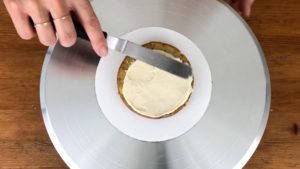 Now press your cookie dough disc down onto it. This cookie dough has chocolate chips in it – you can make it with anything you like and you can use any flavour of cake and frosting too.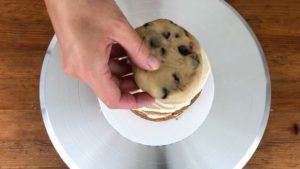 Spread some more buttercream on top of the cookie dough to attach the next cake layer and repeat to assemble your cake. For this cake I added sprinkles to the cake batter to get these colourful dots in the cake. For the filling I've made Halloween candy cookie dough, using M&Ms and chopped up pieces of chocolate bars.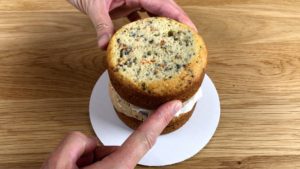 It's best to store this in the fridge because of the butter and milk in the cookie dough but I recommend taking the cake out of the fridge 2-4 hours before you cut into it, so that the cookie dough and cake and frosting come to room temperature, when it tastes best.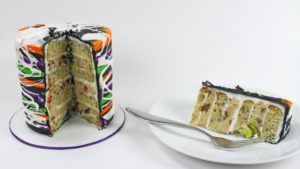 It's also easier to slice it then, instead of when it's cold and hard. When you cut a slice, the layers look pretty and delicious – this is almost everyone's favourite flavour!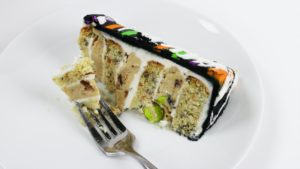 I hope you enjoy this cookie dough, whether you eat it straight out of the bowl or use it in a dessert. I'd love to see what you make so please tag @britishgirlbakes in your photos on instagram so I can see!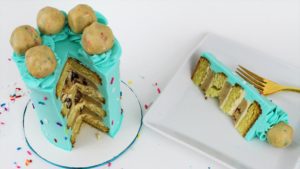 Here's the video version of this tutorial: