In this tutorial I'm going to show you 6 ways to decorate Christmas cakes using sprinkles for fun, colourful, textured designs! If you prefer to watch a video of this tutorial, scroll to the bottom of the page.
1. Sprinkle-filled stencils
Make your own stencil with parchment paper, cutting out a shape out of the middle but keeping the surrounding paper intact. You can use a cookie cutter to trace a shape or fold the parchment in half to cut a symmetrical design like a heart or Christmas tree.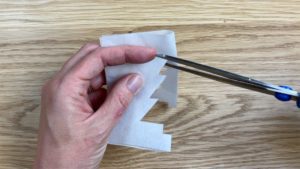 Press the stencil against the side of a cake. The frosting (I used my 4 Minute Buttercream) needs to have set before you do this so I like to put my cakes in the fridge for at least an hour or preferably overnight. Spread some more frosting over the stencil and this frosting will be soft and sticky, which is what we need for the next step!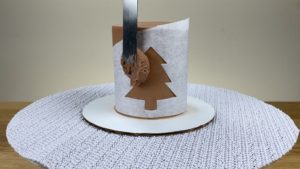 Choose your sprinkles and press them into the frosting you've just spread over the stencil, pushing gently to attach them to the side of the cake. It's easiest to add bigger sprinkles individually but you can press handfuls of smaller sprinkles into the frosting and they'll stick easily.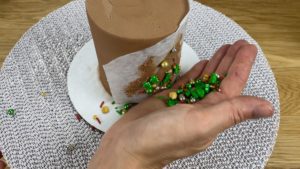 Once you've covered the whole shape with sprinkles, peel the stencil off and voila! If there are any gaps in the design you can add individual sprinkles, which will stick to any of the exposed frosting you've just spread onto the cake over the stencil.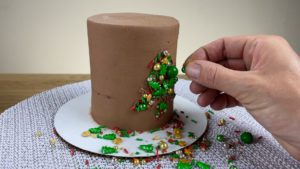 For finishing touches, try pressing sprinkles into the bottom of the cake to make a sparkly border and you can scatter a few on top of the cake, too! I piped a border on top of this cake using a #32 open star tip.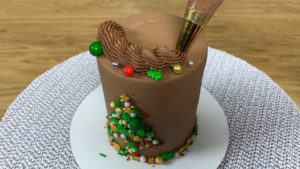 Tadaa! Sprinkles make this plain brown chocolate cake look so festive! You can use my code BRITISHGIRL15 to get 15% off your Fancy Sprinkles order.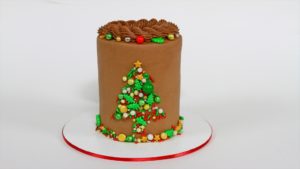 2. Stencil with sprinkle decorations
Another way to use a homemade stencil is to tape it onto a pre-made stencil with whatever pattern or design you like, to add a design within the shape you're creating on the cake.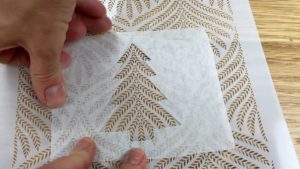 Spread frosting over the stencil and smooth it by scraping off the excess with your offset spatula or a frosting smoother to leave a thin, smooth layer on top of the stencil. Carefully peel the stencil off the cake.
You can scrape off any parts of the design you don't want with an offset spatula and this works because the base frosting on the cake has set, so it's firm and you won't damage it. Get your sprinkles ready and you don't have to use an entire mix, so for example for this cake I'm only using the large, round sprinkles. Add some bling and you've got a fully decorated Christmas tree!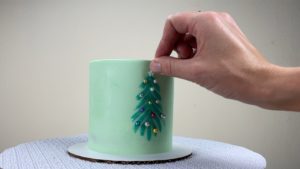 You can pipe some swirls of frosting on top of the cake using a 1M star tip and these look a bit like Christmas trees, so you can add sprinkles to decorate these, too!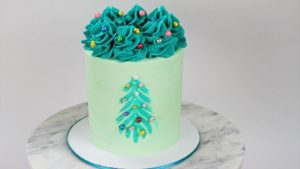 For more tips, techniques and recipes for baking and cake decorating, check out my new (free!) live series on Amazon, Kitchen Adventures with British Girl Bakes! Follow my Amazon page to join me every Thursday for a new episode!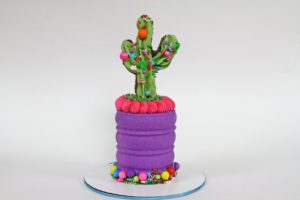 3. Sprinkled flowers
Using a leaf tip you can pipe poinsettias, the traditional Christmas flower. The frosting comes out of the triangular gaps in the sides of the tip and if you hold the tip still as you start to squeeze the frosting out, you'll get a nice wide base for each petal.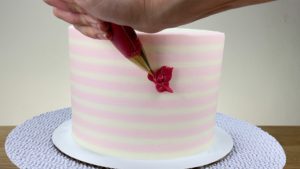 As you finish each petal, stop squeezing the piping bag at the same time as you swipe it off the cake and that will give you a pointed tip on the petal. After doing one ring of petals, pipe another ring on top, overlapping the petals by piping each petal between two of the petals on the previous ring.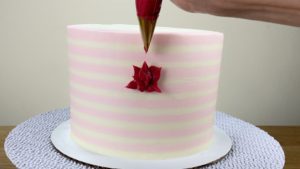 Use some silver or gold sprinkles to make the middle of the flower!
If you're struggling with buttercream stripes you might find my tutorial on 4 Secrets for Perfect Stripes on Cakes helpful!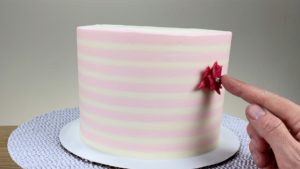 4. Sprinkled chocolate
To make a sprinkled chocolate cake topper, melt any kind of chocolate and choose a cookie cutter shape and place it on a piece of parchment paper or a silicon mat. Spoon the chocolate into the shape, pushing it right up into the corners.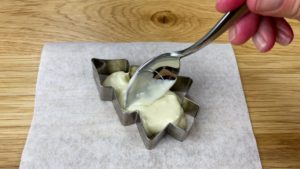 While the chocolate is still melted and sticky, pour sprinkles on top and press those gently into the chocolate using a spoon or your fingers so that they stick. Leave the chocolate to set for about an hour or put it in the fridge or freezer to speed up the process.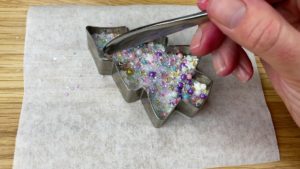 When the chocolate has set, carefully push it out of the cookie cutter, pressing all over the shape just a bit at a time to ease it out gradually so it doesn't break.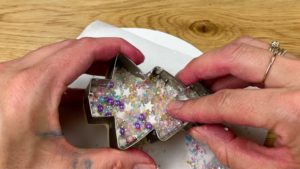 Pipe some frosting on top of a cake and push the chocolate into it to secure it. When the piped frosting sets, the chocolate will be attached firmly in place on top of the cake.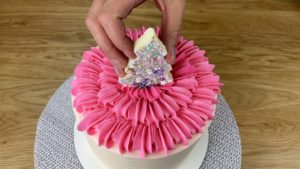 Sprinkled chocolates make beautiful and delicious cake toppers! If you're looking for more cake decorating ideas using chocolate chips, check out my tutorial on 10 Ways To Decorate Cakes With Chocolate Chips.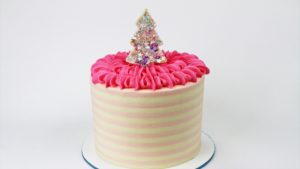 5. Sprinkled brownies
Another way to use cookie cutters is to make cake toppers out of brownies! My brownie cake topper recipe is stable enough to be able to cut out shapes that will stand up on a cake.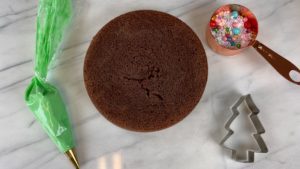 Cut out the shape you want from your brownie using a cookie cutter and push it gradually out of the cookie cutter, pushing one area at a time and just a little bit at a time so that it doesn't break.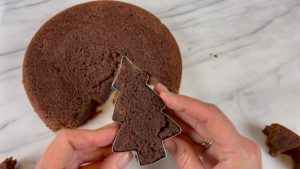 Push a paper straw into the brownie, pushing it at least half way up the brownie to support it when it's standing upright on a cake later. It's easiest to twist the straw around as you insert it.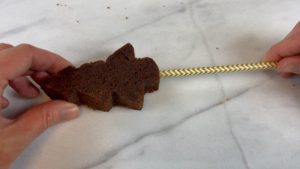 You can scatter sprinkles over the brownies before baking them for a quick decoration or pipe frosting onto the brownie and then press sprinkles onto the frosting. Here I'm using a leaf tip, starting at the bottom of the tree and overlapping each row to completely cover up the brownie.
Add some shiny sprinkles and then push the straw into a cake and your cake topper is ready!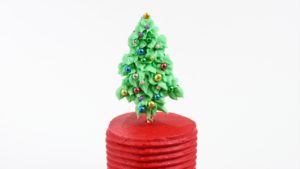 6. Sprinkled marshmallows
For a very quick decoration to add height and colour to your cake, poke a paper straw into a marshmallow and dip it into melted chocolate, twisting it around to cover the whole marshmallow in chocolate.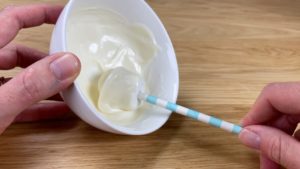 Let the excess chocolate drip off and then dip the marshmallow into a bowl of sprinkles, twisting it around to completely cover the marshmallow with sprinkles.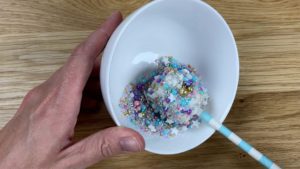 Frost and decorate your cake – try adding a sprinkle border around the bottom of the cake to match the marshmallows! Here I experimented with some non-traditional Christmas colours for a pastel, wintery feel.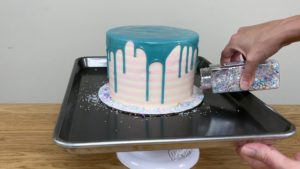 Stick the straws into the cake, playing around with different positions on the cake and inserting them at different angles and you've got some glitzy marshmallow cake toppers!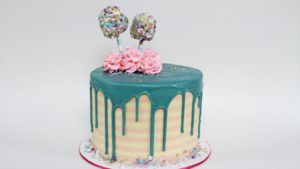 Here's the video version of this tutorial: