Cake shooters are a fun and easy way to serve cake and they're a unique way to toast to any celebration! In this tutorial I'll share everything you need to know to bake, assemble, store and transport cake shooters.
What are cake shooters?
Cake shooters are made up of cake and filling and frosting. They're layered and served in shot glasses, disposable cups, or even champagne flutes! Choose something transparent so you can see the gorgeous layers of cake and filling and frosting inside.
How do you make cake for cake shooters?
Use any recipe to bake your cake. For my cake shooters I'm using my Very Vanilla and my Perfect Chocolate Cake. You can bake the batter in mini cupcake pans or in larger cake pans.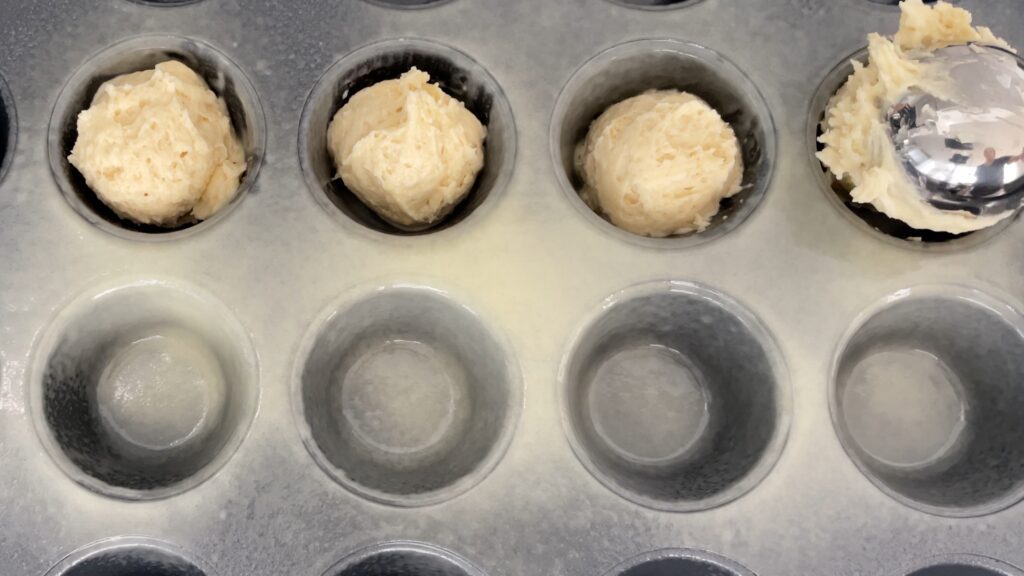 For mini cupcakes, I cover the pan with non-stick spray instead of using wrappers. That way I can skip the step of unwrapping them. Optionally, for the neatest and most tender tasting results, use a serrated knife to cut off any bulging tops.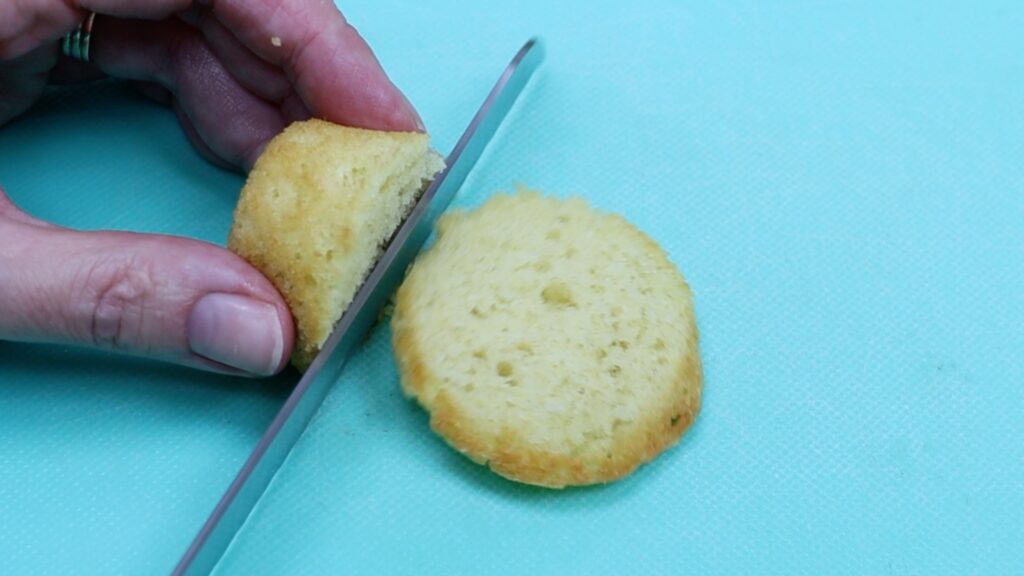 What if you don't have mini cupcake pans or your shot glasses aren't the same width as mini cupcakes? Bake your cake in any larger pan like a sheet cake or a round cake pan. Fairly thin layers work best. If a cake breaks when you turn it out of the pan don't throw it away! Those layers are perfect for cake shooters. After the cake cools, cut discs out of your cake. If you have one, you can use a small round cookie cutter the same width as your shot glasses. Or just use the glass you're going to make the cake shooters in.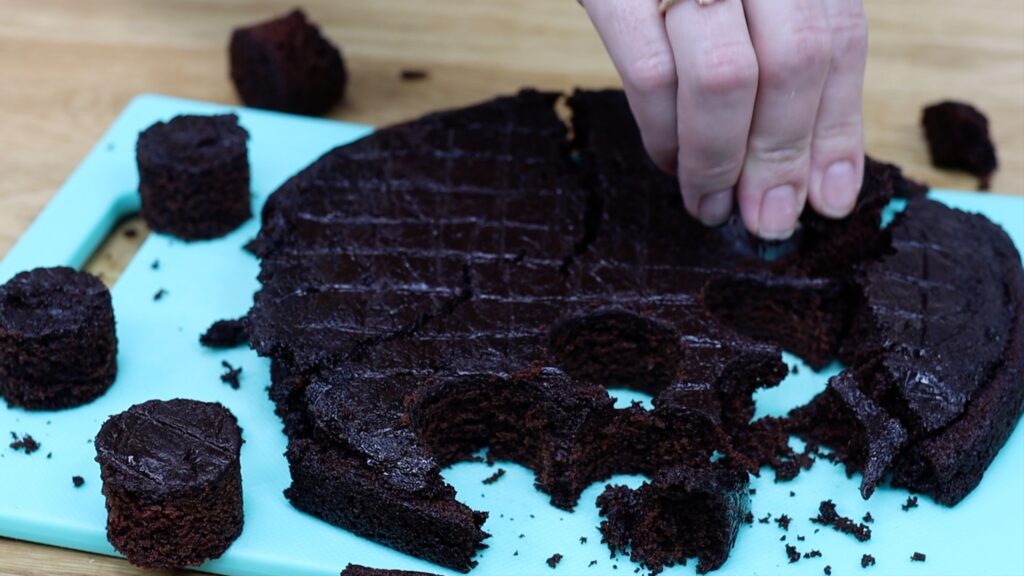 Optionally, you can drizzle your cake with simple syrup. Simple syrup is equal parts of water and sugar, brought to a simmer in a pan. Once the sugar dissolves, leave it to cool before you use it. This will keep the cake moist if you're not serving it until the next day.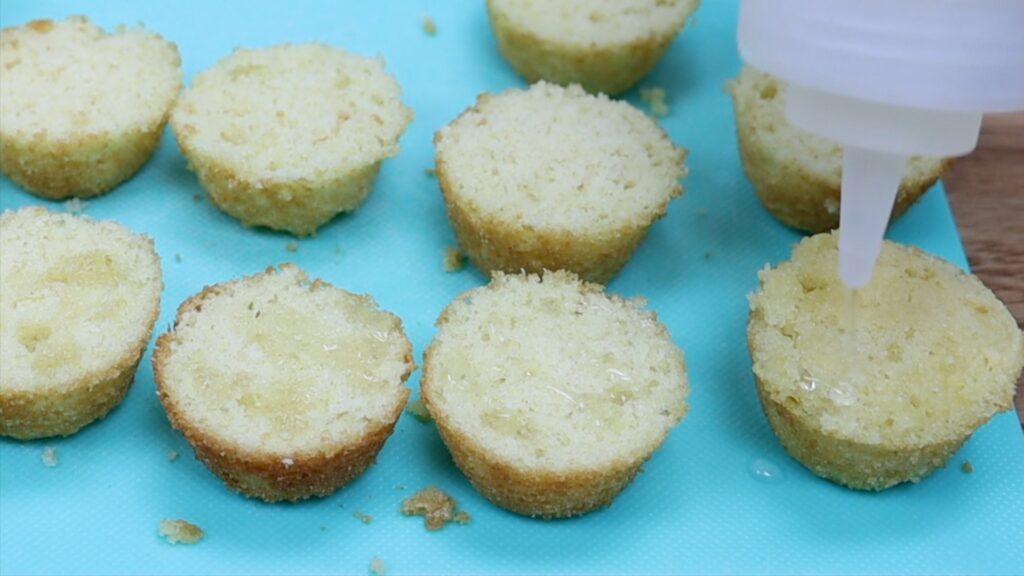 I'll show you later in this tutorial how to transport cake shooters across the country or even internationally!
What fillings and frostings can you use for cake shooters?
The answer is easy: any! I'm using my 4 Minute Buttercream frosting but you can use meringue frostings, ganache, and even whipped cream.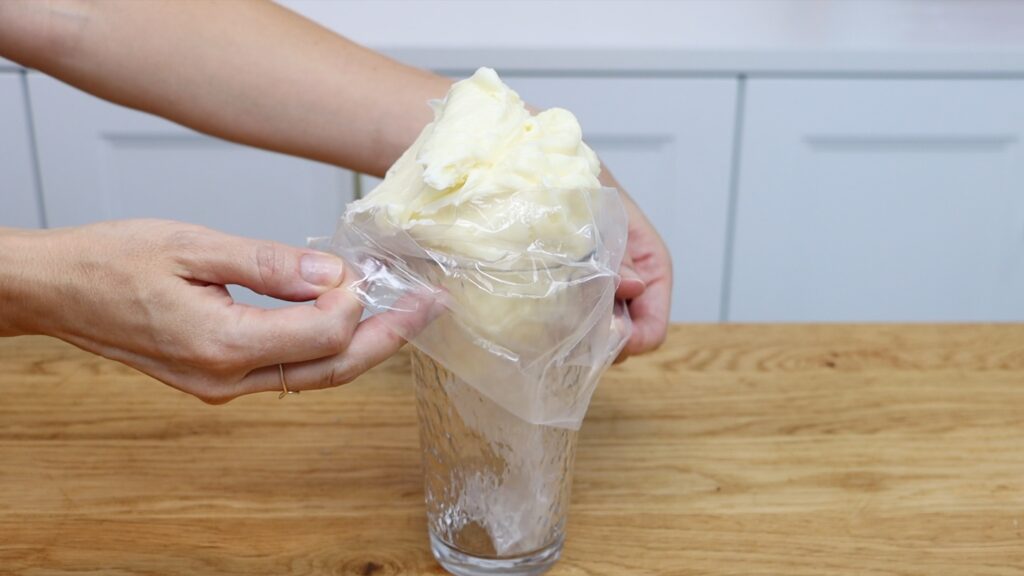 For fillings try fruit purees, caramel, Nutella, lemon curd, or any other fillings you like in cakes. It's easiest to put frostings and fillings in piping bags before making the cake shooters.
How do you make cake shooters?
Grab your glass and pipe some frosting into the very bottom. You can level it with a spoon if your piping bag doesn't reach all the way down. Then layer your cake and fillings and frosting all the way up the glass.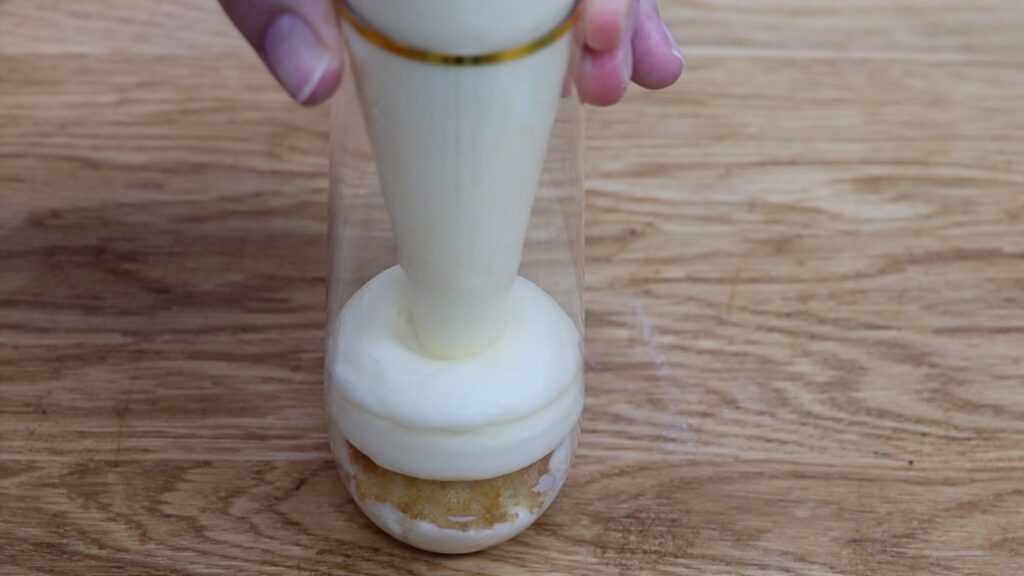 I recommend layering frosting above and below each cake layer if you're using fillings like fruit purees. If you don't, the puree will absorb into the cake and stain it, which won't look as pretty.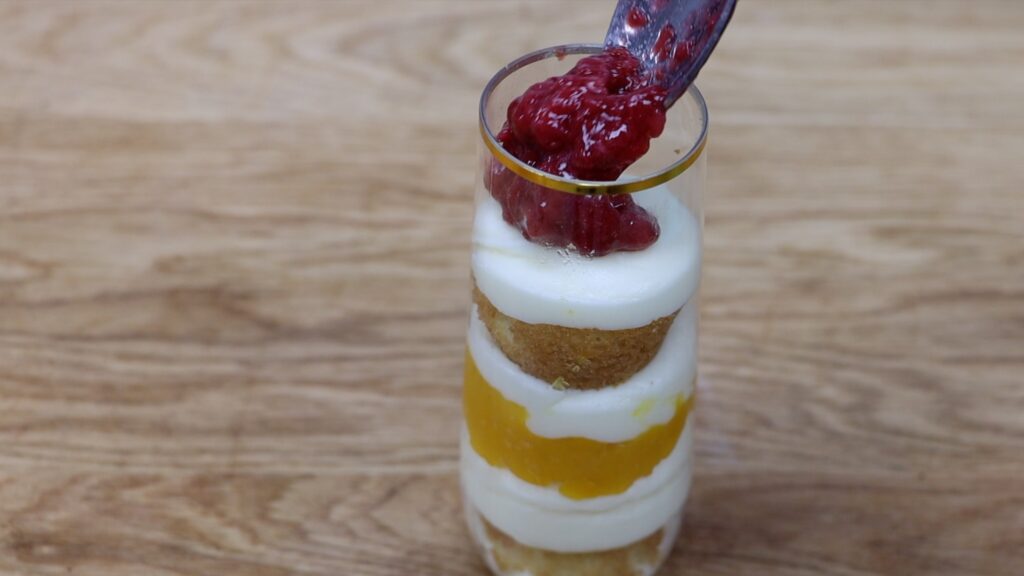 I teach how to make all sorts of fillings in my online course The Basics of Cake.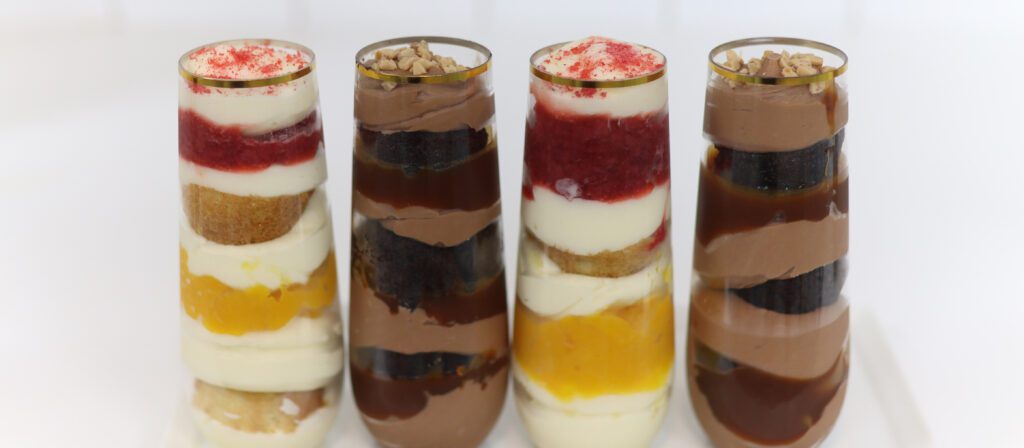 You can finish off each cake shooert with a swirl of frosting or spoon some filling on top, or even a dollop of whipped cream. Try a garnish like these crumbled dried strawberries or toffee crunch pieces, or sprinkles are always fun!
If these are for a birthday celebration you can of course add a candle for the birthday boy or girl, too.
Tips for making cake shooters
The challenge with tall glasses like these champagne flutes is that it's tricky to reach down to the bottom. You can spoon fillings and frostings into the glass but they're likely to smudge the sides of the glass. Using a piping bag helps you get lower down into the glass. You can use a piping bag with the end cut off, like I'm doing in the photo above. A long thin pastry tip, called a Bismarck Tip, is ideal because you can pipe down to the bottom of the glass without touching the sides.
It's much easier to get your cake and fillings into shorter glasses like shot glasses without making a mess! If you can, choose a cup that's a similar width all the way up and down. This was, you can cut your cake into the same size pieces and they'll all fit neatly into it, whether they're at the top or bottom of the cup.
How do you serve cake shooters?
With a spoon! I love long gold spoons but if the cake shooters are an order you can include plastic spoons.
How far in advance can you make cake shooters? How do you store cake shooters?
Like with any cake, these will taste best if you bake them as close to serving as possible. You can cover them with plastic wrap and store them in the fridge for a day or two. You can even freeze them if you want to make them in advance. But cake, fillings and frostings taste best at room temperature so take them out several hours before serving to warm up.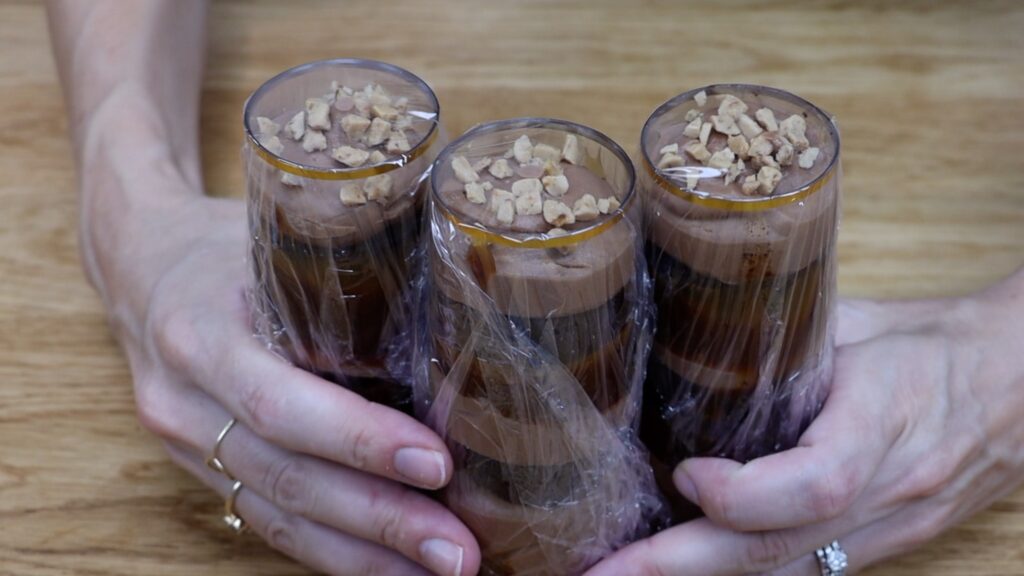 How can you transport cake shooters? Can you travel on an airplane with them?
Yes, you can fly with cake shooters in your suitcase! I recommend using buttercream rather than whipped cream because of its stability. First, cover each cake shooter with plastic wrap to prevent moisture from the freezer getting into them. Then place them upright in the freezer. The door of the freezer is perfect for this.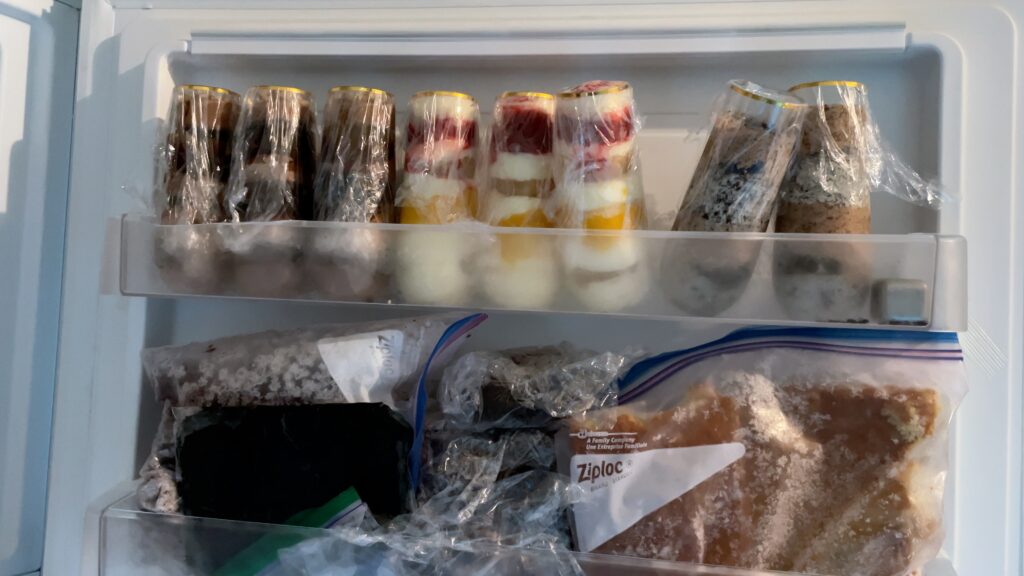 Once they're frozen, arrange them in a cooler with ice packs. Just before you leave home, put the cooler in your suitcase. By the time you get to your destination the cake shots will probably have thawed. Since buttercream is quite stiff, it will have held the cake and fillings in place within the glasses.
Enjoy! I hope this tutorial has been useful. Tell me in the comments if you're going to make some!
You can watch a video version of this tutorial here: