This decadent cookies and cream cake is made with Oreo buttercream sandwiched between layers of moist chocolate cake and wrapped up in more Oreo buttercream, topped with pretty swirls and Oreo cookies.
This recipe makes an 8 inch cake with 2, 3 or 4 layers. Halve the recipe to make a 6 inch cake.
Ingredients
For the cake
2 1/2 cups (625ml) hot water
1 1/4 cups (125g) unsweetened cocoa powder
2 1/2 sticks (1 1/4 cups or 280g) unsalted butter*
2 2/3 cups + 1/4 cup (583g) sugar
5 eggs
2 1/2 teaspoons vanilla extract
3 1/3 cups (400g) all purpose flour
1/2 teaspoon baking powder
2 1/2 teaspoons baking soda (bicarbonate of soda)
1/2 teaspoon salt
For the filling, frosting, and decorations:
2 1/2 cups (565g or 20oz or 5 sticks of 4oz each) unsalted butter*
907g or 32oz (about 7 cups) powdered sugar
1/2 teaspoon salt
1/2 tablespoon vanilla extract
2-3 tablespoons cream or milk
28 Oreos
*You can use salted butter instead for the cake and/or buttercream- just omit the salt in the recipe
Method
Start by baking the chocolate cake layers. In a bowl, whisk together hot water and cocoa powder until the cocoa powder has dissolved. Set aside to come to room temperature.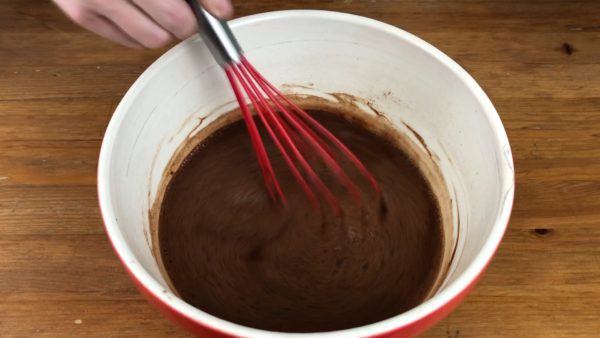 In a mixer with a beater attachment, mix butter with sugar on medium speed until pale and creamy, about 2 minutes. Scrape down to the bottom of the bowl once during mixing to make sure no butter is stuck at the bottom. Add eggs 2 at a time, mixing on the lowest speed after each addition until incorporated, about 30 seconds. Add vanilla and mix on lowest speed for about 30 seconds to combine.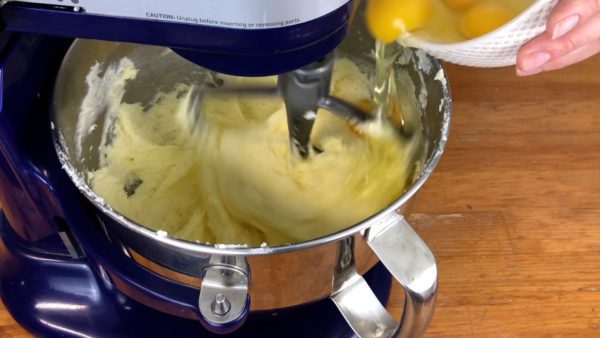 In a bowl, sift flour, baking soda and baking powder. Add half of the flour mixture to the mixing bowl and mix on lowest speed to incorporate. Add half of the cocoa mixture to the mixing bowl and mix on lowest speed to incorporate. Repeat with remaining flour mixture and then remaining cocoa powder mixture.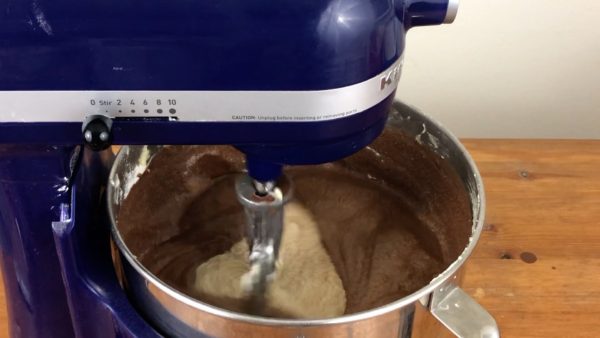 Spray the inside base and sides of each pan with non-stick spray. Divide batter between 2, 3 or 4 cake pans. Bake at 175ºC or 350ºF for 30 minutes if using 4 pans, 45 minutes if using 3 pans, or 1 hour if using 2 pans, or until a toothpick inserted into the middle of the cake comes out clean. Leave cake to cool for 5 minutes. Use a spatula to loosen cake from the edges of the cake pan and then turn onto a wire cooling rack. Leave to cool completely.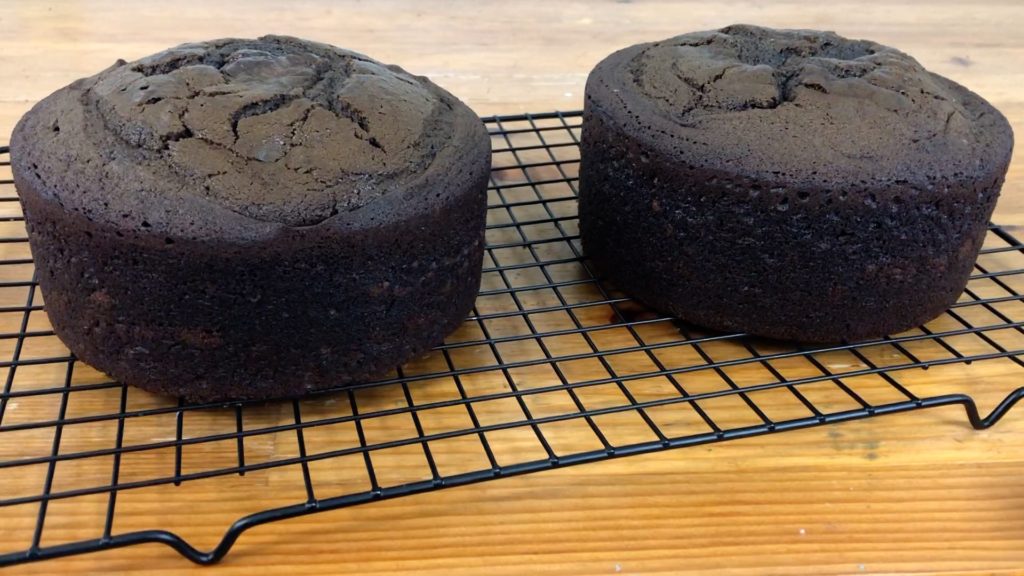 To make the Oreo buttercream is very simple. Make a batch of my 4 Minute Buttercream by mixing butter and powdered sugar in a mixer at the lowest speed setting until it's smooth. The butter must be at room temperature and I like to add the sugar a quarter at a time, mixing for 1 minute before adding the next quarter, so that the sugar doesn't spray out of the mixer when you turn it on. Add vanilla and mix for a few more seconds to incorporate.
Divide the buttercream into two bowls: a quarter of the buttercream in one bowl for the filling and the rest in another bowl for the frosting and piped swirls. Place 2 Oreos in a ziplock bag and bash them with a rolling pin, mug, or any other sturdy, heavy object to break them into chunks.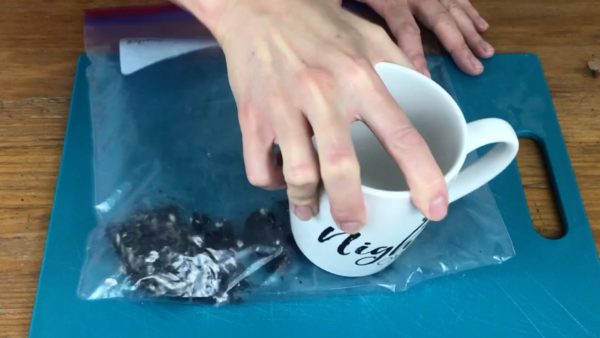 Pour these cookie chunks to the smaller bowl of buttercream. The random sized pieces add nice texture to buttercream so it's great to use in buttercream as filling between the cake layers, but the chunks are a nightmare for smooth frosting.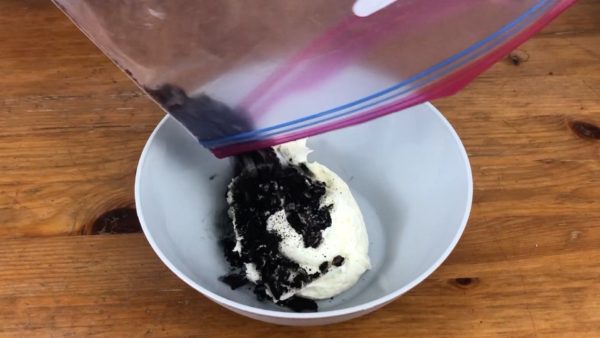 So for the larger bowl of buttercream, which you'll use for frosting and piping, put 10 Oreos in a food processor or a blender and blitz them until they're really fine, almost like a powder. Save about 1/4 cup of crumbs to use later in the recipe and add the rest of these crumbs to the larger bowl of buttercream.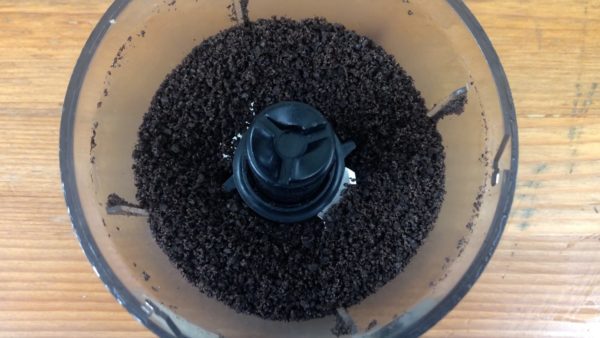 Stir this buttercream as little as possible because if you keep mixing, instead of white frosting with black specks you'll end up with grey frosting which doesn't look as appealing.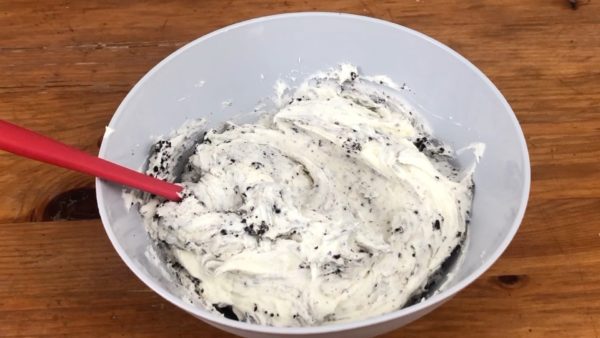 If you use both methods of crushing the Oreos in chunks and crumbs, you'll have two different buttercream but if you like, you can just blitz all 12 Oreos in a food processor or blender and use just these fine crumbs in the whole batch of buttercream, to use for the filling and the frosting on the cake.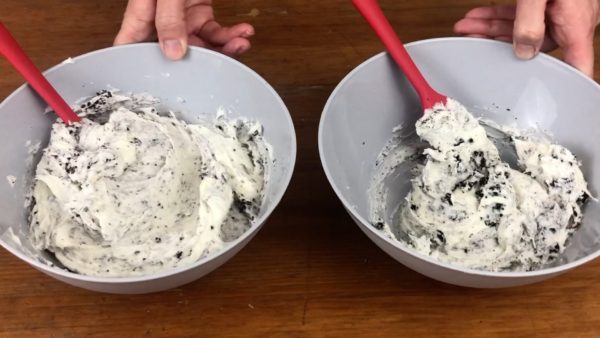 To assemble your cake, attach the first layer of cake to a cake board with a dollop of buttercream. The buttercream will set and secure the cake to the board so it doesn't slide around while you frost, transport, or serve it.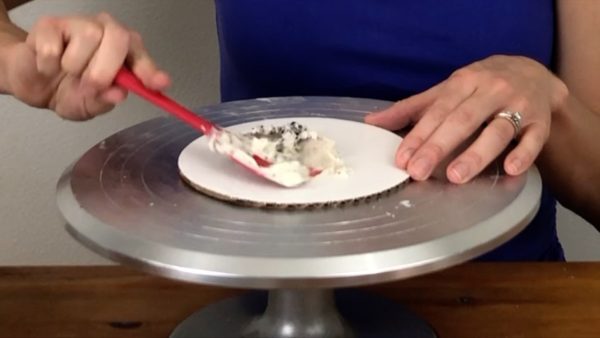 Spread a layer of the buttercream with cookie chunks on top of your first layer of cake. I use my Perfect Chocolate Cake for this because it's not very sweet, so it balances out the sweetness of the Oreo buttercream. I like to chill my cake layers in the fridge for about an hour before I do this so that they firm up and that makes them easier to move around and to frost.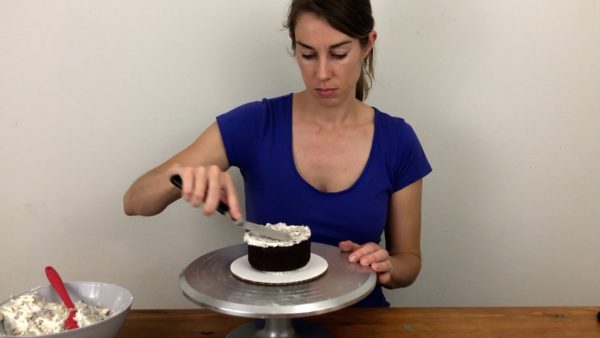 Ignore my serious face in this photo! I'm really enjoying myself, I promise. Alternate your cake layers and buttercream, lining each cake layer directly on top of the previous layer so your cake is straight and not slanting to one side.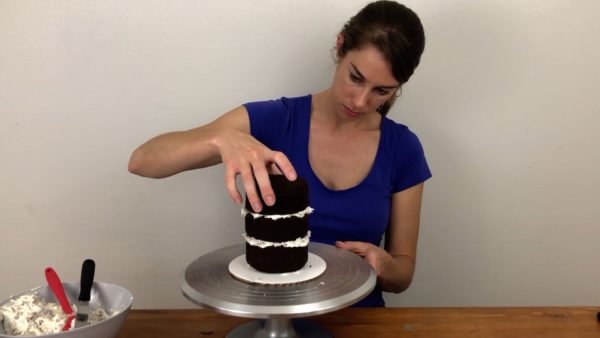 Now use the buttercream with fine crumbs of Oreos to frost your cake. The buttercream should be easily spreadable. If it's too stiff and it pulls off the cake when you try to spread it on, add milk or cream a tablespoon at a time until it's the right consistency. I have a very detailed tutorial on my 4 Minute Buttercream with tips on how to check the consistency and I answer the 25 most commonly asked questions about it here. I almost always cover my cakes in a crumb coat before applying a final coat of frosting, so that any crumbs that come off the cake get trapped in the crumb coat and don't get into the final coat of frosting. But this is an exception. I skip the crumb coat and just spread on one thick layer of frosting and I do this for two reasons.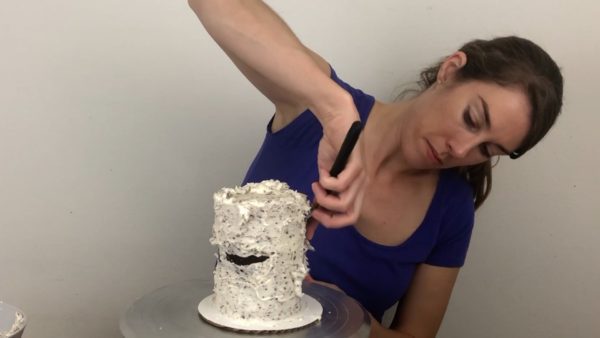 The first is that my perfect chocolate cake isn't very crumbly when it's cold, so as long as you chill the layers before assembling and frosting the cake, you won't get many crumbs in your frosting. The second reason is that the frosting is white with tiny flecks of black cookies, which look identical to crumbs of chocolate cake! So if any crumbs do come off in your frosting, you won't notice.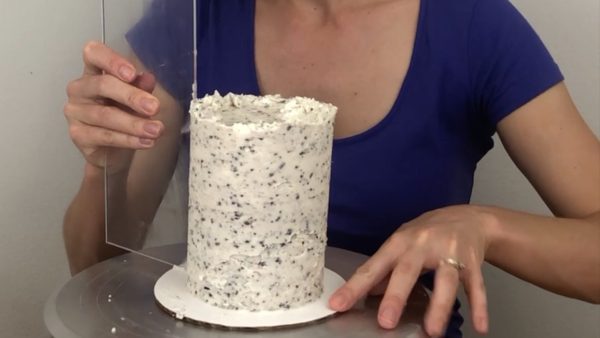 As you smooth the cake, keep the frosting you scrape off in a bowl to use later. When your frosting is nice and smooth, pour the rest of your Oreo cookie crumbs around the cake board and push them into the bottom inch or so of frosting on the cake, to make a border around the bottom.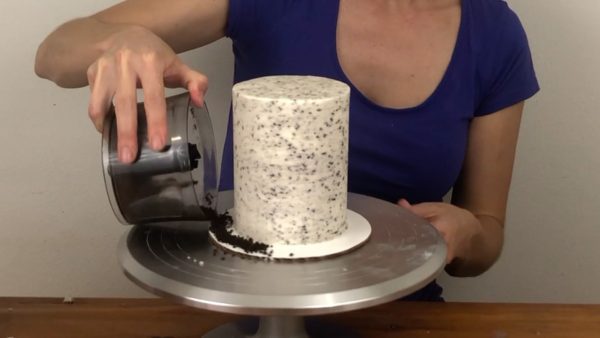 Use your offset spatula to press them into the frosting or the back of a spoon or your hands. You can put the cake on a baking tray to catch any crumbs that fall off while you're doing this, for an easier clean up.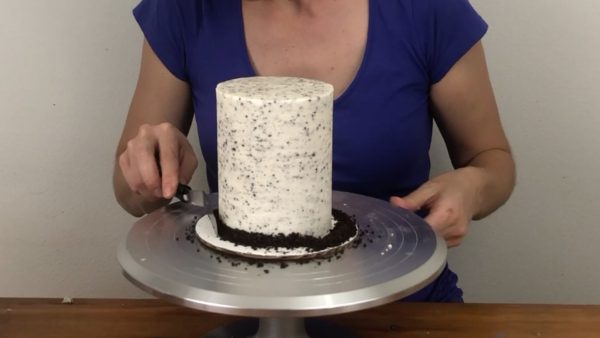 For the top of the cake, press an Oreo into the frosting so it goes right up to the edge of the cake. Press another one in opposite it, so if this was a clock they'd be at 12 o'clock and 6 o'clock, and then put a cookie in the middle on each side, so these would be 3 o'clock and 9 o'clock.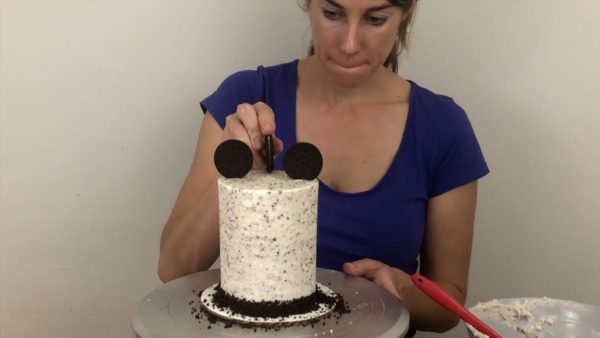 Then add one more cookie in between each of these, to make 8 cookies in total. By adding the cookies in this order you're making sure they're spaced evenly around the cake. For an 8 inch cake I would add one more cookie in between each of these cookies to make 16 cookies in total. You can add as many cookies as you like but make sure you leave enough space between the cookies for the swirls of buttercream we're going to add next.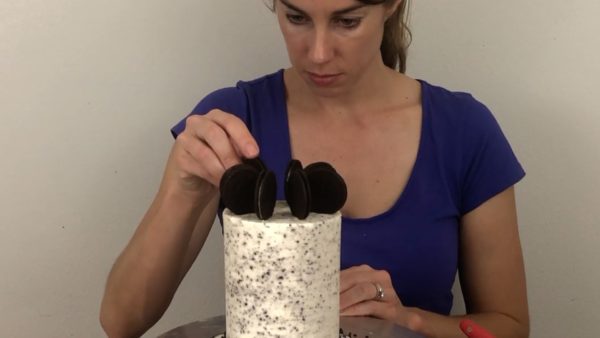 Fit a piping bag with a star tip like this 1M tip and fill the bag with the leftover buttercream from when you frosted the cake. Now hold your piping bag vertically, with the tip facing down between two Oreo cookies and pipe a swirl by spiraling the bag upwards.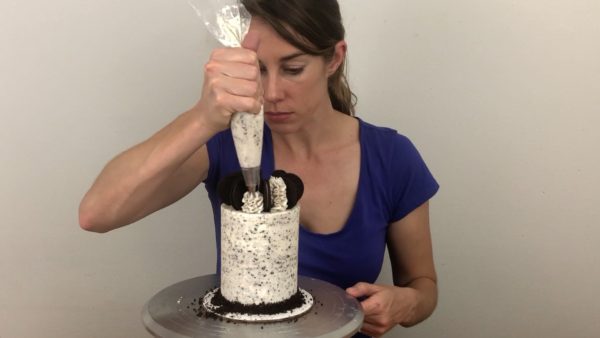 When you get to the top of your spiral, release your pressure on the piping bag as you lift your bag away from the car to leave a neat peak on your swirl. If you let your piping tip brush against the sides of the cookies as you pipe, you'll make the swirls go all the way up to the sides of the cookies so you'll completely fill the gaps in between the cookies, which looks tidy but it's also extra support for the cookies so that they don't fall over.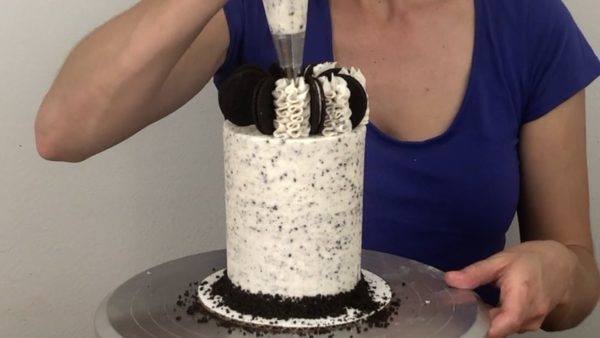 Having very very fine crumbs of Oreo cookies in the buttercream in the bag means you can pipe the buttercream through the star shaped tip and crumbs won't get wedged in the points of the star and block the buttercream as it tries to come out.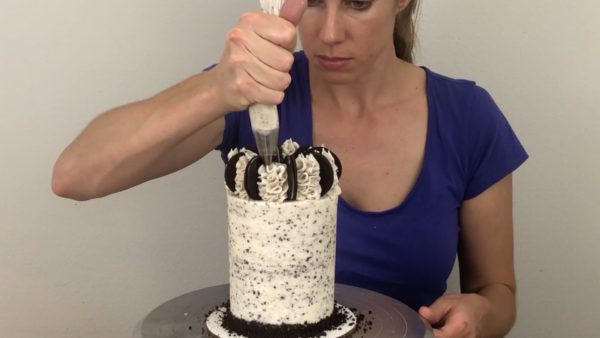 Having very very fine crumbs of Oreo cookies in the buttercream in the bag means you can pipe the buttercream through the star shaped tip and crumbs won't get wedged in the points of the star and block the buttercream as it tries to come out.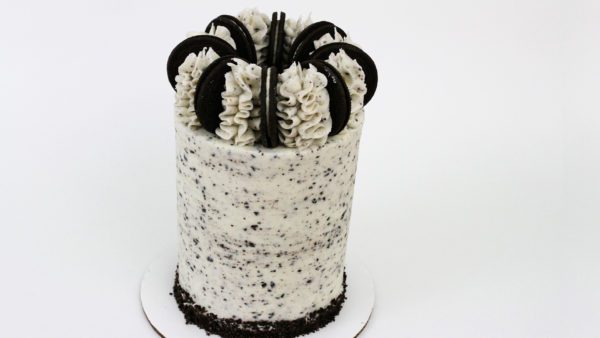 I store frosted cakes in the fridge until 2-4 hours before serving, which gives them enough time to come to room temperature, when they taste the best!
I'd love to see your version of this cake! Please tag @britishgirlbakes in your photos on instagram so I can see your creations!
Here's the video version of this tutorial: