Cake dummies or fake cakes are a great way to save money and avoid waste while creating extra tiers on cakes or practicing new techniques!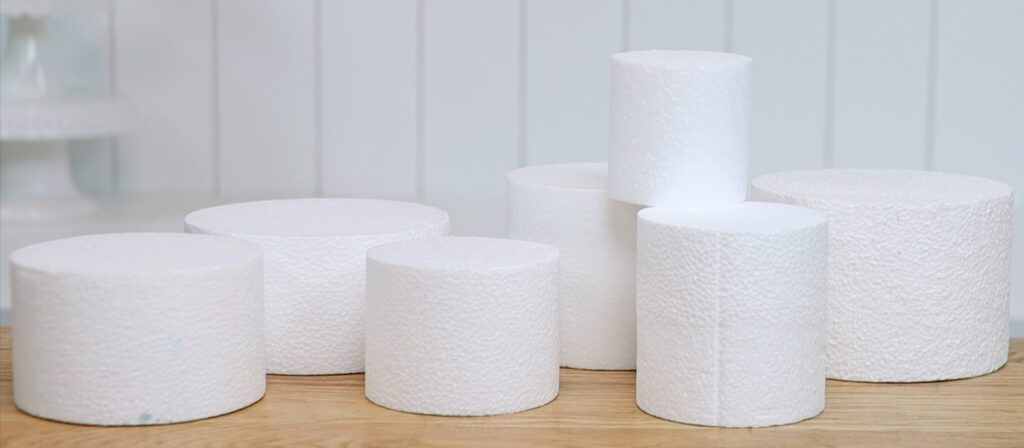 Why use cake dummies?
You can use cake dummies to practice techniques without wasting any actual cake. Businesses often use them for display cakes that don't need to be eaten. They're also a popular option to add an extra tier to a wedding cake for height. I love my Perfect Chocolate Cake and all of my other cake recipes but a cake dummy is ideal when you don't need any servings from a cake. Once the cake is frosted and decorated, you'd never know it was styrofoam on the inside!
How to choose a cake dummy
Cake dummies come in different widths and also different heights. I like to buy a variety of sizes so that I can stack them into a tier cake. If you buy short dummies but want to decorate a tall cake you can stack two of them together. Spread buttercream or royal icing on top of the first dummy and press the next one on top. When the buttercream or royal icing sets it will attach the dummies together like glue.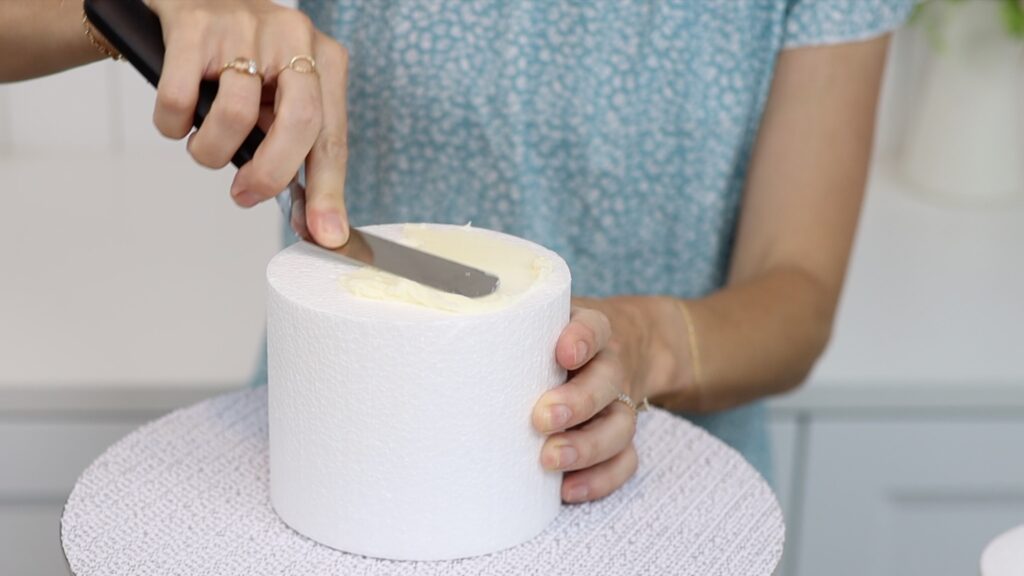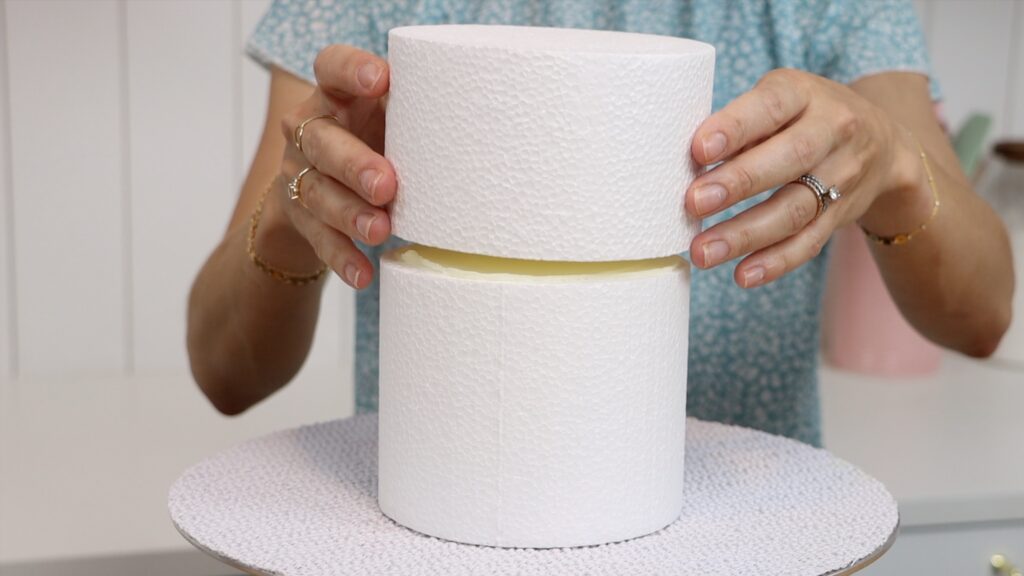 Cake dummies are styrofoam and they're easily damaged so be gentle with them and store them carefully.
How to frost a cake dummy
Being lightweight makes frosting cake dummies tricky so here are tips for that! Start with a bit of buttercream on the middle of your cake board. Press your cake dummy firmly down onto it, centering it on the board. Then put the cake on the board in the freezer for 10 minutes or the fridge for 30 minutes. This will chill and set that buttercream. I use my 4 Minute Buttercream to frost and decorate almost all of my cakes.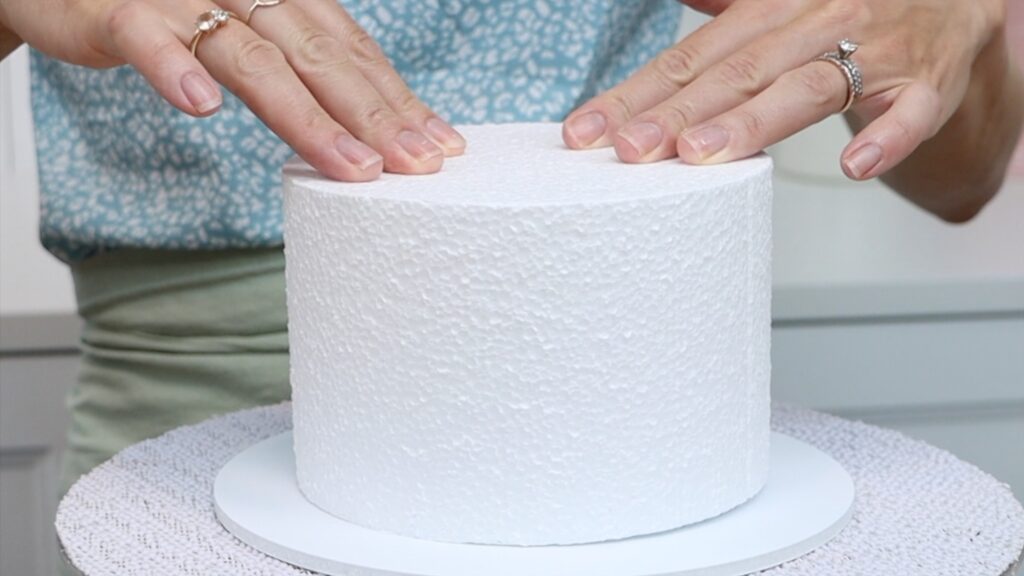 Now you can frost the cake dummy. The dot will hold the cake in place on the board while you spread and scrape the frosting. However, since cake dummies are so light you'll push the cake on its board all over the turntable. To prevent that, use a non-slip mat under the cake board. Also, use your spinning hand to grip both the turntable and the cake board as you spread and scrape the frosting. This will keep the board still so that it doesn't move around.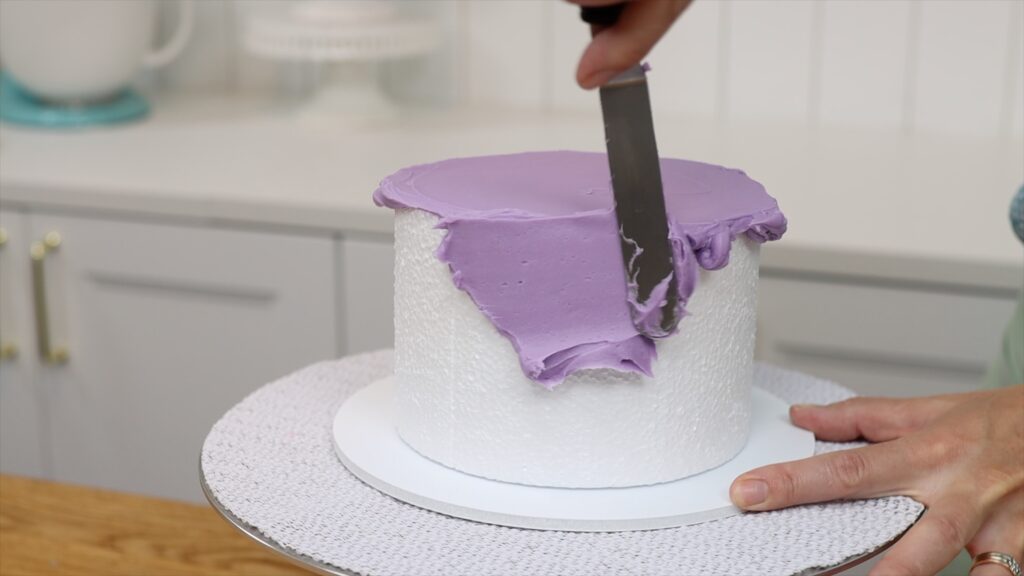 One of the advantages of cake dummies is that you can skip the crumb coat! There are no crumbs to get into your frosting so just a single layer of frosting is enough, which is a nice time saver.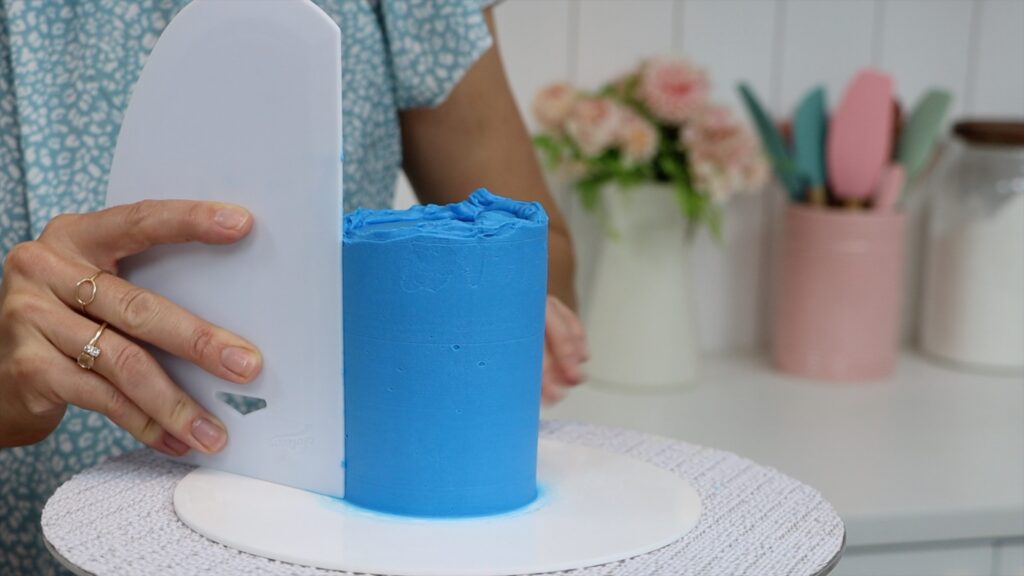 How to use cake dummies for tier cakes
To make tier cakes you can stack cake dummies or combine them with real cake tiers. Since they are more sturdy than real cakes, you don't need a support structure within them. You don't need a cake board underneath them on the top tiers either.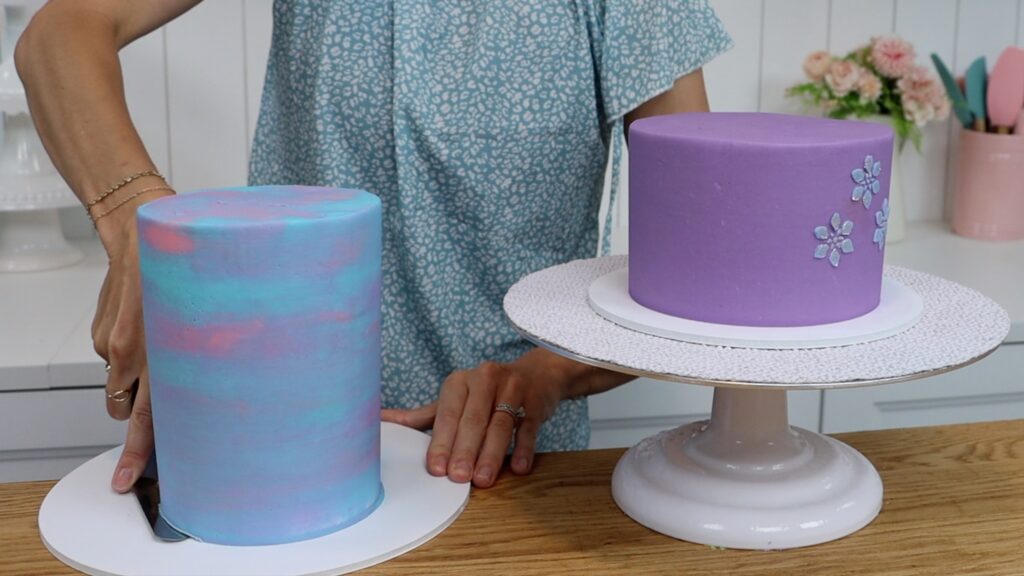 To use a cake dummy for a tier cake, slice underneath the cake dummy to separate it from its cake board. Then spread a bit of buttercream on the cake that will be below it. After placing the cake dummy on top, the buttercream will set and secure it in place. Then you can move or transport the cake safely.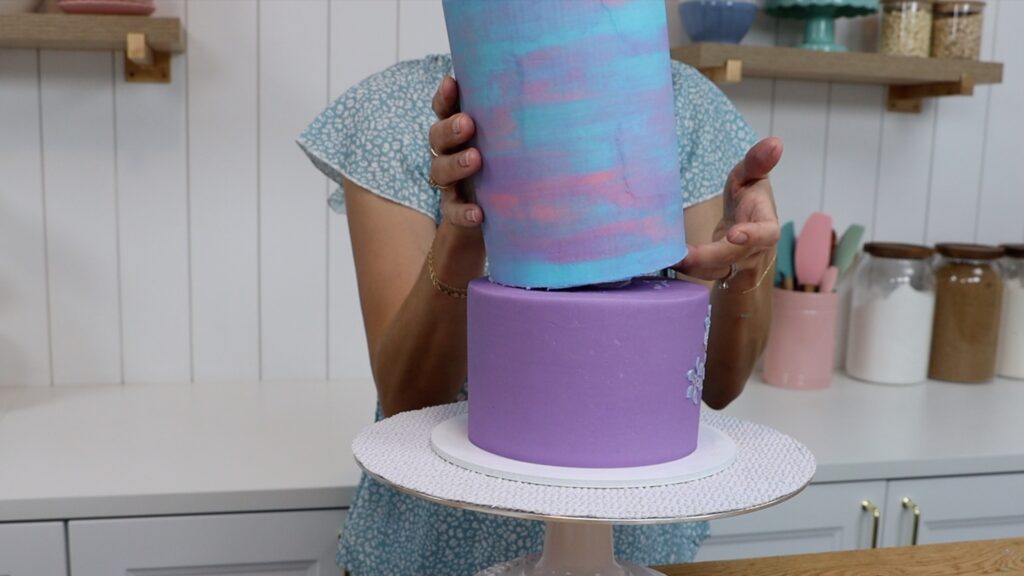 Just like with real cakes, I recommend chilling a cake dummy after frosting it, before stacking a tier cake. When the frosting is cold you can touch it to balance or adjust the tiers with damaging it.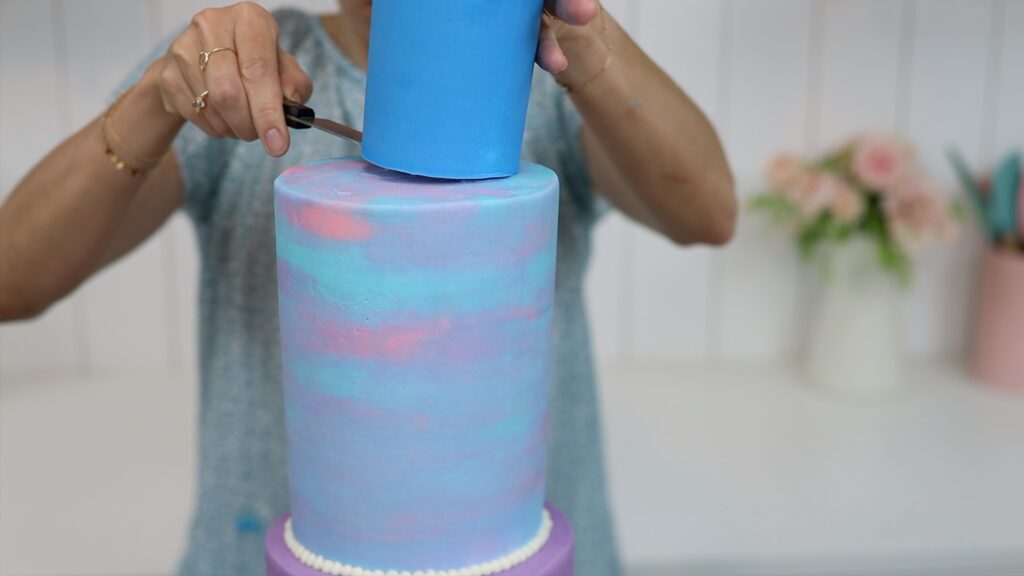 How to clean cake dummies and re-use them
A huge benefit of cake dummies is that they're reusable! When you've finished with a decorated dummy, rinse it under hot water to take off the frosting. Leave it to dry and then frost and decorate it again!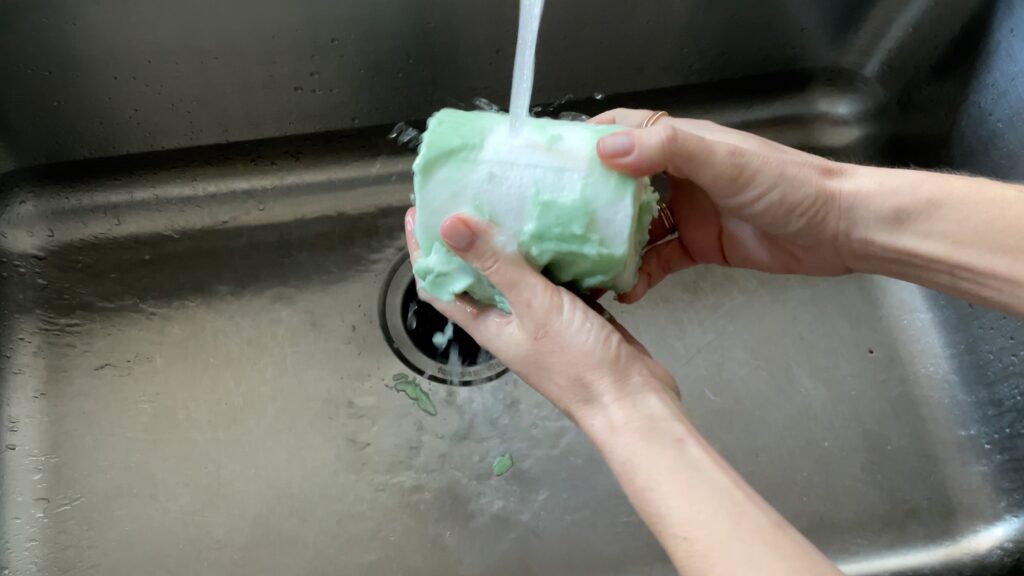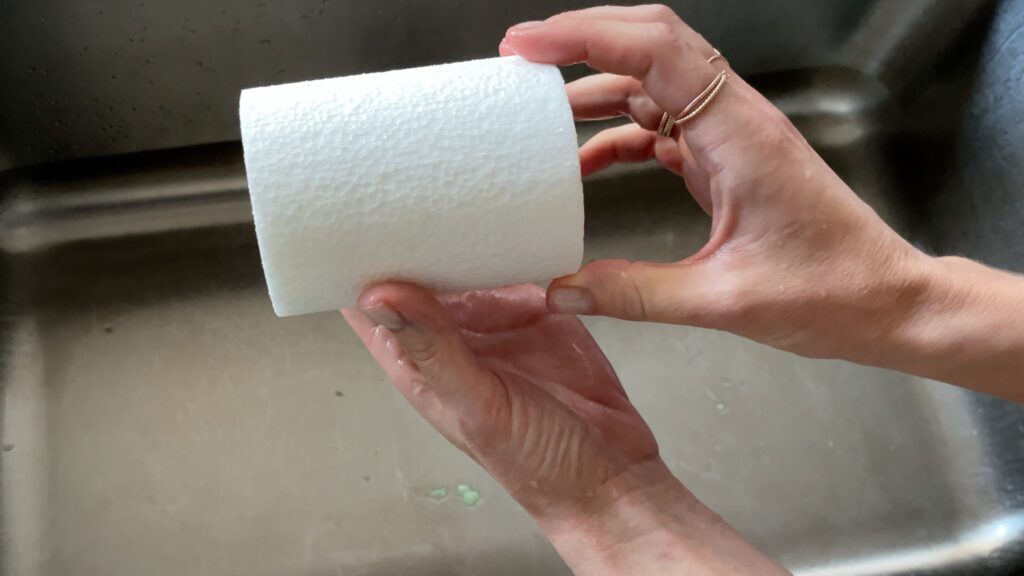 Cake dummies are a time saving and cost saving way to improve your cake decorating skills. You can practice techniques like smooth frosting, sharp edges, stenciling, piping, and more!
Visit my cake school to learn hundreds of cake decorating techniques and designs with my online courses and membership options!
You can also watch a video of this tutorial: