I love the pastel colours of Easter and there are SO many cute cake designs for this season! I'm going to share four cake decorating ideas that are easy but pretty and eye-catching.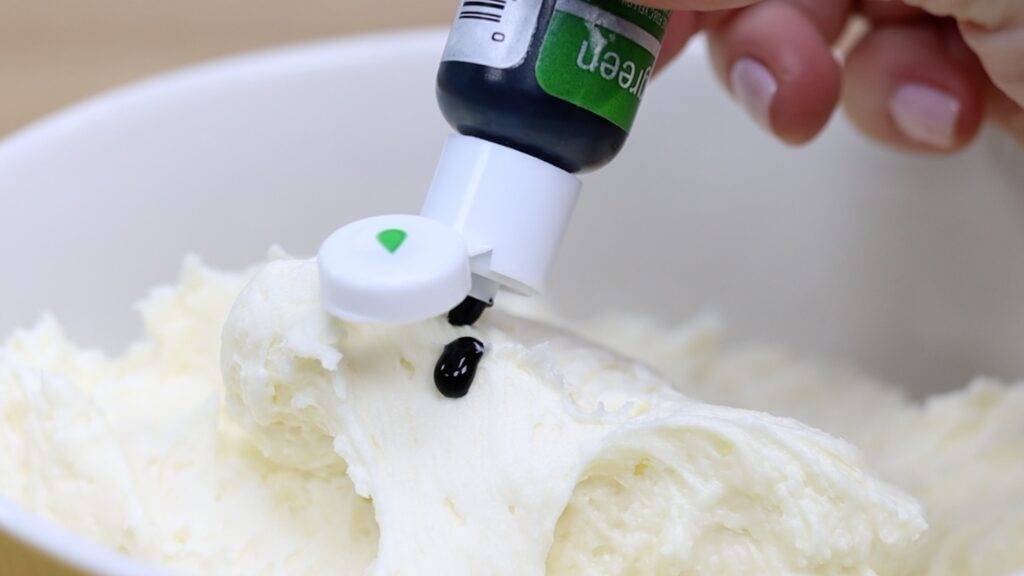 #1 Pastel frosting
For gorgeous pastel shades of frosting add just a drop of gel colours to buttercream. I know it sounds crazy but I like adding a teeny tiny bit of black to make the colours more muted and romantic instead of super bright. Be conservative with how much gel you add because you can always add more if you want to make it darker.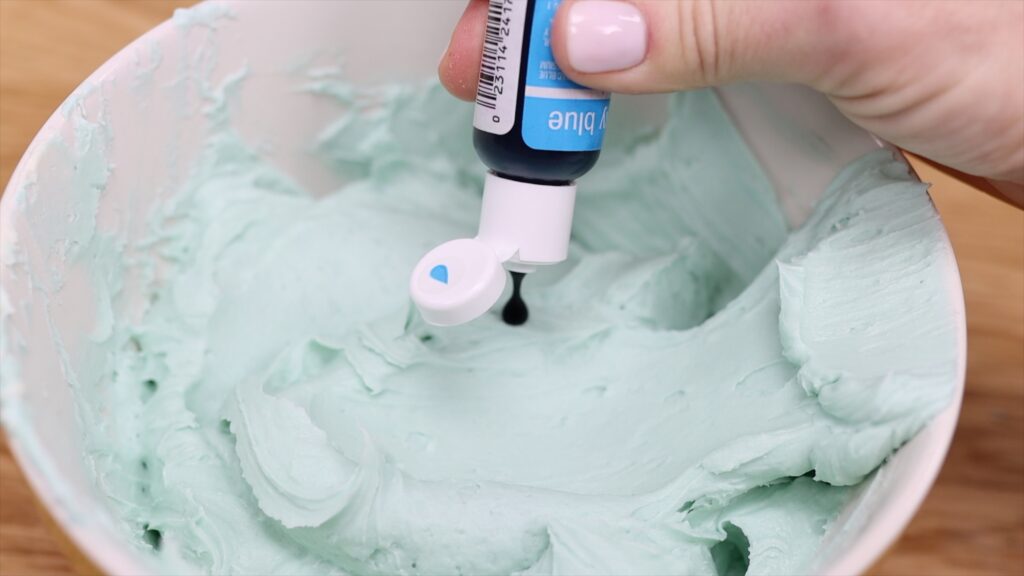 Gel colours develop and darken with time so make the colour a little bit lighter than what you want. Even a plain cake looks like an Easter cake when the frosting is a pastel colour like this!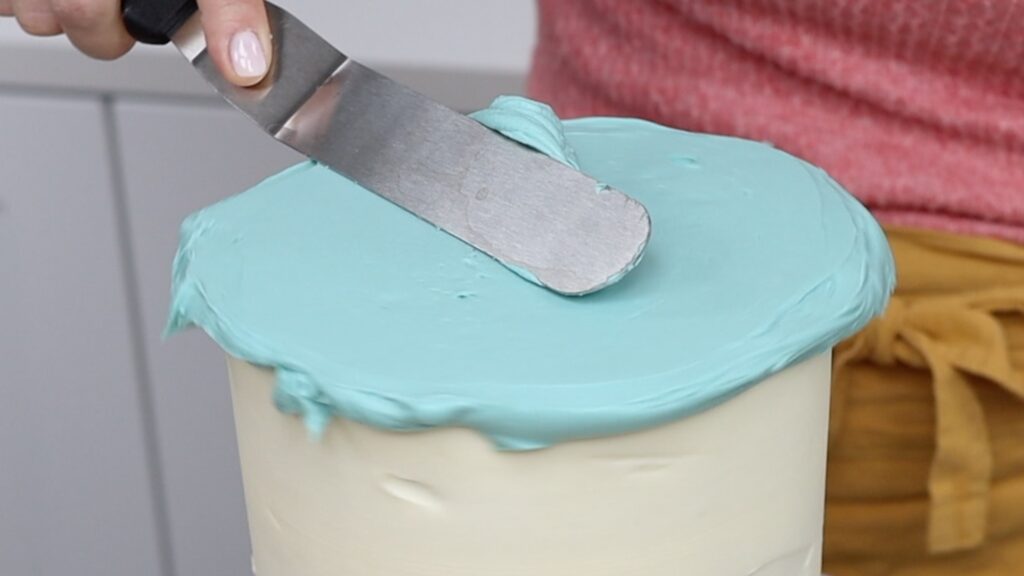 #2 Sprinkle border
A sprinkle border is a quick way to add colour and texture and detail to a cake. If you use a crusting buttercream like my 4 Minute Buttercream you can wrap your cake in parchment, leaving only the bottom inch or so exposed and that will give you a neat, straight band of sprinkles around the cake. Place your cake on a tray or baking sheet to catch any falling sprinkles and make clean-up quick and easy!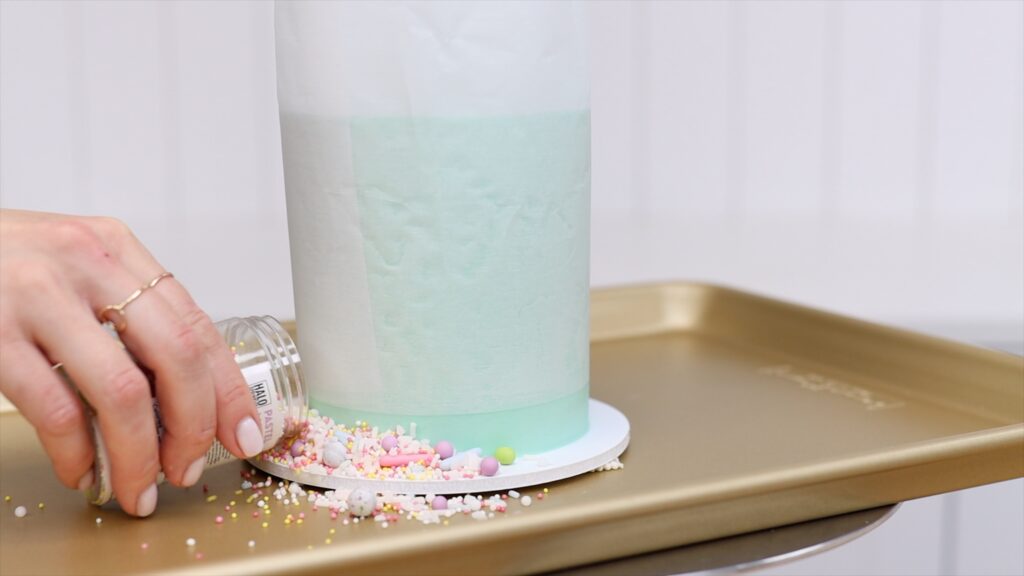 There are lots of Easter coloured mixes out there like this one by Sweet Stamp (use my discount code BGB10)! Just pour the sprinkles out, scoop them up with an offset spatula or your hands, and push them into the frosting on the cake! If you've wrapped your cake in parchment paper, peel it off to reveal a perfectly neat, level sprinkle border!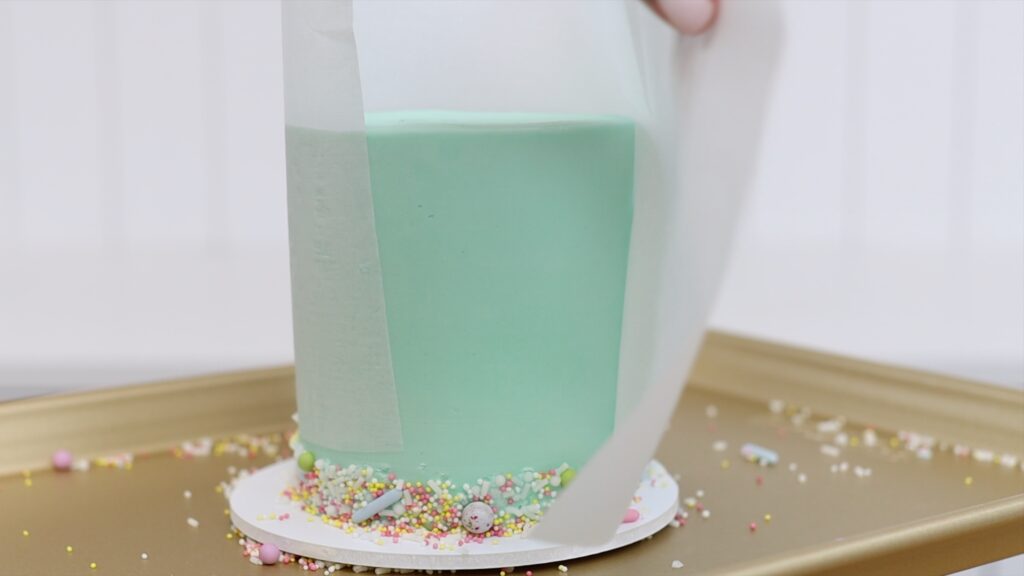 #3 Bunny design
To make a cute bunny stencil, draw an outline onto a piece of parchment paper and cut it out. I like to cut the parchment long enough that I can completely wrap it around the cake and you'll see why in a second.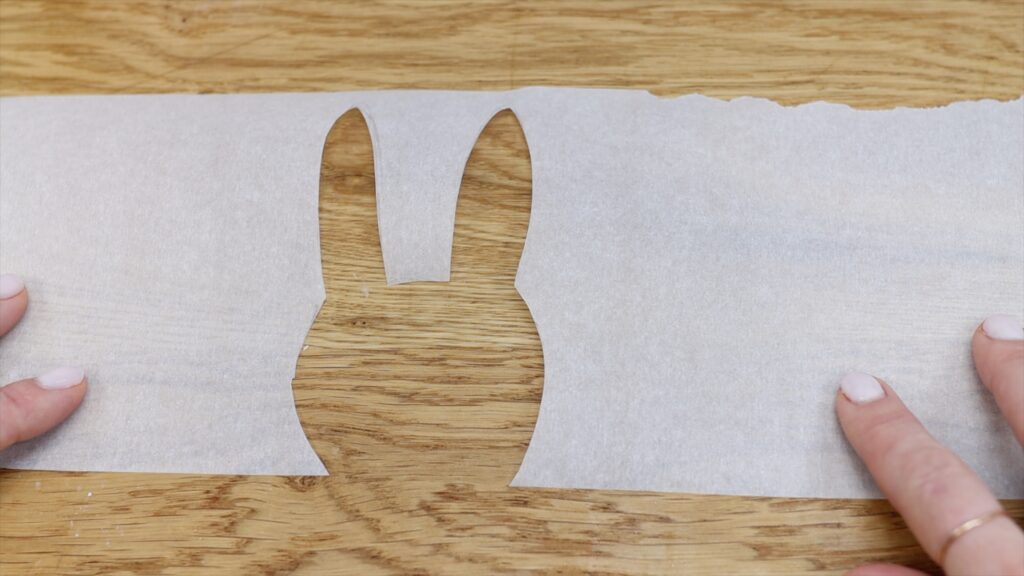 Line the stencil up so that the bunny is wherever you want it to go and then spread buttercream over it to cover up the cake that's exposed within the stencil. If the parchment wraps all the way around the cake it will hold itself in place, or you can use tape or pins to secure it, but if you cut the parchment shorter you'll have to press it against the frosting to hold it still and that your fingers will warm up the frosting on the cake and leave imprints on it. Check out this tutorial for more ideas of how to decorate cakes using parchment paper.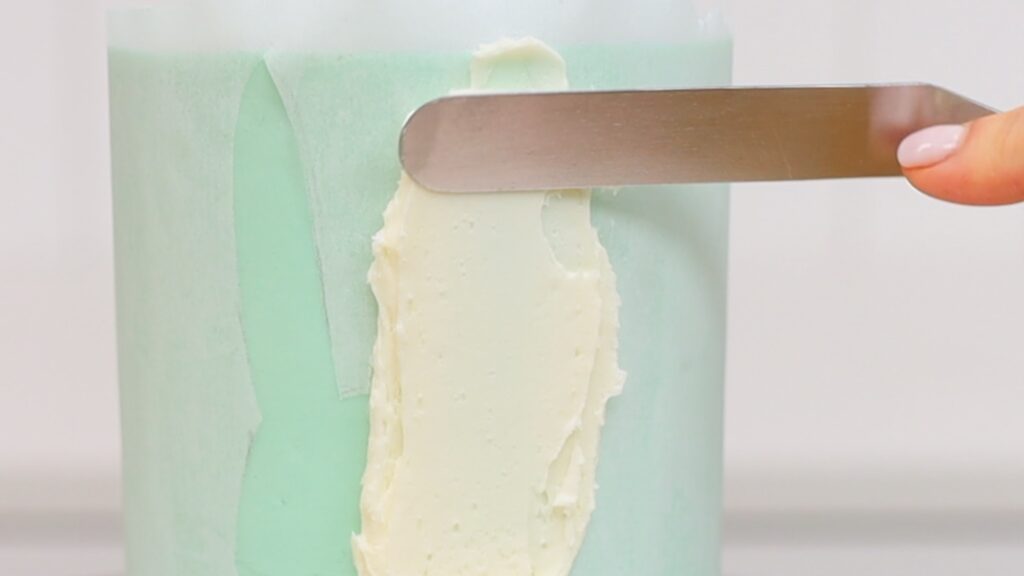 Scrape off the excess frosting with your offset spatula or a cake comb. You're aiming for a thin, smooth layers of buttercream that completely covers the cut-out design on the stencil. If the buttercream isn't flat, spread more frosting over any uneven areas and then scrape again with your cake comb.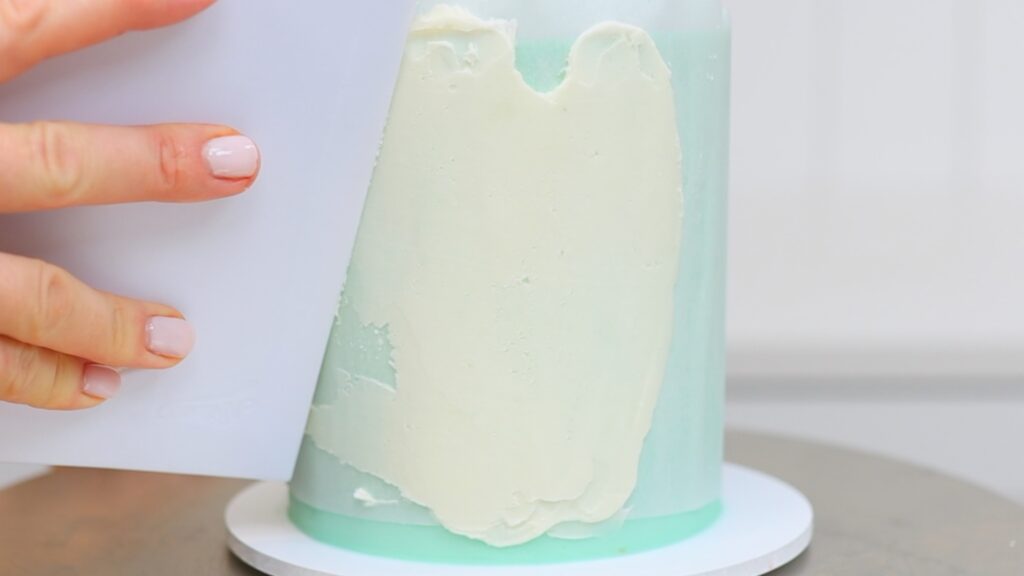 Peel the parchment off and voila!
To jazz this bunny up a bit you can pipe on some flowers to make a headband. Did you know that some standard piping tips can be used to pipe multiple petals at the same time? They make piping quick and easy. My favorites are this 2D star tip and #109, which is a tiny "drop flower" tip: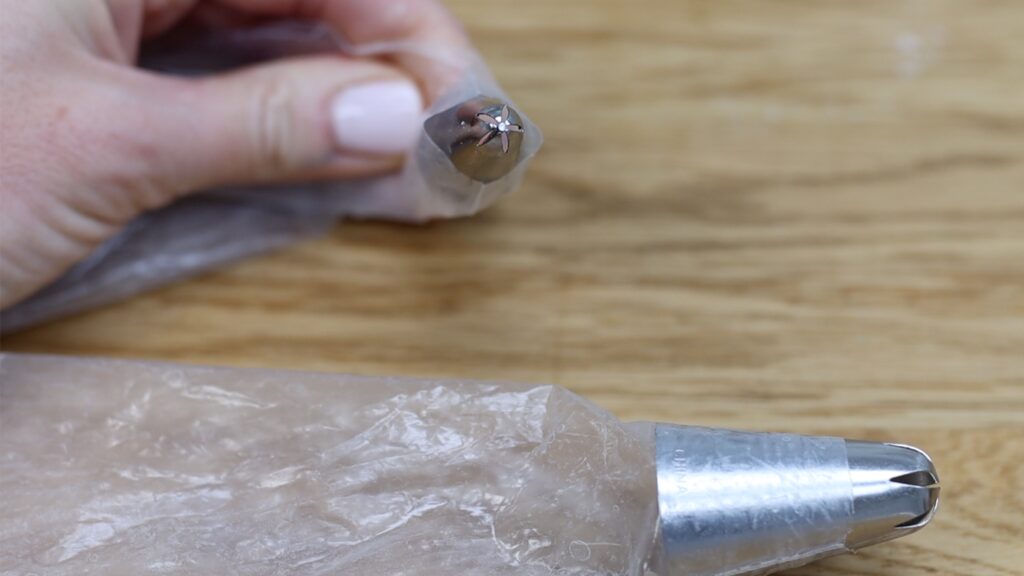 Put each piping tip in a piping bag with just a few spoonfuls of buttercream. These tips both work by squeezing out the buttercream and then twisting the tip to pipe all of the petals at once. It's slightly awkward twisting along the side of a cake but I love the way these flowers look! Simple and quick, but so pretty!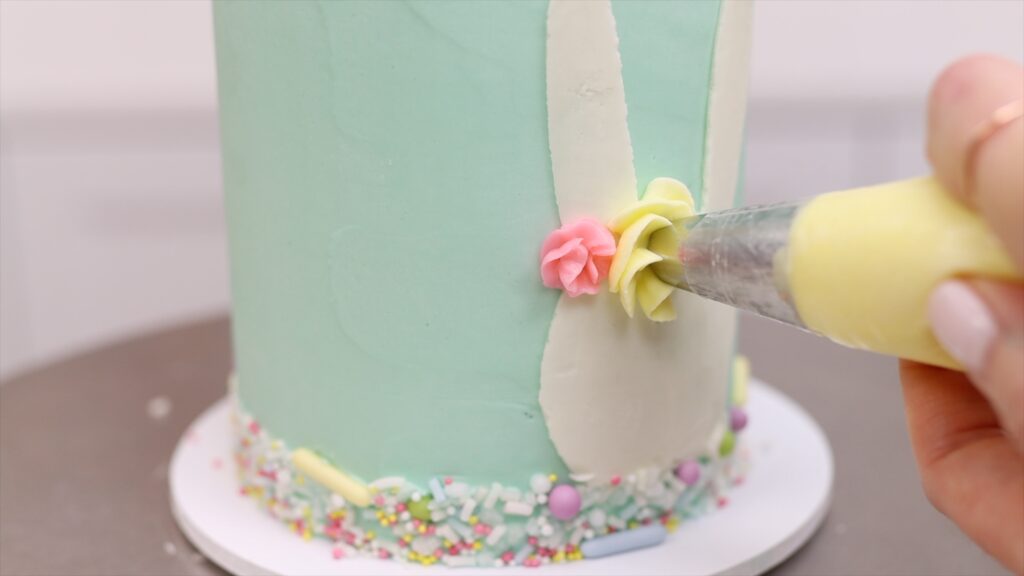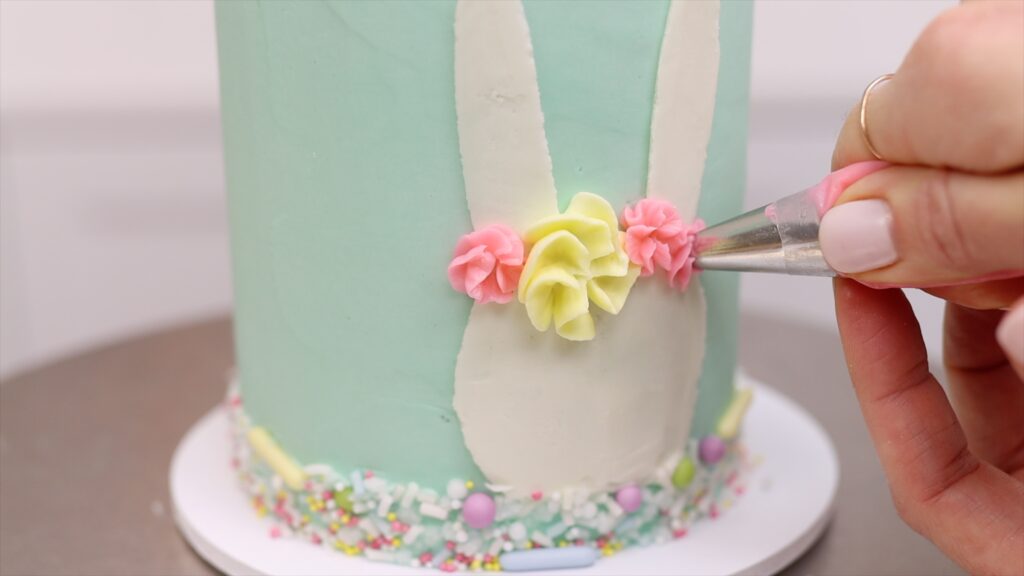 #4 Easter egg nest
Now let's make a chocolate Easter egg nest. Press a round cookie cutter or the rim of a glass into the top of the cake as a guide of where your nest will be.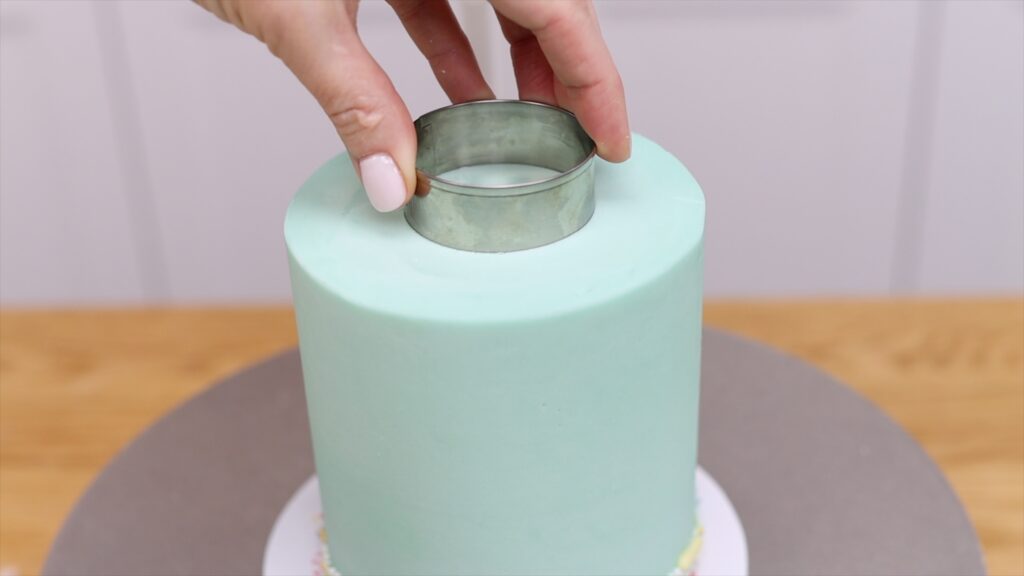 Use any star tip but choose one that fits the size of your cake. For example, a 1M tip is too big for my little 4" cake so I chose to a #199 open star tip instead. I'm using my Best Chocolate Buttercream but you could use vanilla tinted with brown gel instead. Pipe a rope border by spiralling the buttercream in a circle, overlapping each circle or loop of buttercream with another one. The prongs of the star tip will create ridges or grooved texture in the piping that makes this look like a nest.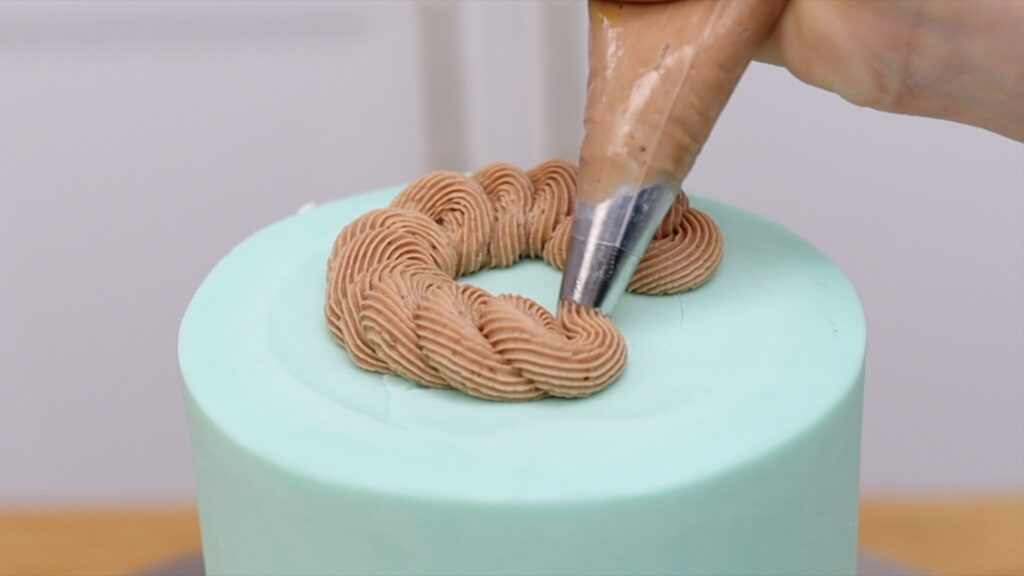 Add some Easter eggs and you've got a pretty, colourful Easter cake that only took seconds to decorate!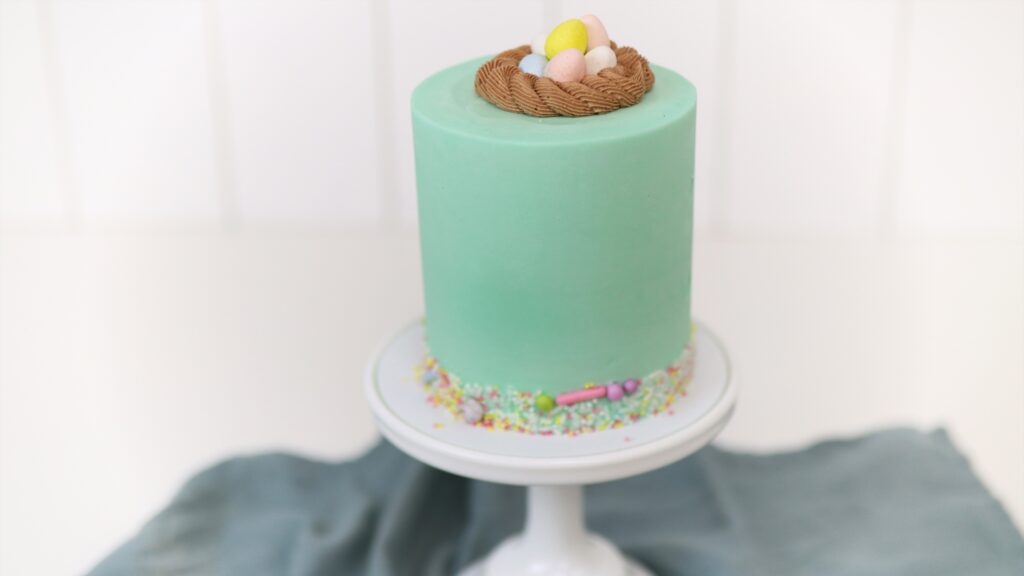 I hope you're seen some ideas you like! Tell me in the comments which is your favourite. Happy Easter!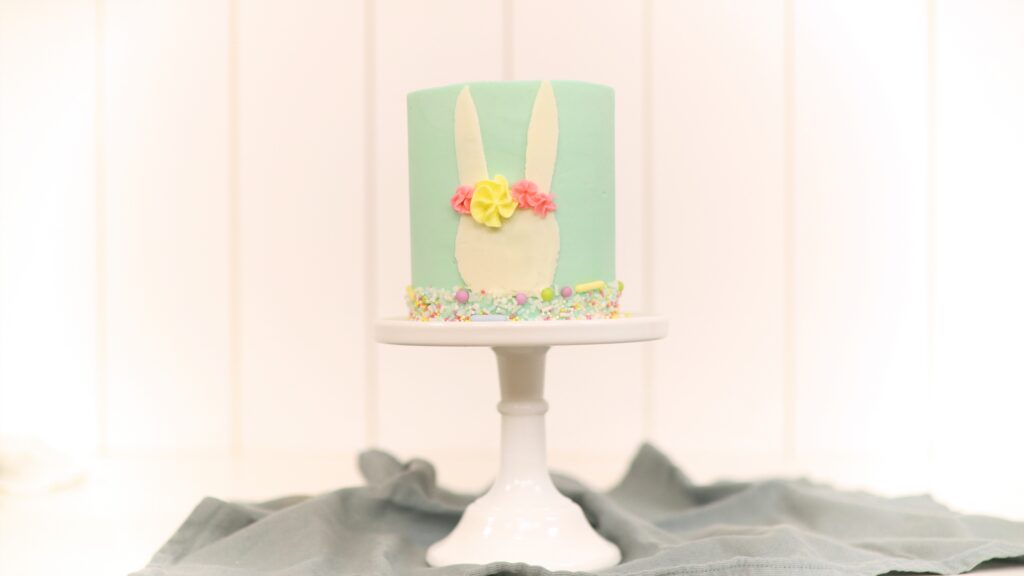 You can also watch a video of these 4 easy Easter cake decorating ideas!