Mini cakes are perfect for mini celebrations! They're also fun gifts if you want to give each person their favourite flavour or personalised decorations. In this tutorial I'm going to show you how to bake mini cake layers without special tools and how to assemble and frost such tricky little things, and then I'll share a few ideas for decorating them. If you prefer to watch a video of this tutorial, scroll to the bottom of the page.
There are lots of ways to make mini cakes and I have tutorials on how to turn cupcakes into cake and how to make them in special mini cake pans but the quickest way is to bake a sheet cake.
This is a 9 x 13" pan and this is the 6" batch size of my perfect chocolate cake. You can use any cake recipe and any size or shape of pan and I'll show you some examples of that later in this tutorial.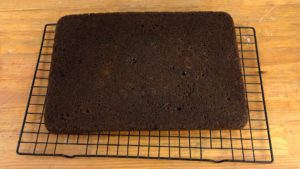 This is a 3" cookie cutter which is about the width of a cupcake, just to give you an idea of the size of these, but with three layers these mini cakes are going to be much taller than a cupcake.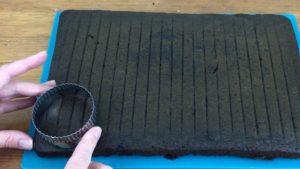 To frost mini cakes it's essential to use cold cake layers. You can put them in the fridge for about an hour to chill them or if you like you can put them in a ziploc bag and freeze them for up to a month before you make and decorate your cakes.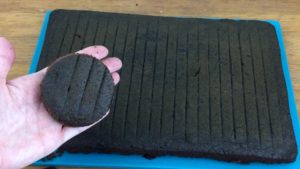 It's easiest to add filling to your cakes by piping it onto the cake layers because the cakes are so tiny that it's tricky to hold them still while you spread filling onto them. From my sheet cake I cut out 12 circles, which makes 4 mini cakes of 3 layers each.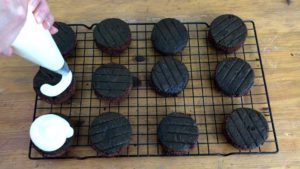 Once your cakes are assembled they're ready to be frosted! But first, you have to secure each one to a cake board. For these 3 inch cakes I use 4 inch cake boards, which are just big enough for the frosted cakes.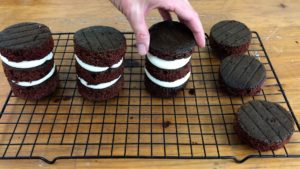 Spread or pipe a little dollop of buttercream onto the middle of the cake board and then press your mini cake down onto it. When the buttercream sets it will act as glue, sticking the cake to the board.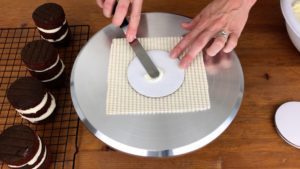 If you prefer, you can do this at the beginning, putting a dollop of buttercream on the cake board and then press your first layer of cake onto the board and assemble it there, alternating cake and filling right there on the board.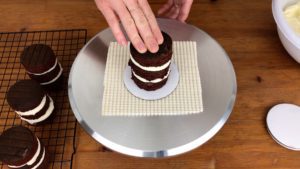 I want to show you another way to assemble mini cakes and decorate them at the same time! Attach your first layer of cake to a cake board with a dot of buttercream.
Put buttercream in a piping bag fitted with a piping tip and pipe the buttercream onto the cake, giving the filling a pretty shape and texture. I'm using a 1M star tip to pipe these little orange stars.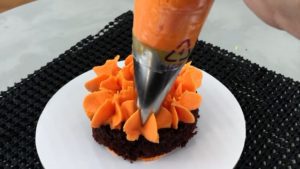 Place the next layer of cake on top and then pipe on the next layer of filling. Only the outer edge of the filling will be visible, so it's a good idea to start there and work your way in so that you focus on the neatness of the piping on the outer edge.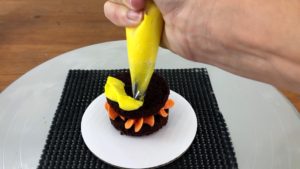 If you start in the middle and work your way out, you'll be guessing on how to space the piping so that you end up right at the edge of the cake, and that's why it's easier to start at the edge. This is a 199 open star tip.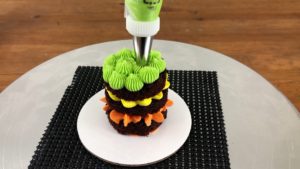 I'm using a petal tip to pipe a flower on the top of the mini cake. By adding these piped details to the filling of the cake you're adding a decorative touch now, while assembling the cake, which means you can present this as a naked cake and skip the frosting step if you want to.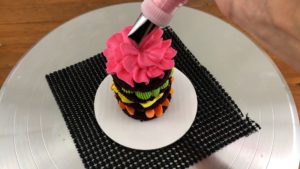 You can use any shaped cookie cutter to cut shapes out cake layers of any shape or size. For example, I cut these mini cake layers out of 6″ vanilla cake rounds using star shaped cookie cutters.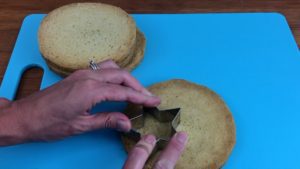 Frosting such a small cake with this star shape with its many angles and sides would be tricky! Piping textured filling between the layers to make a naked mini cake is a quicker and easier alternative.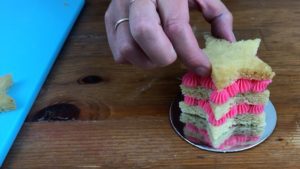 The challenge with frosting mini cakes is the size and weight of the cake. Because they're so tiny and lightweight, you have to do something to prevent them sliding around on the turntable and toppling over when you spread frosting onto them. There are four tricks for this.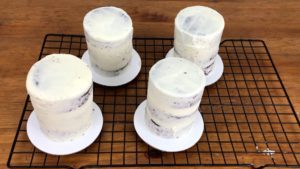 The first trick for frustration-free frosting is to use a non slip mat, which stops the cake from moving around on the turntable. You can use a ring of masking tape instead to stick the cake board to the turntable.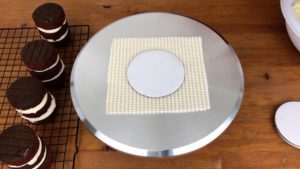 The second trick is to spread or pipe that dollop of buttercream onto the cake board. It sticks the cake to the cake board, so that that cake doesn't slide around on the board.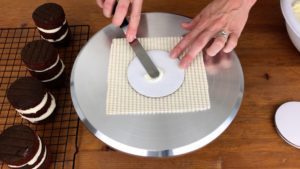 This only works if the cake is cold, which is the third trick. Having a cold cake makes the buttercream dollop set so that it holds the cake firmly in place when you apply pressure to it as you frost it. Having cold cake layers also means that the filling will set quickly and hold the higher cake layers in place, so when you frost the cake the cake won't fall over.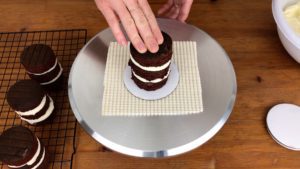 The fourth trick is to make sure your buttercream is the right consistency. If it's too stiff, like this is, it will pull off the cake when you try to spread it on.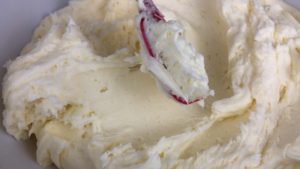 Add a bit of milk or cream to make it thinner and it will be much easier to spread onto your cake as you frost it.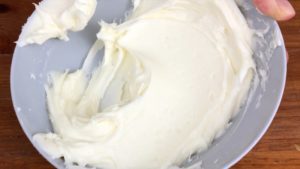 Start with a crumb coat, which is a very thin layer of frosting to trap in any crumbs that come off the cake so that they don't get into the final coat of frosting.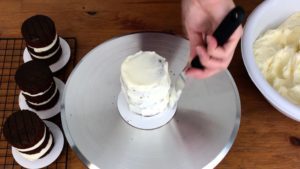 After you've crumb coated your mini cake you can freeze it for up to a month wrapped in 2 layers of cling film or Saran Wrap, or leave it in the fridge overnight, or you can move straight on to decorating it.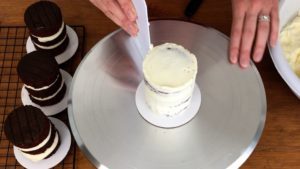 You can frost these mini cakes normally and the non-slip mat or ring of masking tape will hold them in place.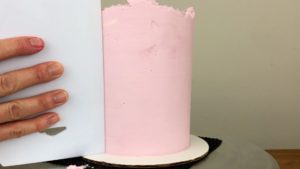 Or you can avoid smooth frosting and instead you can cover them with piping using a 1M star tip like roses or piped designs using a petal tip like ruffles.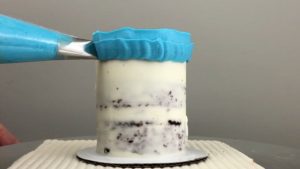 Here's the video version of this tutorial: