I'm going to test 10 cake decorating tools I bought on Amazon: seven tools that work and three to stay away from!
#1 Adjustable Frosting Smoother
I'm testing this adjustable cake smoother first because I'm the most excited about it. If it gets results as good as I hope, then surely everyone would be using one, right? It's easy to set up by adjusting the horizontal bar to fit into the notches on the vertical bar.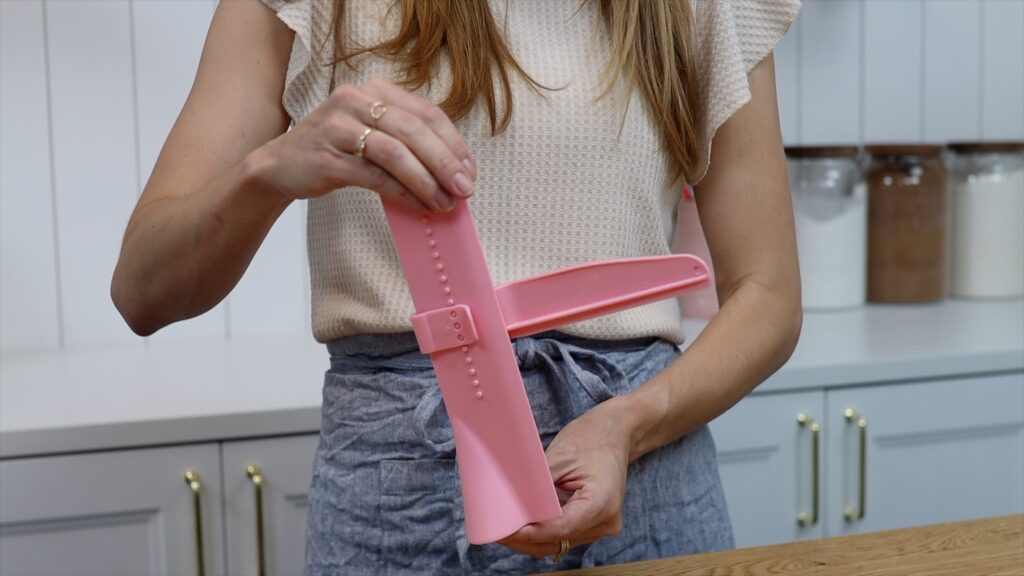 But the height notches are more spaced out than I'd like so I can't get the exact height I need. It either leaves a very thick layer of frosting on top of the cake or scrapes off too much and exposes the crumb coat.
The results aren't great so far but let's move on to the sides of the cake. I scrape around again and again, maybe 20 times, touching up in between, and the frosting still isn't smooth.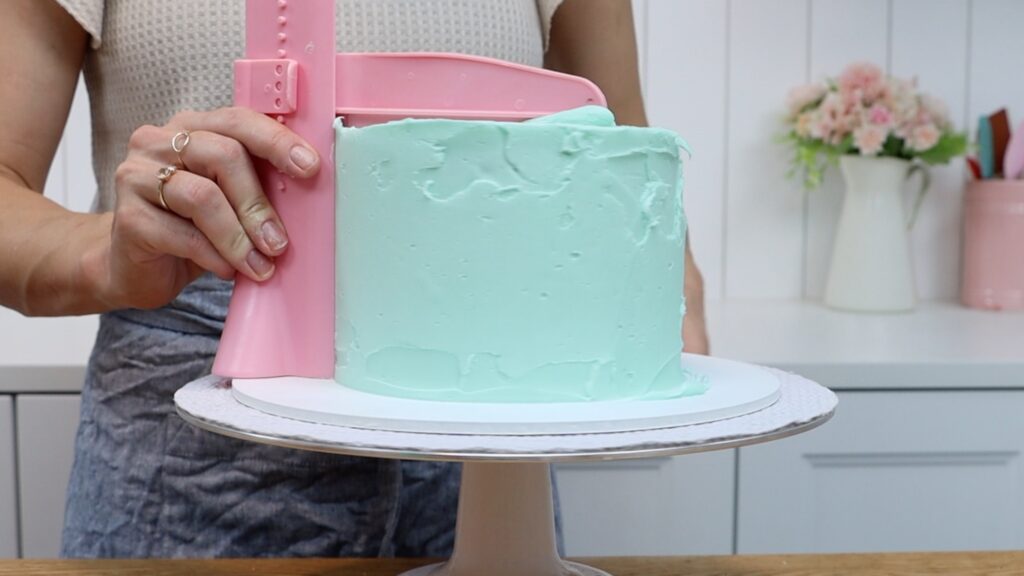 Also, there's a wide base on this smoother so it should be easy to hold it straight. But the sides of the cake are sloped and it looks like the cake is leaning. I could do a better job of getting straight sides with a basic cake comb. So eventually, I give up. The adjustable frosting smoother is a big disappointment.
#2 Bake-Even Cake Strips
Before getting to the cake decorating tools, let's test another baking tool. This is another one I've wanted to try for a while. You wrap a strip around a cake pan and tighten it to fit snugly. Then take it off and soak it in water for 5 minutes. Squeeze out most of the excess and put the strip back around the pan.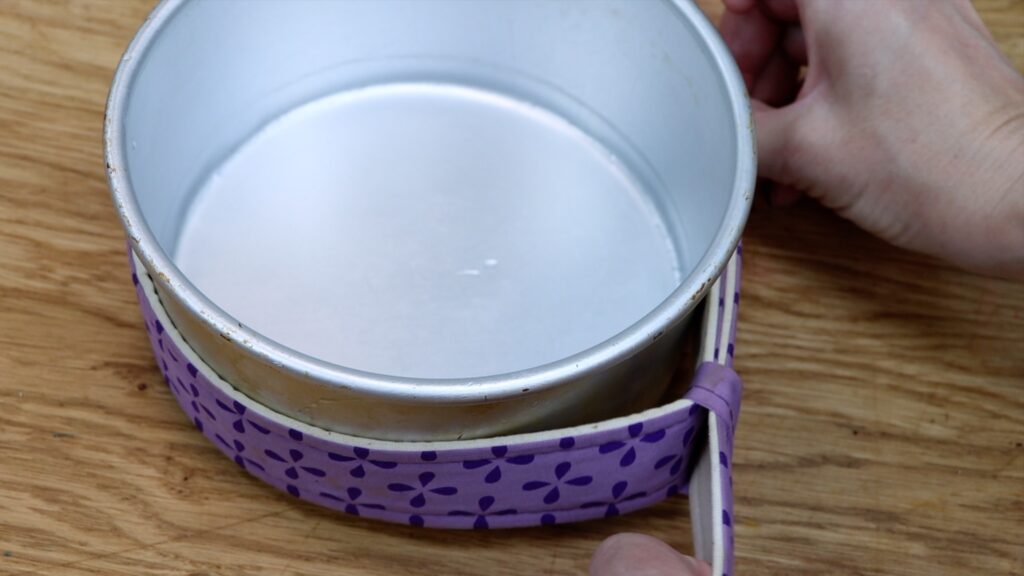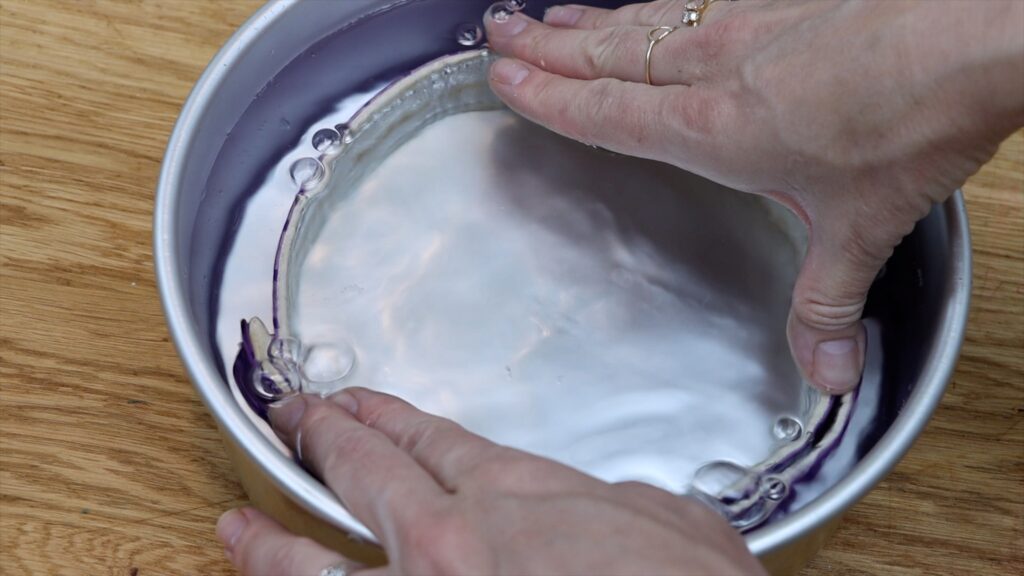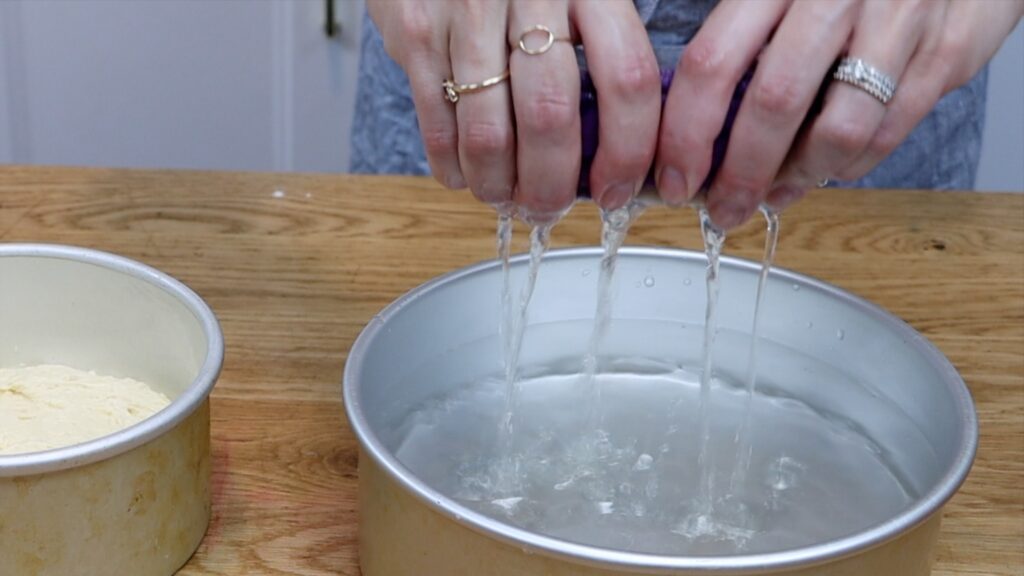 After wrapping the pan with a wet bake-even strip, bake as normal. I'm going to test my Very Vanilla Cake and my Perfect Chocolate Cake with and without the strips. I found that the cakes I baked with the bake-even strips took about 15 minutes longer to bake than the pans without the strips.
Now for the results.
My chocolate cake baked with the bake-even strip rose higher than the cake in the pan without a strip. Both layers baked flat, without domes, and the colouring was even.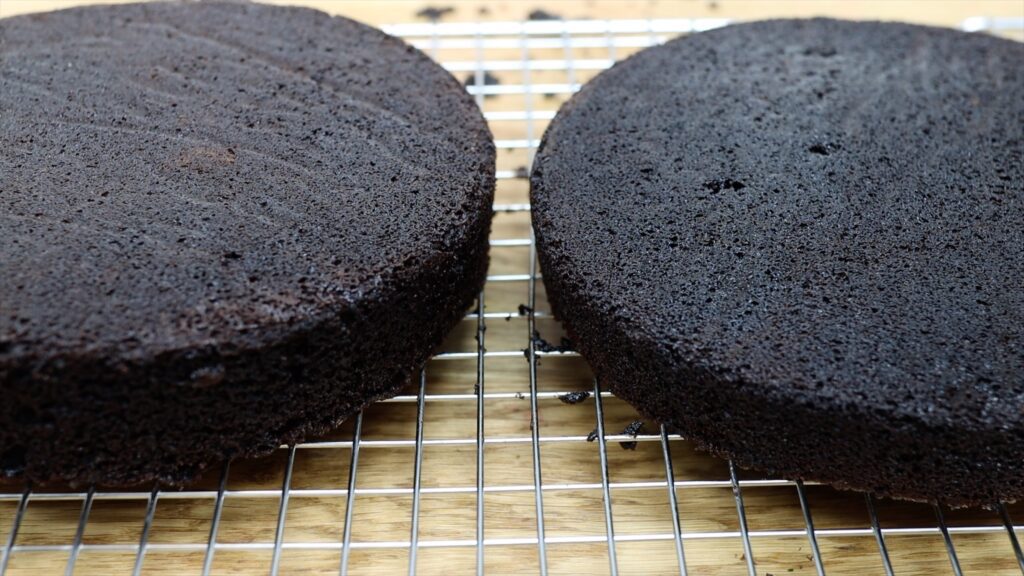 There was a bigger difference for my vanilla cake. The cake baked with a bake-even strip really did bake more evenly. It didn't have the typical dark golden edges and it had a flat top.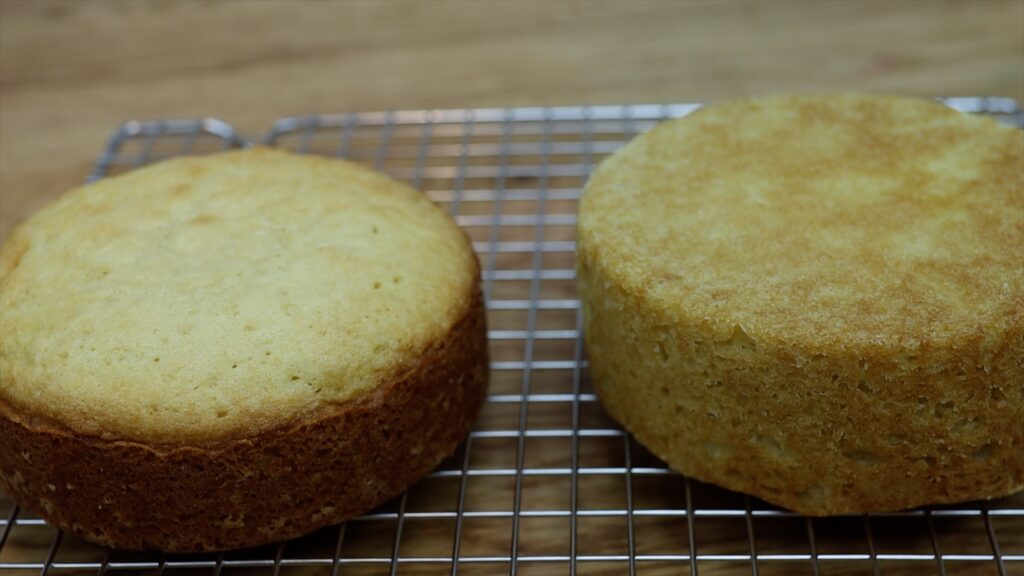 The strips take a bit of time to prepare and make baking time longer but if your schedule can accommodate that, I think the baking strips are worth it. I used these bake-even strips (affiliate link - as an Amazon Associate I earn from qualifying purchases.)
#3 Mixer Paddle with a Scraper
This is another tool I'm really excited about. When you're mixing cake batter or frosting, ingredients always get stuck on the sides of the mixing bowl. They don't incorporate properly so you have to constantly turn off the mixer and scrape around the bowl.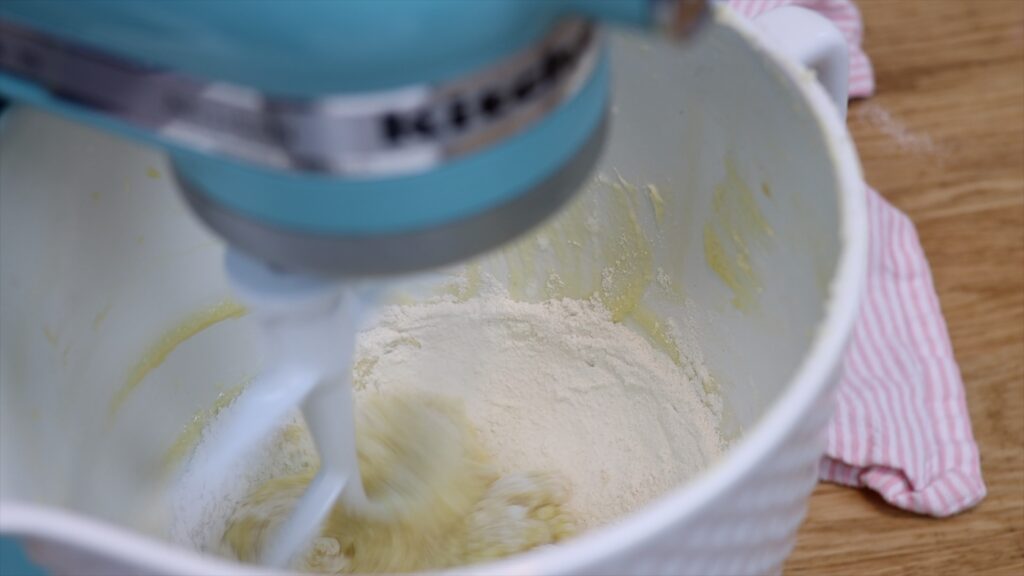 A paddle with a scraper goes right up to the edge of the bowl so it catches every little bit of each ingredient and mixes it all together. That way, you don't have to stop mixing every few minutes to scrape the bowl. This tool is a big time saver and gets a thumbs up from me!
#4 Silicone pans
Are silicone pans really worth it? I understand the appeal: they're lightweight, won't get scratched or dented, and should be non-stick. I sprayed mine with oil just in case, to make sure the cake didn't stick.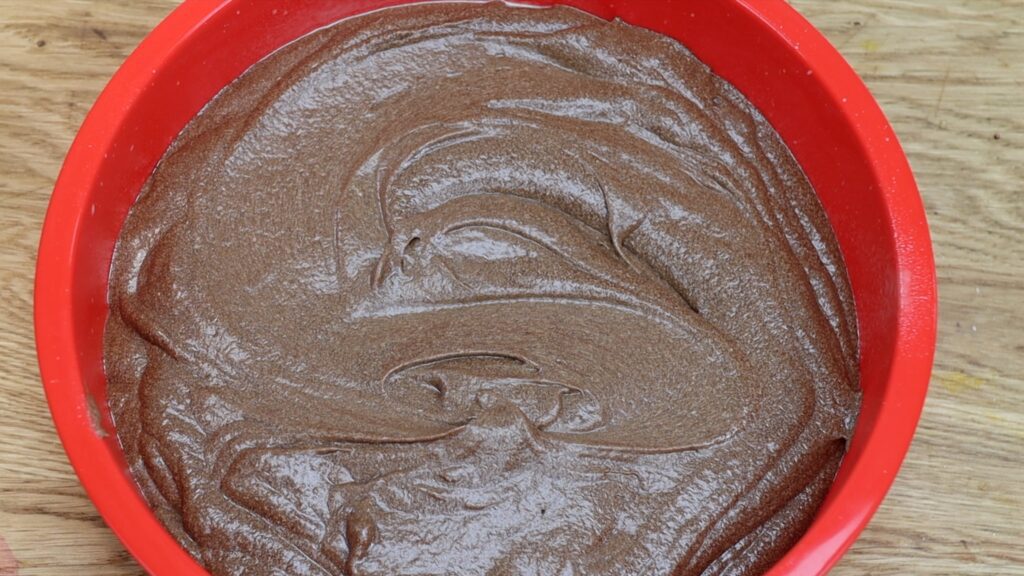 After pouring my batter in, I tapped the pan to spread the batter evenly. I found it was much trickier to tap a silicone pan than a metal pan. After baking I saw that the batter wasn't level because the cake was lopsided.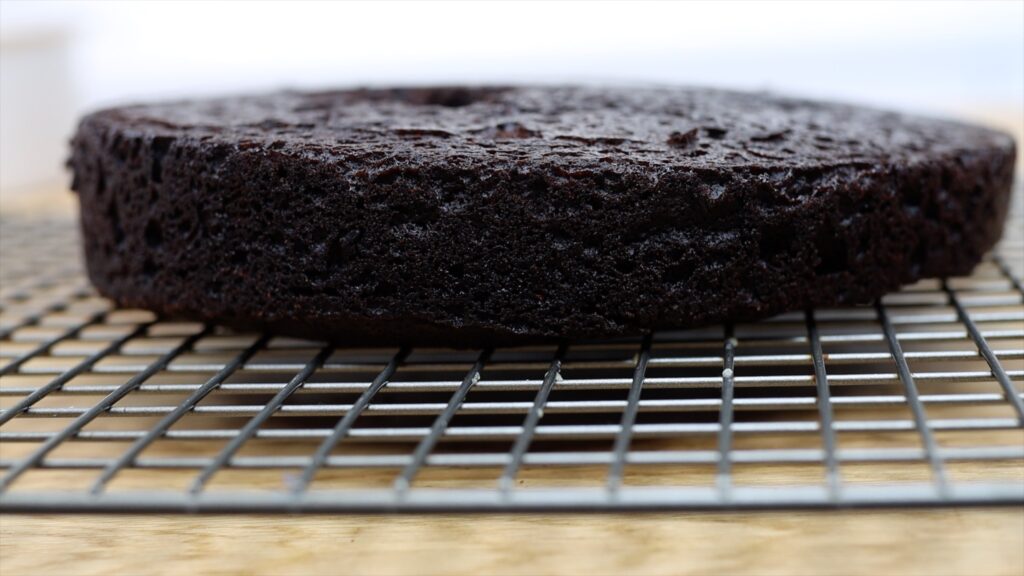 Also, the pans weren't as non-stick as I'd hoped because some chunks of cake stuck to the bottom.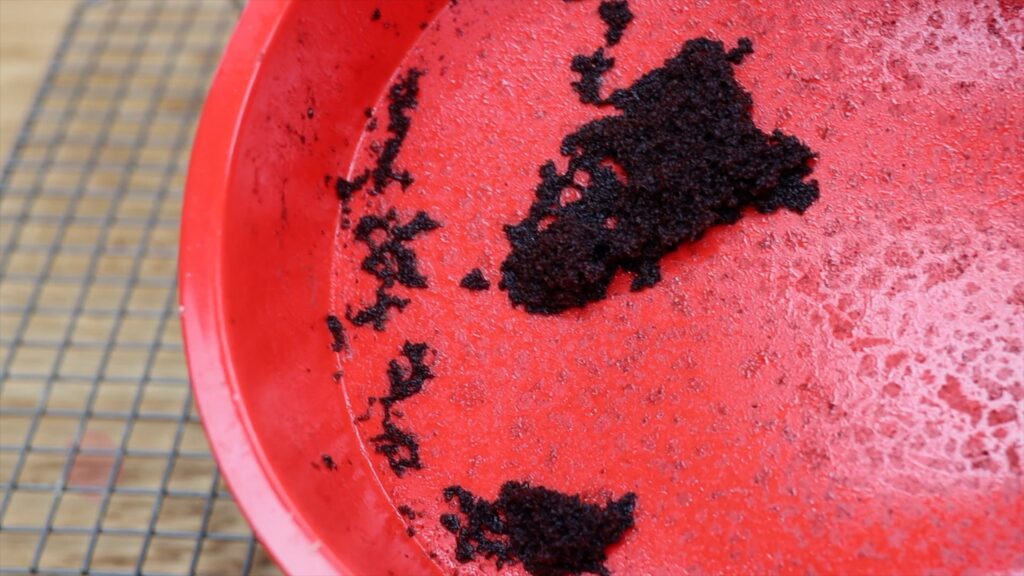 Compared to the same cake batter baked in a metal pan, the silicone pan cake didn't bake nearly as well. I don't think silicone pans are worth buying so I'll stick to metal pans.
#5 Wire Leveller
This adjustable cake leveler is supposed to create perfectly flat layers but it looks a bit tricky to use. Let's try it! This comes up early in any online searches for baking and cake decorating tools so I'm curious about how useful it is.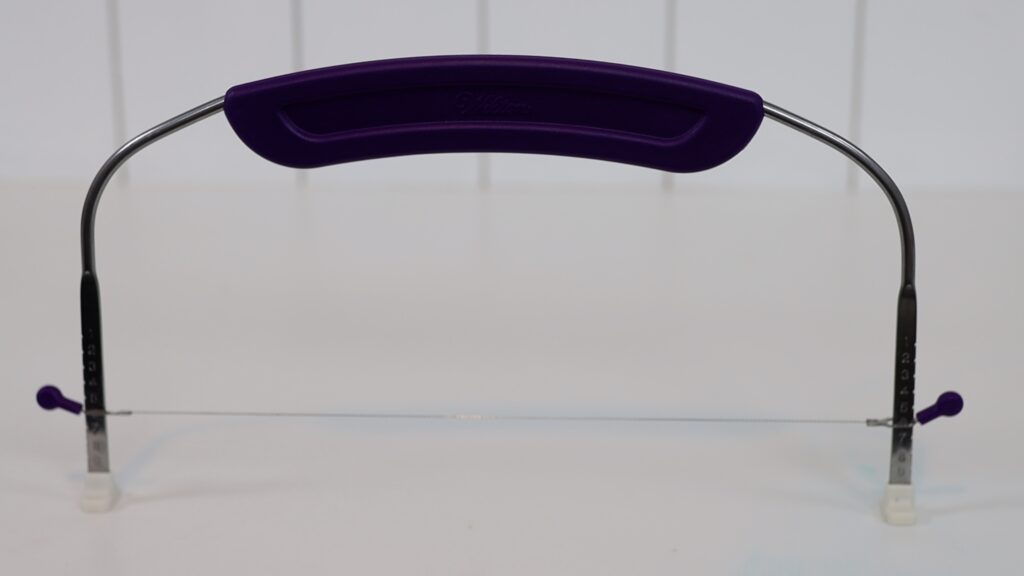 If your cakes are domed or lopsided you can level the tops to make them flat. This ensures a straight cake with a neat cross section when you slice it. The wire can be adjusted to different heights and it cuts surprisingly easily through a cake, until the end.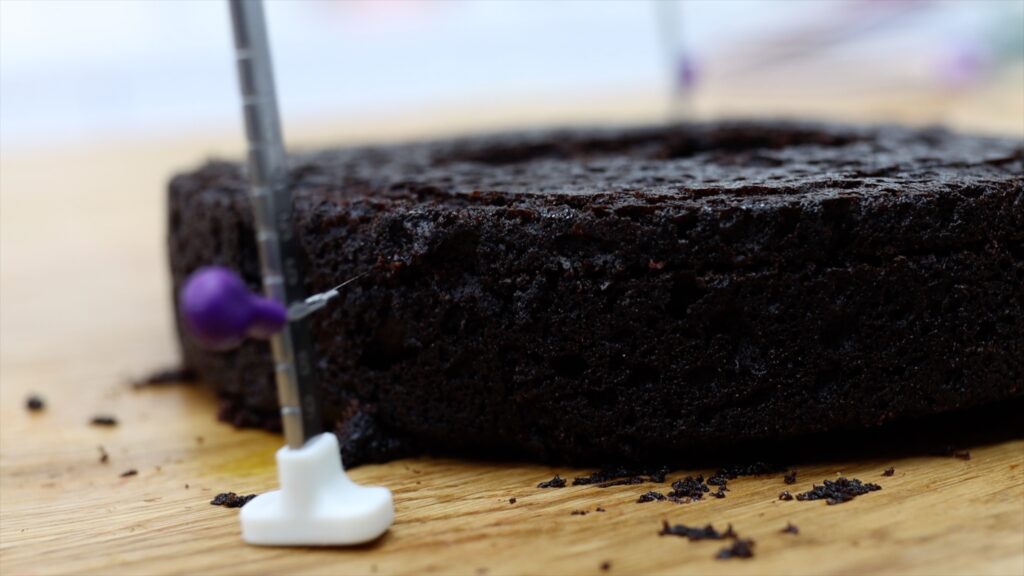 It's tricky to get through the last part of the cake without a chunk of cake crumbling off. The most effective way to use a leveller is to go from one side to the middle of the cake and then from the other side to the middle. Alternatively, you can spin the cake as you slice.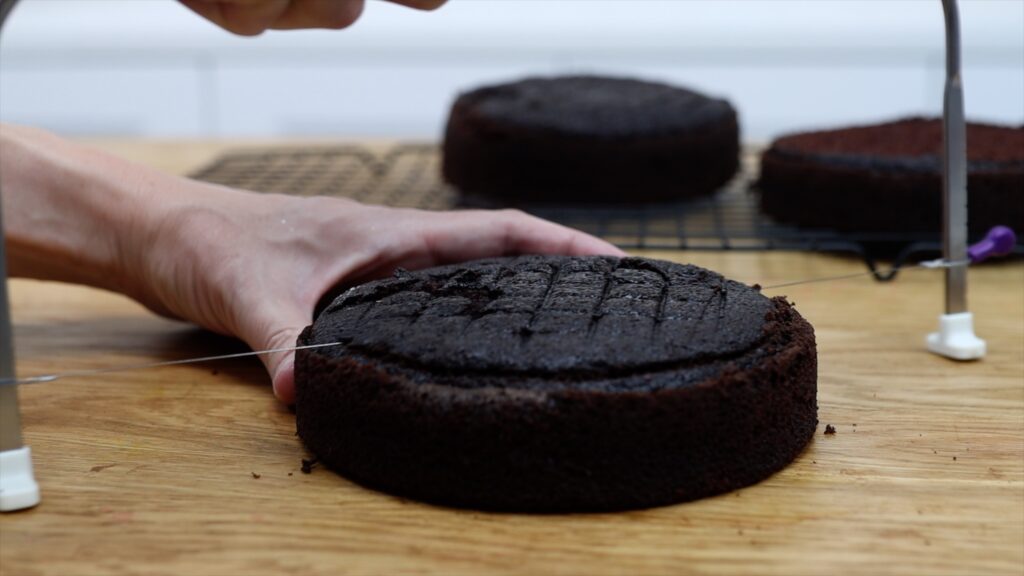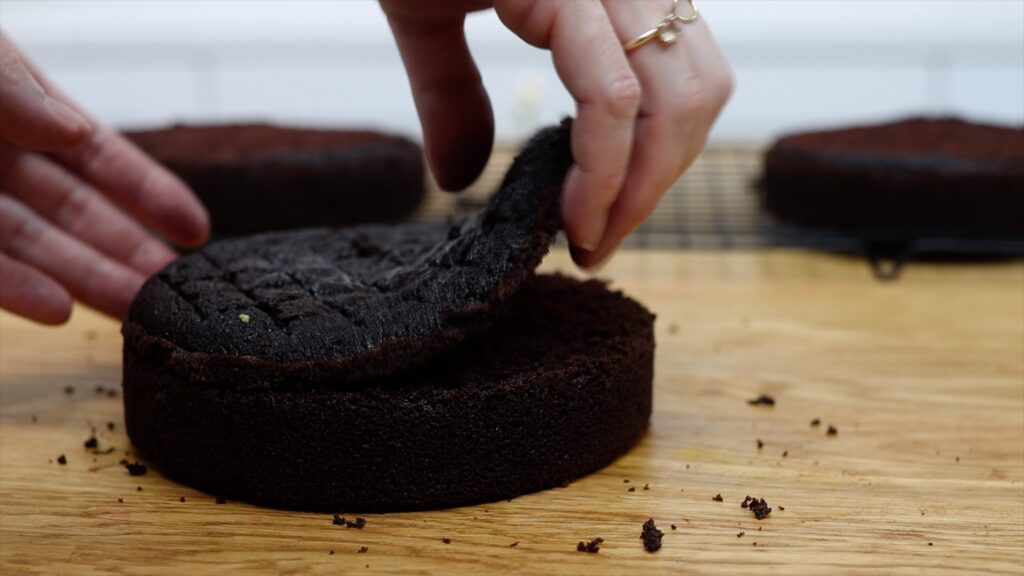 The leveler makes cake layers perfectly flat BUT does it do a better job than using a serrated knife? It's quicker to use a knife but the results aren't quite as level as with the wire. If you bake cakes professionally and level several in a day, using a serrated knife to do this is second nature and you'll save time by not needing to adjust the wire, which can take a while. I'm impatient so I'll reach for my knife first but if you struggle to get level cake layers, this is a must have.
#6 Spirit Level
I know this looks like it belongs in a toolbox but could it become part of your collection of essential baking and cake decorating tools? Let's use this spirit level to assemble a straight cake! You can use this after placing each layer or after assembling your cake. If the bubble isn't in the middle, between the two lines, your cake top is sloping.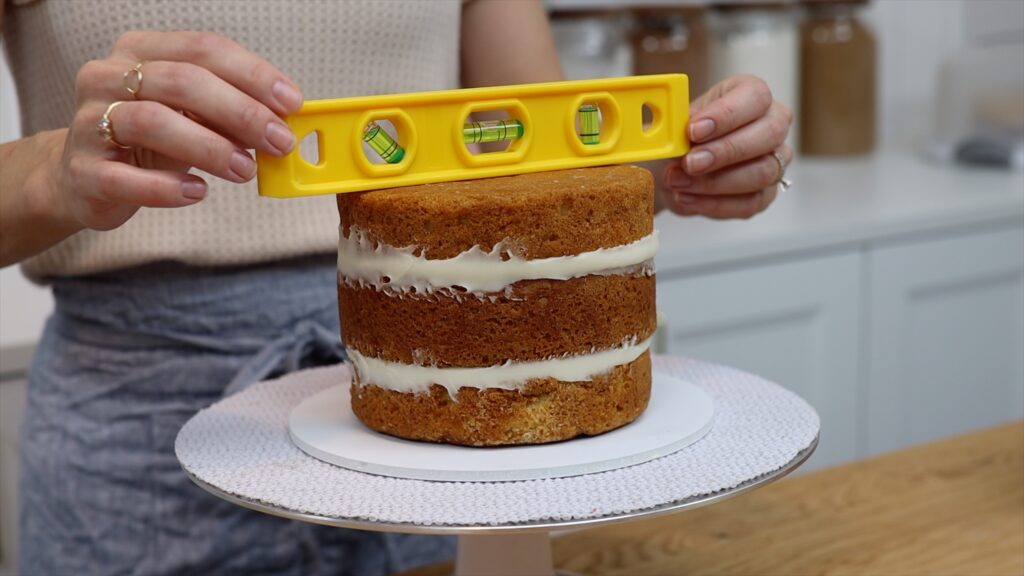 You can trim the top of the cake or just push down on whichever side is higher, which will push that side lower into the filling and level out the top of the cake.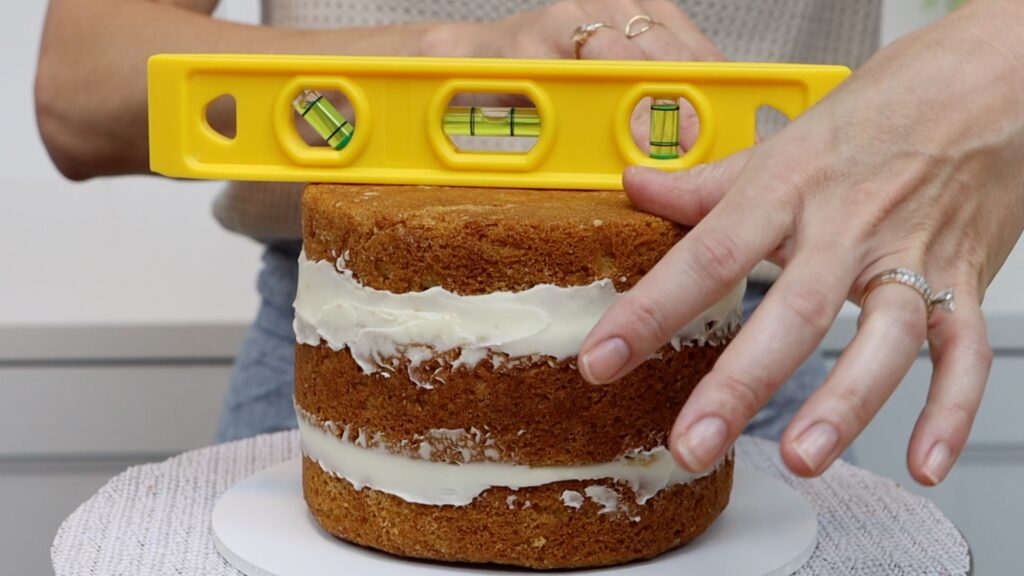 Unless you have a huge slope across the top of a cake, it's typically not a problem. With most cakes you can use frosting to fill in any imperfections and even to level the top. That's not an option if the frosting on top needs to be a very thin layer, like for semi-naked cakes, or the actual cake itself needs to be perfectly level for support, like for tier cakes, when I'll definitely be using a spiral level from now on.
#7 Blow Torch
A blow torch is another tool that seems better suited to DIY than cake decorating. Wondering what this could be for? It can make your frosting super duper smooth! Air pockets are usually caused because the frosting has started to set while you're still smoothing it but a hot metal cake comb can fix that. You can run the cake comb under very hot water or, much easier, use a blowtorch to heat the edge of the comb. The hot metal will melt the very outer layer of frosting and then the comb will drag it around the cake. It will fill in any tiny air pockets or air bubbles, smoothing the frosting. A blow torch might be my favourite addition to my cake decorating tools because smooth frosting makes every cake look better!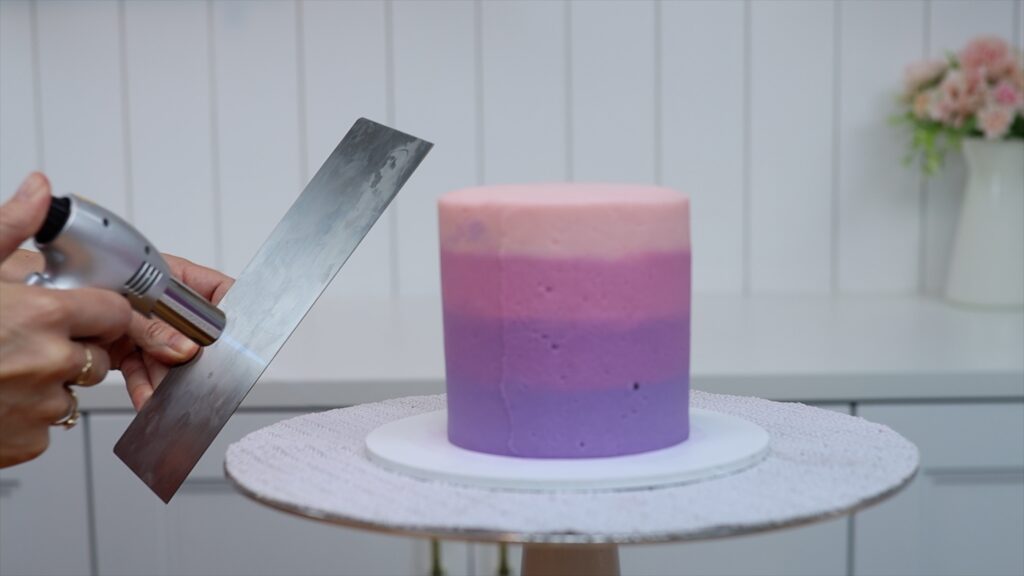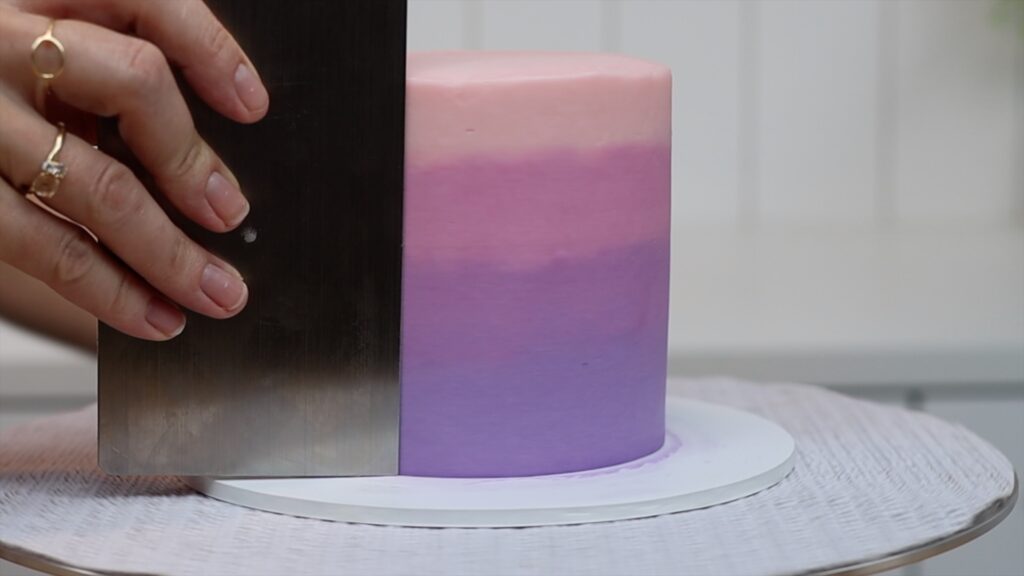 #8 Egg Separator
For recipes using only egg whites or egg yolks or using them both but separately, this egg separator seems like a good idea. Most of the egg white slips through it quickly, leaving the yolk behind. But there's still quite a lot of sticky egg white that just won't go through this.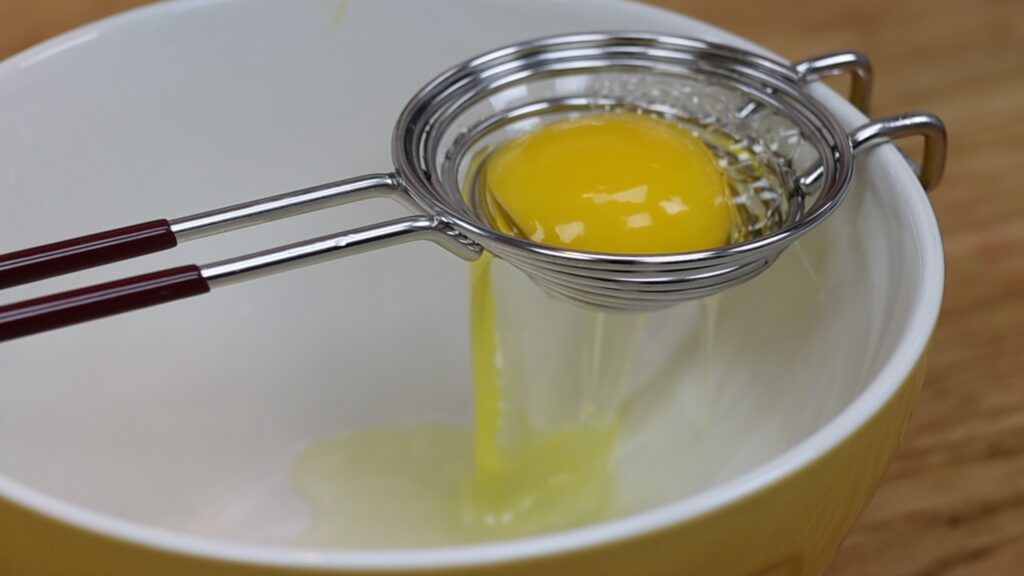 I thought it might be a particularly stubborn egg but I had the same problem with the next egg. Also, a drop of yolk got through which ruins egg whites for meringues. It takes longer to use this gadget than passing the yolk from egg shell to egg shell to separate it the traditional way and it's not even a reliable way to keep the yolk and egg white separate. I give this cake tool a thumbs down.
#9 Mini Donut Maker
Donuts are a fun cake decoration but they're a hassle to make. This mini donut maker makes the process much easier. You can make donut batter or use leftover cake batter instead. For the neatest results, spoon the batter into a piping bag and pipe it into the mini donut maker. If you won't have a piping bag, use a sandwich bag with one of the bottom corners cut off. Close the donut maker lid, wait two minutes and then flip the donuts out with a toothpick. This was easy to use and my two and four year old loved helping me decorate the donuts.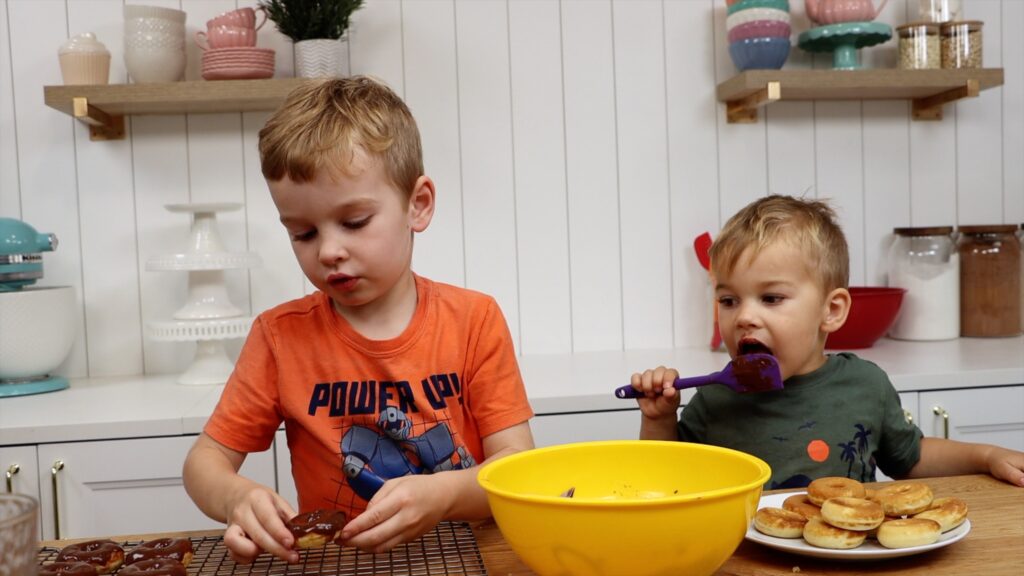 You can use these mini donut to decorate a cake, poking toothpicks or wooden skewers into them so that you can stand them upright on top of the cake.
Although I'm a classic fried donut fan, I do love the look of these perfectly rounded donuts on a cake so I'm giving the donut maker a thumbs up! I used this one by Dash: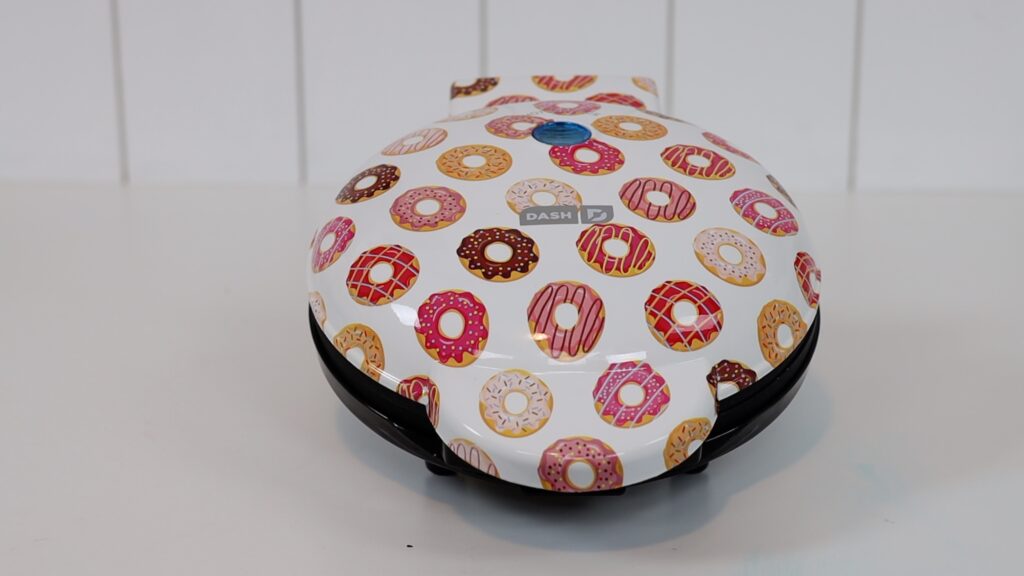 #10 Zester
This mysterious gadget is a lemon zester or chocolate grater. The grater blade is attached to the lid of a little container, which catches the zest.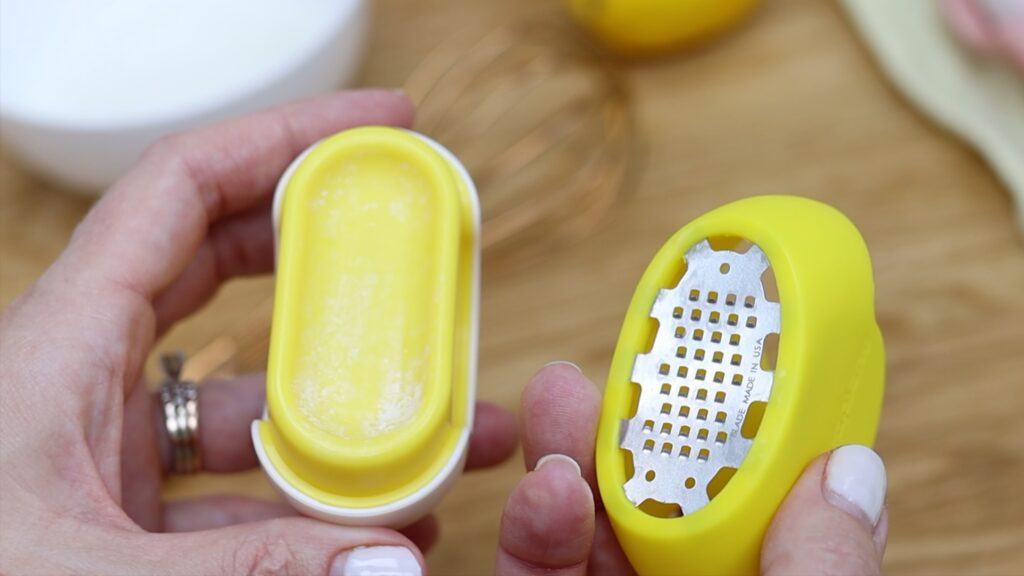 It can take a really long time to zest a lemon using a traditional grater. Also, it's awkward to hold the grater so that the zest falls onto a plate or into a bowl. This zester is easy to grip, quick to use, and it catches every piece of zest in its handy compartment. It's a game changer if you need a lot of lemon zest, like for this Lemon and Raspberry Cake.
So, there are 10 cake decorating tools: seven that work and three to stay away from. Which of these tools are you going to try? Tell me in the comments!
Check out my cake school for hundreds of cake decorating techniques and designs and join my ClubPLUS membership for access to every MiniCourse, MasterCourse, Live Workshop and 5 Minute Fridays!
I'm going to show you how to give a store bought cake a makeover! Turn a grocery store cake into a glamorous, custom dessert in a few simple steps.
Why do people do cake makeovers?
There are three reasons why you might choose to re-decorate a grocery store cake:
By decorating a store-bought cake you can save a lot of time, skipping several steps of making a cake: the mixing, baking, cooling and assembly.
If you love a cake flavour from Costco, Walmart, Tesco or any other supermarket or grocery store, you can use that flavour but personalize the decorations.
If you have a cake fail just before an event, re-decorating a grocery store cake is a quick replacement option.
How do you do a cake makeover?
First of all, choose your cake! Most supermarkets or grocery stores have their own bakery departments where they make different flavours and sizes of cakes. When you get home, leave the cake at room temperature to keep the frosting soft, which makes the next steps easiest!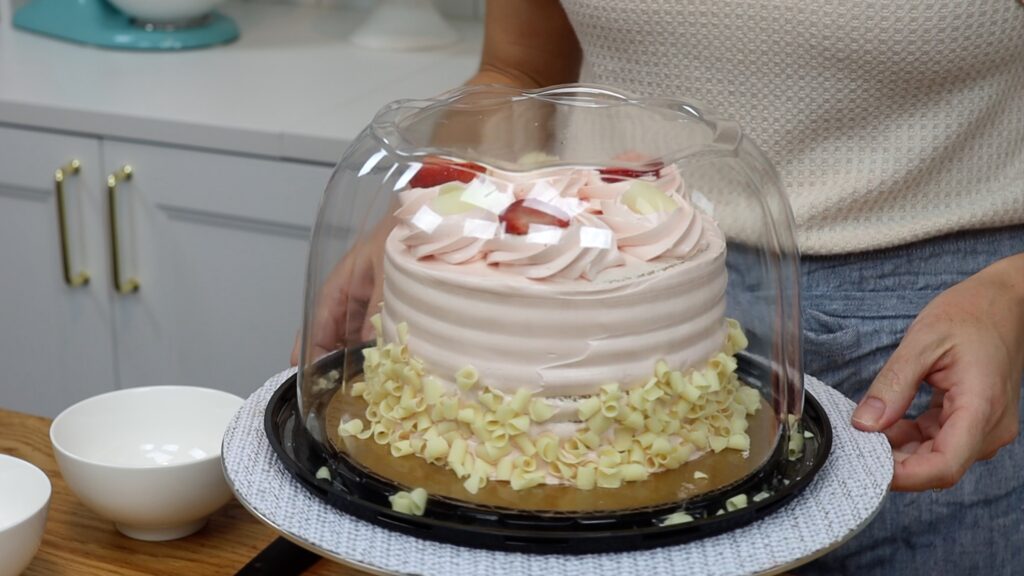 How to scrape a grocery store cake for a cake makeover
First of all, take off any decorations from the cake. Depending on how you want to decorate the cake, you'll probably have to remove any garnishes like chocolate shavings or fruit. Do this before you scrape off the frosting so that you don't end up with chunky ingredients in any frosting that you want to re-use.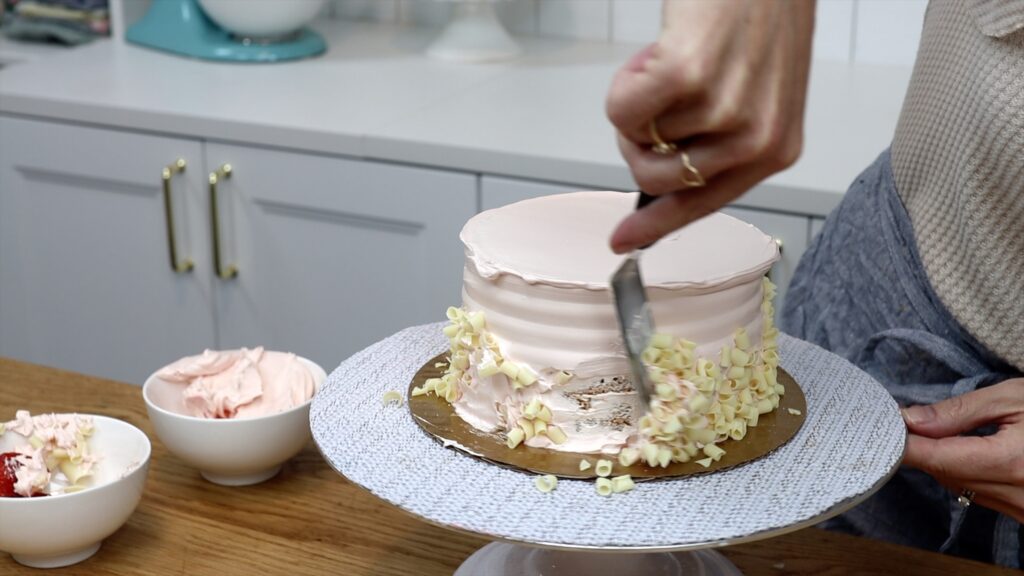 Large garnishes like strawberries are easy to take off but the smaller the garnishes are, the trickier they are. If you miss any and then try to smooth the frosting or decorate with it, chunks of ingredients will make it lumpy.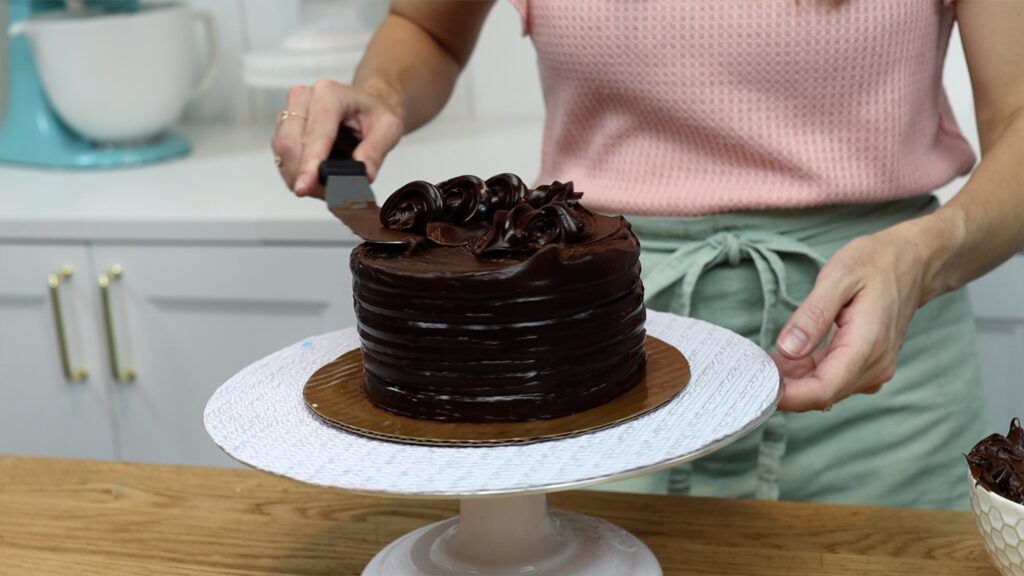 Frosting swirls are easy to remove by scraping over the top of the cake a few times. They are useful for a cake makeover because you can use that frosting to re-frost or re-decorate the cake.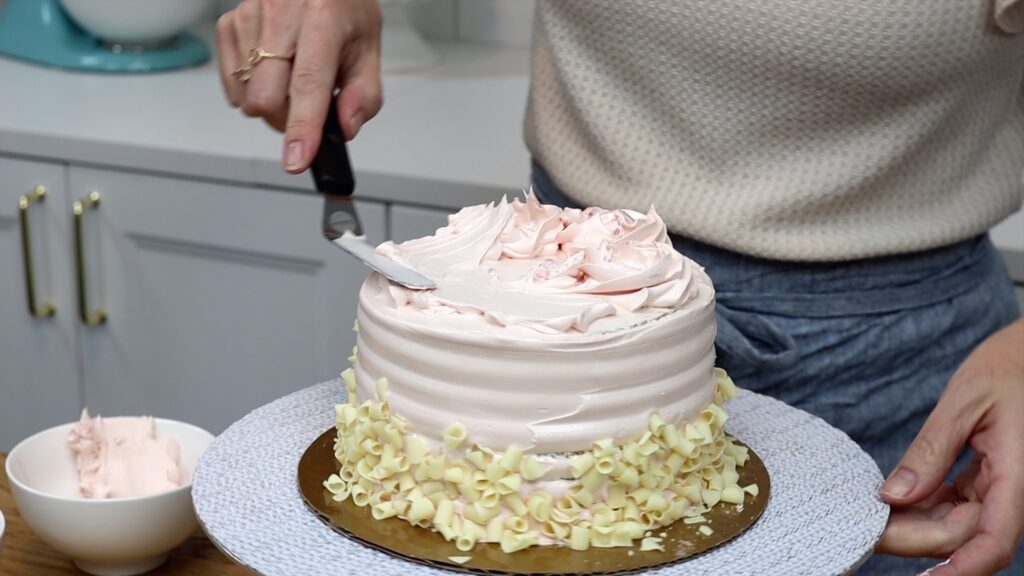 It's a good idea to have two bowls next to you as you scrape the cake. Use one for garnishes and another one for extra frosting. You probably won't re-use the garnishes because they'll be covered with smears of frosting. However, you might choose to re-use the frosting so save that bowl for later!
How to re-frost a grocery store cake
Why would you re-frost a grocery store cake? After taking off the decorations you don't want, the frosting will probably be messy. You can use any frosting swirls you scraped off to touch up the frosting where you removed any garnishes. Or you can cover the cake with another layer of frosting, for example to replace textured frosting with smooth frosting.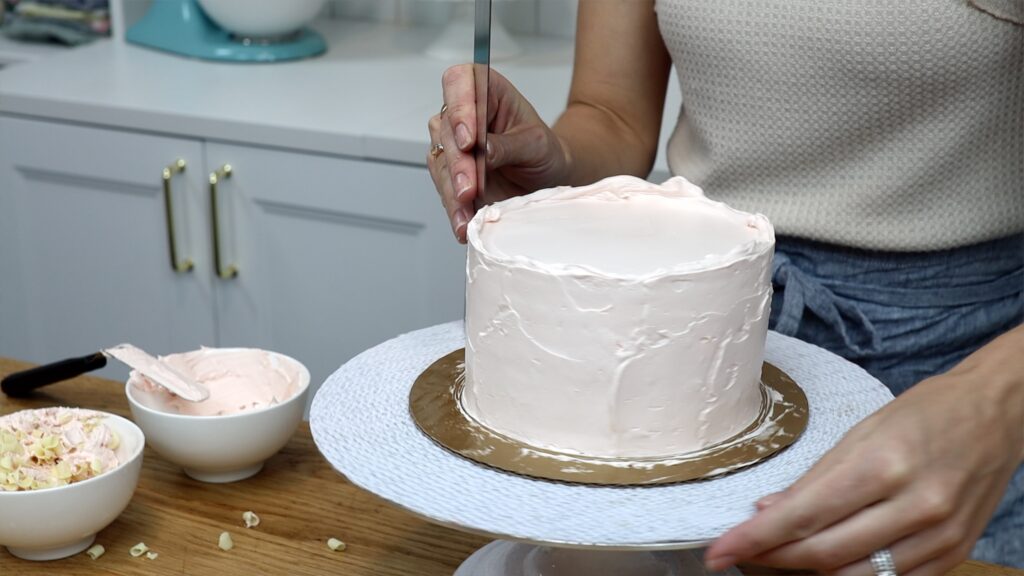 Alternatively, you can let this first layer set as a crumb coat and then use another frosting like my 4 Minute Buttercream for the final layer. You might do this if you prefer the taste of another frosting or if you want to decorate the cake using a technique that works better with buttercream, like stenciling or carving. I'll share two ideas for decorating grocery store cakes below, and for hundreds of cake decorating designs and techniques, visit my online cake school!
How do you stack grocery store cakes to make a tall cake?
Cakes from supermarkets or grocery stores are usually two layers so they're quite short. It's easy to turn them into a tall cake for your makeover. I love tall cakes because it gives you much more space for decorations on the sides of the cake.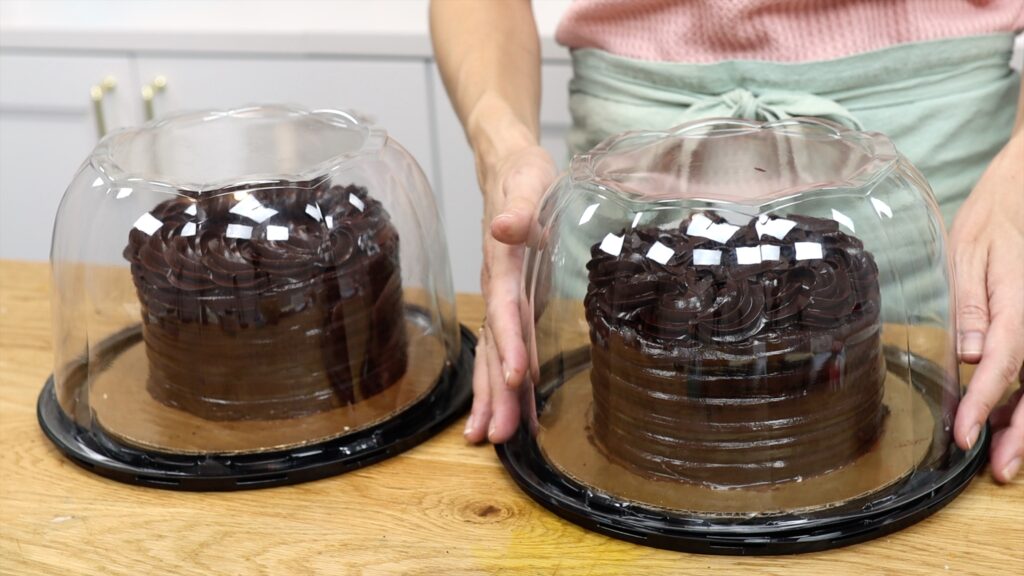 To make a tall cake, start by scraping off the garnishes and frosting. Then flip one cake upside down onto another one. Use an offset spatula to loosen the cake board from the top of the cake and remove it.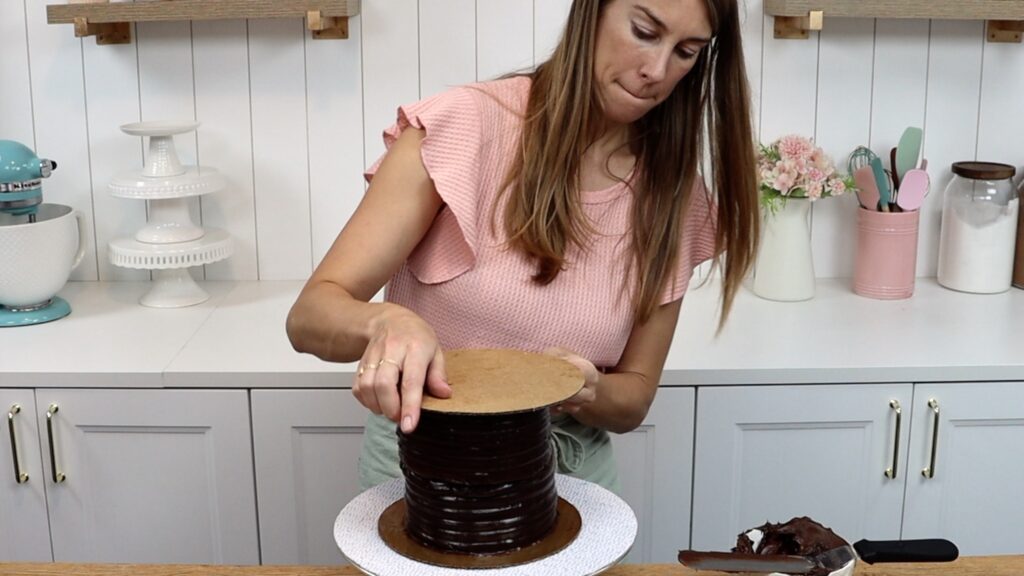 Then stick a boba straw down through the middle of the cake to keep in straight. This way it won't lean to one side. You could use a support structure in the cake with a center cake board but if it's going to be stored in the fridge and taken out to room temperature just a few hours before serving, it will be stable enough with just this straw. Cut the straw at the top of the cake so it's invisible and then re-frost and re-decorate your cake.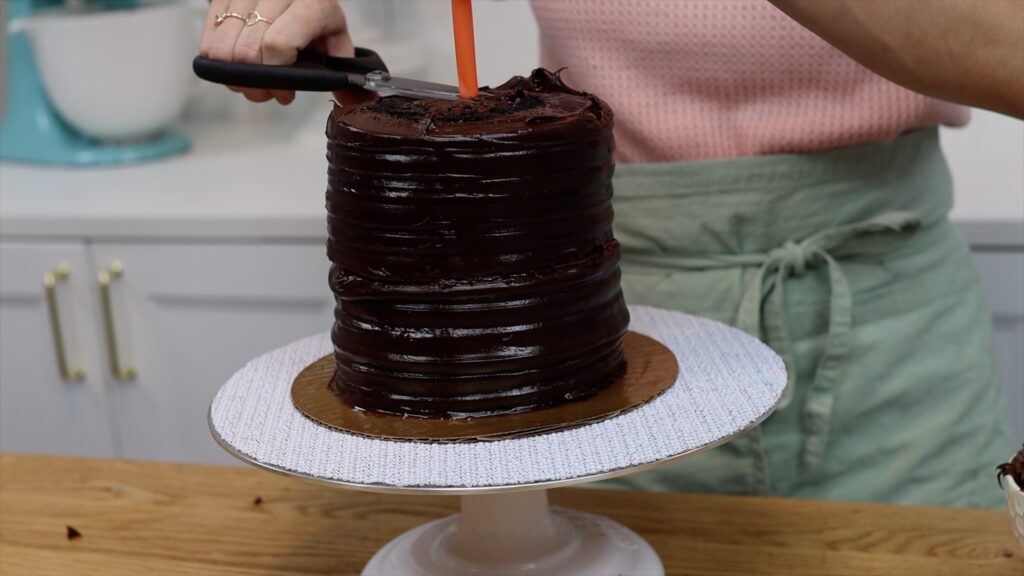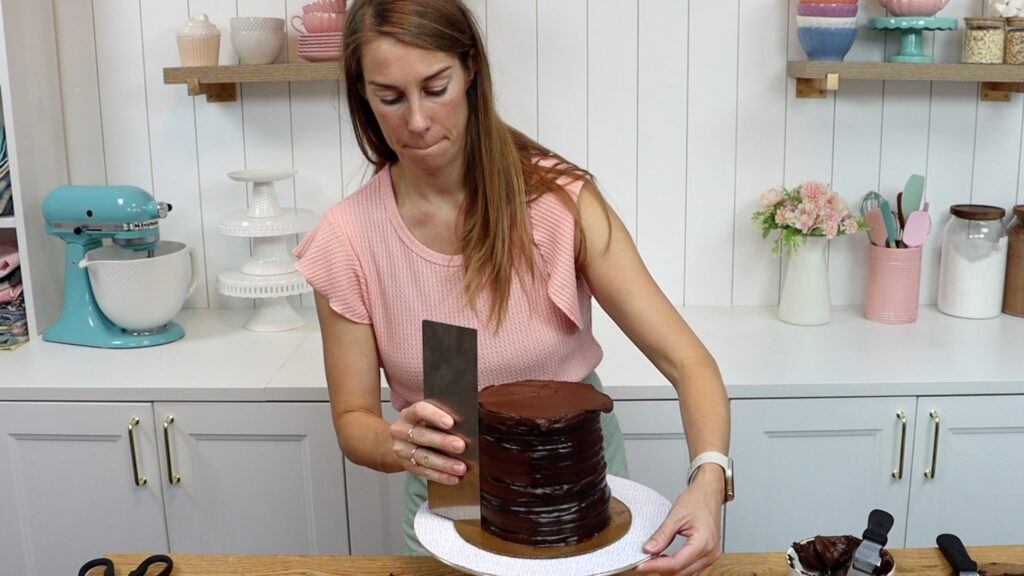 How to decorate a grocery store cake with a cake makeover
Now for the fun part: give the cake a makeover by decorating it! There are endless ways you can do this and here are two easy but eye-catching ideas. Using store-bought cakes is a great way to practice cake decorating techniques like these without spending all day baking the cakes first.
Chocolate collar cake
On this tall chocolate cake I'll show you how to do a chocolate wrap, also called a chocolate collar. Start by melting chocolate chips. If you do this in the microwave, use 70% power for 30 seconds at a time. Then stir until smooth. Spoon the melted chocolate into a sandwich bag and cut a tiny piece off the corner.
Cut a piece of parchment so that it's a little bit taller than the cake and long enough to wrap all the way around, plus about an inch. Lay it on the counter so that the ends curl upwards, and that way it will wrap easily around the cake later. Then drizzle the melted chocolate over the parchment paper, or you can use baking paper or wax paper.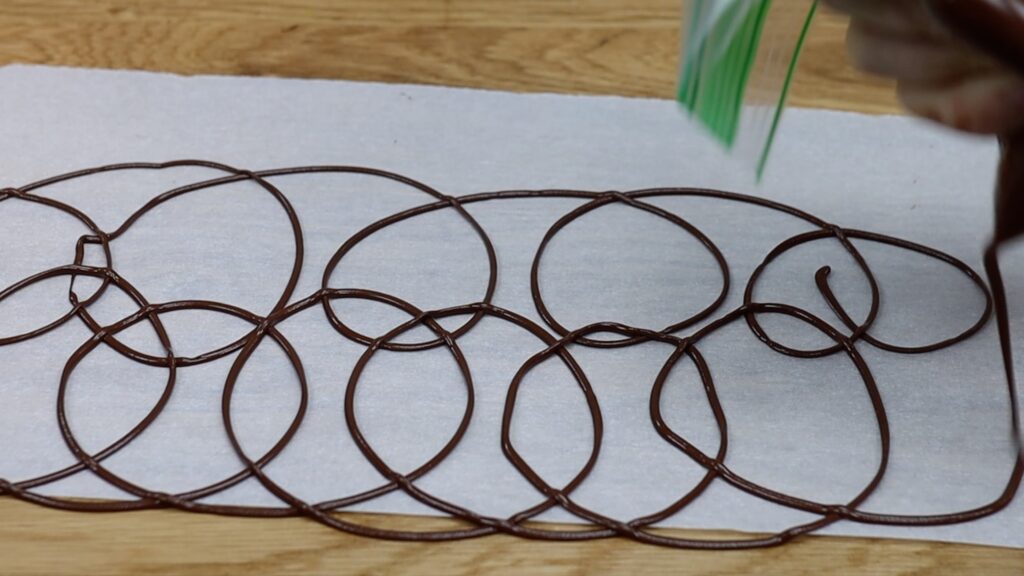 Lift the paper up, lower the bottom edge onto the cake board and press it against the cake. Then wrap it around the cake, so that the chocolate sticks to the frosting. It's easiest to do this after chilling the cake in the fridge so the frosting is cold and firm. Overlap the parchment by about an inch and then trim off any excess parchment paper from the end.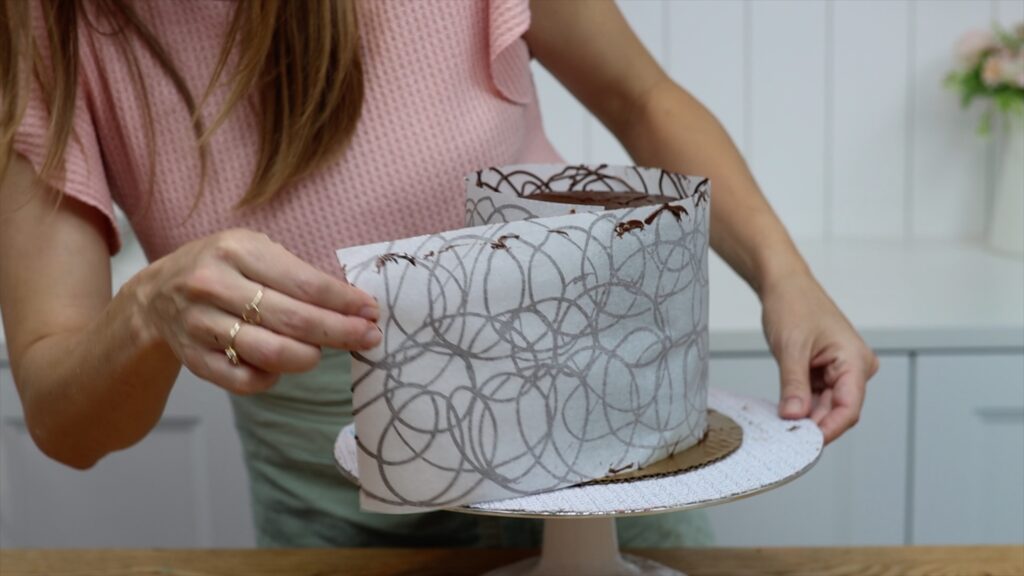 Put the cake in the fridge for 30 minutes to set this chocolate. Peel the parchment off and you'll leave a beautiful design behind on the cake!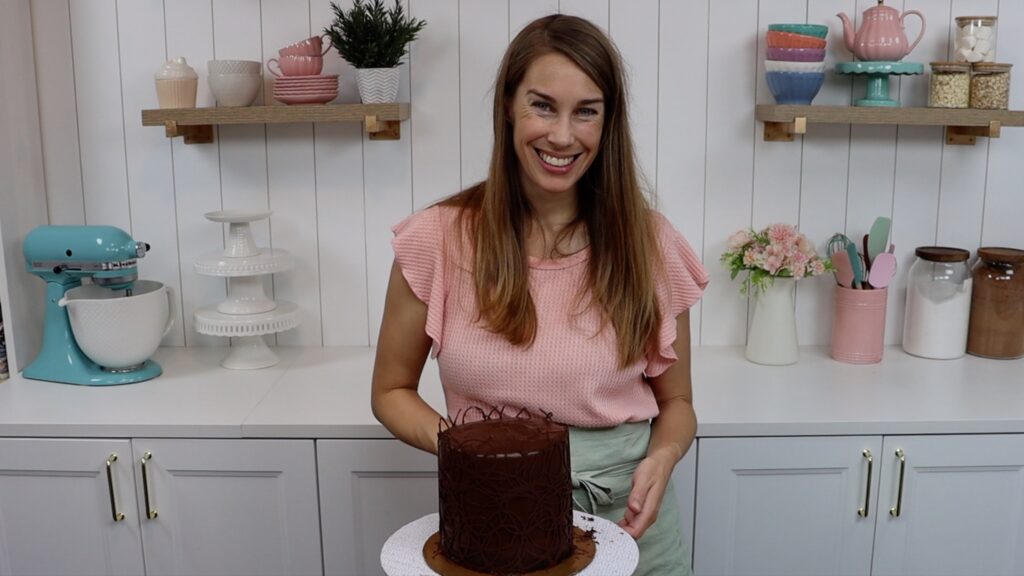 Sprinkle cake
Here's another fun way to re-decorate a cake. Brush the frosting lightly with water after the frosting has been chilled in the fridge. This way, the frosting will be firm and will hold its shape. Then pour sprinkles into a bowl. Non-pareils work best for this because they're tiny so don't add a lot of texture to the cake.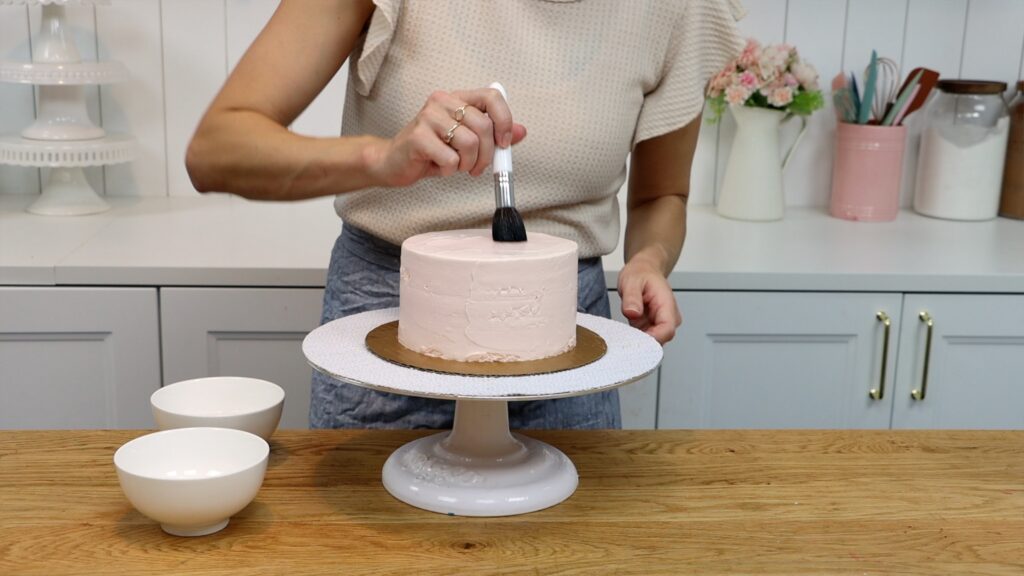 Put the cake on a tray or baking sheet and then press the sprinkles into the frosting. Even though the frosting has set in the fridge, the sprinkles will stick because of the water.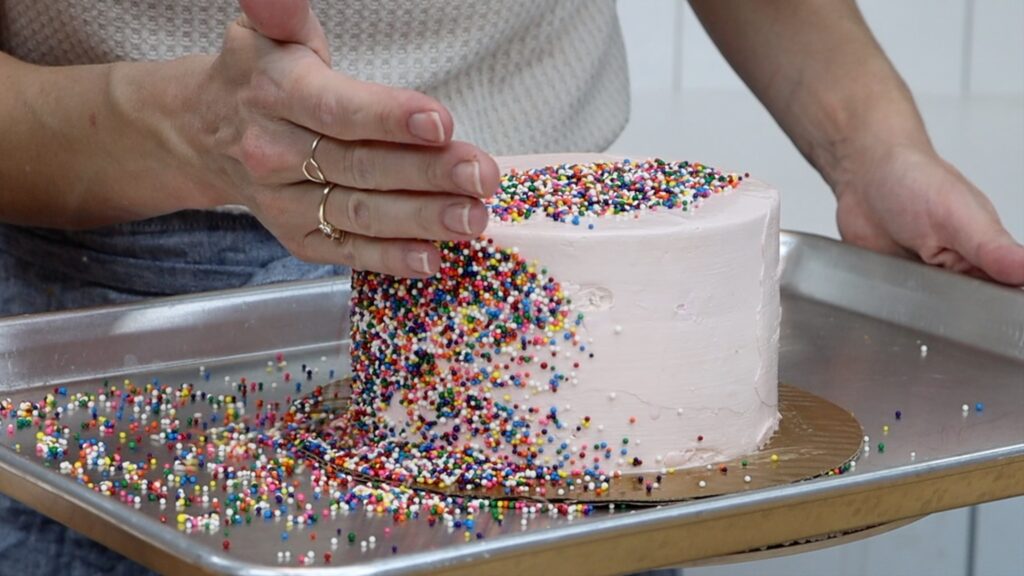 You could do this straight after buying or frosting a cake, when it's at room temperature, but the pressure from your hands will leave impressions in the frosting. By doing this after chilling the cake you'll keep the sides straight and the top level. The tray will catch all of the bouncing sprinkles so they don't spill all over the room.
How to transfer a cake from a cake board to a cake stand
To complete the grocery store cake makeover, slide an offset spatula underneath the cake. Spin it around to separate it completely from the cake board. You should do this after chilling the cake to set the frosting.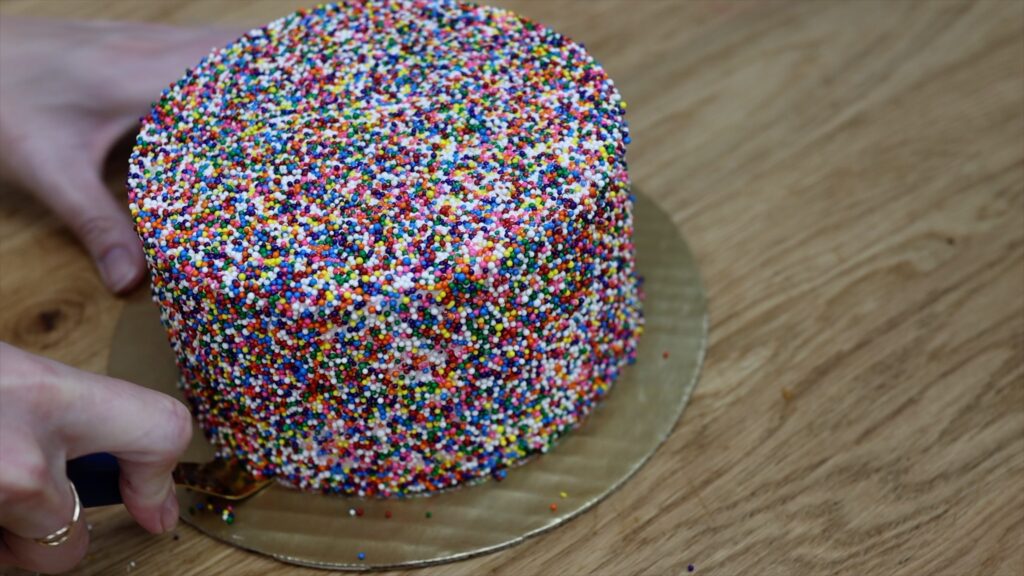 Then lift the cake up and place it on a cake stand. Since the cake has been chilled, you won't damage the frosting with your hands.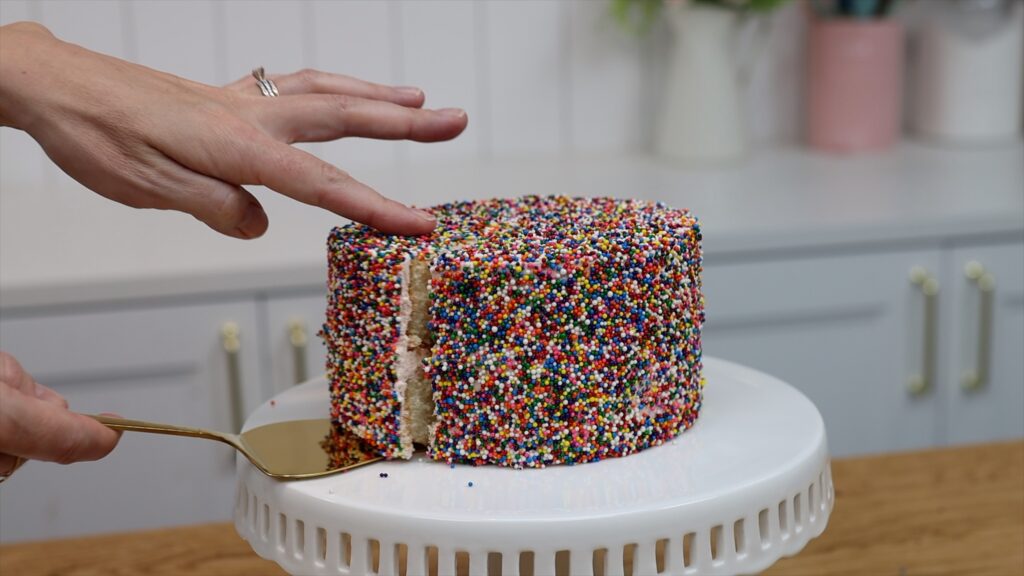 What do you do with a cake makeover cake?
Back to the original question: why do a cake makeover? By decorating a store-bought cake you've saved time because you didn't have to bake and assemble the cake. You've either practiced a cake decorating technique or prepared a cake to serve. If it was a practice, you can scrape it and decorate it again to practice another technique. If you serve it, no one will guess this gorgeously decorated cake started its life in a grocery store!
What do you think? Would you try this? Tell me in the comments! Thanks for watching!
You can watch a video of this tutorial on cake makeovers here:
Decorating show-stopping cakes on a budget with these ten techniques that won't break the bank.
#1 Choose basic cake decorating tools
When you first start decorating cakes, the number of tools available can be overwhelming! You don't need every single at the beginning. For example, if you make cakes professionally I think it's worth investing in metal turntables and cake scrapers to get super smooth frosting. However, if it's a hobby or while you're in the early stages of practicing getting your frosting smooth, a plastic cake scraper and plastic turntable work just fine.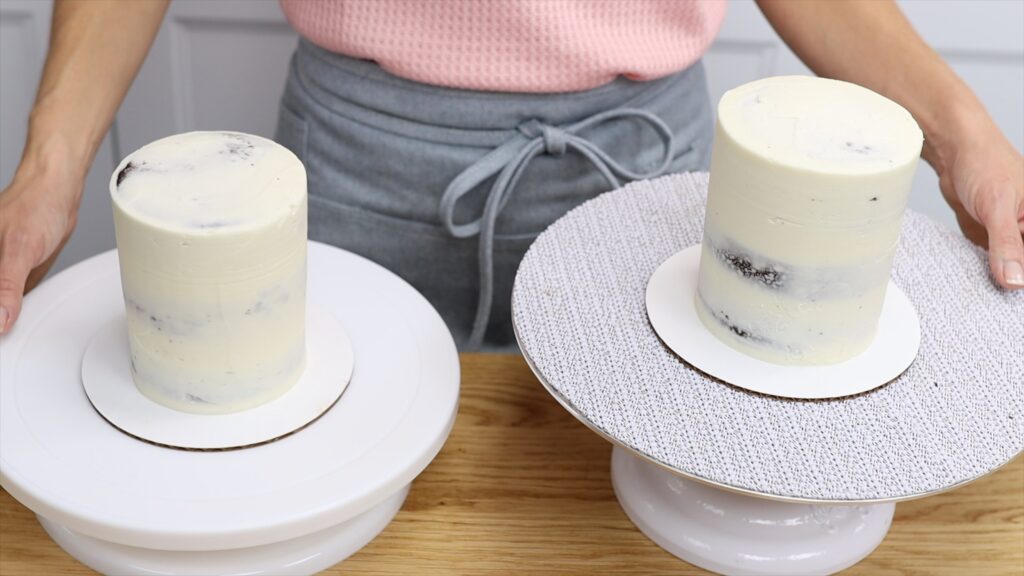 #2 Create texture with piping tips
Textured cakes are one of the trending styles of this year. Creating texture with wafer paper is an eye-catching option but it's also expensive. Wafer paper comes in packets of 50 or 100 sheets, which is a big investment for just one cake.
A much more affordable alternative is to buy a few piping tips and piping bags and create texture that way. You can reuse the piping tips and the piping bags for different piping styles to create endless textured designs on cakes on a budget.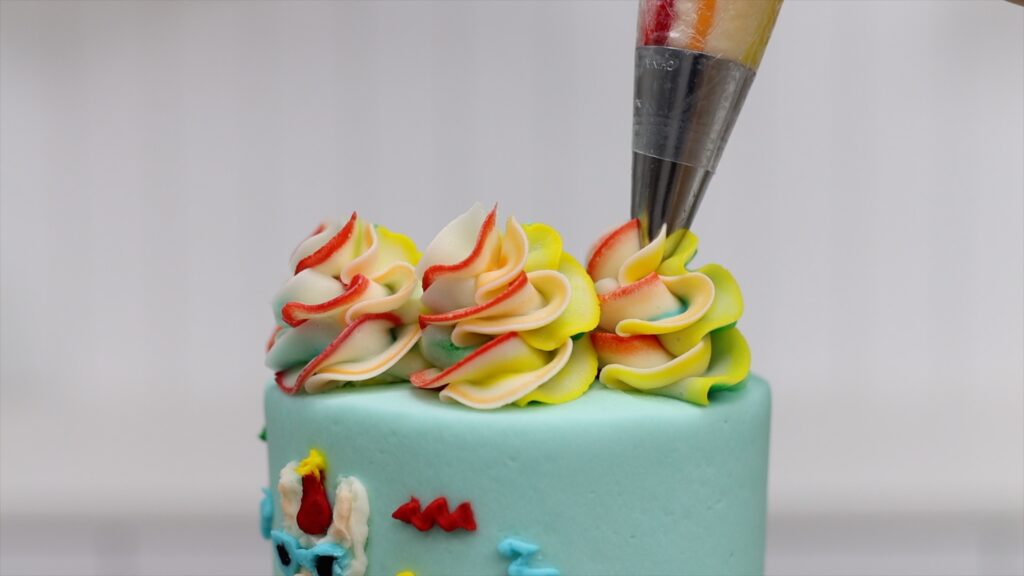 #3 Sprinkle mixes
I think fancy sprinkle mixes will always be popular but they're expensive too. Good news: you can make your own mixes for a fraction of the price! Buy packets of jimmies, nonpareils, or whatever affordable packets you can find and then combine them, choosing different colours and sizes for the most dramatic results.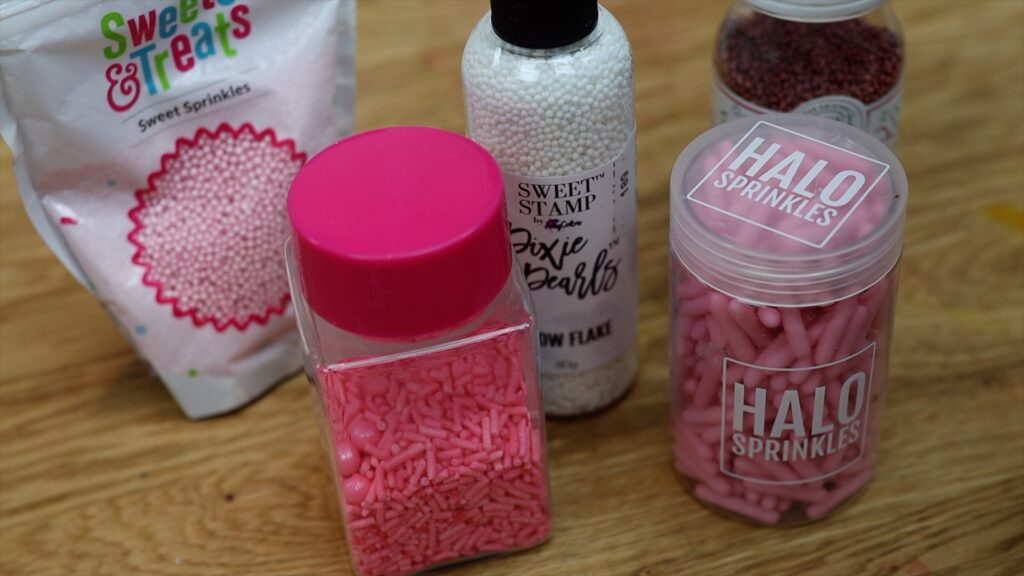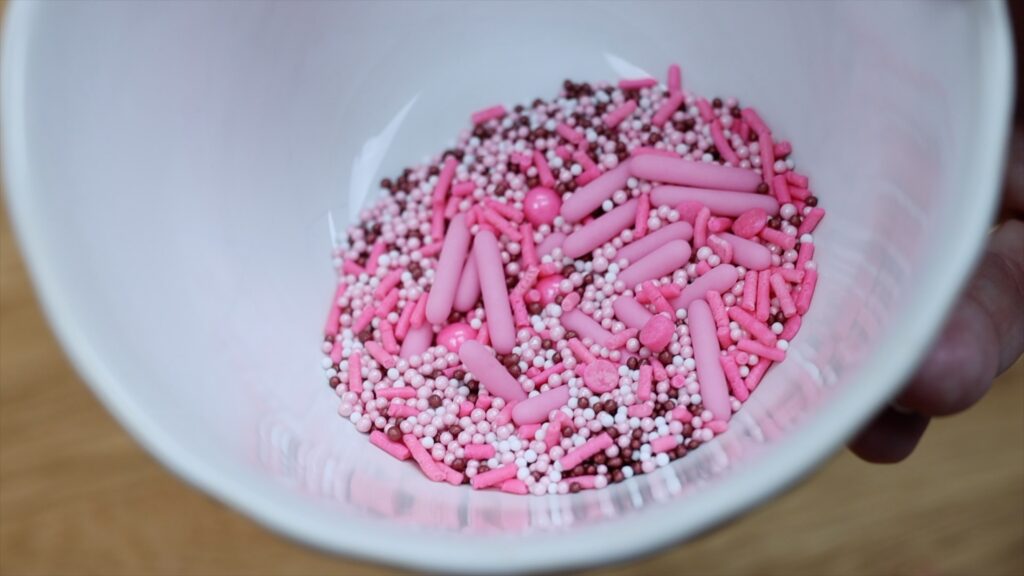 Use sprinkles for borders around cakes, to create shapes or patterns, or just sprinkle them on top of a cake. With homemade sprinkle mixes you can still make your cakes look fancy!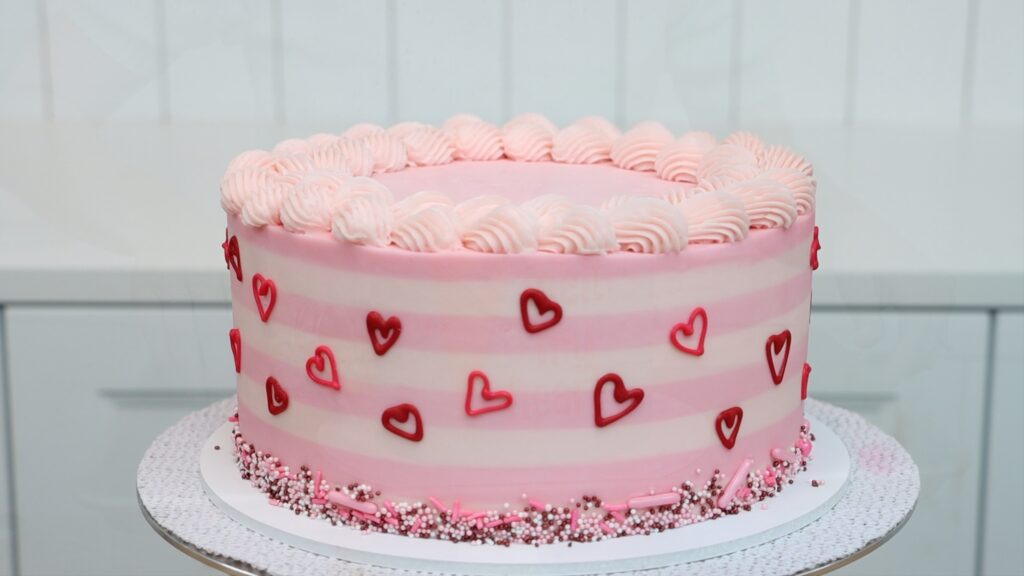 #4 Decorate cakes on a budget with household objects
Another way to save money on cake decorating tools is to use household objects instead. Make fun cake toppers with bubble wrap or texture your frosting a spoon or a fork! If you're interested in decorating cakes with tools you already have, check out this tutorial on 12 secret tools for cake decorating.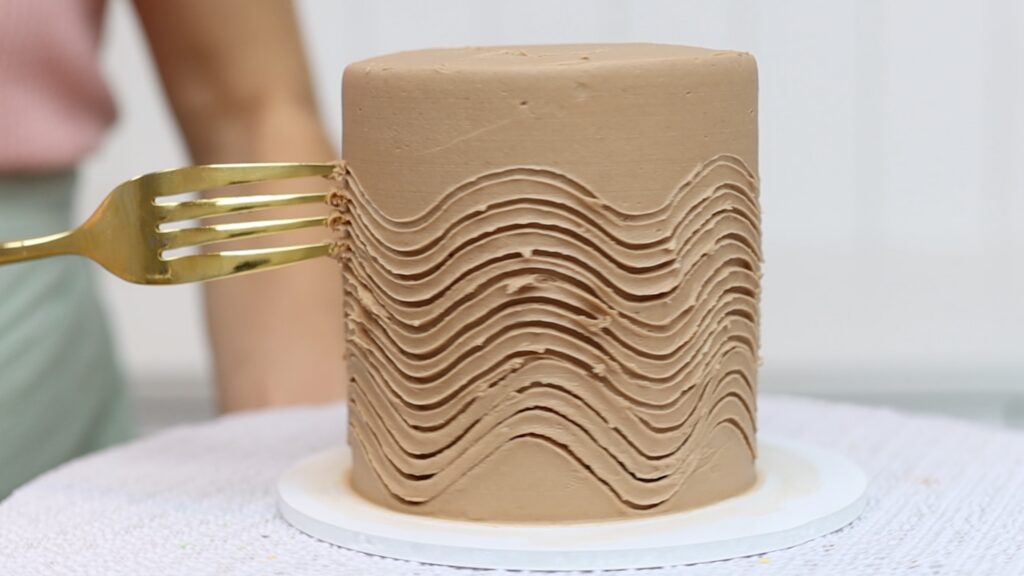 #5 Make your own cake stencils
Did you know that you can make your own cake stencils with parchment paper? They're cheap and infinite designs are possible. To make a cake stencil, draw or trace your design and cut it out, leaving the surrounding paper intact.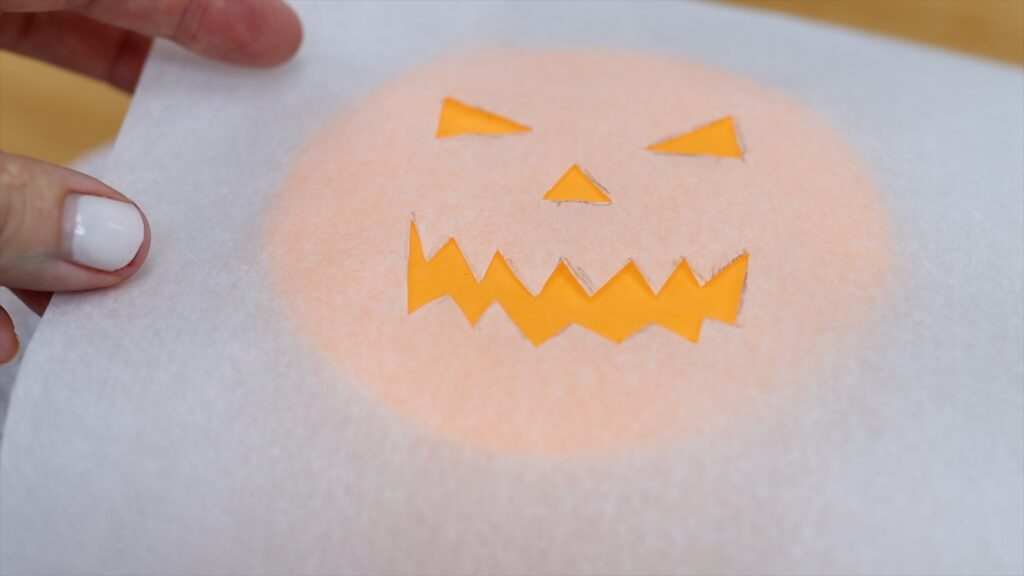 Press it onto a cake after chilling it in the fridge for at least an hour, so the frosting is cold and firm. Spread frosting over the top and scrape off the excess to leave a smooth, thin layer. When you peel the parchment off you'll leave a neat design on the cake.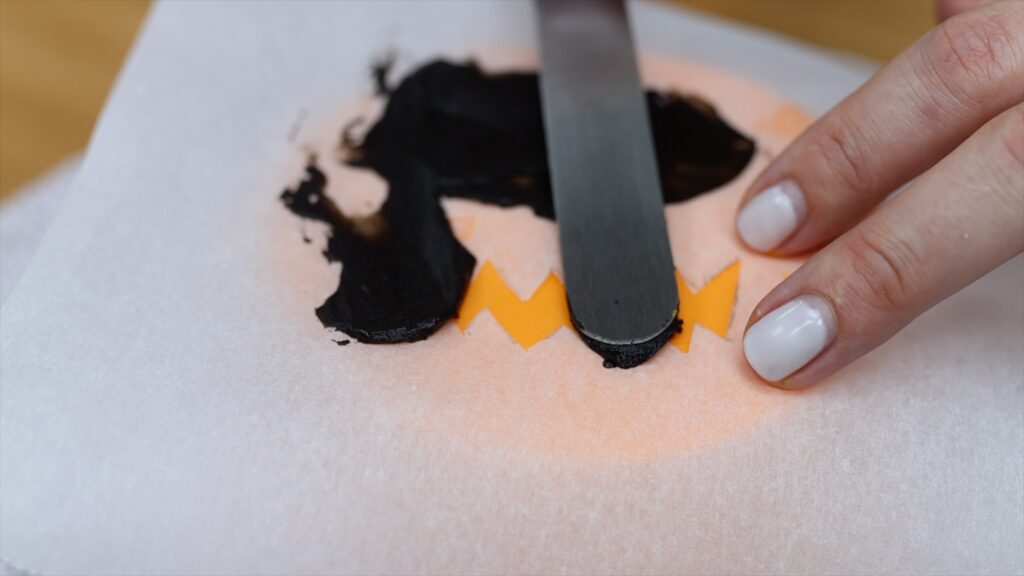 Homemade parchment paper stencils are an excellent way to create elaborate designs on cakes on a budget.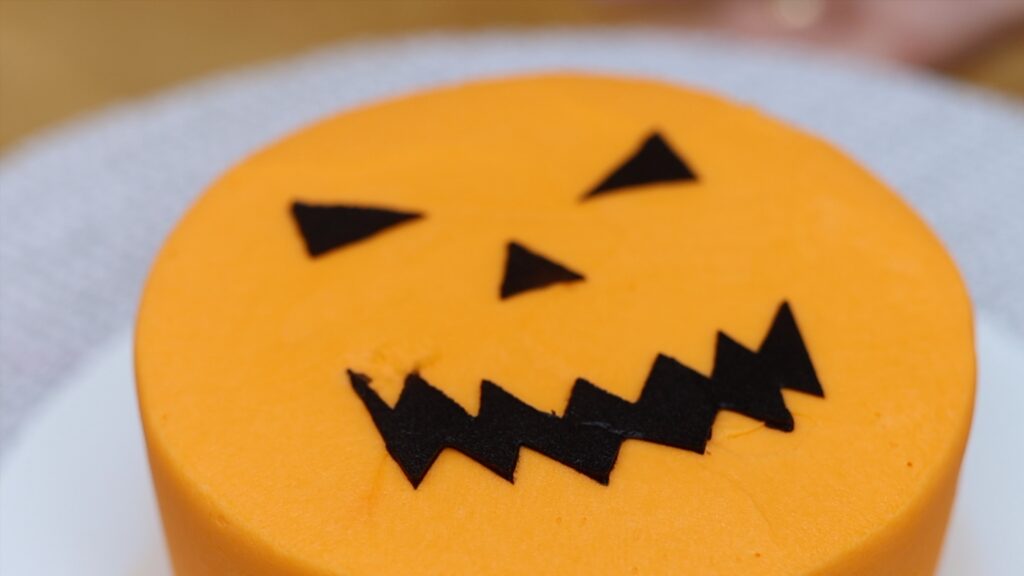 #6 Bake in bulk
Save time and money by baking cakes in bulk. Make the biggest batch of cake that your mixer can hold and bake several cake layers. For any that you won't use immediately, wrap them in two layers of plastic like cling film or Saran Wrap. Then freeze the wrapped layers for up to 2 months.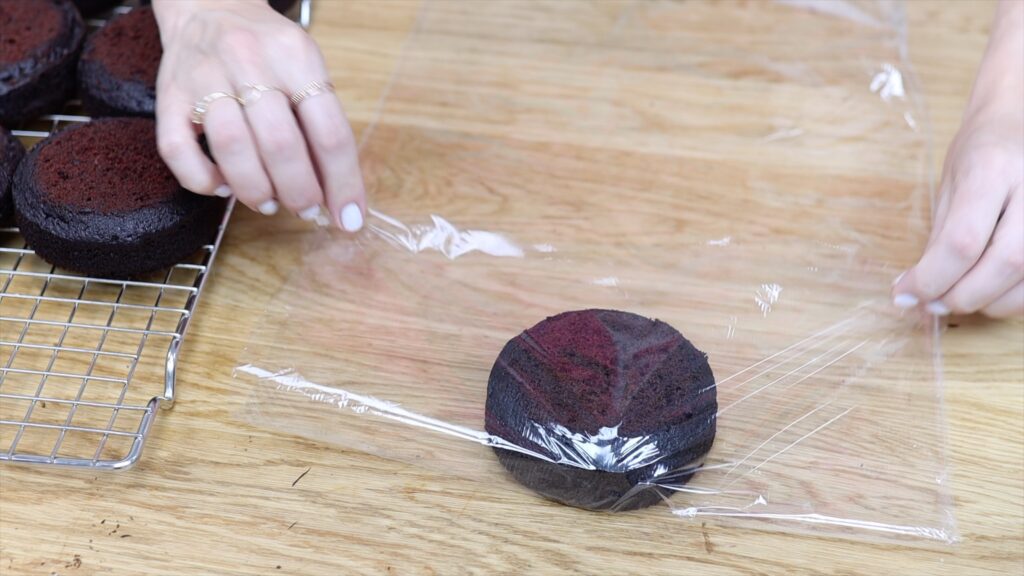 Move the layers to the fridge 24 hours before you use them to assemble and frost your next cake! This way you'll lower your costs by buying ingredients in bulk. You'll also use less energy or power for mixing and baking, and save a LOT of time!
#7 Use white chocolate
Candy melts are coloured confectionary chocolate that are great for drips, decorations, and cake toppers. They're expensive though, and with white chocolate you can make your own. The tricks to melting chocolate without it overheating and seizing are simple. Use a microwave safe bowl, use 70% power and only heat at 30 second intervals.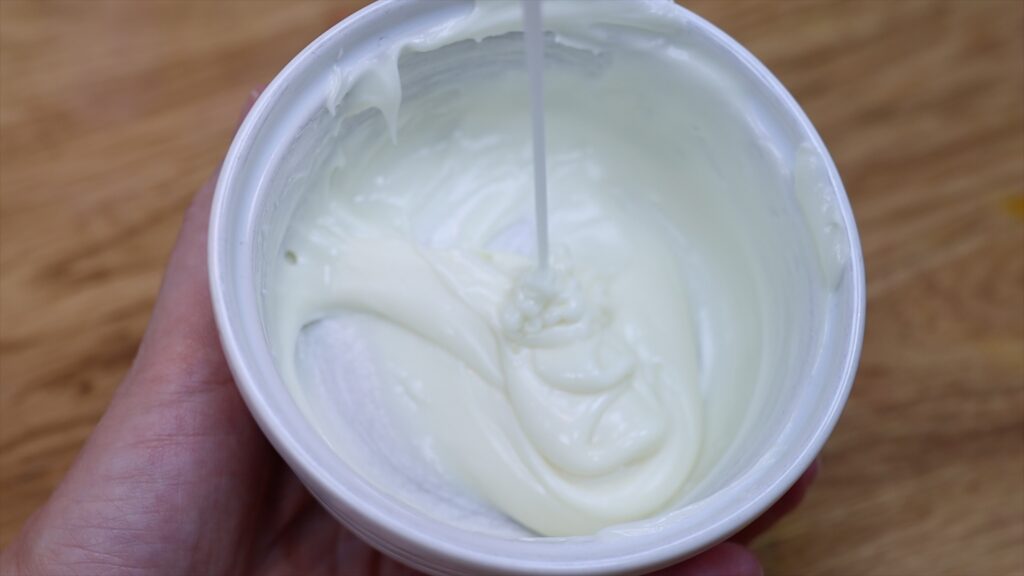 If you want to colour it you'll need oil based colours, and a tiny amount goes a looooong way. By using oil baes colors you can add as much colour as you like, to make really bold and bright colours without causing the chocolate to seize. Use the coloured chocolate for drips, decorations or cake toppers just as you'd use candy melts, but for a fraction of the price!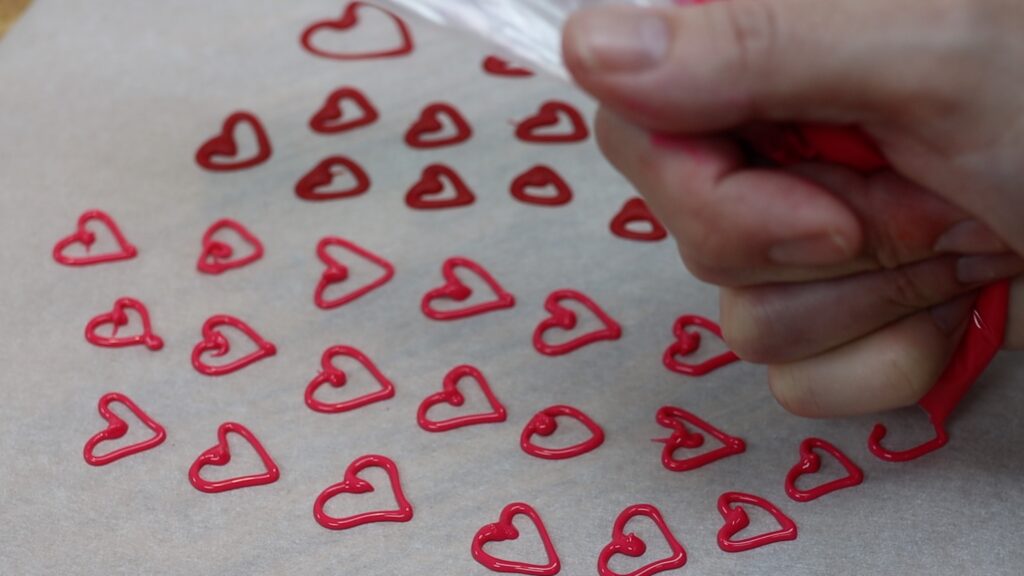 #8 Re-use leftover frosting
It's almost impossible to make exactly the right amount of frosting for a cake. It doesn't really matter though because leftover frosting doesn't have to go to waste. Stretch your budget by re-using leftover frosting to frost or decorate your next cake. For example, add plain white buttercream to lighten a colour or mix colours to make new colours. You can store buttercream in a ziplock bag in the fridge for 2 weeks or in the freezer for 2 months until you're ready to use it.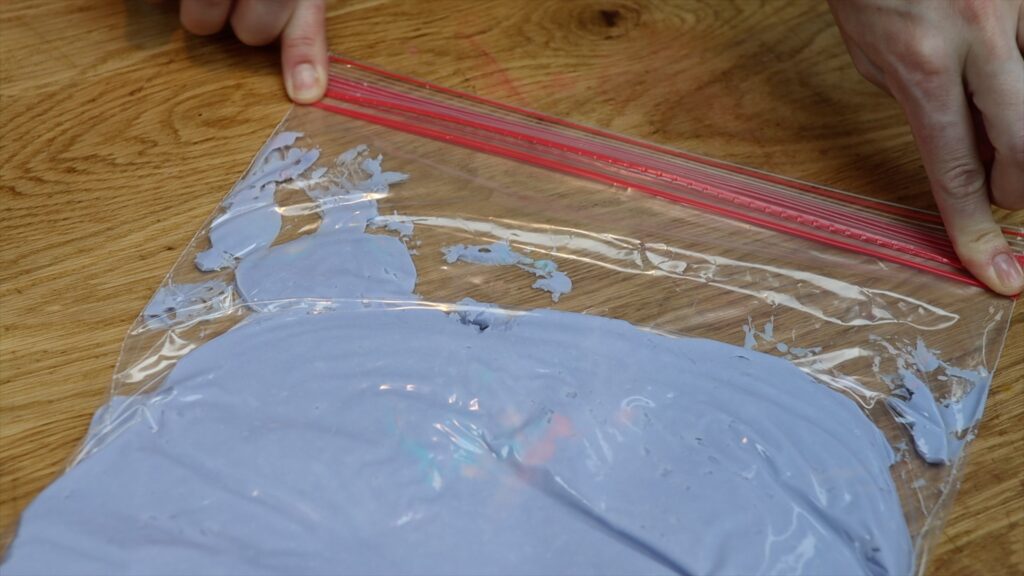 #9 Make your own cake toppers
Cut the cost of decorating a cake by making your own cake toppers instead of buying them. For number toppers for birthday cakes, outline a number and place a piece of parchment paper on top.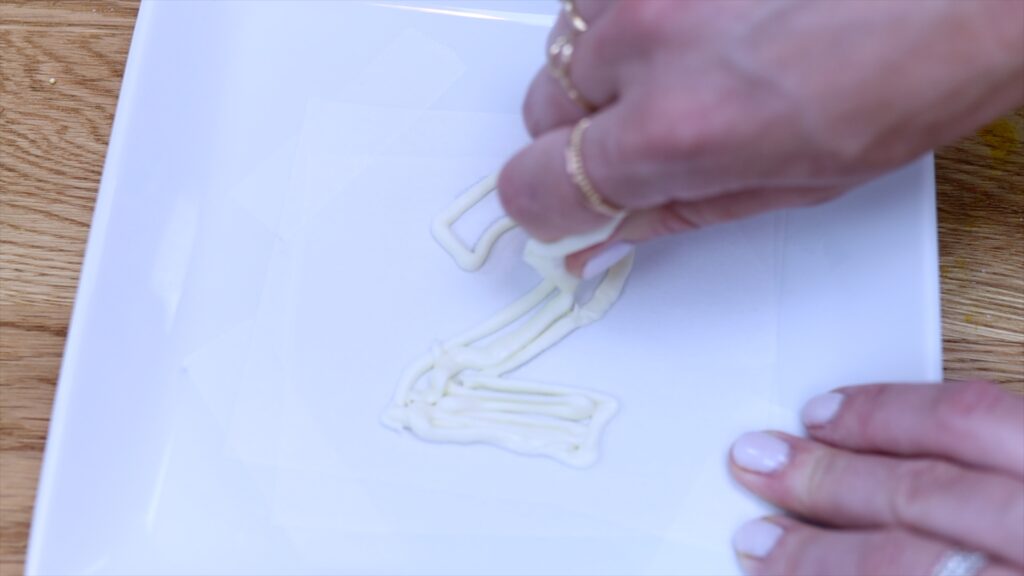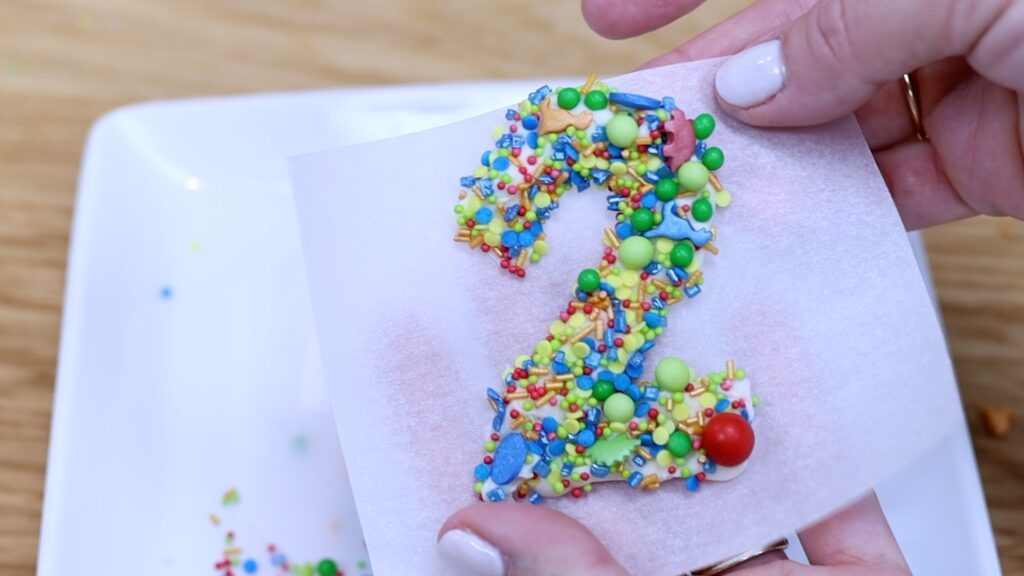 Trace the number with melted chocolate, fill it in, and pour sprinkles on top. When it sets you can stick a straw to it for with more melted chocolate and voila! A fun, colourful number topper for a cake!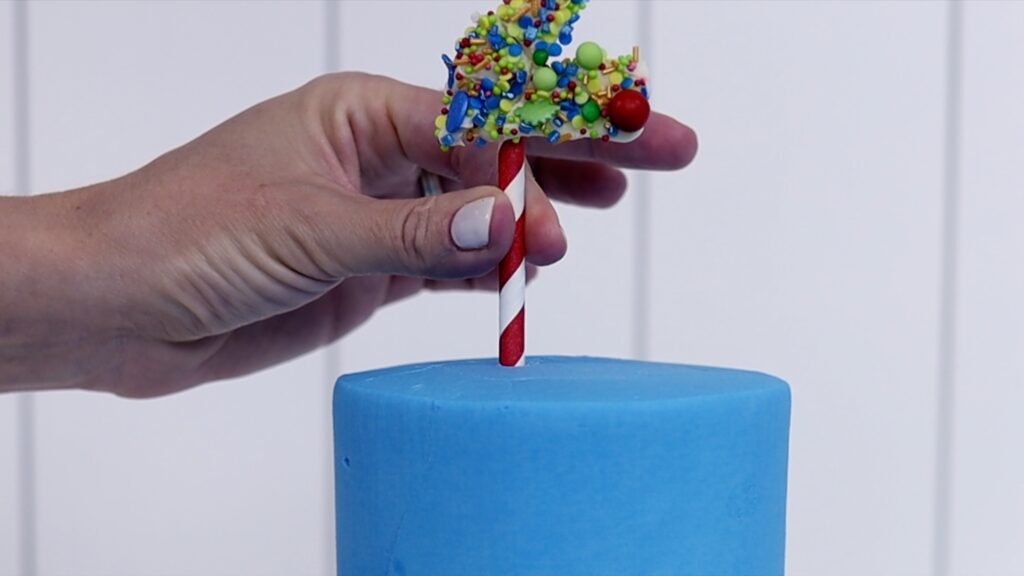 #10 Make smaller cakes
If you're trying to lower costs for your cakes, try making smaller cakes! Did you know a 6" cake can serve 10 people with huge slices or 20 people with thinner slices? And that a 6" cake uses half the batter and frosting of an 8" cake?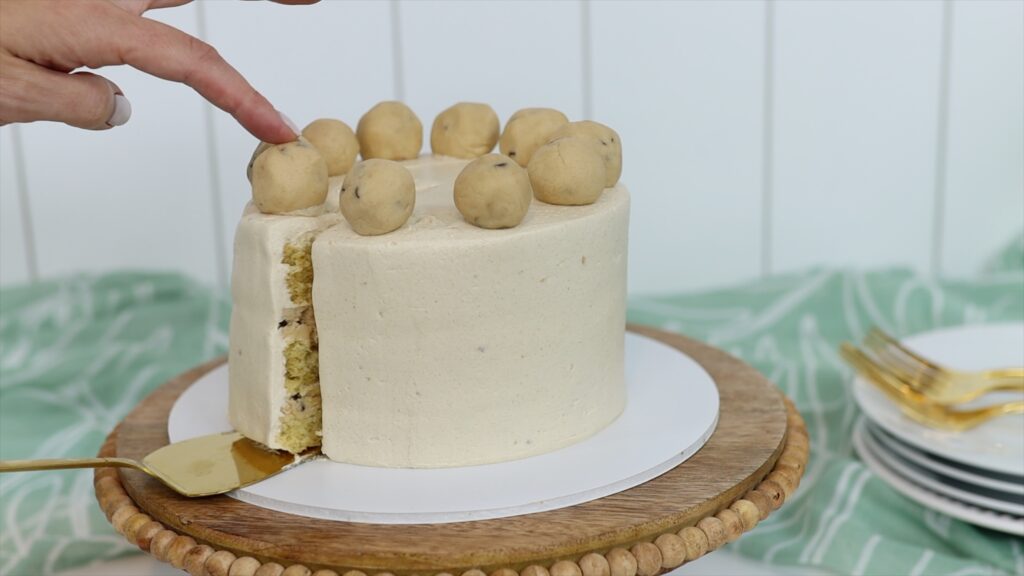 I teach how to cut and serve tall cakes on my online cake school, as part of my 5 minute Friday series, where I share a new cake tip or technique every Friday which you can watch and learn in just 5 minutes! Join my ClubPLUS membership for access to 5 Minute Fridays and EVERY MiniCourse, MasterCourse and Live Workshop on my cake school.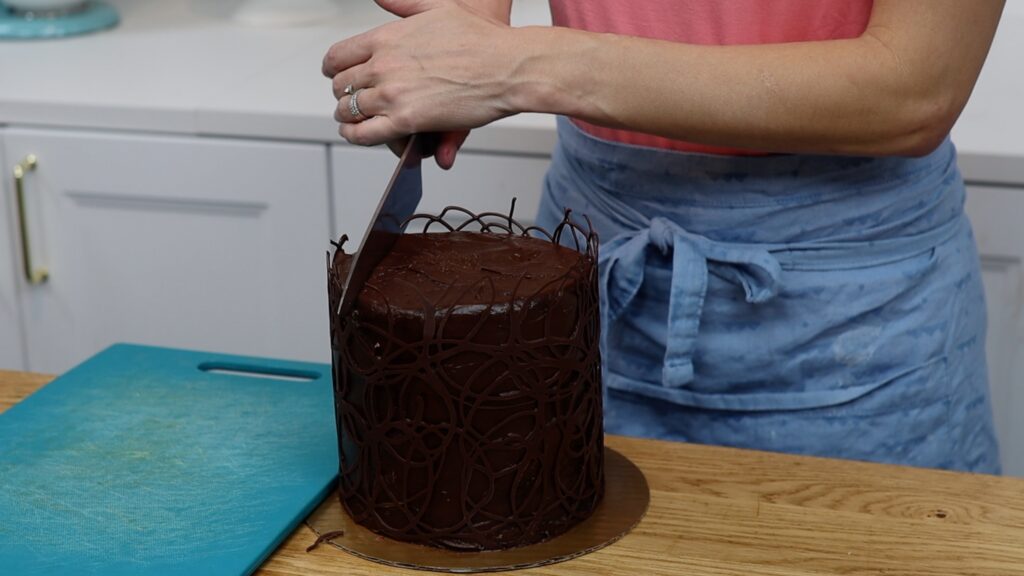 You can watch a video of this tutorial on 10 ways to decorate cakes on a budget here:
Here are 10 cake trends to try in 2023! This year we're going to see some really fun cake trends and luckily for cake decorators, they're not too complicated to create yourself.
1. Buttercream cakes
First of all, I think buttercream cakes will continue to increase in popularity. All sorts of designs can be tweaked from their original fondant versions to use buttercream instead. This way they're less time consuming, more affordable and, arguably, more delicious!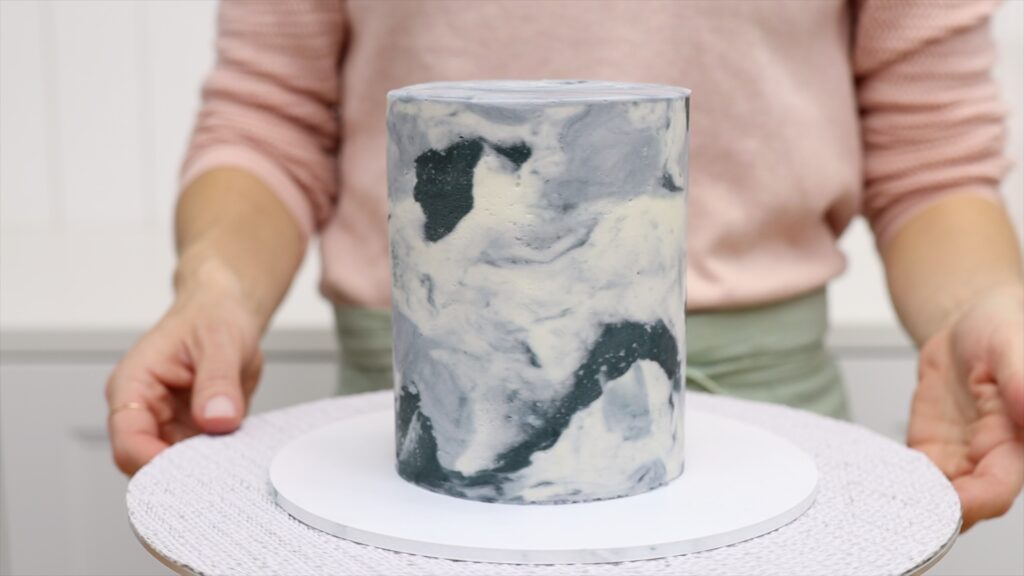 Although buttercream can't be sculpted or molded in the same way fondant can, it's incredibly versatile. You can create marbled frosting like in the cake above, or use parchment paper to make characters. There are endless creative techniques out there for show-stopping cakes that taste amazing, too! Try this ice cream cake using buttercream.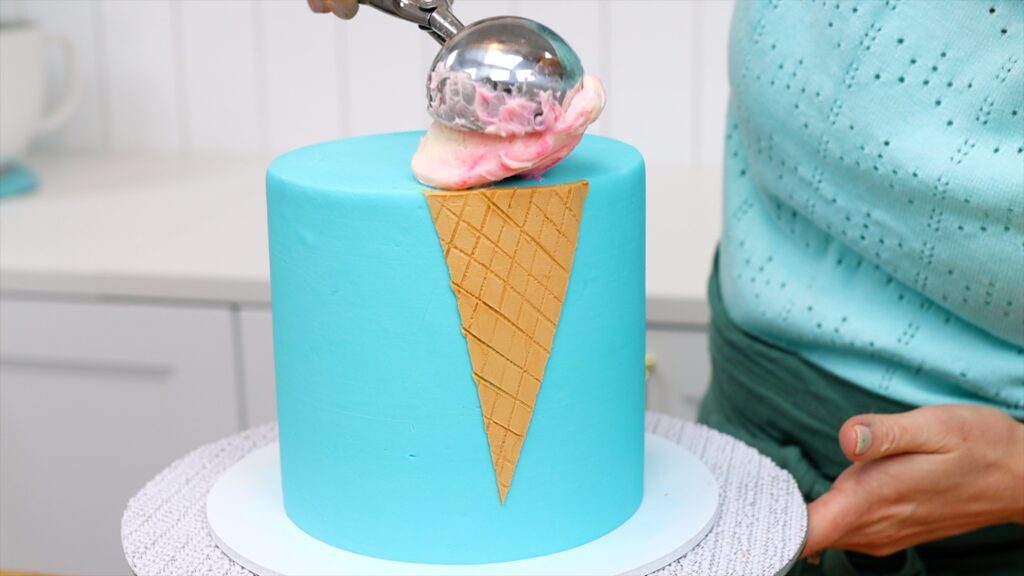 2. Comic style cartoon cakes
Comic style cartoon cakes have started to pop up everywhere and I think this style will explode in 2023. The trend will go beyond the basic cake design to incorporate all sorts of themes and I think we'll see both fondant and buttercream variations. I have a very detailed tutorial on this trending cartoon style using buttercream and chocolate.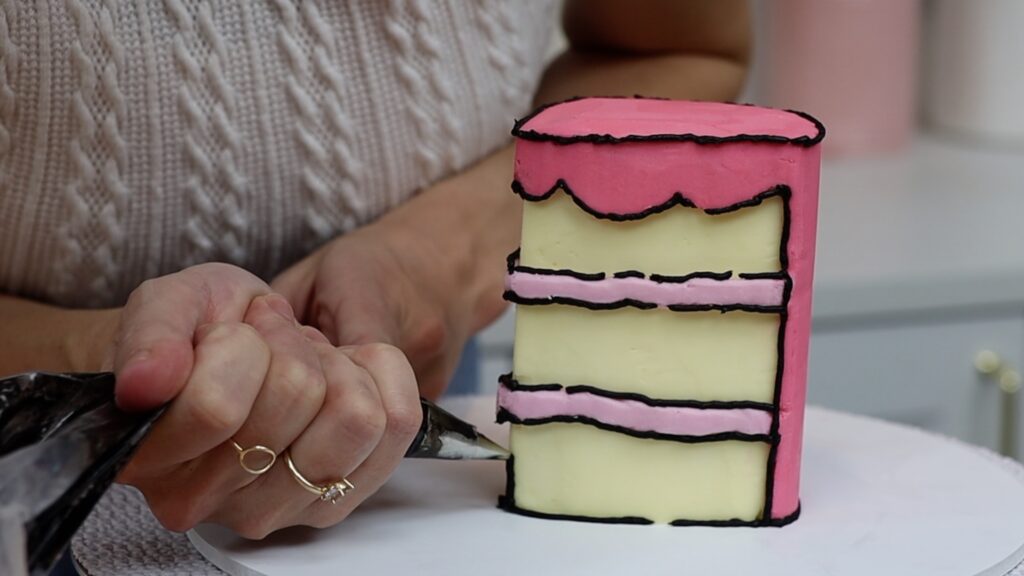 3. Buttercream carving
Buttercream carving made a brief appearance a few years ago and it's starting to re-appear. For this cake trend, frost a cake and then cover it with another colour of buttercream. Carve the buttercream using clay modeling tools or even piping tips, revealing the colour underneath.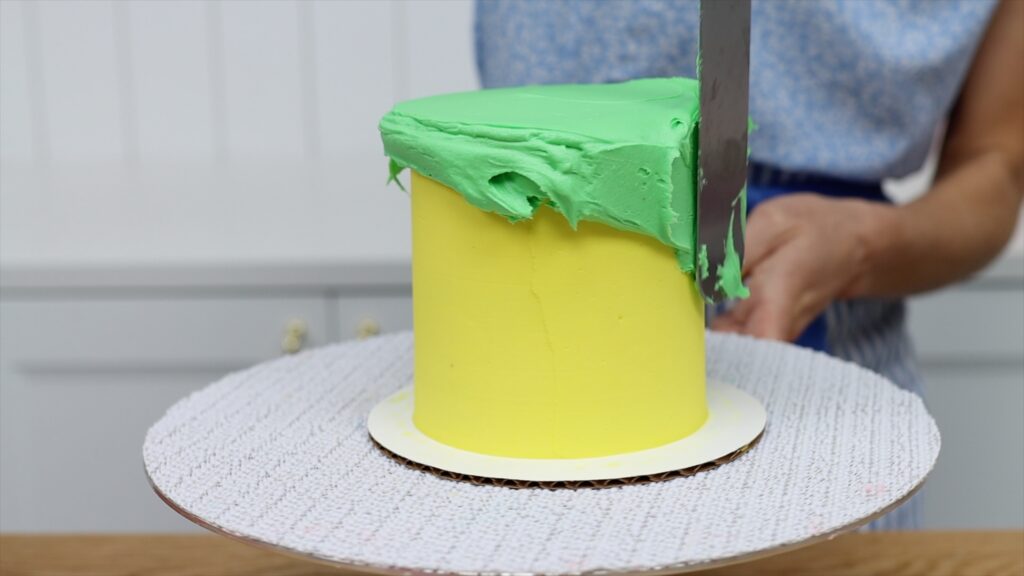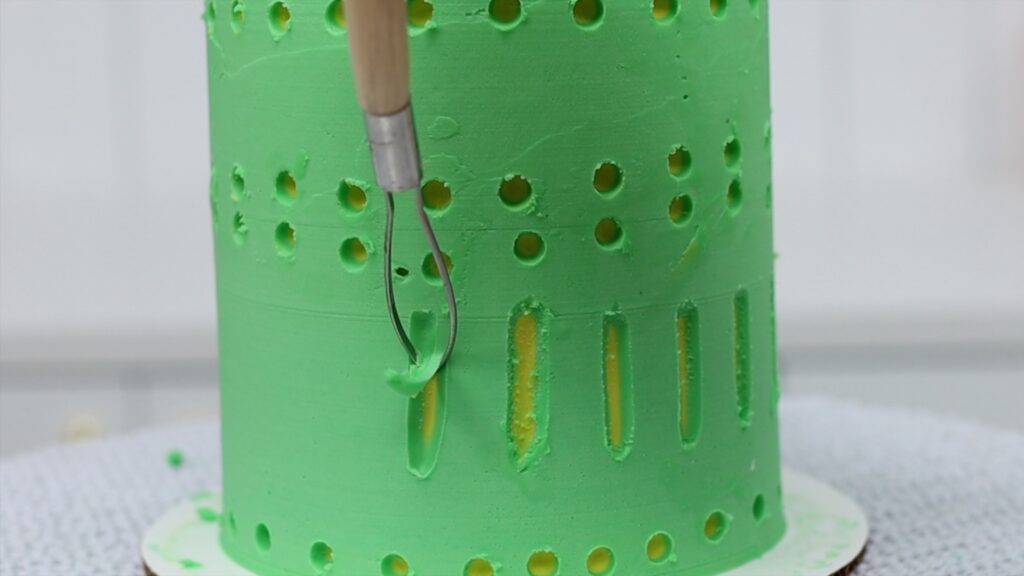 This is an eye-catching way to add lots of colour and texture and detail to cakes. You can expect to see lots interesting carved designs in 2023! I have a course on buttercream carving on my online cake school in case you want to dive in to this fun technique.
4. Wafer paper
With wafer paper you can make dramatic sails on cake and it's fairly easy to do. Just pour some water into a tray, add some gel colour and mix it in. Wafer paper is stiff to start with but water will make it very soft and flexible. Place it in water for five seconds on each side and then transfer it to a silicone mat or parchment paper. I like to wrap one end around a toothpick to make it easier to attach to a cake. Leave it overnight to dry and it will get hard and slightly shiny.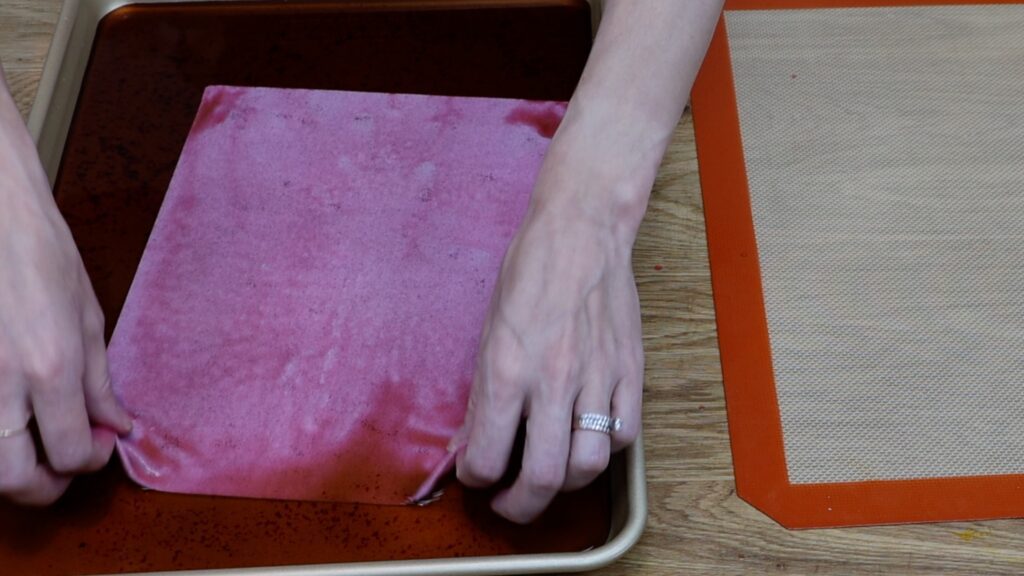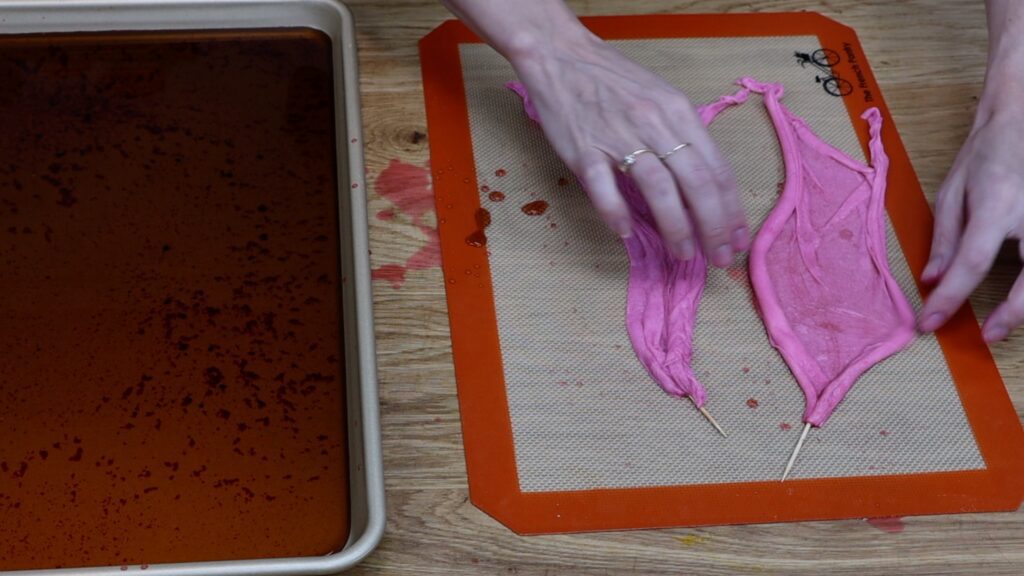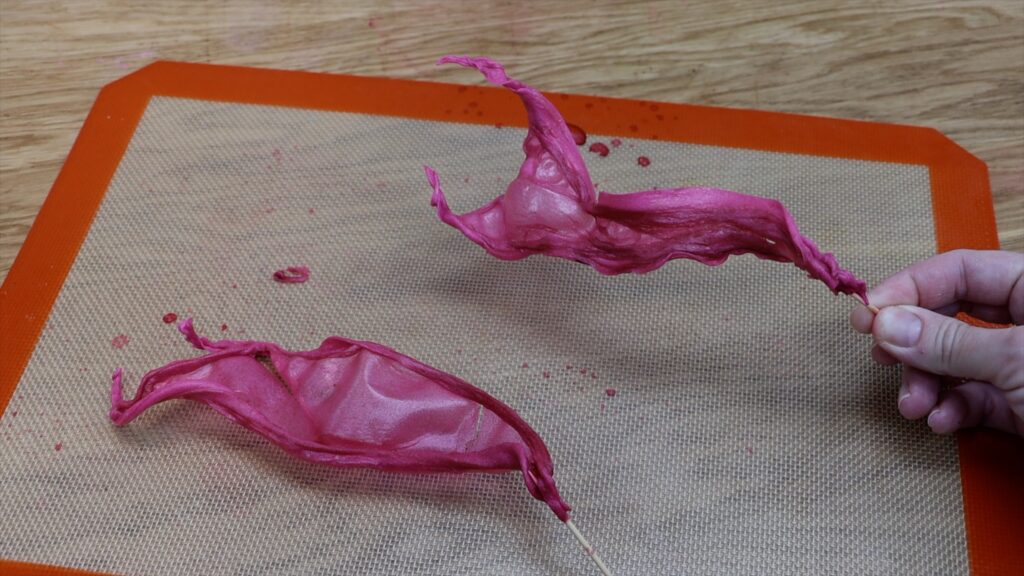 To make a bowl shape, scrunch up some parchment paper or cover a round object with parchment paper to make it non-stick, and then drape the wet wafer paper over it. After it dries you can lift it up and it will hold its shape. These look stunning on cakes and add height and texture and colour!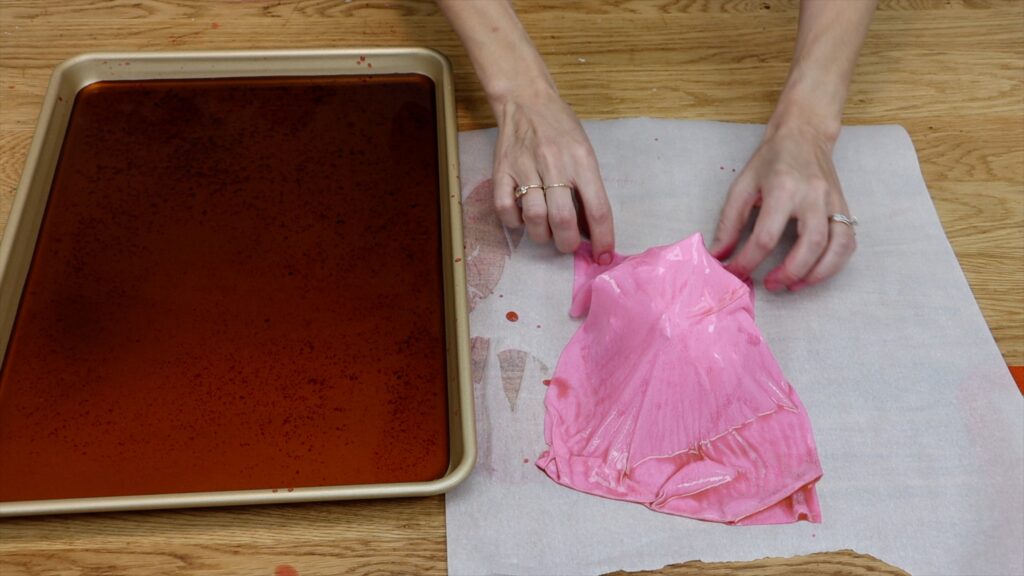 5. Vintage Cakes
This next one is surprising because it goes back to the 1700s in France. This style, known as Lambeth or vintage, is elaborate with over the top piping. Designs feature lot of texture and usually lots of colour, too.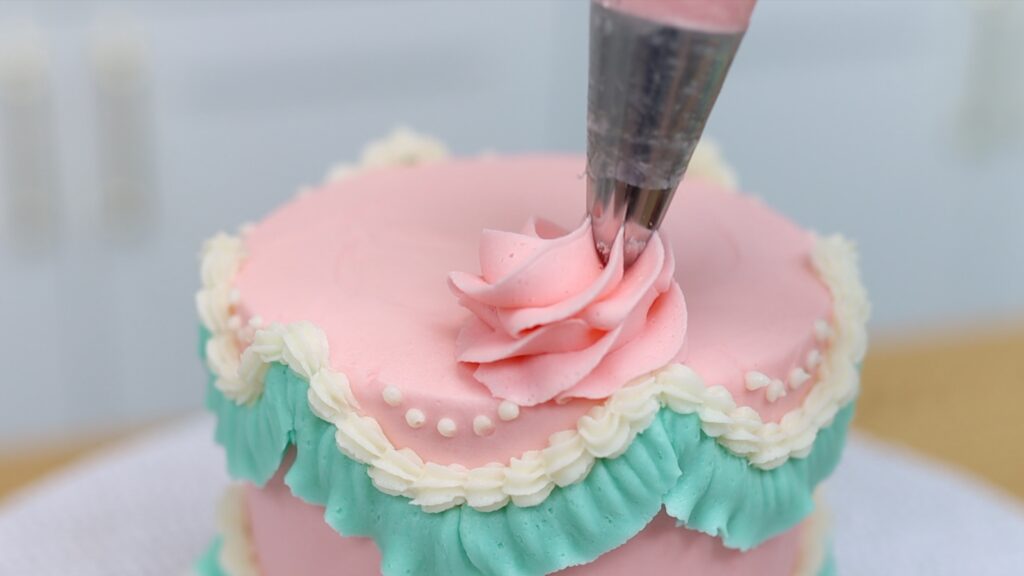 You can use several piping tips or just one or two to achieve lots of different effects. Top the cake with swirls or decorations like glittery cherries or piped roses.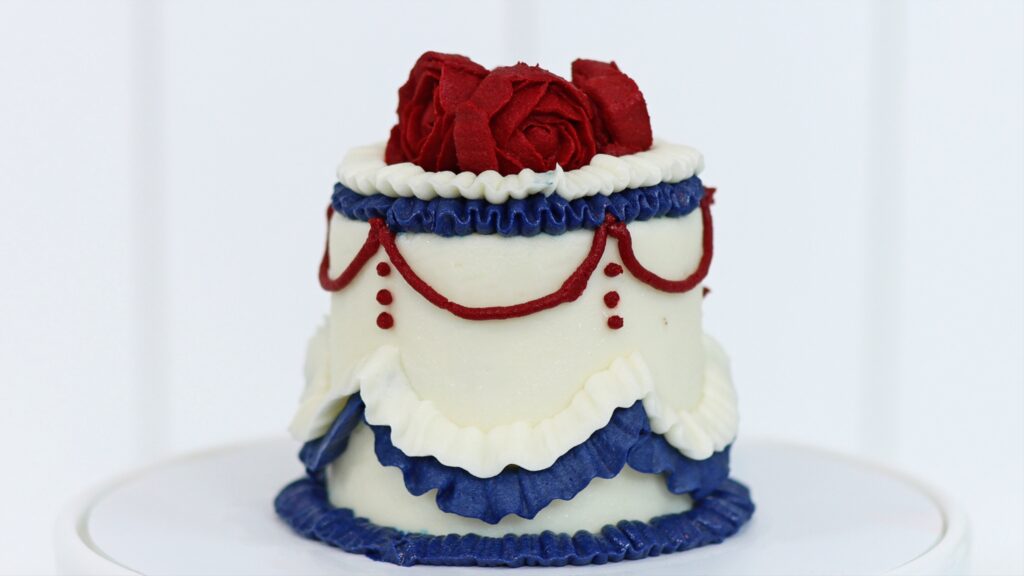 These are fun for any occasion, from formal weddings to 4th of July or valentines day!
6. Striped Frosting
I'm expecting stripes to make a comeback this year, based on fashion trends which are often mimicked by cake designs. Fun fact: my first viral YouTube video back in 2018 was a tutorial on 4 Secrets for Perfect Stripes on Cakes.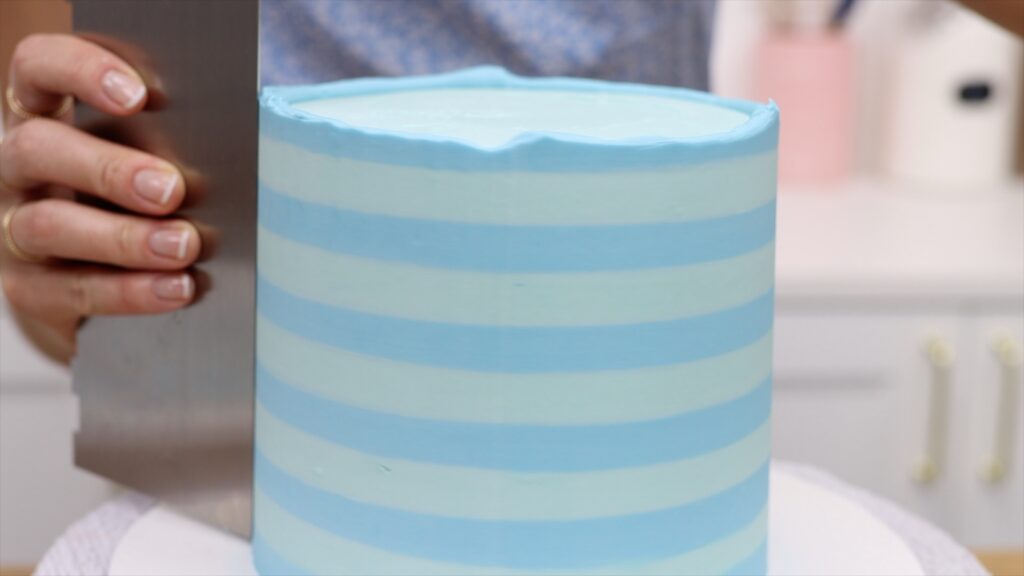 7. Textured Frosting
Another fashion-based trend is texture, which we'll see with a surge in popularity of piped cake designs. This could include textured fillings on naked cakes, or frosting designs like knitted cakes.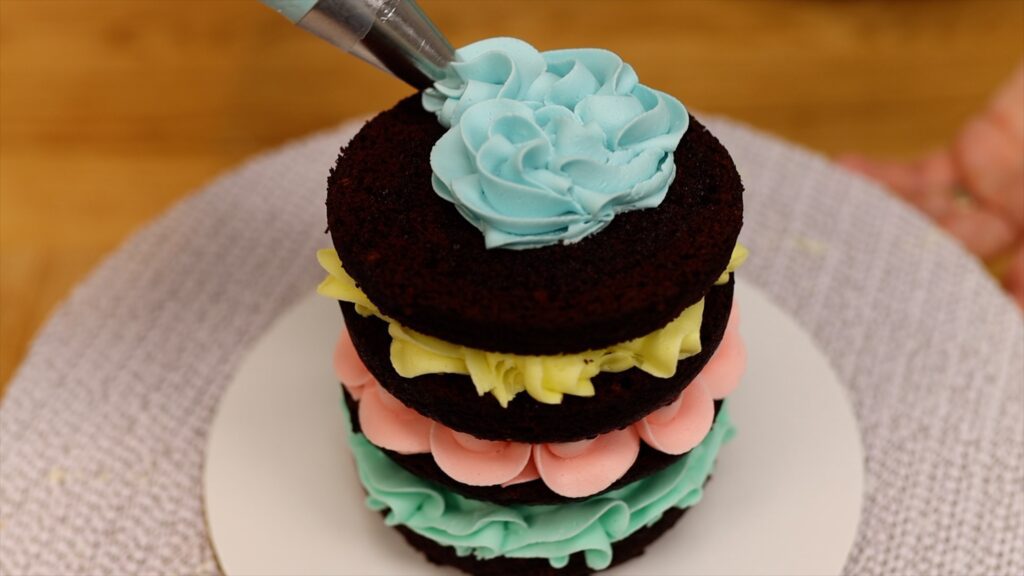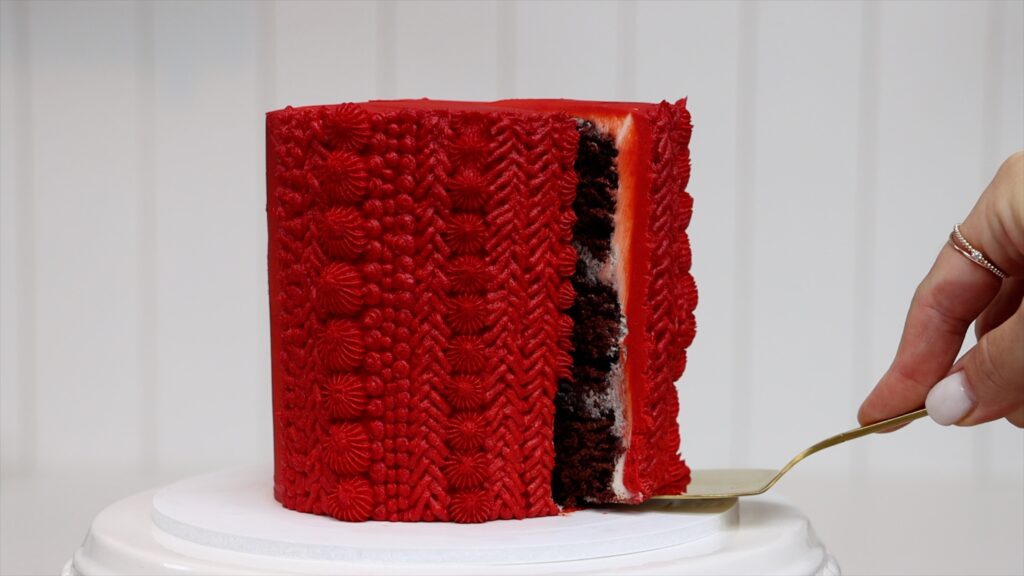 8. Mini Cakes
After a few years of limited socializing around the world, smaller sized desserts are popular and mini cakes have become very trendy. This gives bakers lots of opportunities to practice baking and cake decorating without wasting a lot of ingredients.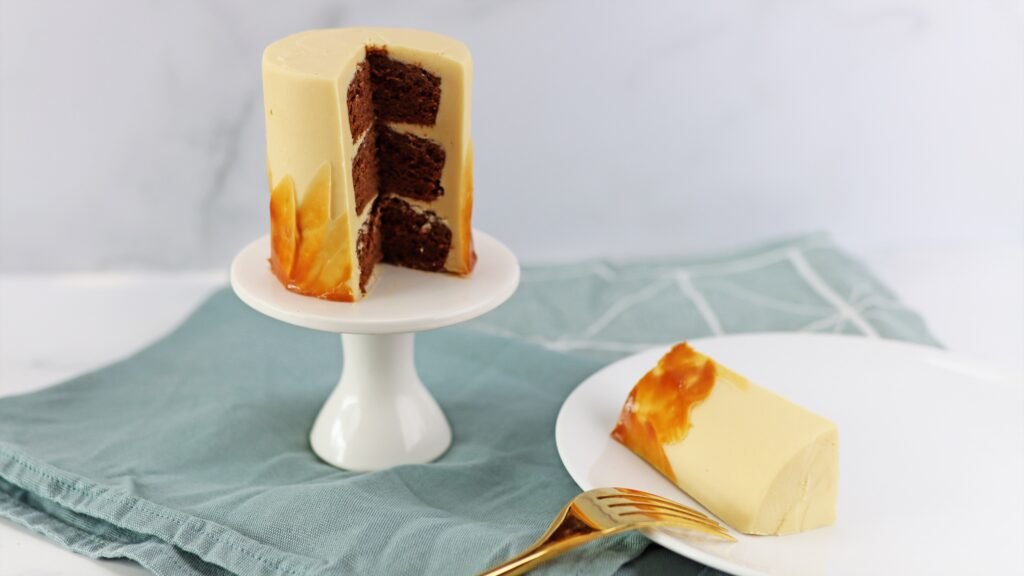 It's also much quicker to do certain designs on mini cakes, like pointillism without needing to pipe millions of dots! Mini cakes make thoughtful gifts, romantic desserts for couples, or a fun way to serve several flavours without huge quantities.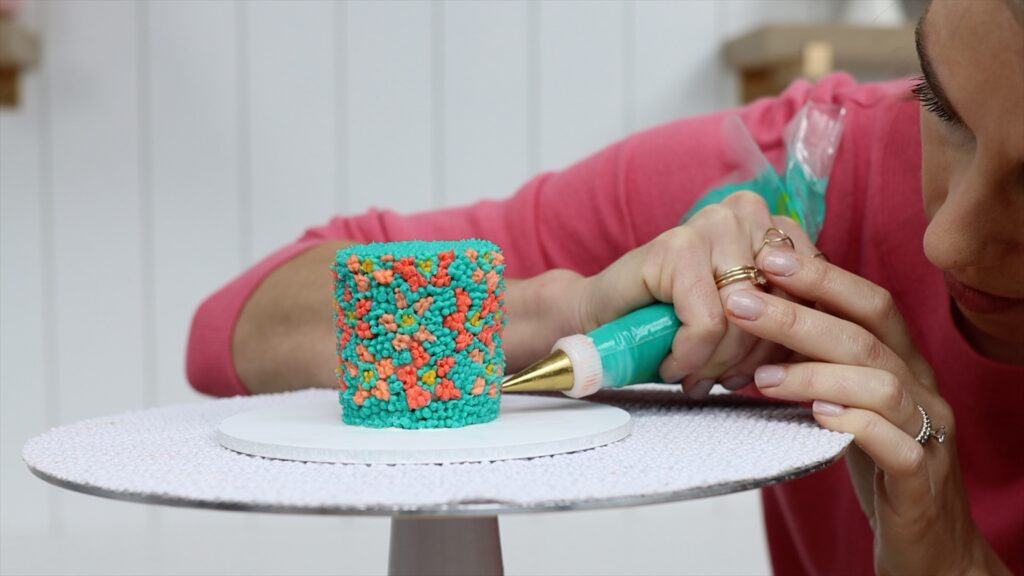 9. Cake shooters
Spinning off from mini cakes, here's another way to create smaller portions. Cake shooters are layered cake, fillings and frosting in shot glasses or champagne flutes. Display them on a table and with spoons for easy serving and cleanup! These are really easy to travel with and for some gatherings they can be more practical than a full-size cake.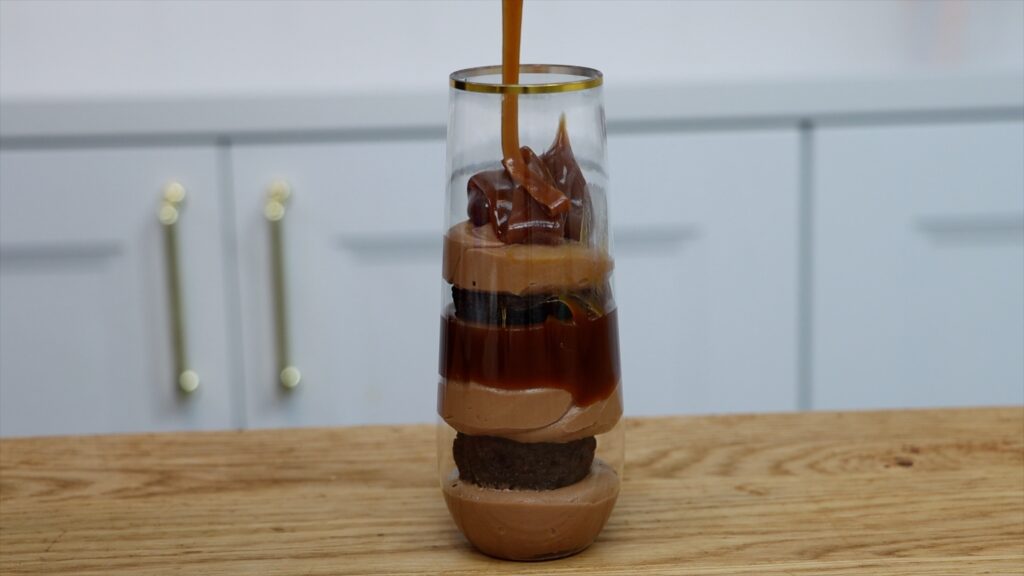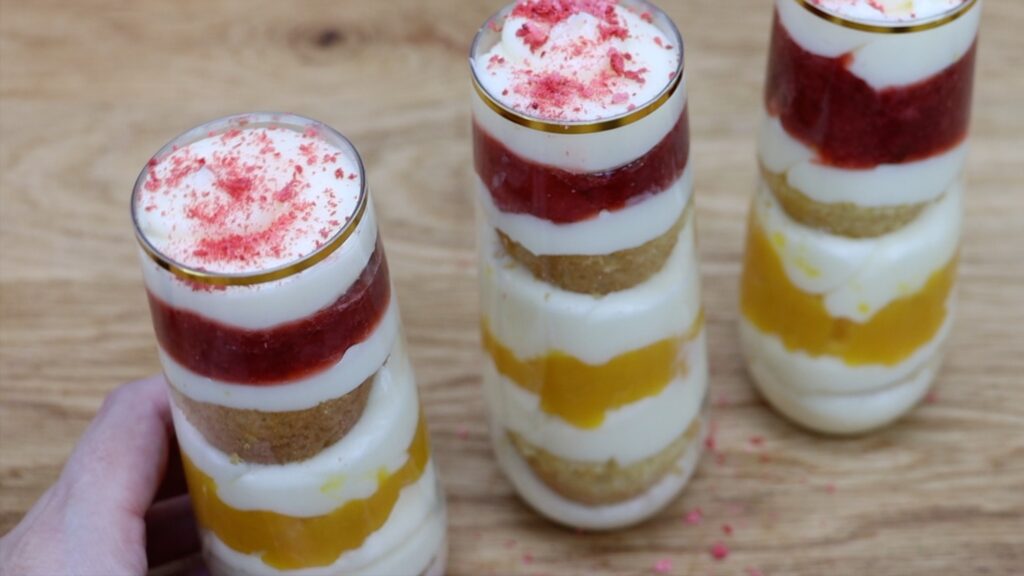 10. Chocolate decorations on cakes
Finally, as buttercream cakes continue to grow in popularity over fondant cakes, I think we'll see an increase in chocolate decorations replacing fondant. Think number toppers, decorations, details, and styles like chocolate collars or chocolate wraps. If buttercream comic style cartoon cakes trend the way I anticipate, chocolate cake toppers will almost certainly trend with them.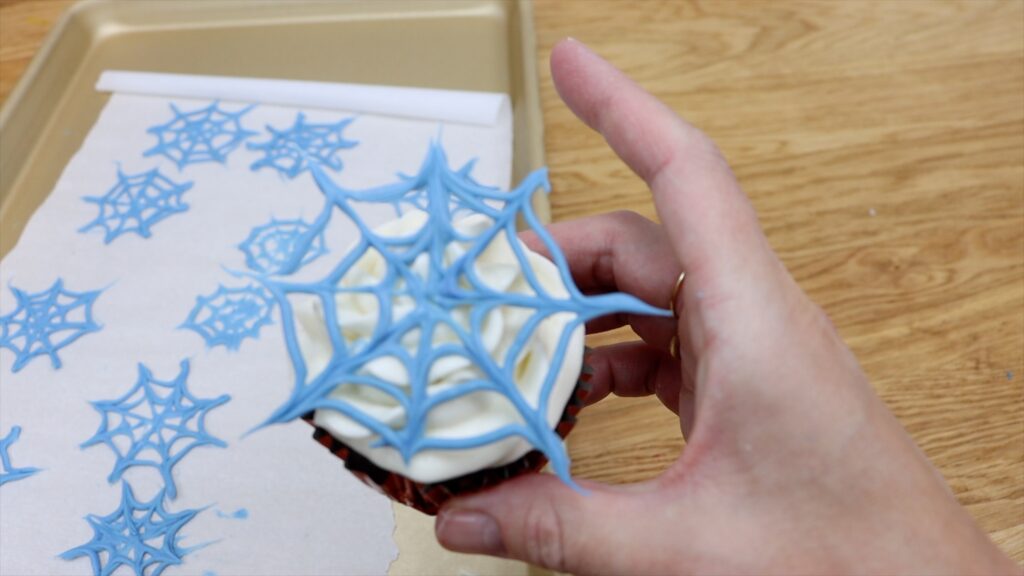 What do YOU think will trend in the world of cakes this year? Tell me in the comments!
You can watch a video of this tutorial on 2023 Cake Trends here:
This comic or cartoon cake style is trending and if you don't like fondant you'll LOVE this method for a buttercream version!
How to assemble a cartoon cake slice
You'll need one round cake layer of any size, cut into quarters, and buttercream frosting. I'm using my 4 minute buttercream and you'll see soon why it works so well for this design.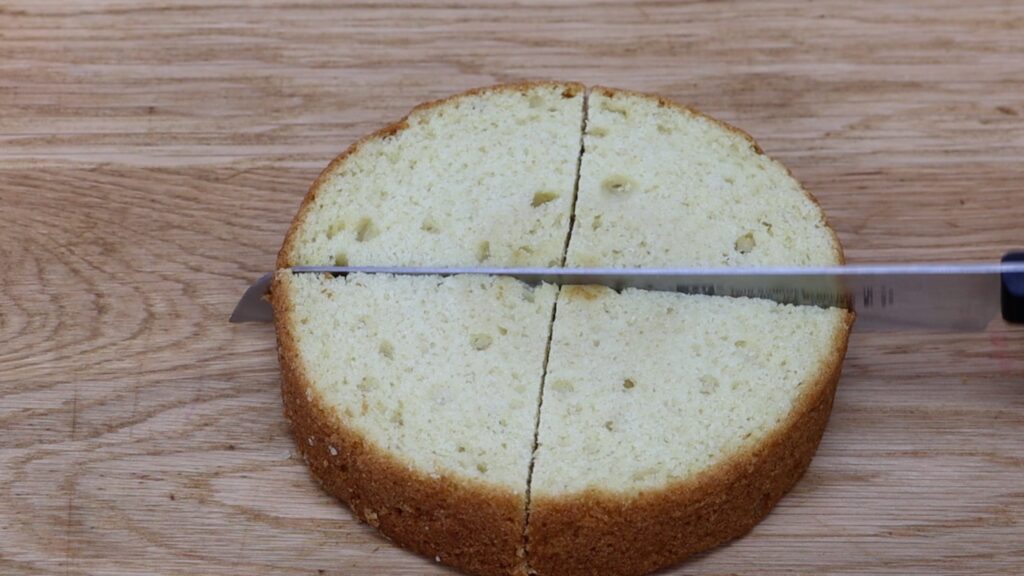 Spread a bit of buttercream onto the middle of a cake board to attach your first quarter of cake.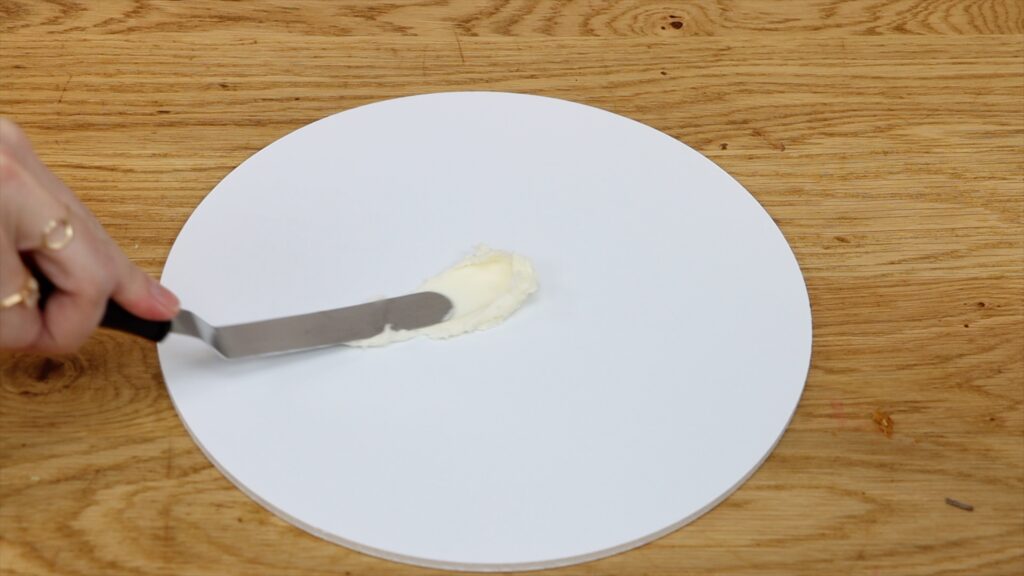 For the filling I've tinted buttercream pale purple but you can use whatever you like. I like to match the filling I'm going to put on the outside of the cake.
Layer your cake, pushing each layer down to attach it to the filling. I'm only using three layers of cake for this but you might use all four if your cake is wider. This layer was only 6 inches wide so it already looks very tall with just three layers.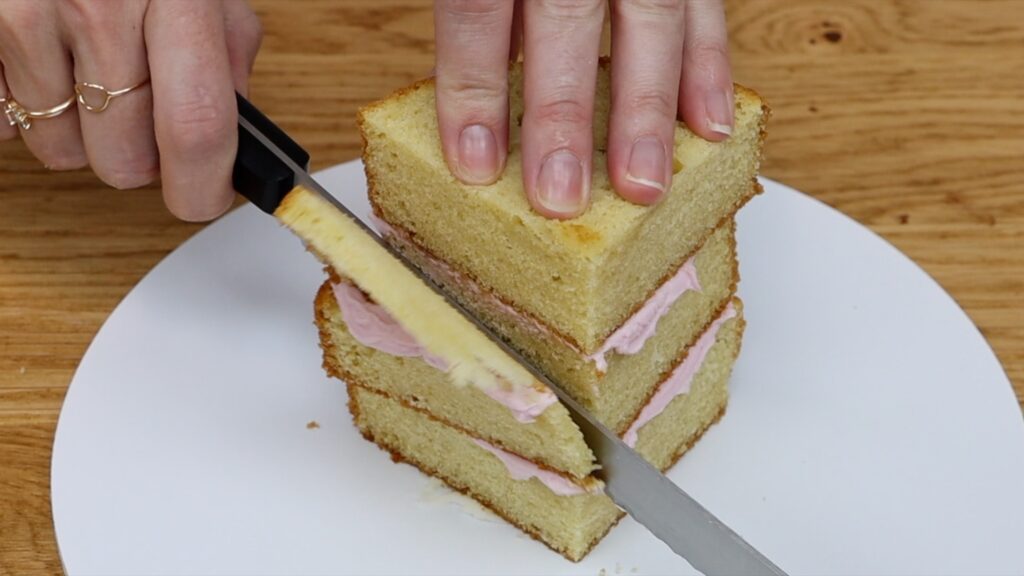 Your layers won't line up perfectly so trim them with a serrated knife like a bread knife. If you like you can trim the back side of the cake too so it's straight instead of curved. This means a bit less cake but it does make the slice look a bit more like a cartoon cake.
Now put the cake in the freezer for about 30 minutes so it firms up. This makes it much easier to frost.
How to frost a cartoon cake slice
Tint some buttercream pale yellow and cover the cake with a thin layer of frosting. This is called a crumb coat and it traps any crumbs that come off the cake. Smooth the frosting to give the cake a nice shape. Don't worry about getting it super neat because you're going to cover this up with another layer. This final layer will be visible so take your time to get it nice and smooth.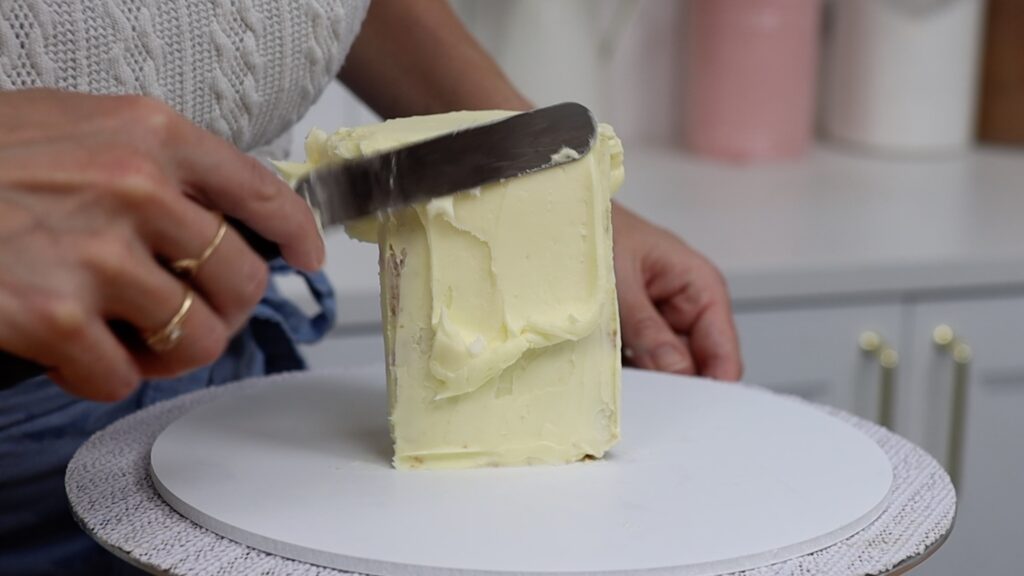 I think this is the trickiest part of this cake. Getting the sides smooth on a round cake is fairly simple because you just hold your cake comb still as you spin the cake. With edges like on this wedge shaped cake you have to be much more intentional. Scrape from one corner to get that corner sharp but stop before you get to the next corner. This way you won't pull the frosting off or make the corner rounded. I teach how to get super smooth frosting on round and square cakes in my online course, The Basics of Buttercream, as well as how to make, troubleshoot, flavour, colour and store buttercream and how to use it for lots of unique cake decorating techniques!
Once you're happy with the sides, tidy up the top edge of the cake. Swipe sideways with your offset spatula to make sharp edges from the sides onto the top of the cake.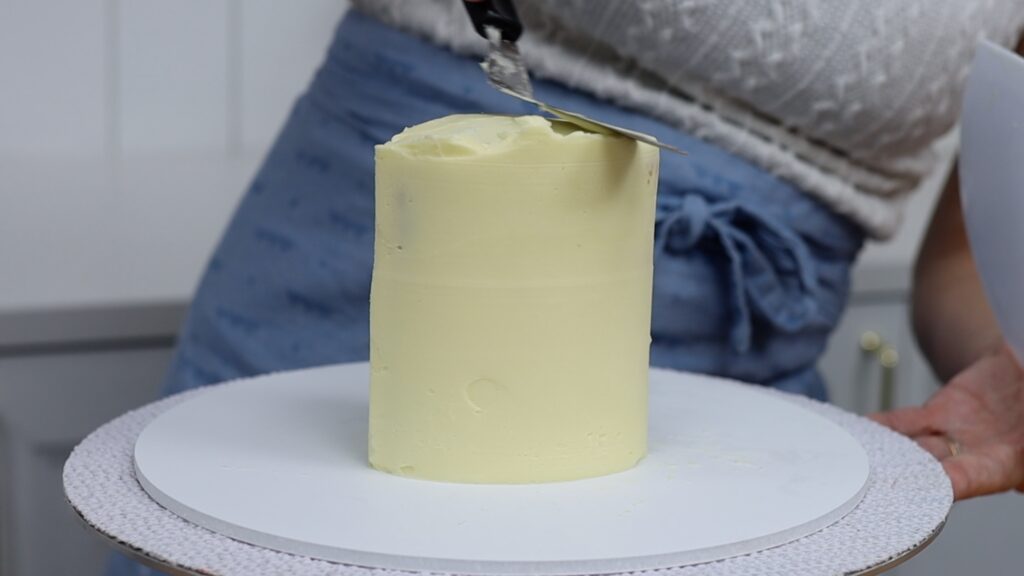 How to decorate a comic cartoon cake
Chill the cake again for about 15 minutes to set the frosting. Then fill a piping bag with the leftover buttercream from the filling of the cake, so it's the same colour. Use a medium sized round tip like a #12 to pipe two lines along the straight sides of the cake. This will be the "filling".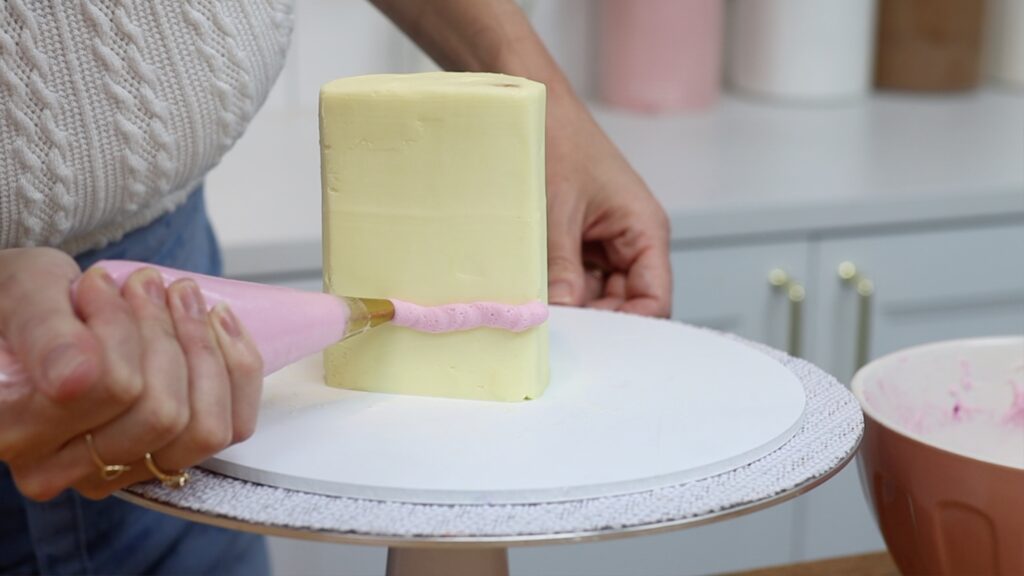 Hold the tip quite close to the cake as you pipe to make the filling flat rather than rounded. That way it will look more cartoony. You can use a toothpick to flatten any bulges or tidy up any messy parts.
Then use another colour for the frosting on the cake. I've added pink to the purple that I used for the filling so that I can re-purpose the leftovers. I have a full tutorial on 9 ways to use leftover frosting that has more ideas to reduce buttercream waste.
Pipe the frosting onto the top of the cake and then smooth it with your offset spatula. Pipe it onto the two straight sides in a wavy line as if the frosting is dripping down. Spread this with your offset spatula to fill in any gaps. You can smooth it slightly but I'll show you a more effective way to get it really smooth next.
Tidy up the top edge, wiping your offset spatula on a towel or paper towel after each swipe so that it's clean when you use it again. That will give you the sharpest, neatest edges. Remember the back of the cake! Spread frosting over it and sto smooth it, scrape with a cake comb from one side towards you. Scrape almost to the edge but stop just before and then scrape back in the opposite direction. This will give you the smoothest frosting. Don't worry about the edges, where this frosting ends where it meets the yellow cake. I'll show you a quick way to tidy that up next.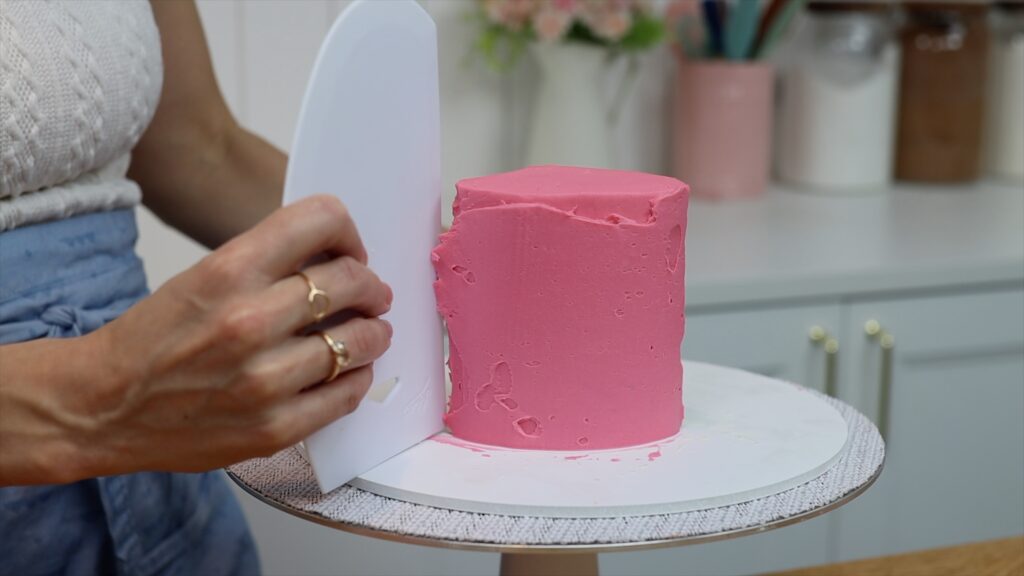 How to get smooth frosting on a comic cartoon cake
Put the cake back into the freezer for 15 minutes to chill the frosting. Then use a sharp knife to trim off the edges of the frosting to make a straight line down the cake. It's much easier to do this now, once the frosting has set, because it won't smudge or stain.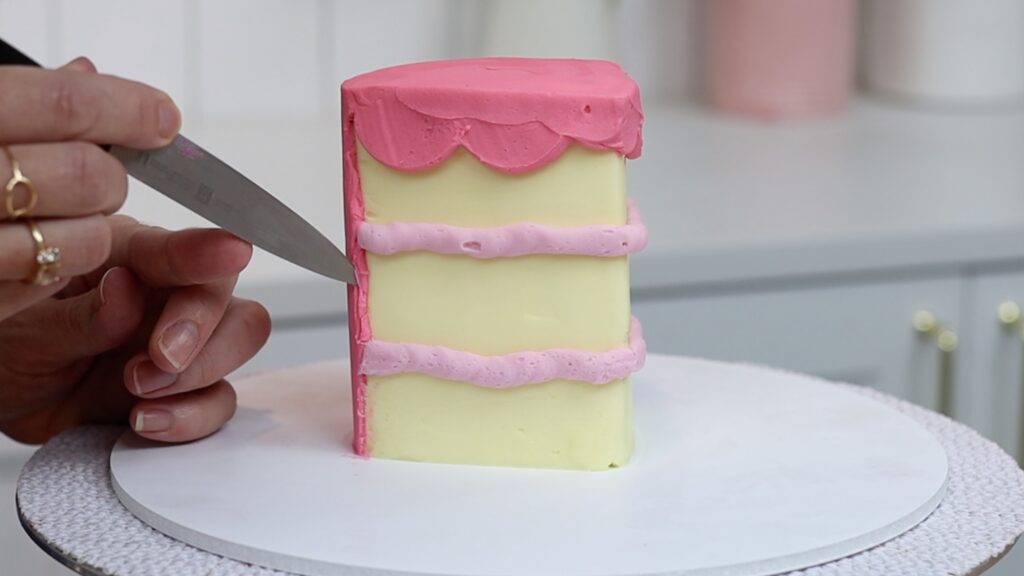 To get the frosting super smooth, run a metal cake comb under hot water and dry it off. Then scrape gently over the frosting and you'll see the texture disappear, leaving a smooth surface instead. You can do this along the filling too, to make it a bit flatter for this cartoon cake design.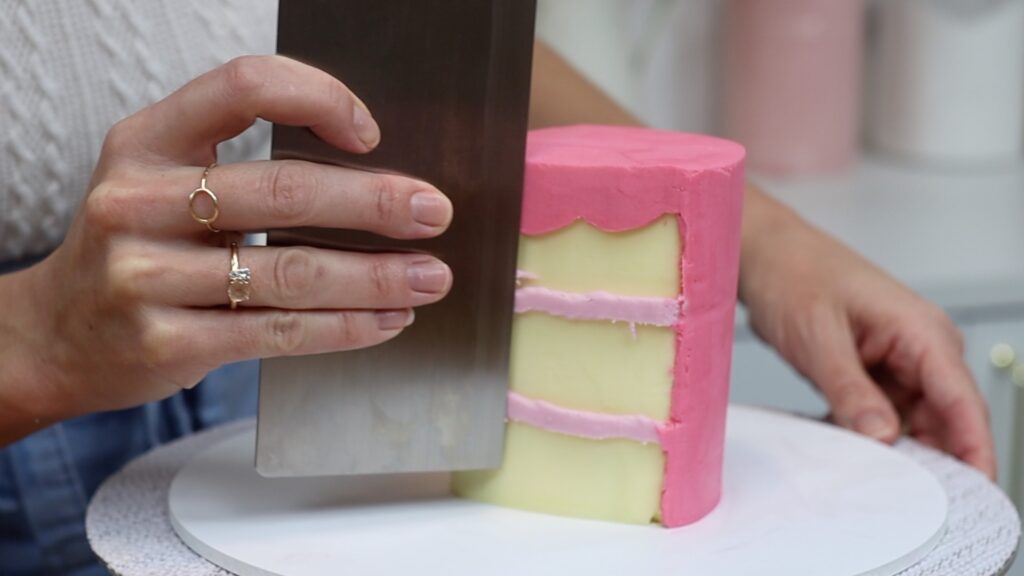 Again, toothpicks are a great way to fix any imperfections!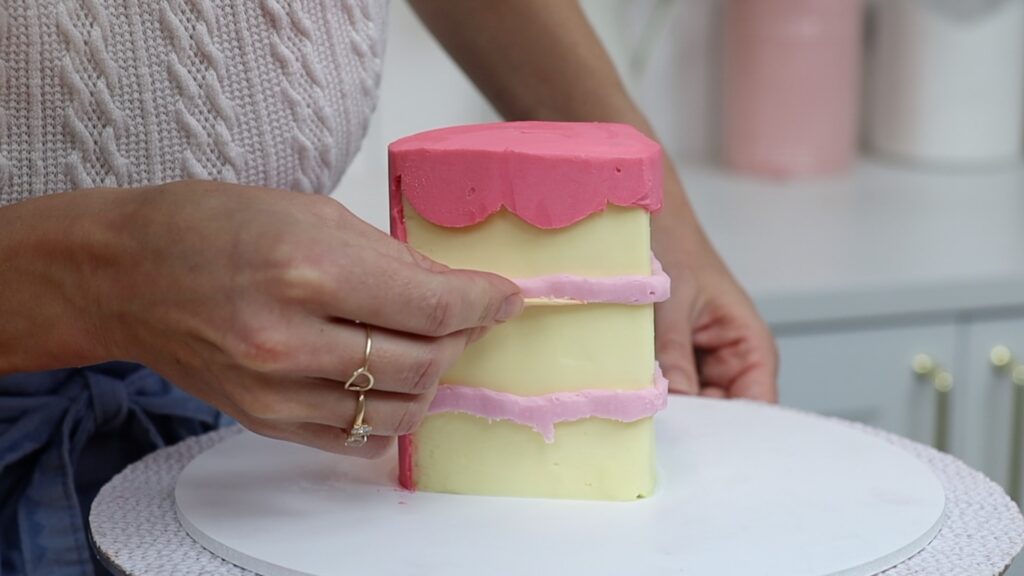 How to add black lines to a cartoon cake slice
Now for the signature part of this design: the black lines. Check out this tutorial for my tips on how to make black buttercream. Use a piping bag with a small round tip like a #3. Practice a few times on a towel or plate to get used to the consistency of the buttercream so you know how hard you need to squeeze and how fast you need to move the bag as you pipe.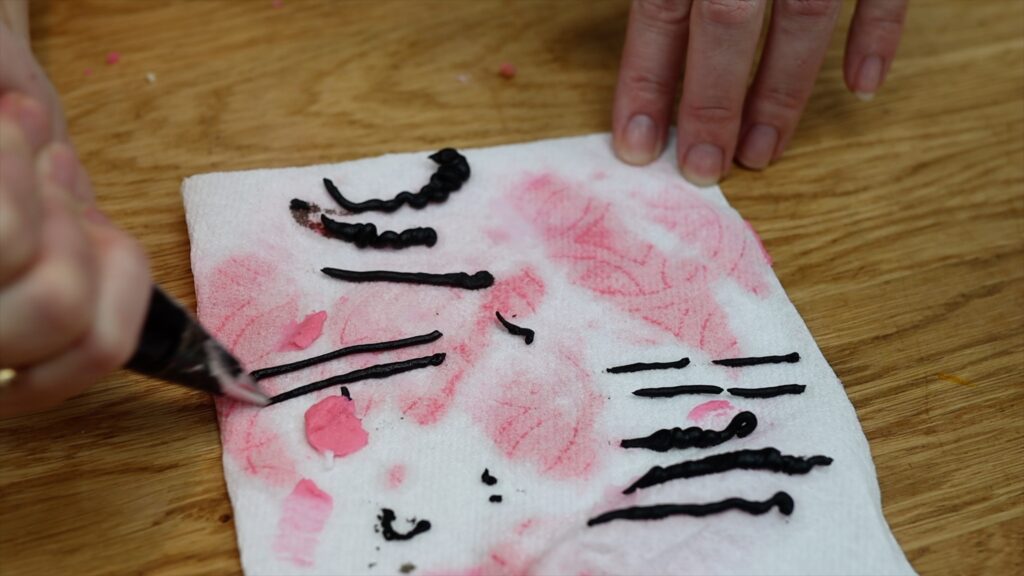 The bottom of the cake is the easiest because you can rest the tip on the cake board to hold it steady. That's a good place to start to get comfortable with piping these black lines. If the buttercream breaks as you pipe that's perfect! Broken lines are part of this cartoon cake style, which is very convenient because it makes this style very forgiving!
You're going to outline every section of this cake. That means piping where each colour meets, as well as along any edges. It really helps to chill the cake before piping because the frosting sets so it's firm. This means you can rest the piping tip on it as you pipe and that will help you hold your hand steady. Your lines will be less wobbly but also, the lines will lie flat against the cake. My hands are SUPER shaky so if I can pipe these lines, you definitely can! Toothpicks will be your best friend, since they're so useful to tidy up the lines. You can use the edge of an offset spatula too, to nudge a line upwards or downwards.
Piping along the top of the filling is the easiest because you can see what you're doing. Piping underneath the filling is easier if you raise the cake up so you can see what you're doing. If the line breaks, remember that that's perfect for this design!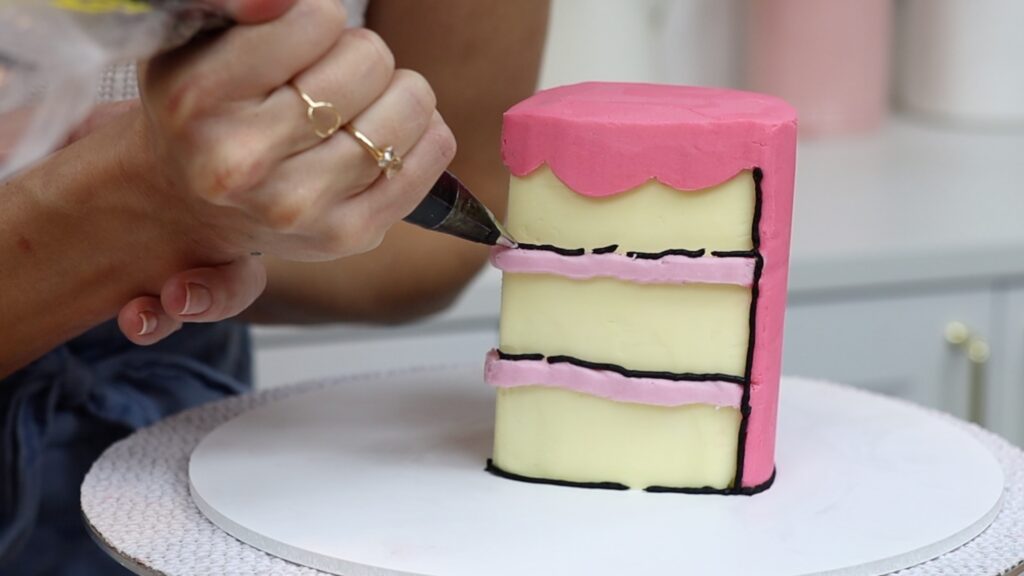 You'll also need to outline the front edge of the cake, the pointed part of the slice. Pipe over the filling to highlight that it's bulging out of the cake, cartoon cake style. Also outline the edges of each side of the cake. To make this easier you can use a cake comb to score a line as a guide. You can even hold the cake comb there to pipe along, to help get your line straight.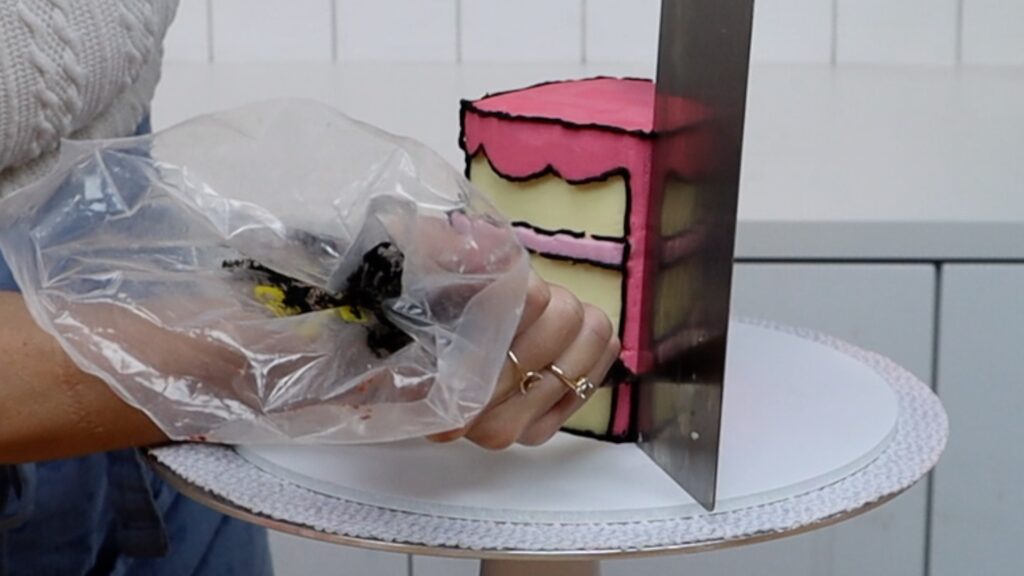 Tidy up any wiggly parts of you lines with a toothpicks. Toothpicks really are the MVPs of this design!
Pipe a few circles that don't quite join up. There obviously aren't big holes in cake slices but this is part of the cartoon cake style!
How to add a swirl and chocolate candle to a cartoon cake slice
To add some detail to the top of the cake pipe a swirl and make a chocolate candle. It's easiest to outline a swirl piped with a round tip rather than a star tip.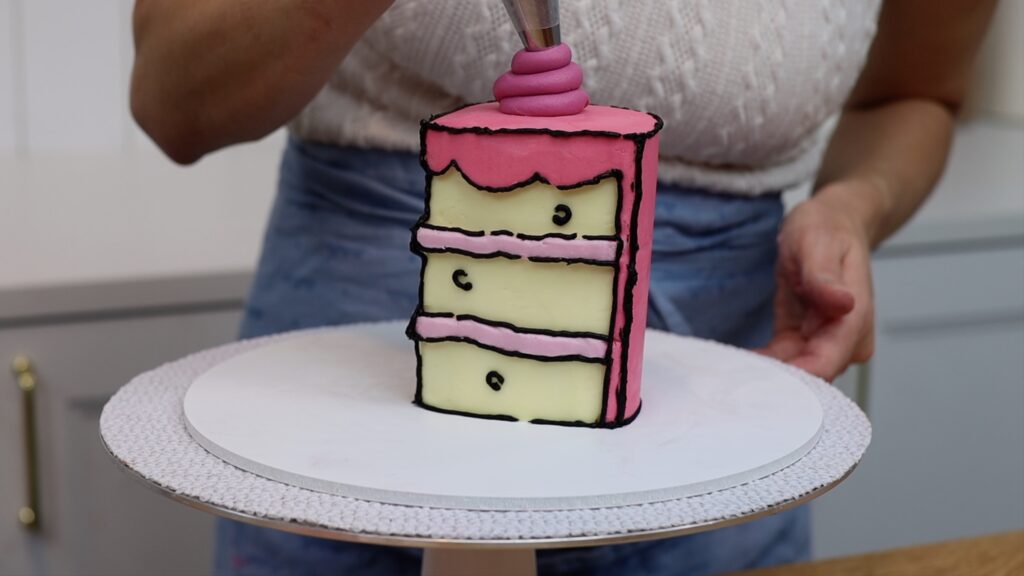 Put the cake back in the freezer to set the swirl on top and meanwhile, make a candle with chocolate. I'm using white chocolate chips, nothing fancy, and here are my secrets to working with chocolate successfully. First, use a microwave safe bowl so it doesn't overheat and burn the chocolate. Then, use 70% power and 30 second intervals in the microwave to melt the chocolate slowly. This way it won't seize and become grainy. Stir it until it's smooth and spoon it into a sandwich bag. Push it down to a corner and cut a tiny piece off that corner to pipe through.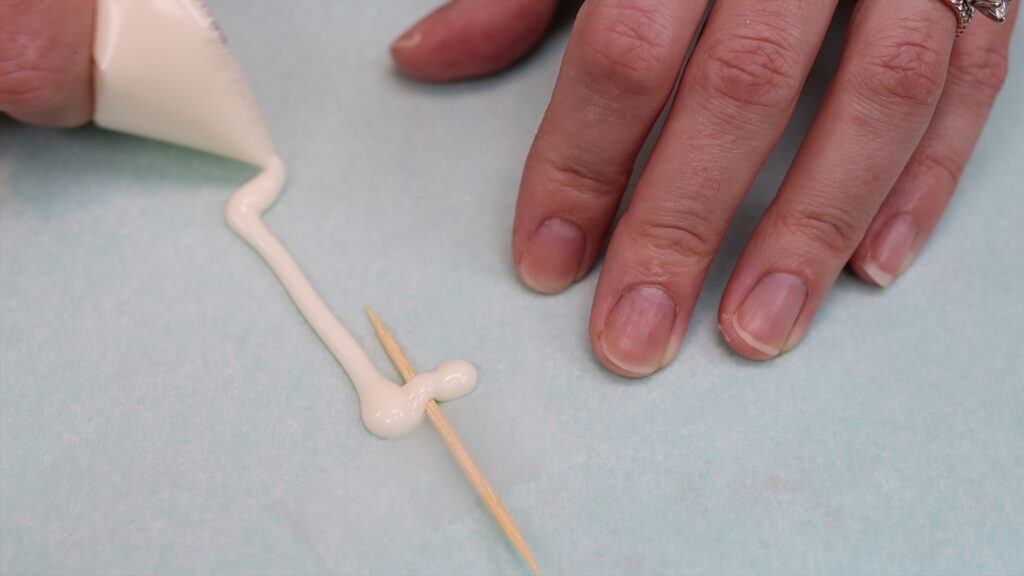 Tape a toothpick onto parchment paper to hold it still and pipe a rectangle over it, to make a candle. The toothpick will let you poke it into the cake so it stands upright. It's easiest to do this on a cutting board or tray so you can move it into the freezer. It'll take less than 5 minutes to set in the freezer.
Meanwhile, melt some more chocolate chips and tint the chocolate using oil based colours, which won't make the chocolate seize. Spoon this coloured chocolate into another sandwich bag and cut a tiny piece off a corner so you can pipe with precision.
When the candle has set, pipe diagonal lines along it. Flip the candle over and pipe the same diagonals on the other side. The side of the candle lying face down on the parchment will set flat because it's pressed against the parchment. Just don't try to move it before it sets!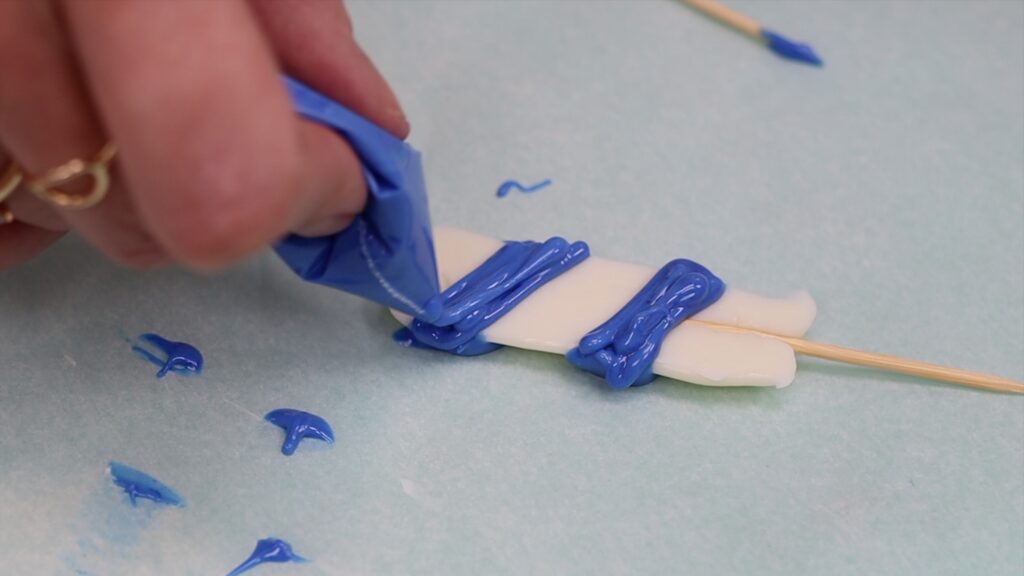 put the first sandwich bag back in the microwave for 10 seconds to re-melt it. Then pipe over the white chocolate on this side of the candle, to cover up the toothpick that's showing. And tidy it up with - you guessed it - another toothpick!
You'll need a tiny bit of chocolate for the flame on the candle. I used the leftover white chocolate in the sandwich bag, squeezing it into a bowl. I don't have yellow oil based gel so I used regular gels for buttercream, which really don't work well with chocolate. If you use regular gels, you can only stir the chocolate only or twice before it seizes. Stir the chocolate as little as possible and then spoon it onto the top of the candle. Then shape it into a flame using a toothpick.
The candle will set in about ten minutes at room temperature or five in the freezer. Meanwhile, outline the swirl on top of the cake, which will have chilled and set by now. It's much easier to outline this than a swirl piped with a star shaped tip, which has lots of texture and lines. Choose which will be the front of your cake and draw lines along the left and right sides of the swirl, from the point of view of someone looking at the front of the cake.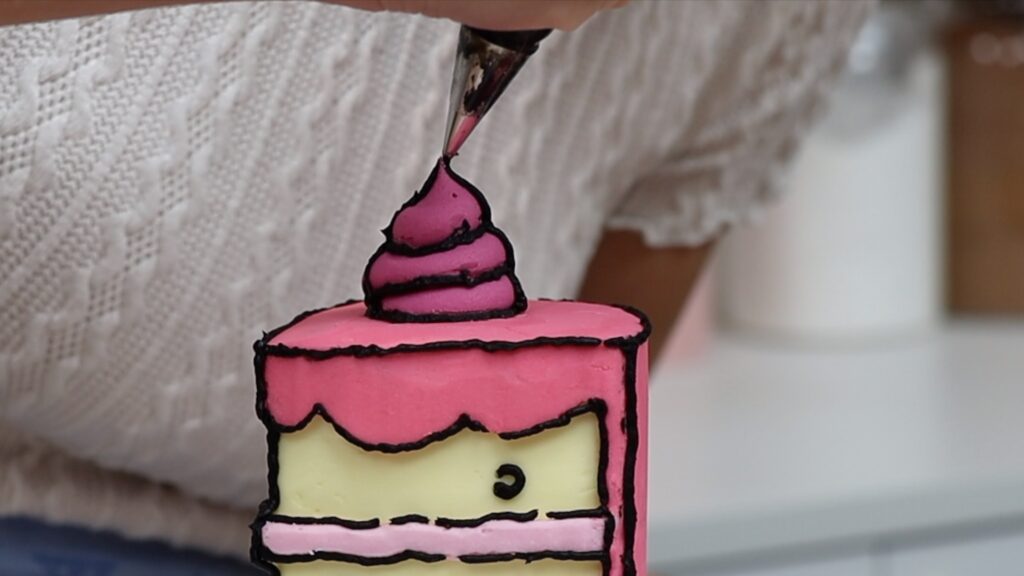 You can put your candle anywhere on the cake - I'm putting mine on top of the swirl. It's easiest to poke another toothpick into the cake first, to forge a pathway. Then once the candle has set, push it into that pathway. This way you're not putting any pressure on the candle, which might snap it.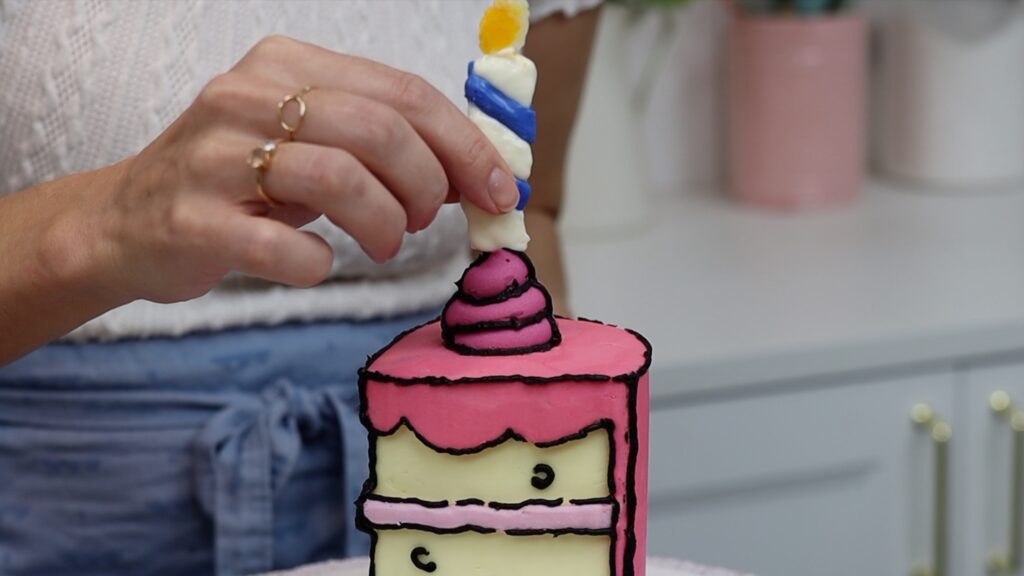 Use your black buttercream to outline the candle. I considered using black chocolate but this way, the black lines on the whole cake are consistent. I outlined the back of the candle too. This is probably obvious but choose the neatest side of the candle to face whichever side will be the front.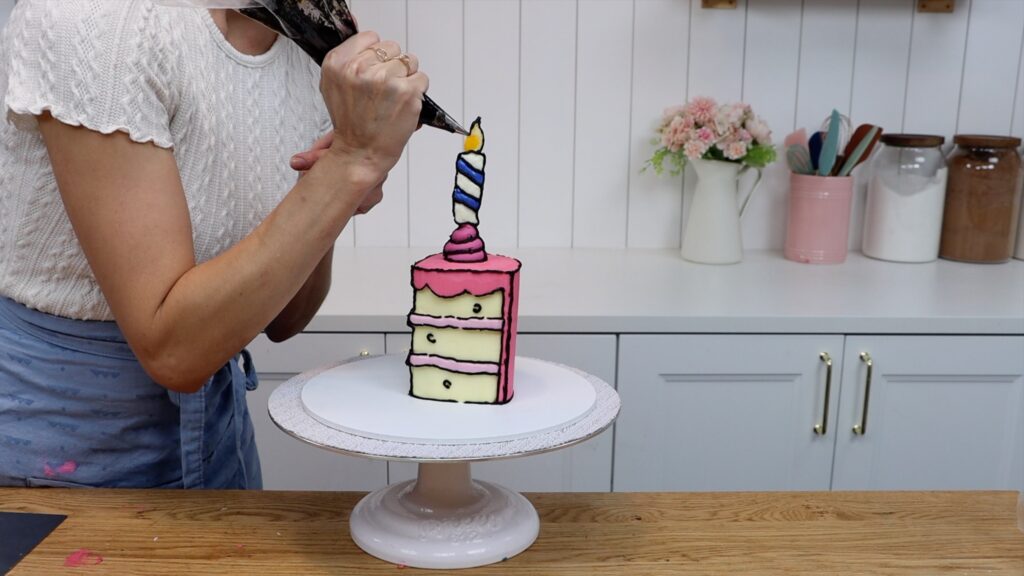 Tadaa! A comic style cake slice made out of buttercream, with no fondant! I love how this cake looks superimposed in a photo. With the black lines it really does look flat, or 2D. When you take photos of your cartoon cake, make sure you position it so the outlines are on the sides.
You can watch a video of this tutorial on comic cartoon cakes below!
Save time, reduce waste and prevent messes by using couplers in your piping bags! In this tutorial I'll show you what couplers are, how to use them, and four reasons why you need couplers for cake decorating.
What are couplers? How do you use couplers?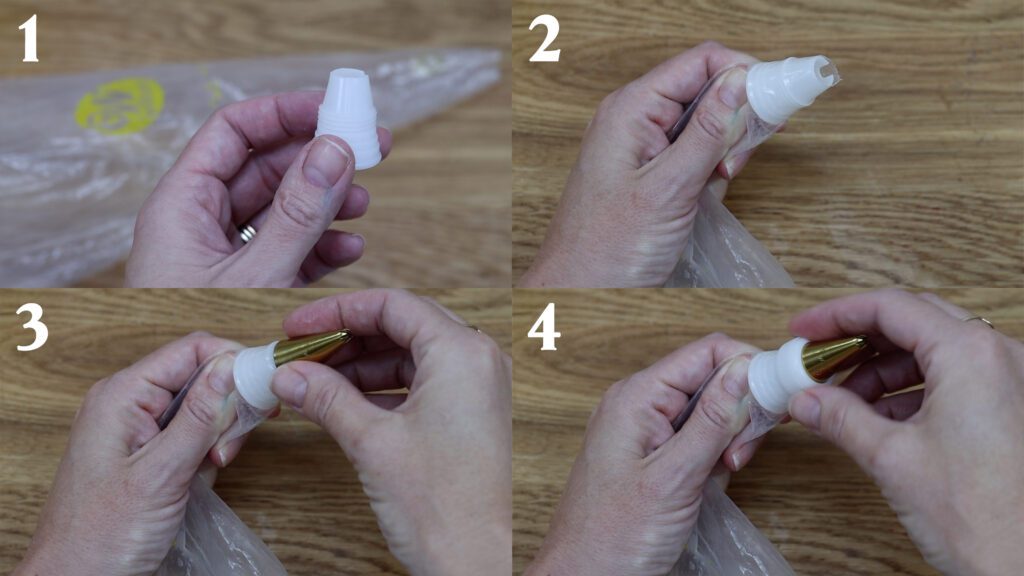 Couplers are pieces of plastic that go into a piping bag before filling the bag with frosting. The piping tip goes onto the outside of the bag, attached with a ring that comes with the coupler.
The coupler holds the tip in place so it doesn't fall off. It means you can put it on and remove it from the outside of the bag instead of having to drop it in through the top of the bag. That makes several steps more convenient - read on to find out more!
Why use couplers?
1. With couplers you can use several different piping tips with just one piping bag of coloured frosting.
For example, with one piping bag I can use a star shaped tip and also a small round tip. After writing the first word on this cake I can unscrew the coupler ring and take the star tip off without squeezing the frosting out of the piping bag. Then I can place a small round piping tip on the coupler instead. The coupler ring is necessary to secure the piping tip.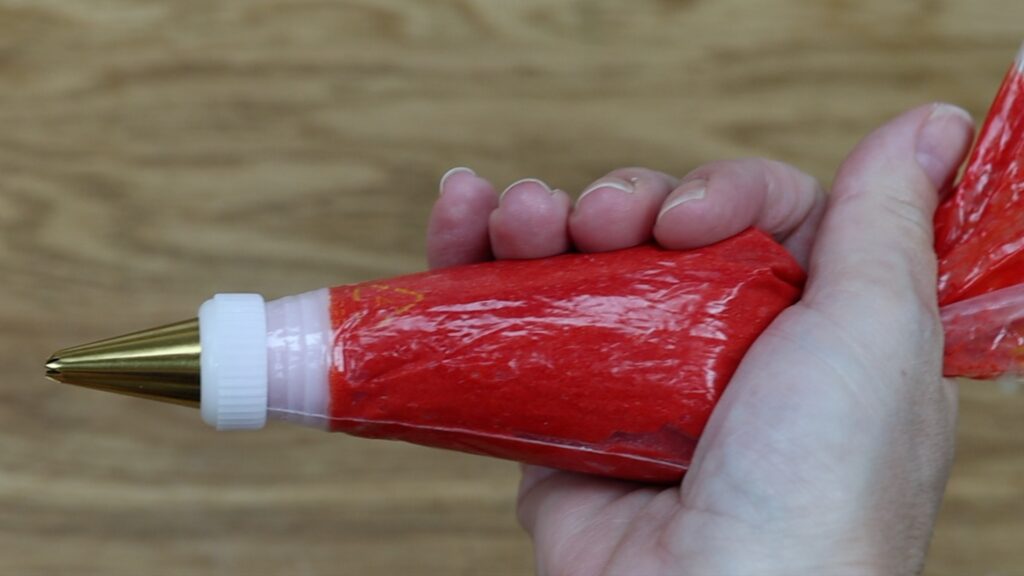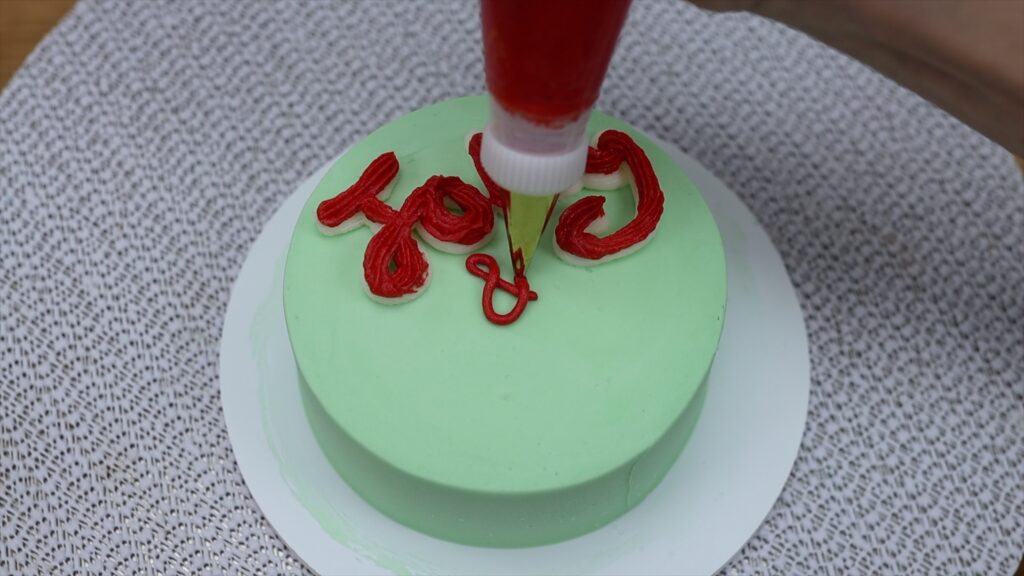 By using different piping tips you can pipe different styles of lettering with the same colour. You can also use the same colour to pipe different decorations. I used the same piping bag and coupler with a petal tip to pipe a bow on a gift box cake: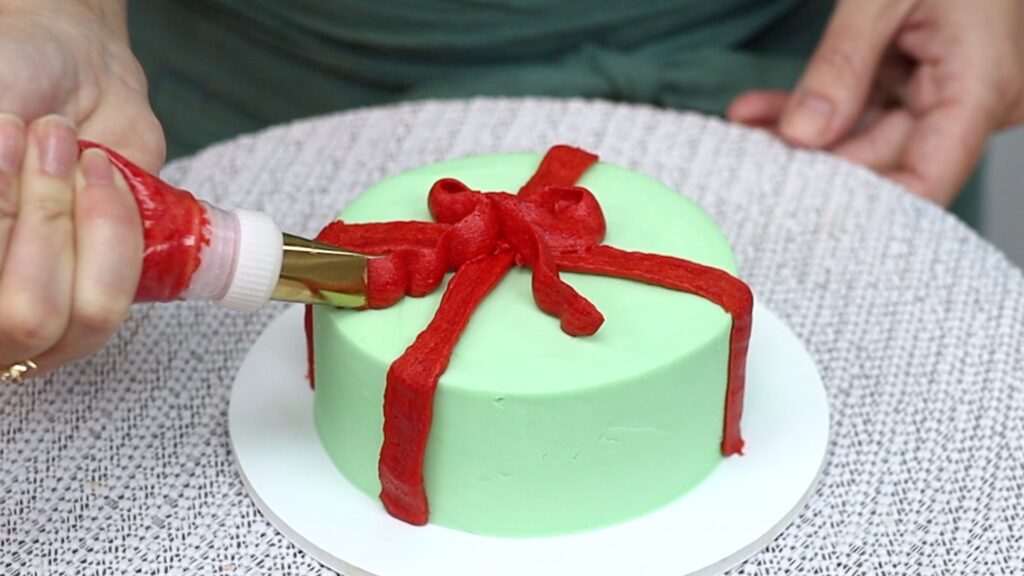 And then a leaf tip to pipe the petals of a poinsettia flower: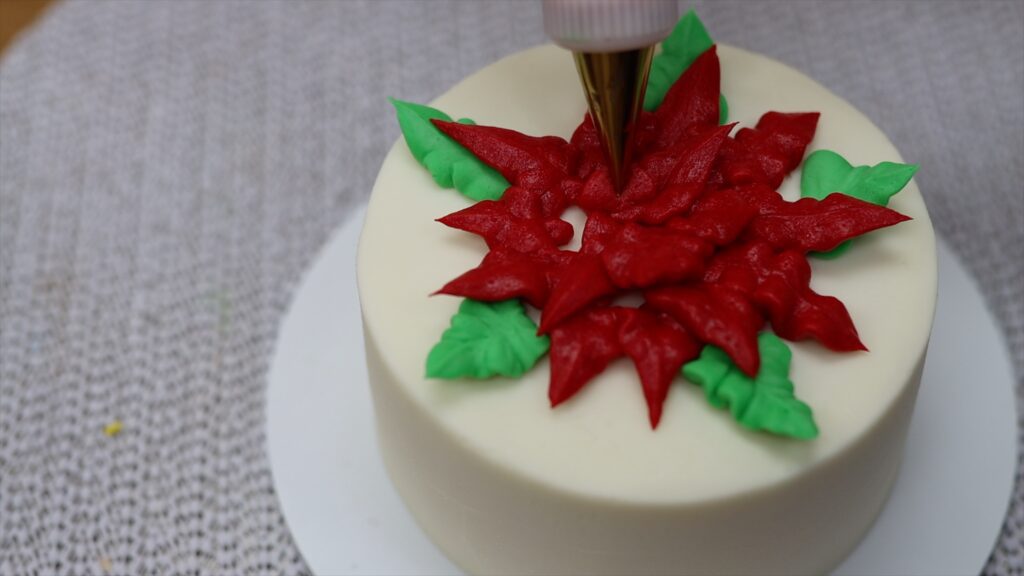 By using couplers you can use one bag of coloured frosting with several different piping tips without needing to change piping bags each time. I teach how to make all of these Christmas cakes in my tutorial on 6 Christmas Cake Designs.
2. With couplers you can use one piping tip with several colours of frosting.
For this cake I used the same small round piping tip for the reindeer's eyes, antlers and nose and also for the string of Christmas lights. By switching the tip between piping bags with couplers you can easily add lots of colour to a cake even if you only have one piping tip.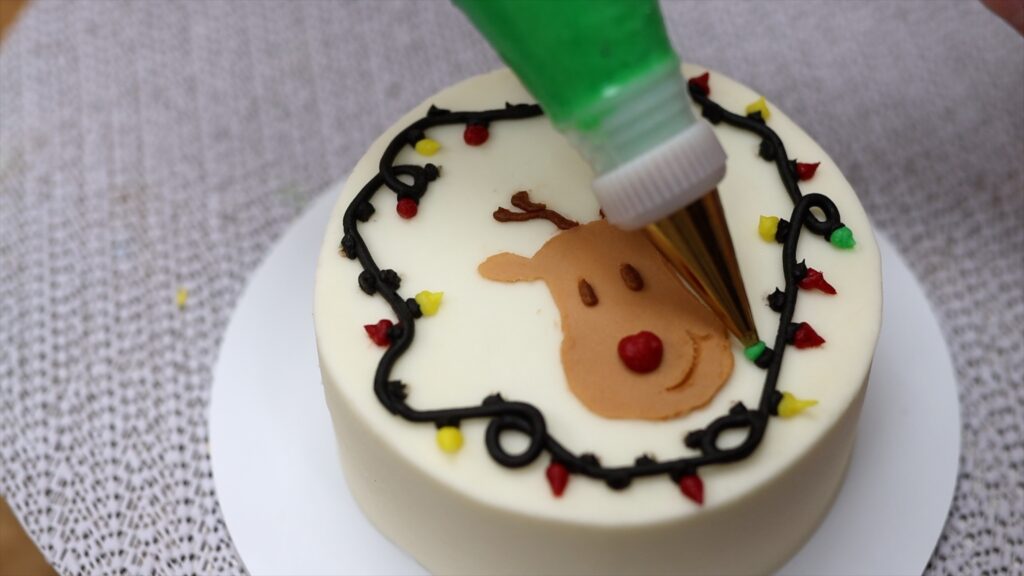 After each colour just unscrew the coupler ring, lift the piping tip off, put it onto a coupler on a different piping bag, and screw it on.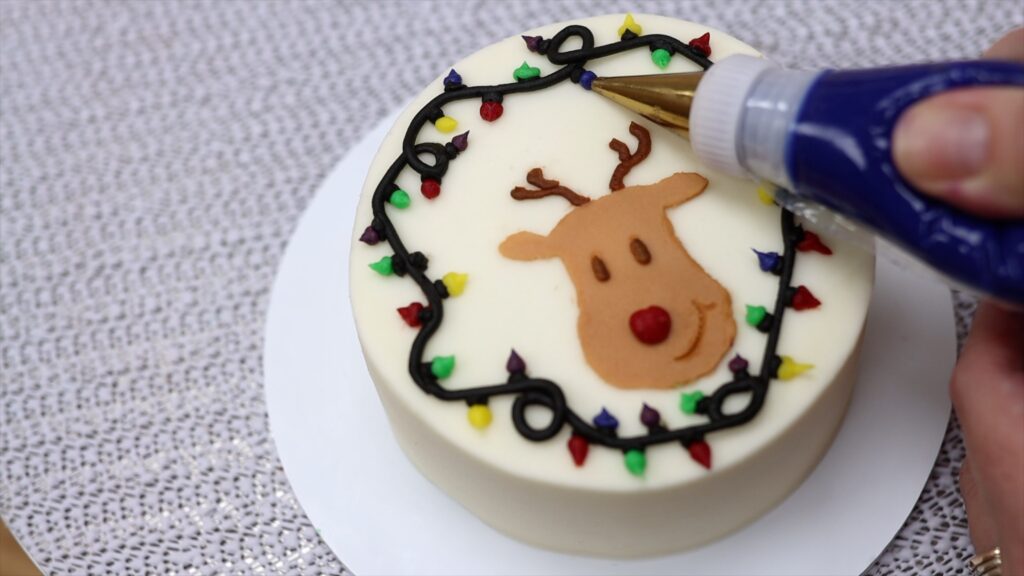 You could wash and dry the piping tip in between colours but here's a quicker method! After moving a piping tip onto a coupler on a different piping bag, squeeze the bag over a bowl. The old colour will come though the tip and then the colour will start to change. Once the new colour comes through the tip into the bowl, the tip is clean. Now you can pipe onto your cake.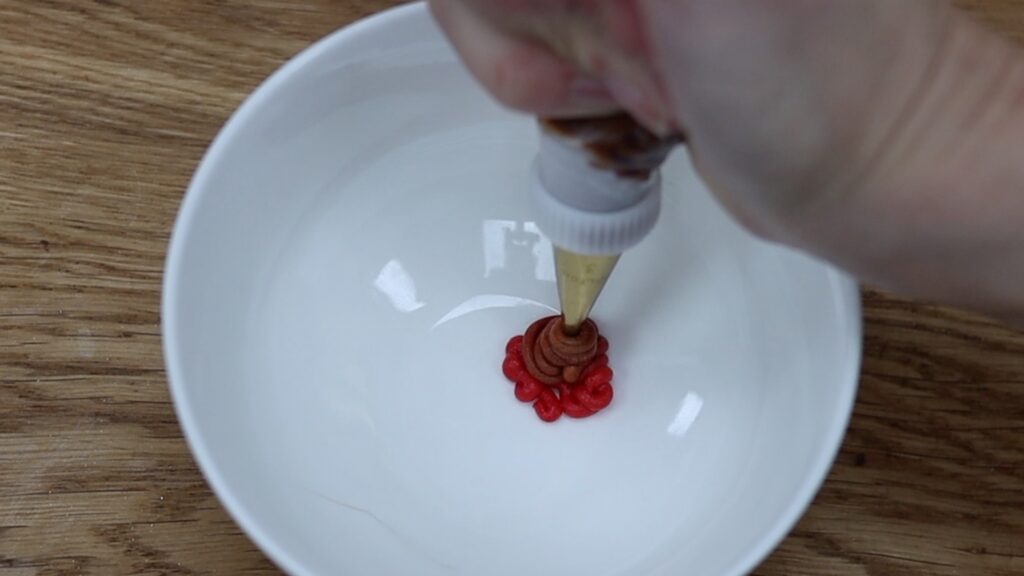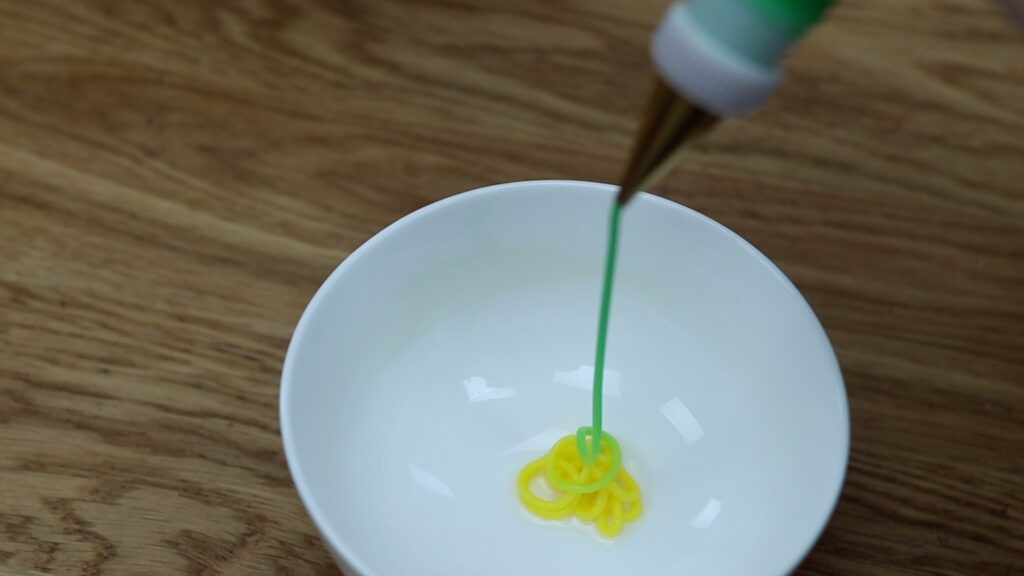 Without couplers you need to squeeze the frosting out of the piping bag when you finish with each colours. Then you need to reach inside the piping bag to take the piping tip out, wash and dry it, and put it into another piping bag. By using couplers you can take the piping tip off from the outside of the bag, which is much quicker!
3. With couplers you can use the same piping bags with different sized tips
Piping tips are not all the same size. For example, a 1M star tip, an 8B open star tip and a #125 petal tip are a standard size. But smaller piping tips are also common, for example a #104 petal tip and a 4B open star tip. When you cut then end of a piping bag to fit a piping tip, half of the piping tip should stick out. Fitting snugly is important for piping, especially with thick frostings like buttercream.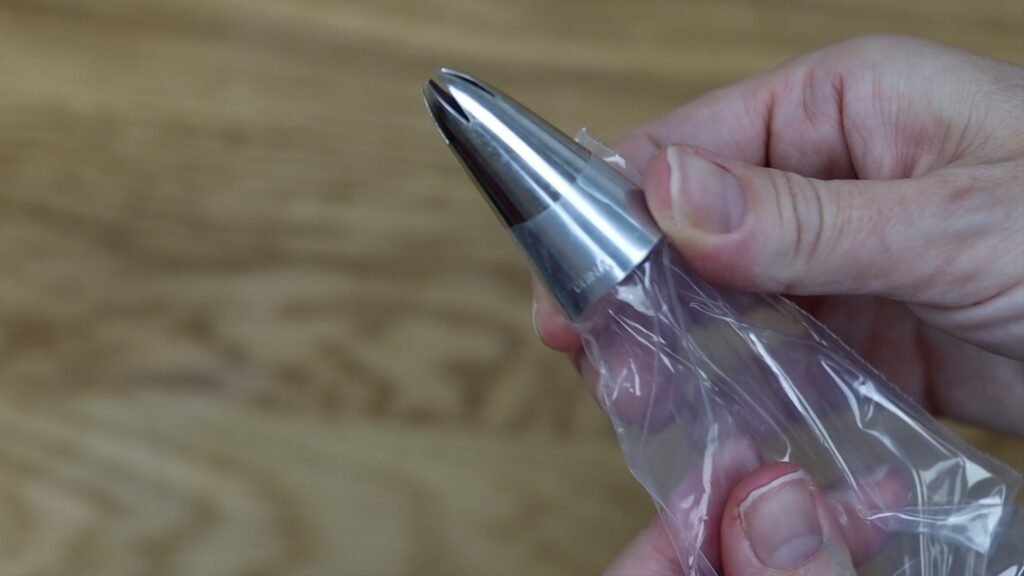 A bag that has been cut to fit a standard sized tip is not the right size for smaller piping tips.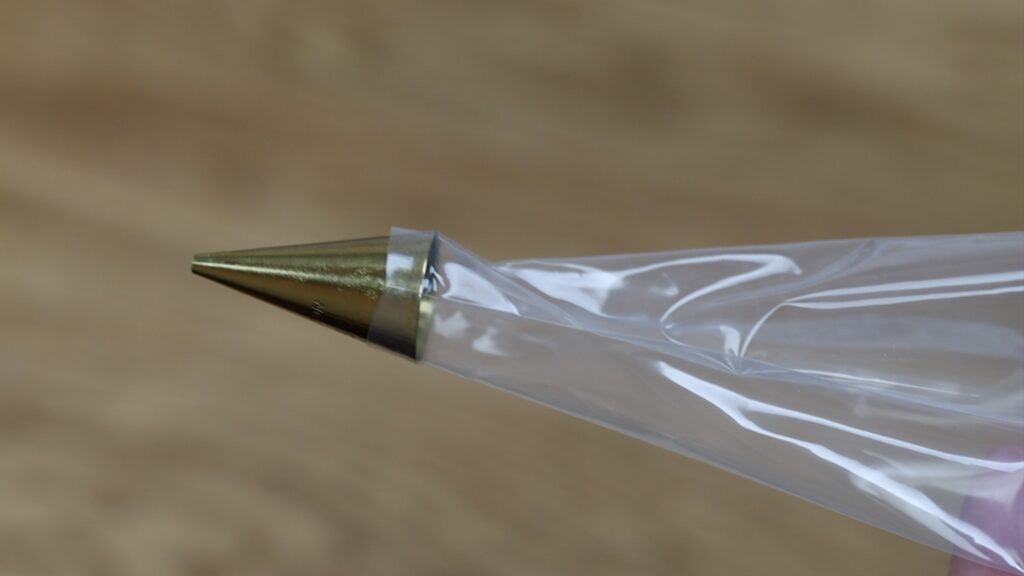 Smaller tips might fall straight through the end of the bag. Even worse, they'll fit at first but when you squeeze the piping bag to pipe they'll pop out! This makes a mess and you'll need to use (and dirty!) another piping bag. Worst case scenario, the piping tip can burst through the piping bag onto your cake and ruin your frosting or decorations.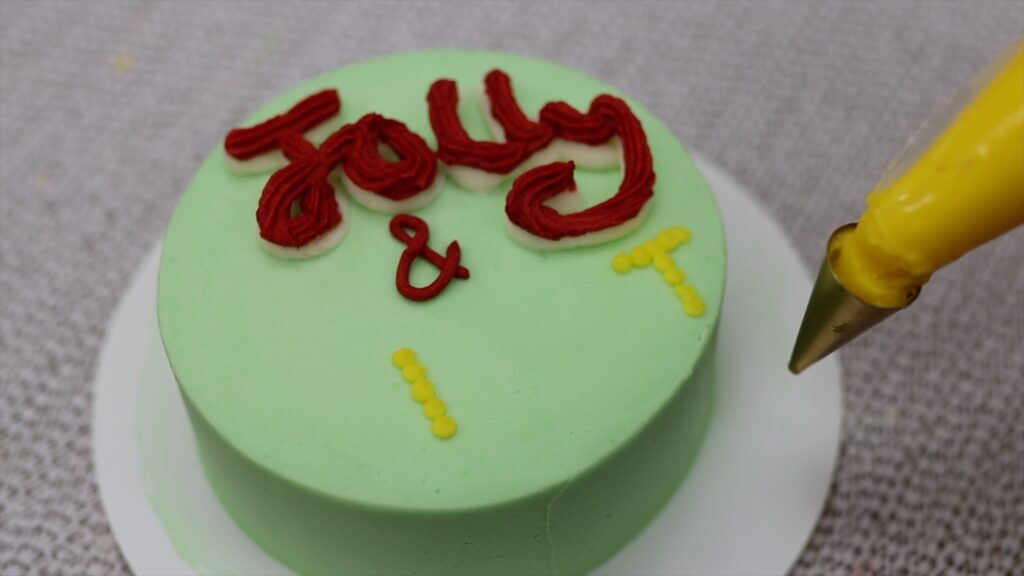 The solution? Couplers! If your piping bag is cut to fit a standard size tip, when you want to use a smaller tip just drop a coupler into the bag first. Then attach the smaller tip to the outside, screw the ring on, and voila!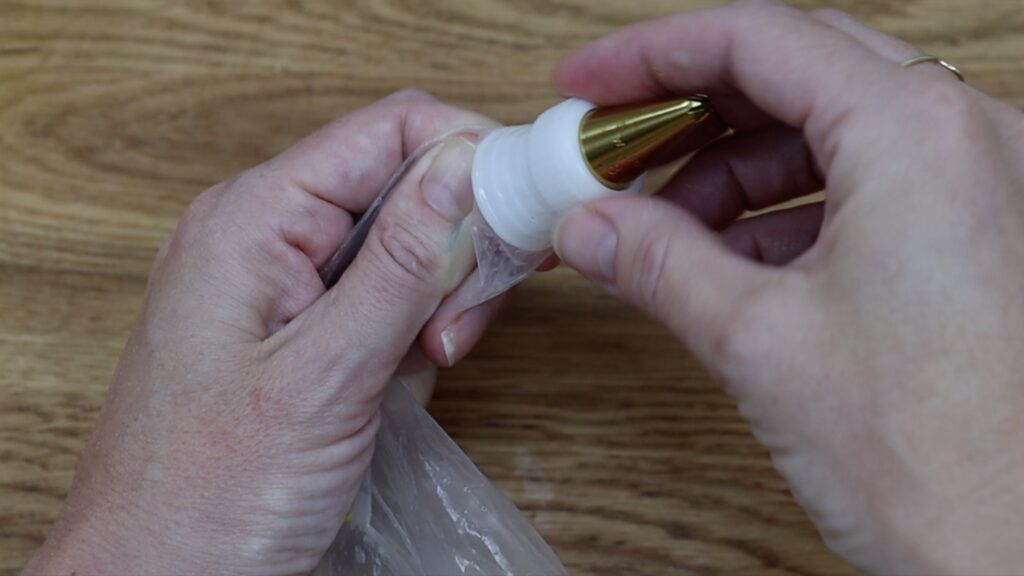 4. Use couplers to quickly discard, save or re-purpose leftover frosting
When you finish with a piping bag and want to re-use it or get the tip out, you could squeeze the frosting out through the piping tip. This takes a long time, especially if the piping tip is narrow. If you're using a coupler there's a quicker and easier option. Take the piping tip off and squeeze the frosting through the much bigger coupler hole, instead.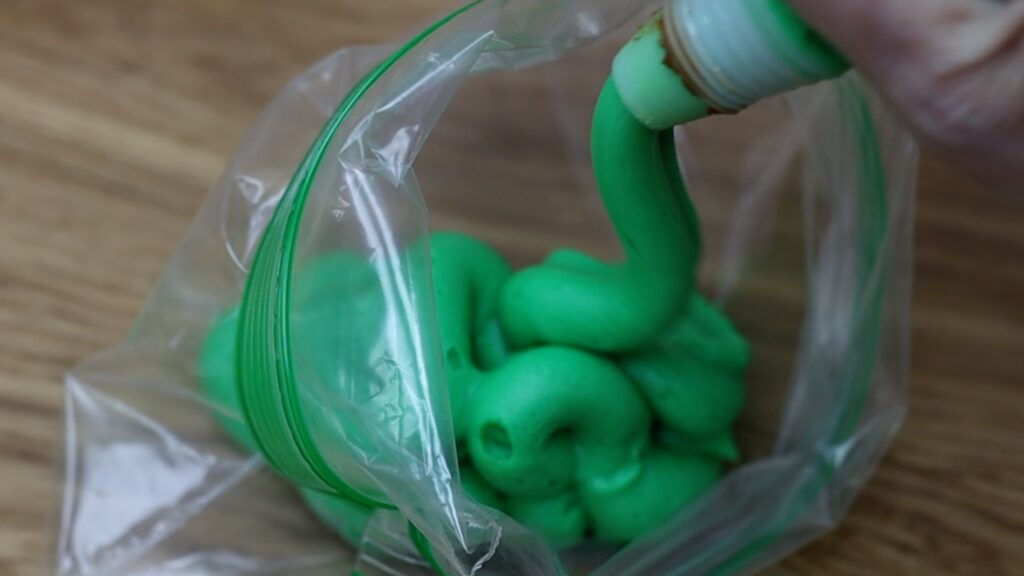 Now you can store or re-purpose the leftover frosting. Buttercream can be refrigerated for 2 weeks or frozen for 2 months. Alternatively, you can re-use leftover buttercream by adding different gels to tint it another colour.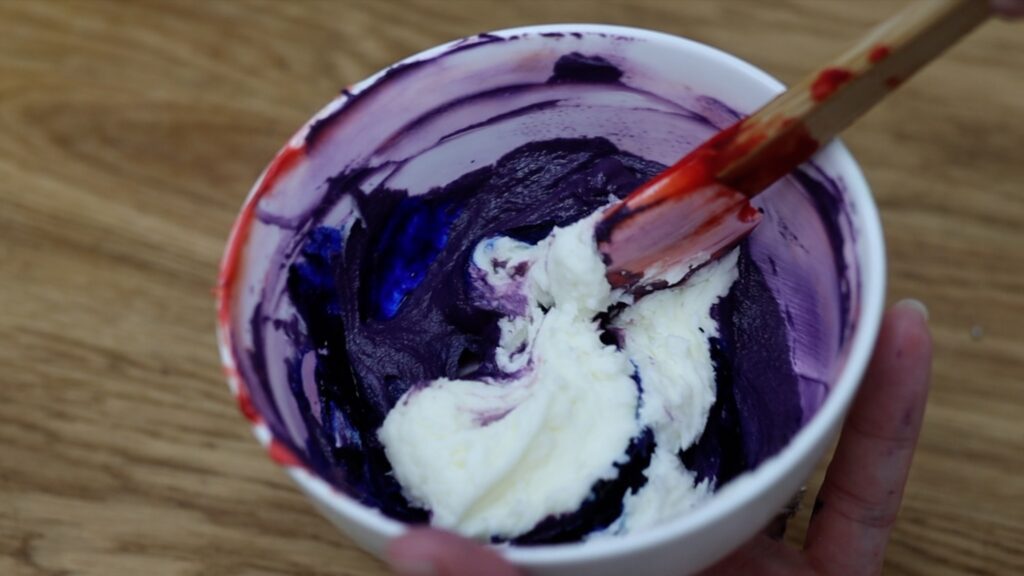 I hope these tips have been useful! You can watch my video on how to use couplers below. Check out my online course The Basics of Buttercream where I share how to make the perfect buttercream, how to flavour and colour it, use it for piping and for perfectly smooth frosting on cakes, and how to achieve all sorts of unique cake decorating techniques. Join my ClubPLUS for access to EVERY MasterCourse, over 50 MiniCourses, every Live Workshop and 5 Minute Fridays.
Condensation on cakes, also known as cake sweat, is one of the most frustrating parts of cake decorating. I'm going to show you two reasons why condensation happens, two ways to prevent it, and how to fix it.
Condensation is not pretty. You've probably seen it in the form of ugly droplets on the sides of a cake. Even worse, it can make coloured decorations run and also cause pools of coloured liquid on the cake board.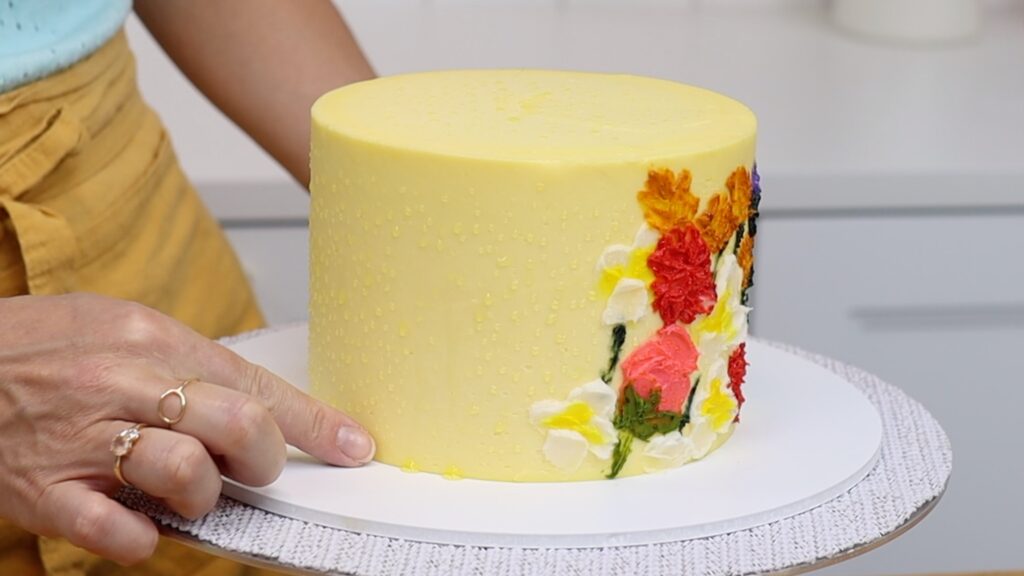 Why does condensation happen?
The first reason is a change or difference in temperature. This happens when the temperature of the cake within the frosting is colder than the air outside the frosting. Condensation (or cake sweat) will happen with any big change in temperature. For example, moving a cake or cake layers from the fridge or freezer to a warm room.
I always recommend chilling cake layers before frosting because they get firmer and less crumbly. This means your cake won't wobble on the turntable as you spread the frosting on and while you smooth it. But if it's hot in the room, after about 15 minutes you'll see droplets of condensation forming on the frosting.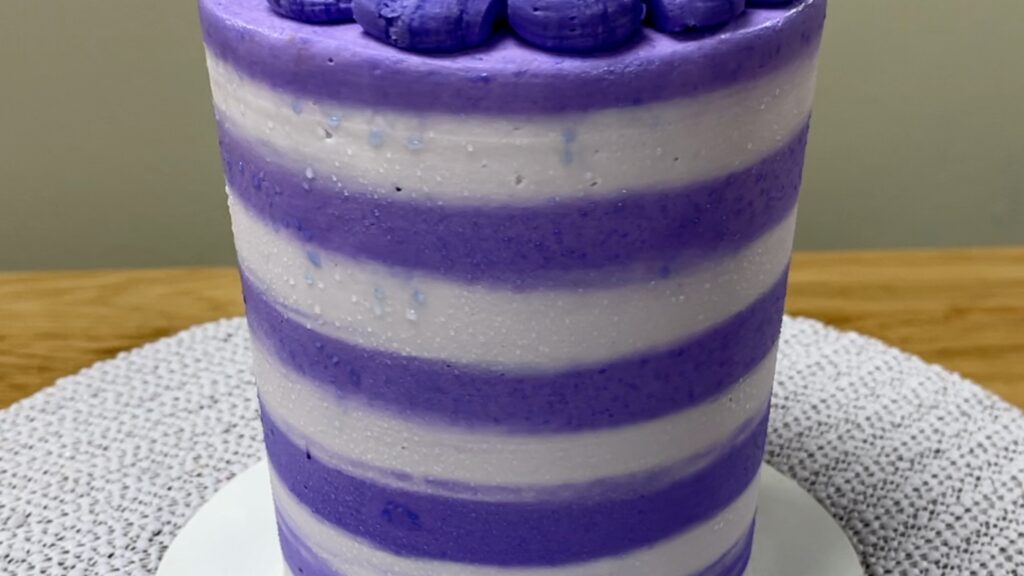 Let's talk about the other reason condensation happens: moisture in the air. As I mentioned, I'm a big fan of chilling cakes before frosting them and also after decorating. This keeps the frosting and decorations stable and makes cakes more stable for transporting, too. I also love being able to freeze cakes so that I can make them in advance for an event or occasion. This gives me the flexibility I need since I have three little ones.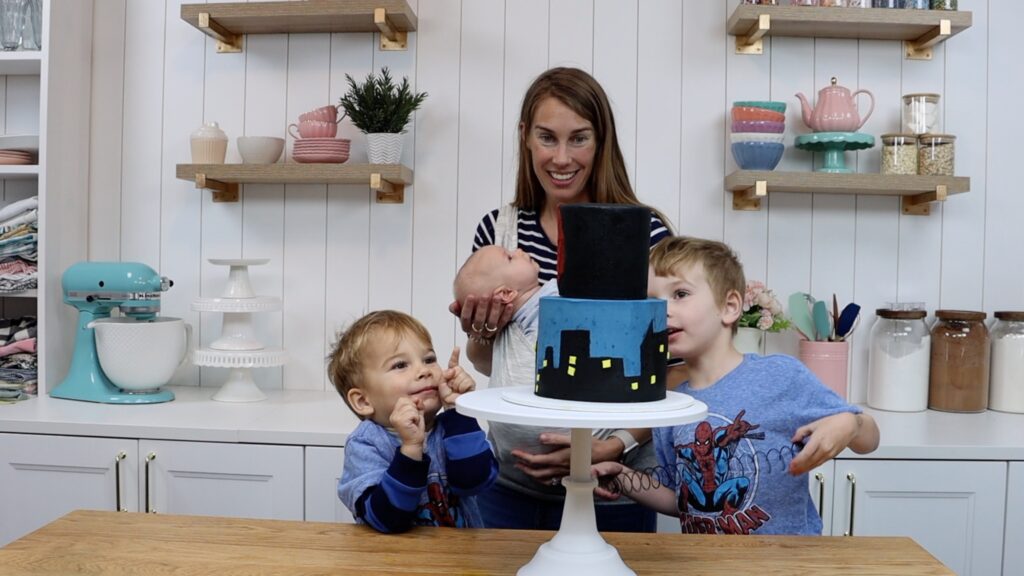 The challenge with fridges and freezers is that there's a lot of moisture in that cold air inside them. This is caused in part by opening and closing the fridge or freezer door, which lets warm air in.
So, condensation is caused by:
1) differences in temperature of the cake and the air around it
2) moisture within a fridge or freezer.
How to avoid condensation on cakes
Good news! You can avoid both of those types of condensation.
First, minimize changes in temperature. So if you chill your cake layers, frost them in a cool room. If you freeze an entire cake, put it in the fridge for 24 hours to defrost before moving it to a cool room.
The second way to avoid condensation on cakes is to wrap cakes in plastic before chilling in the fridge or freezer. If you put a cake in the fridge or freezer for an hour it won't pick up any moisture. But it you're leaving it there for several hours you'll need to protect it from moisture. Use two layers of plastic wrap so that the cake is sealed and protected.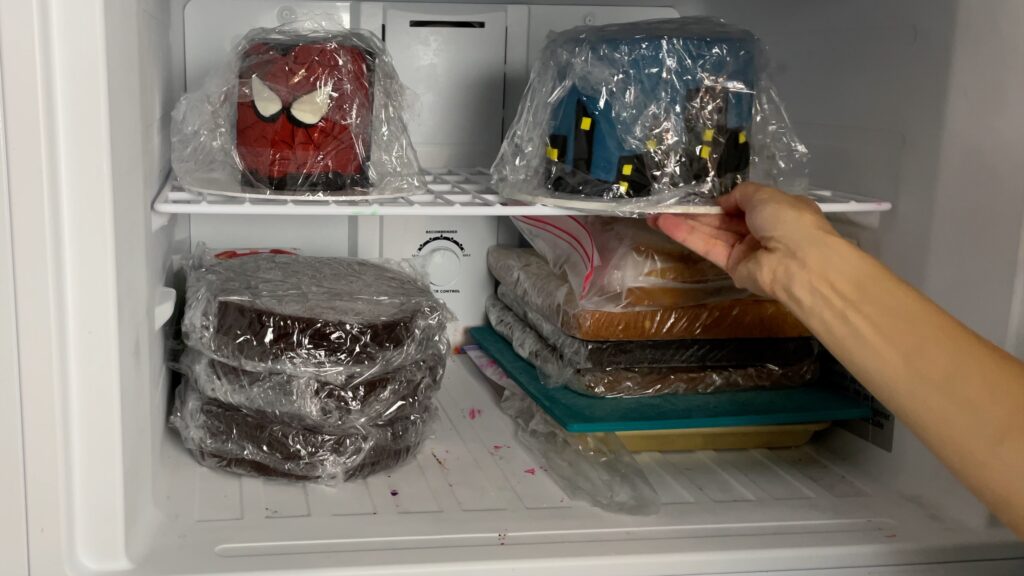 Yes, these are buttercream cakes! If you're wondering how to wrap them without damaging the frosting, here's the trick. After frosting the cake, put it in the freezer for an hour. An hour isn't long enough to develop condensation from the moisture in the freezer but it is long enough to set the frosting. Once the frosting is cold and firm, take the cake out and wrap it in plastic. The frosting will hold its shape even when plastic wrap brushes against it or rests on it.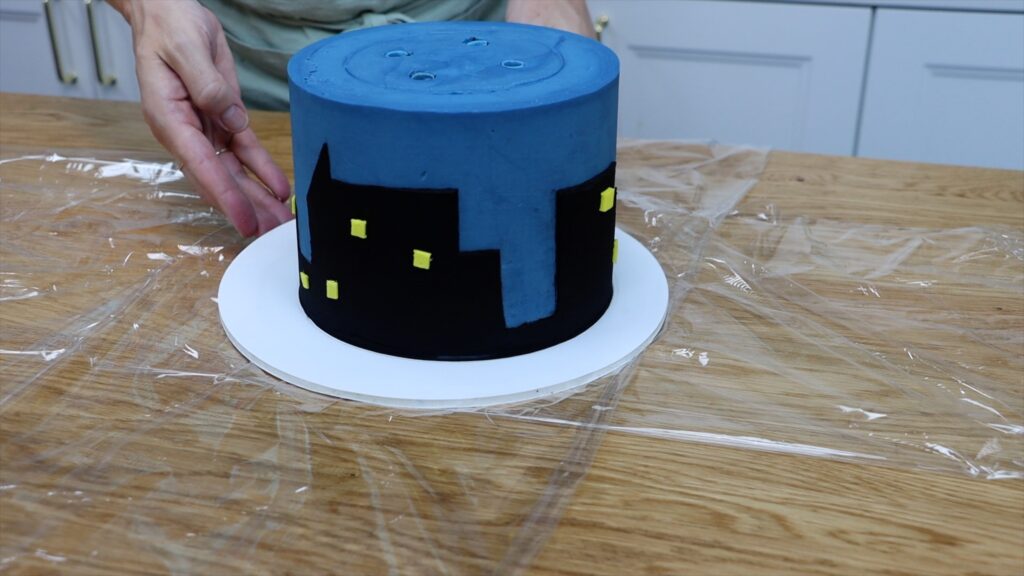 When the cake goes back into the fridge or freezer it will be sealed and protected from any moisture. When you take the cake out of the fridge, unwrap it before the frosting on the cake warms up and softens. This way the plastic wrap won't damage it.
How can you prevent condensation if the cake is being served outside?
Ideally, the cake will be at room temperature and the temperature outside will be the same as the temperature inside, but that's hardly ever the case.
Take the cake outside at the last possible moment and find a spot for it in the shade. If possible, position a fan to blow onto it. These will all limit the amount of condensation caused by the change in temperature.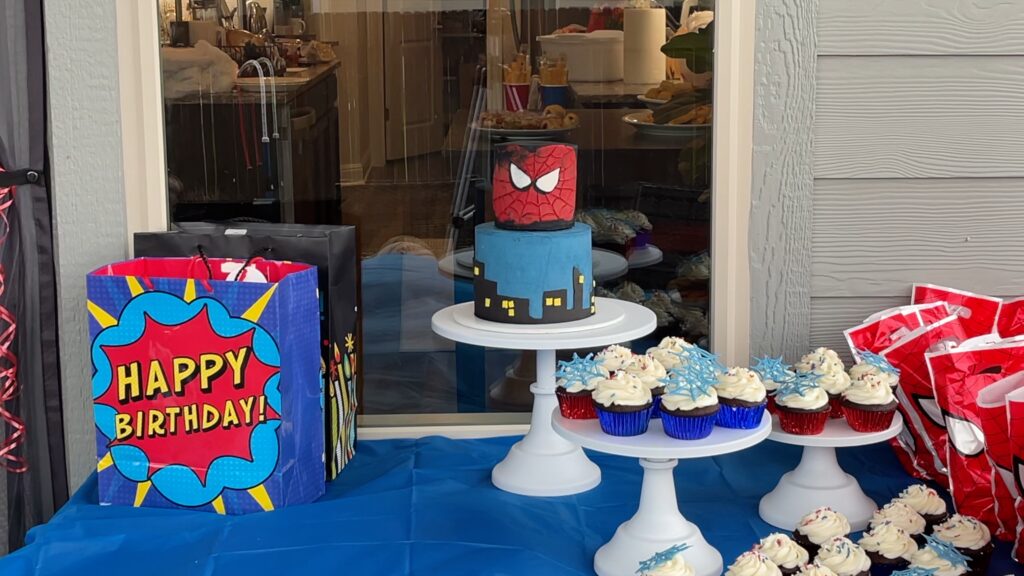 How to fix condensation on cakes
Sometimes it's not possible to avoid condensation on cakes. If you live somewhere hot and don't have air conditioning you'll experience it if you chill cakes between decorating steps. If you forget to wrap a cake in plastic before chilling it you'll also notice condensation droplets. Don't panic! It's possible to remove condensation from cakes.
After a cake comes out of the fridge it will take a few minutes before condensation droplets start to appear. The hotter the room, the sooner you'll see the droplets. Take a paper towel and gently press it against the cake and it will absorb the condensation.
This works because my 4 Minute Buttercream frosting sets in the fridge, meaning it gets firm. Once this happens you won't indent it or leave texture or pull it away with your paper towel. You might have to dab the cake a few different times while you're decorating as the temperature of the cake slowly warms up to match the temperature of the room.
I hope this has been helpful! I share everything I know about cakes and buttercream in my online courses The Basics of Cake and The Basics of Buttercream. You'll get access to these and every other MasterCourse and MiniCourse on my cake school if you join my ClubPLUS!
Watch my video of this tutorial about condensation on cakes:
Here are six festive Christmas cake designs to make your season jolly and bright! I'll show you step by step how to decorate each of these without fancy tools so anyone can make these.
For all of these designs I recommend letting the frosting set before decorating. I put these cakes in the freezer for 15 minutes, until the frosting was firm. If you prefer you can put them in the fridge for an hour.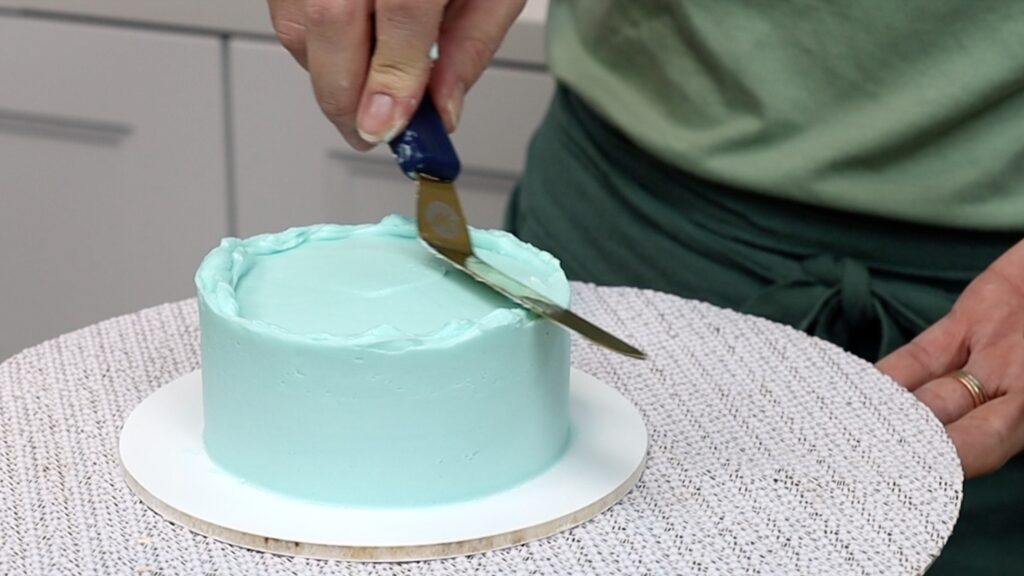 Christmas Tree Cake
For this first Christmas cake design we'll pipe an easy Christmas tree. Use a star shaped piping tip like a 1M to pipe a tree trunk with brown frosting. I'm using my 4 Minute Buttercream for all of these Christmas cake designs. Then outline a triangle with a toothpick to guide you for the rest of the tree.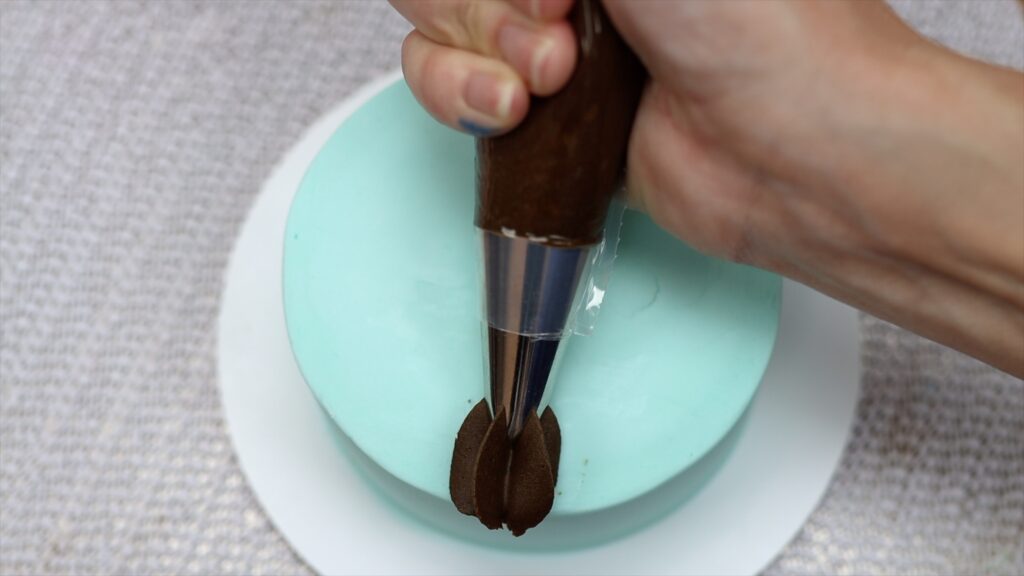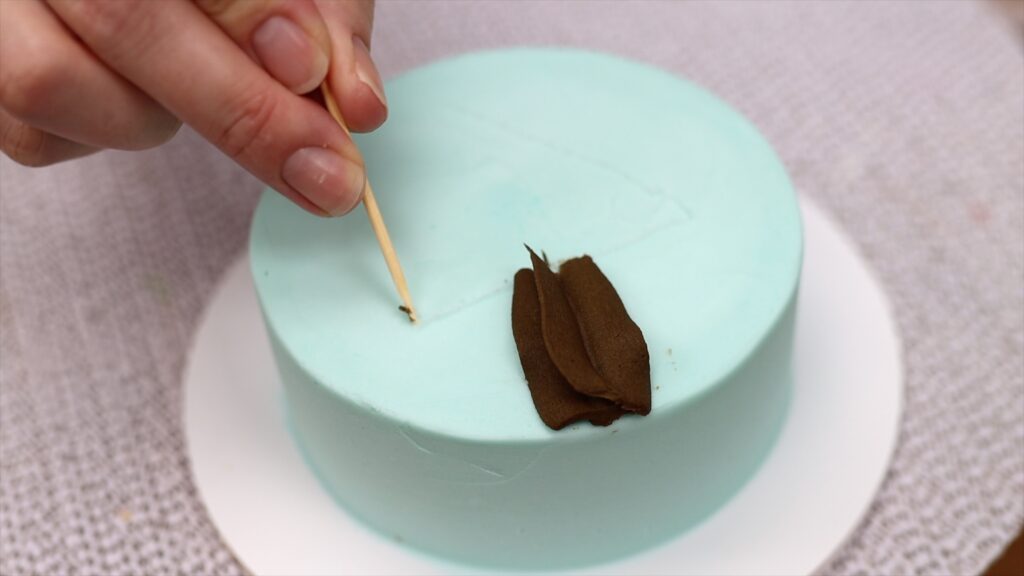 Now use green frosting with an open star tip like this #199. Start at the bottom of the tree, squeezing the piping bag to make the frosting bulge out into a dot. Then pull away as you release your pressure on the bag to make these little wave shapes.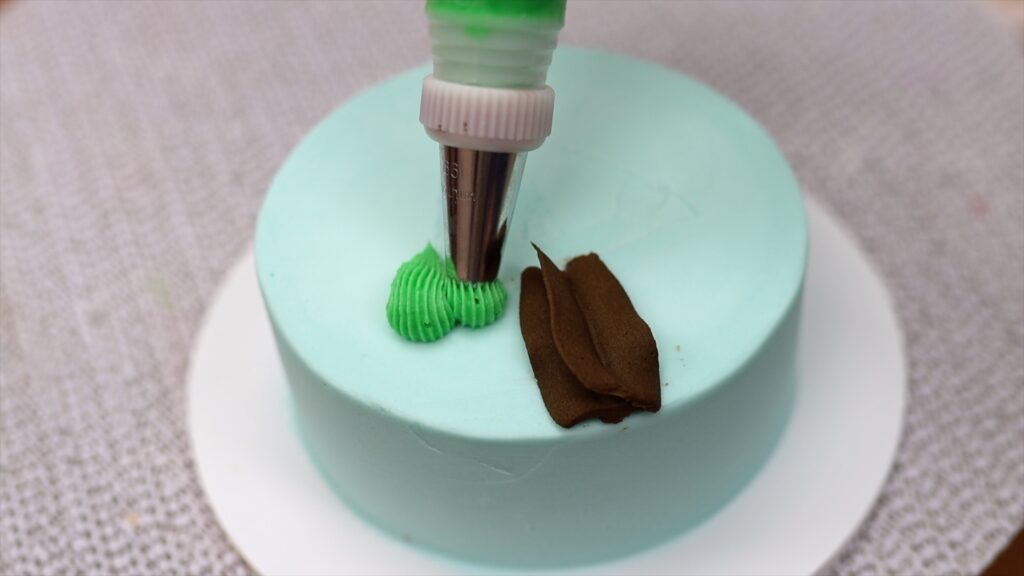 After each row, move up to pipe another row, piping in the gap between the two waves below. Overlap the tips of the waves from the previous row to cover them up.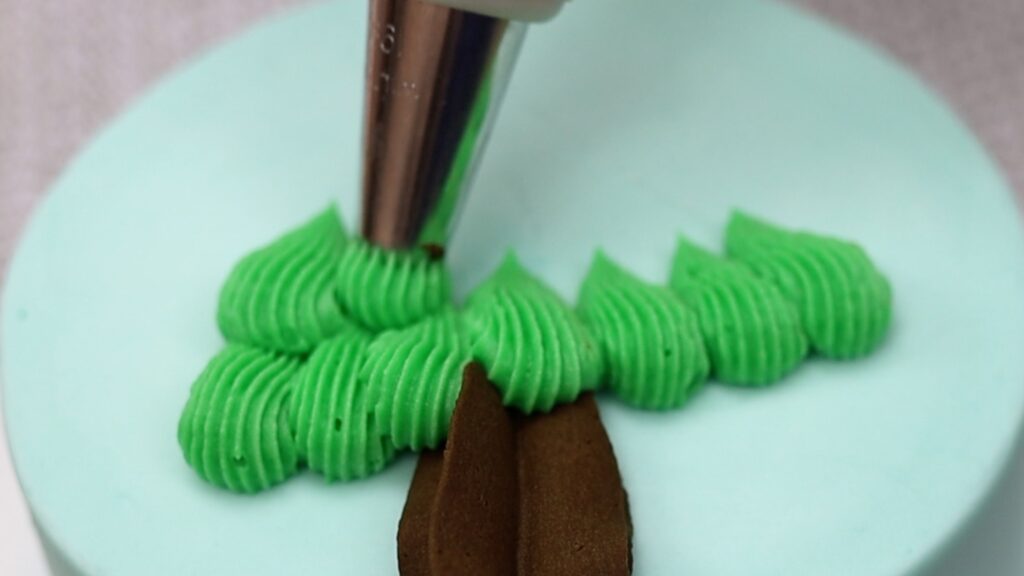 Straight away, while the green frosting is still soft and sticky, push sprinkles into the tree to decorate it. Super simple but very Christmassy!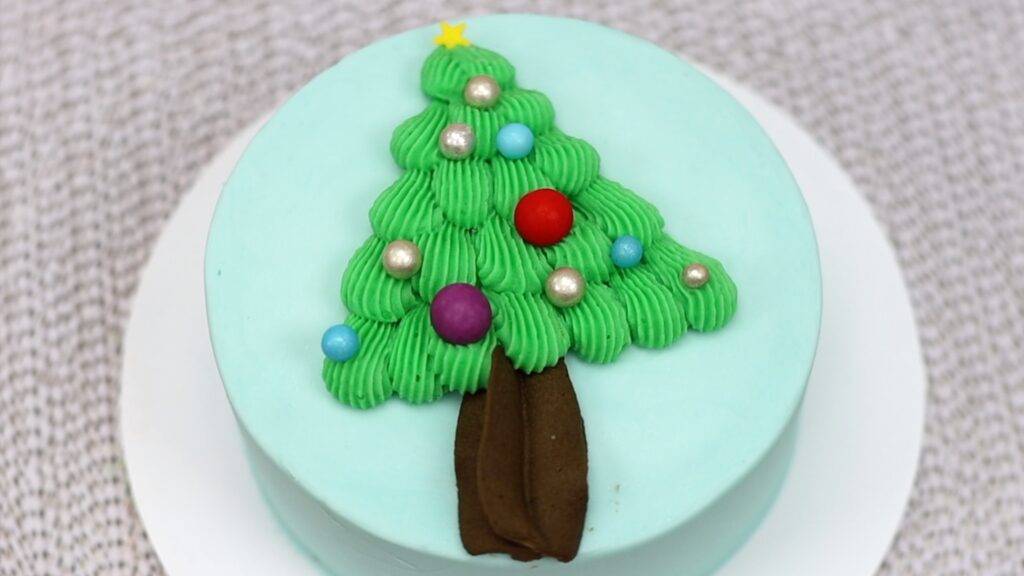 I teach everything about piping in my online course, The Basics of Buttercream. If you're struggling with buttercream consistency, how to use piping bags, getting smooth frosting and sharp edges on cakes, or how to colour and flavour buttercream, the course will help you perfect your buttercream skills.
Reindeer Cake
By making your own stencil you cake make a very easy reindeer. Draw a simple outline onto parchment paper or trace a picture if you prefer. Cut it out, leaving the rest of the parchment intact to use as a stencil.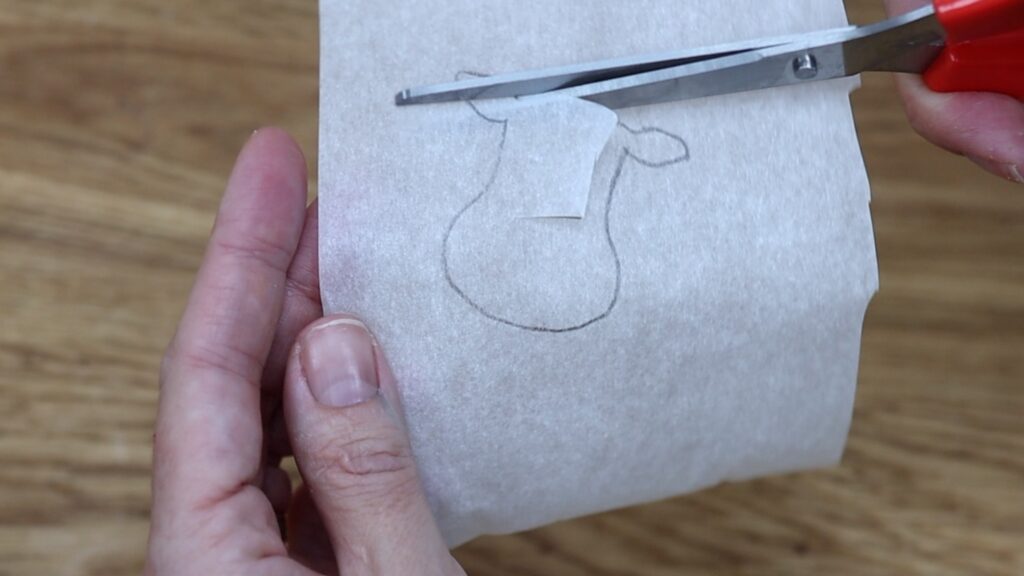 Press the stencil onto a cake after chilling the cake to set the frosting. Spread light brown frosting on top, peel the stencil off and voila! You can tidy up any smudges with a toothpick.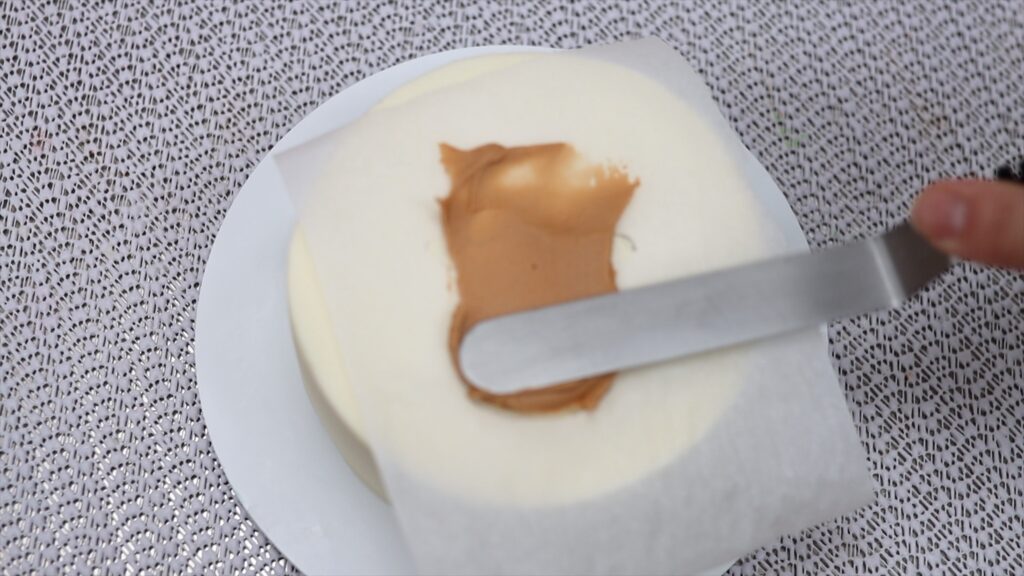 This cake has been in the freezer for 30 minutes so the frosting has set and it's firm. That way it won't be damaged by the pressure of the parchment paper on it. Using parchment paper is a cheap and easy way to make your own stencils like this reindeer.
Now use darker brown frosting to pipe antlers and two eyes. This is a small #3 round tip. You can use the same tip or a slightly larger round tip with red frosting to pipe the nose. Then use a toothpick to score the lines for a smiling mouth.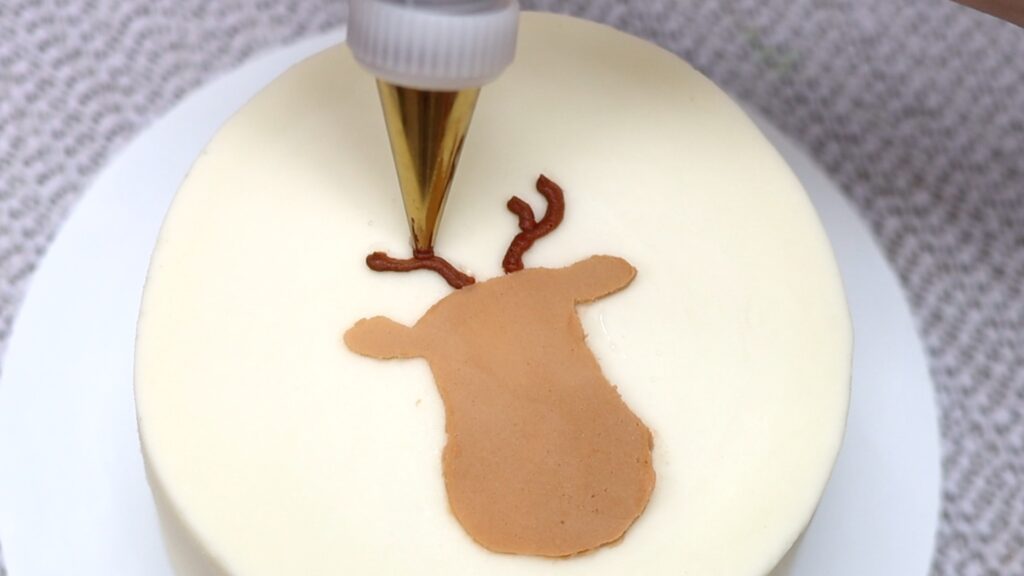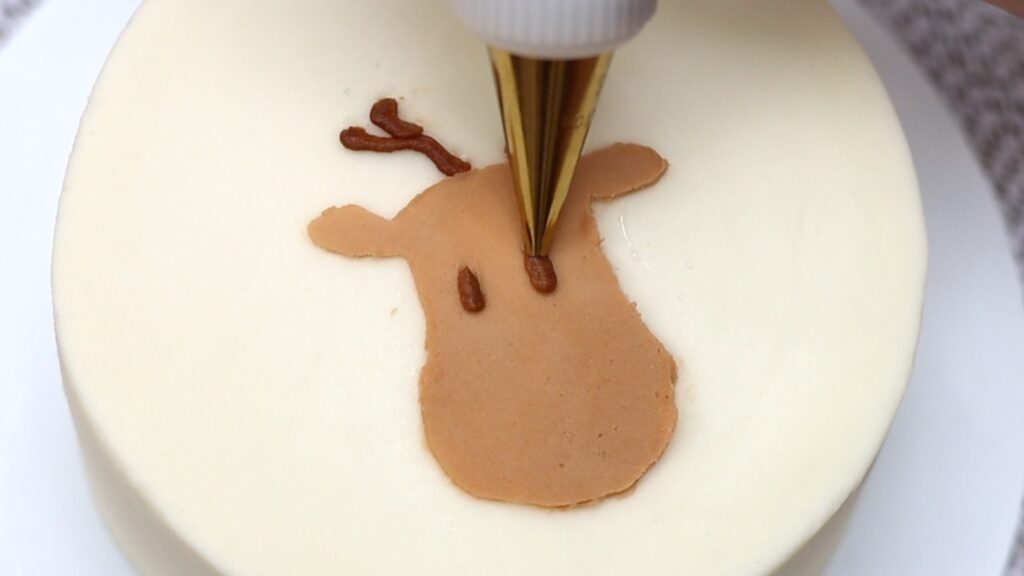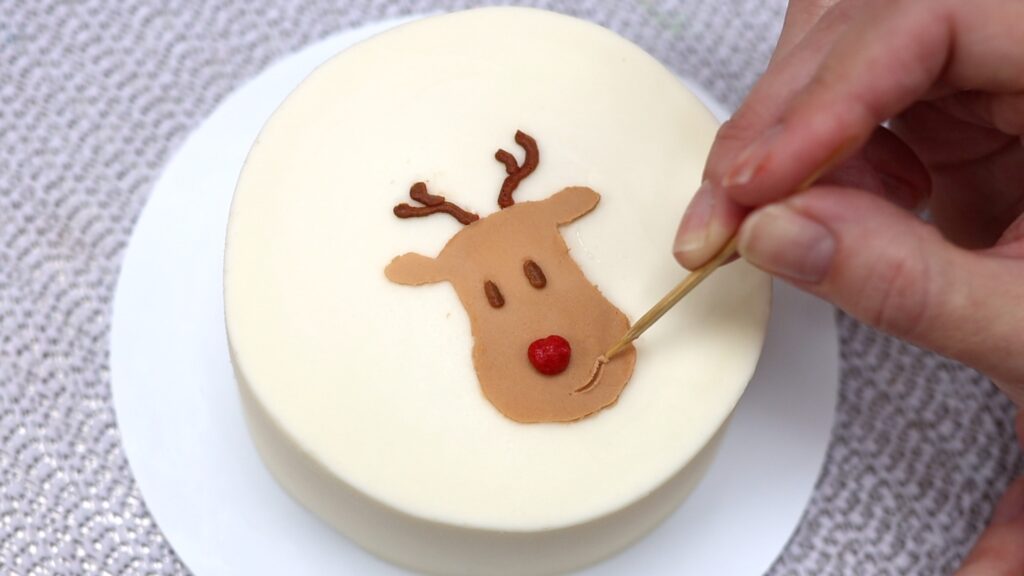 To make this more festive, pipe a black squiggle all around the cake. This will be a string of Christmas lights. I looped mine around a few times to fill in the available space around the reindeer. Pipe little black dots along it which will be the base of the coloured lights.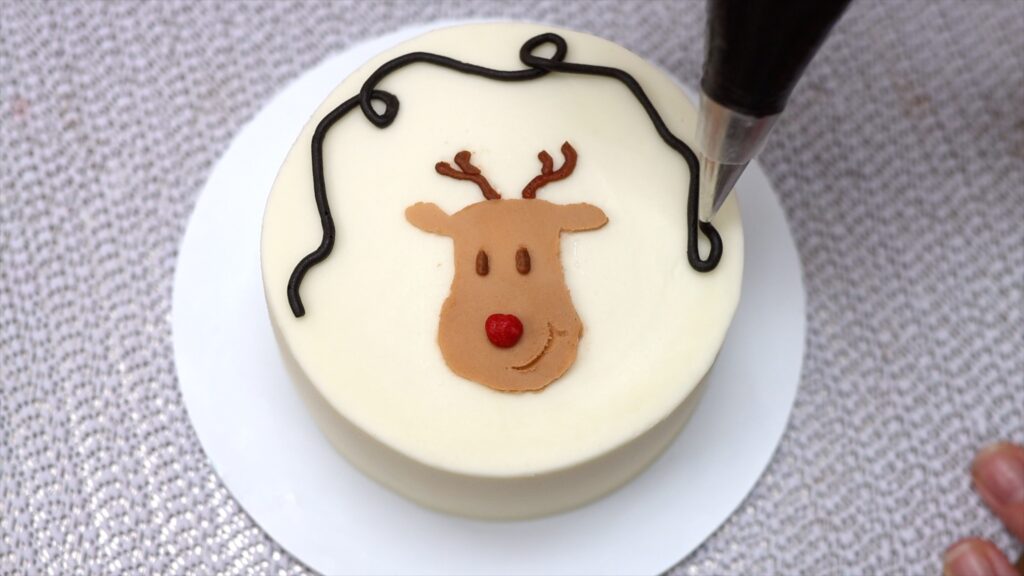 For the lights, squeeze the piping bag while holding the tip still for a moment. That makes a bulge at the base of the light. As you pull the tip away, stop squeezing the bag and that makes a neat point at the tip of each light.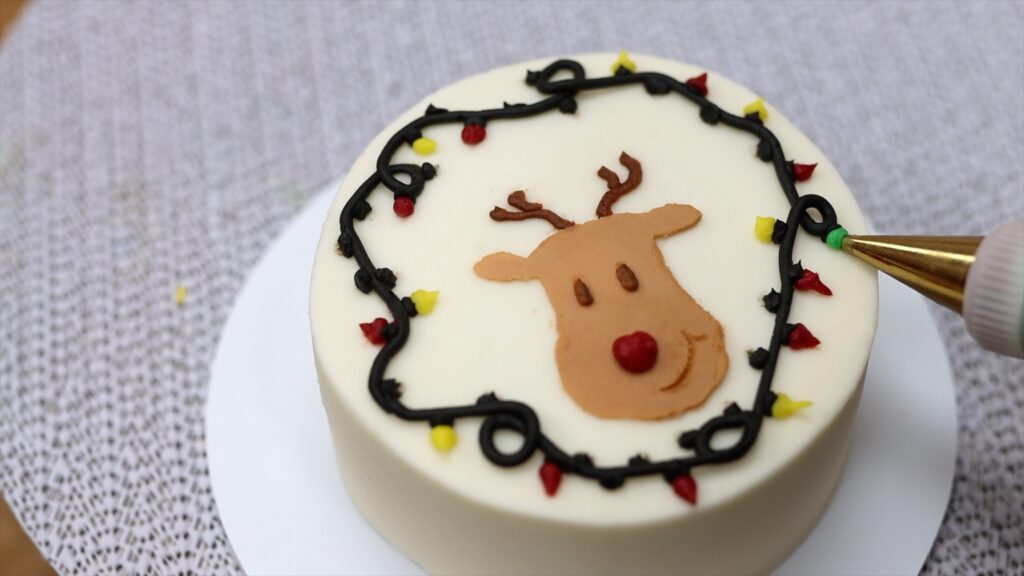 I used the same small round piping tip for the lights as I did for the eyes, nose and antlers. Check out my tutorial on couplers to learn how to pipe quickly with lots of colours AND three other reasons to use couplers!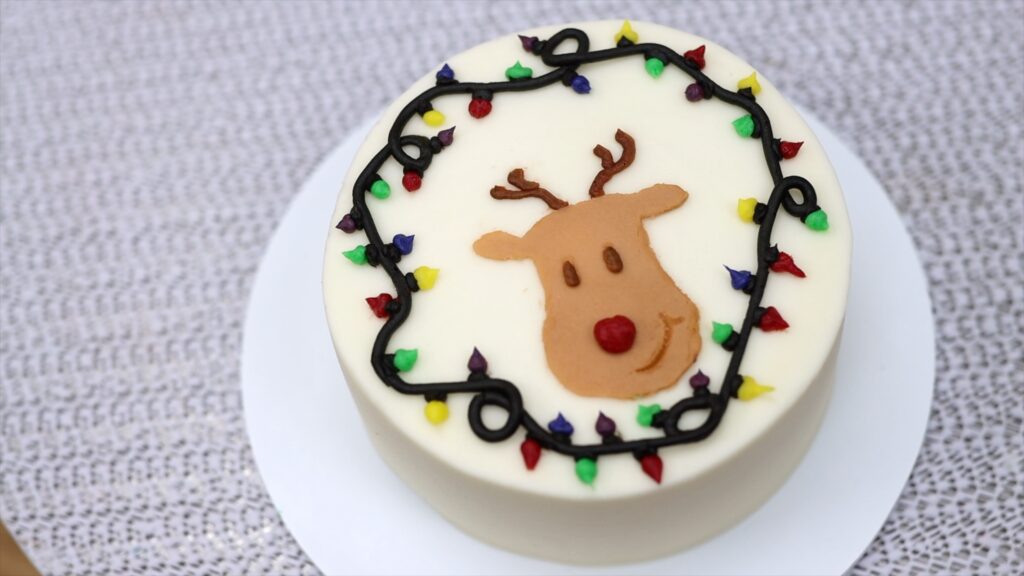 This design is so cute and colourful!
Christmas Present Cake
For one of the quickest Christmas cake designs, turn a cake into a present in less than a minute! You'll need a petal piping tip like a #125 or #104. Squeeze the piping bag and pull the tip slowly up the side of the cake. Pull it over the top edge and pipe across to the middle of the cake.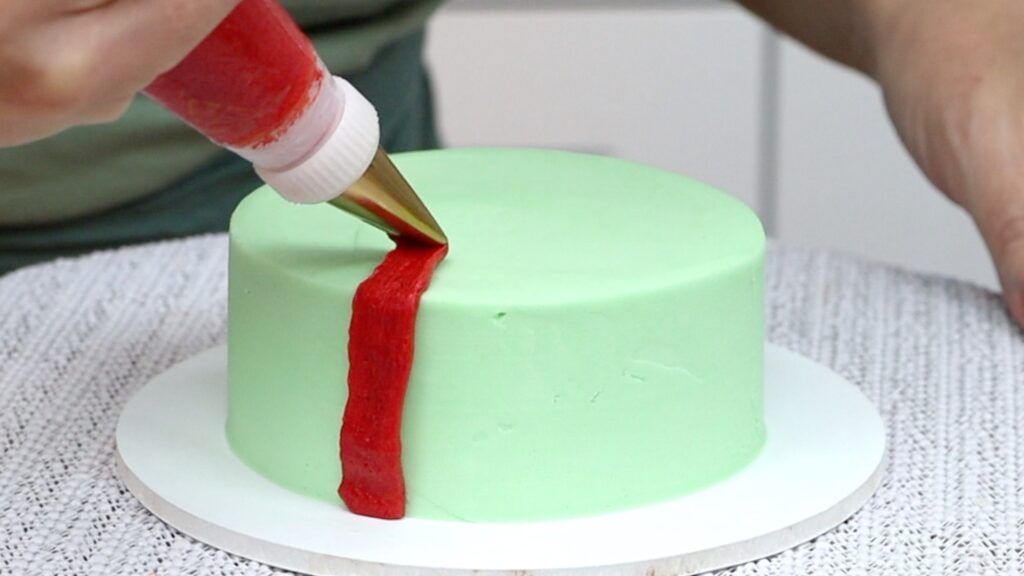 I have super shaky hands so I find it easiest to rest the edge of the tip against the frosting. This holds the tip steady and it's the reason I chill cakes before decorating. By chilling the cake, the frosting gets firm and I won't damage it with the piping tip.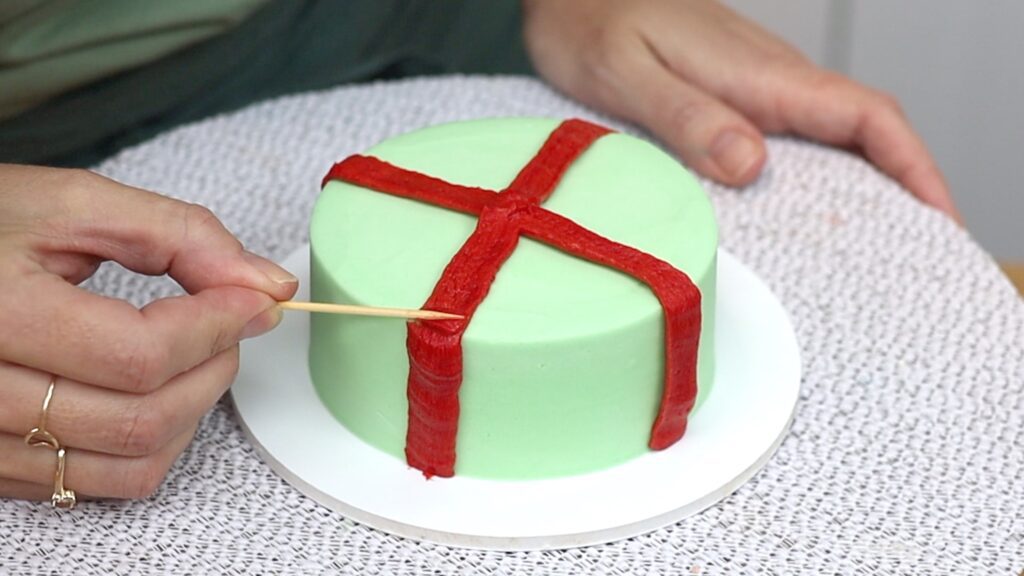 You can use a toothpick to smooth the frosting if it's uneven anywhere. Do this straight away, before this frosting sets. Now use the same piping tip with the narrow part pointing upwards to make a bow. Squeeze the bag and pipe a loop that joins in the center of the cake. Then pipe another loop to meet it.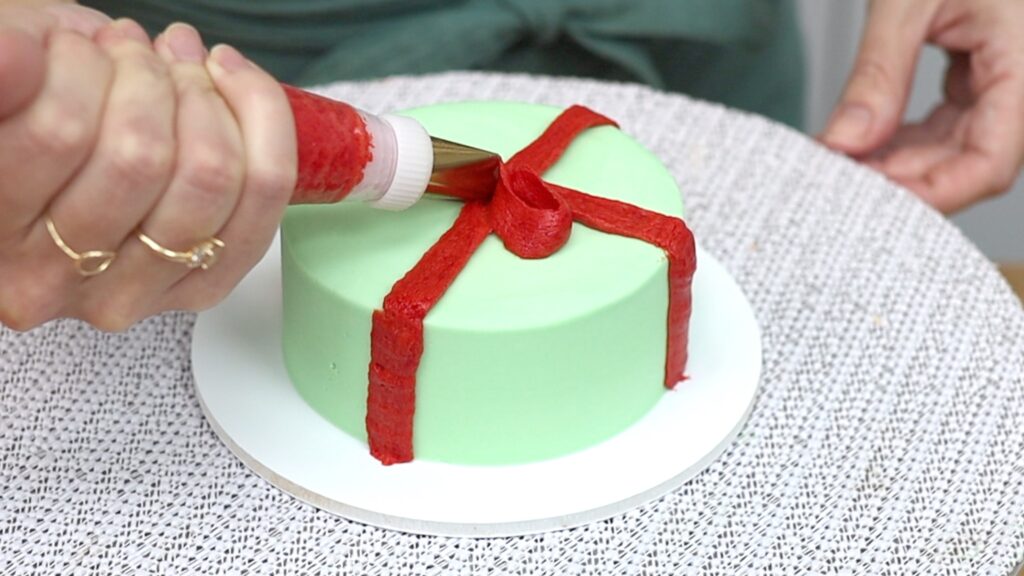 Keep the narrow part of the teardrop shape of the piping tip pointing up and pipe two squiggly lines for the ribbons of the bow.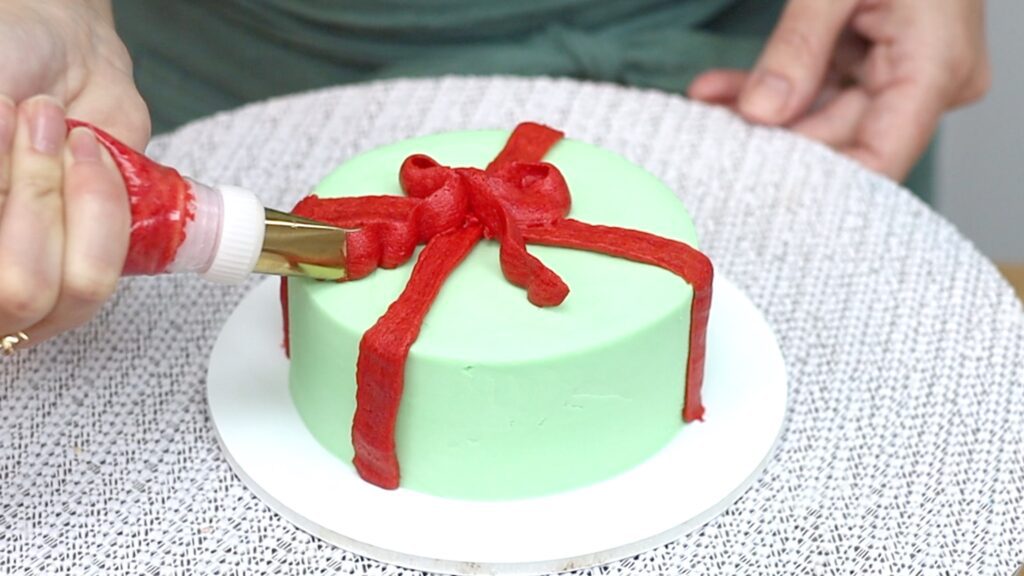 Going back to a trusty toothpick, you can manipulate the bow to make it wider or tidy up any messy parts. I love how quick and simple this design is!
Snowflake Cake
Now for a wintery design with a sparkly snowflake. Hold a piece of parchment paper over the cake and mark the edges of the cake on it. Now you know how much space you have to work with.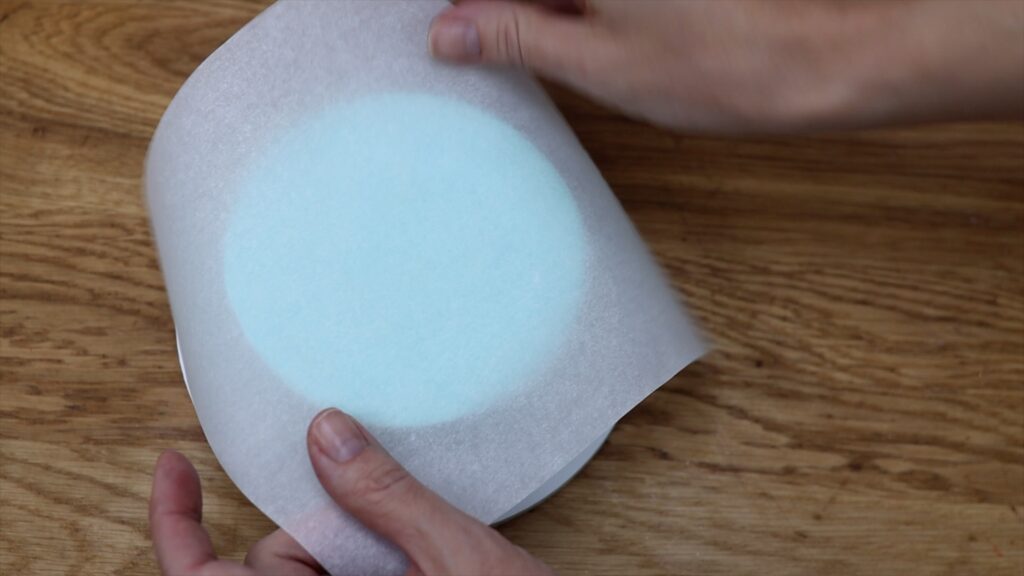 Draw a simple snowflake within those markings. You can trace a picture instead if you like, but something fairly simple works best for this. Cut the snowflake out to leave the rest of the parchment intact to use as a stencil.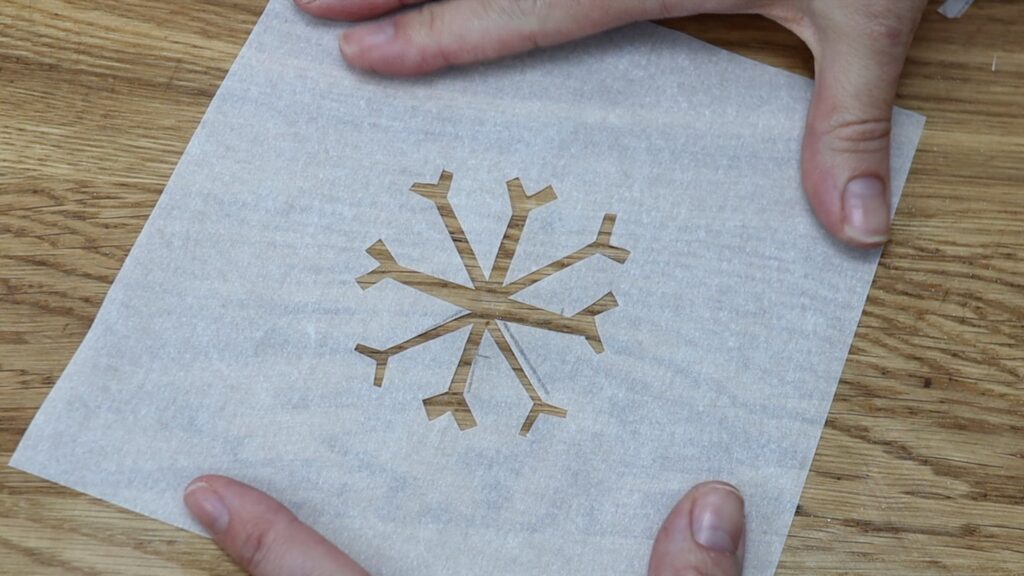 Place the stencil on a cake after the frosting has set and spread more frosting on top. Use back and forth circular motions so that you don't pull the parchment up with your offset spatula. Scrape off the excess frosting to flatten and smooth it.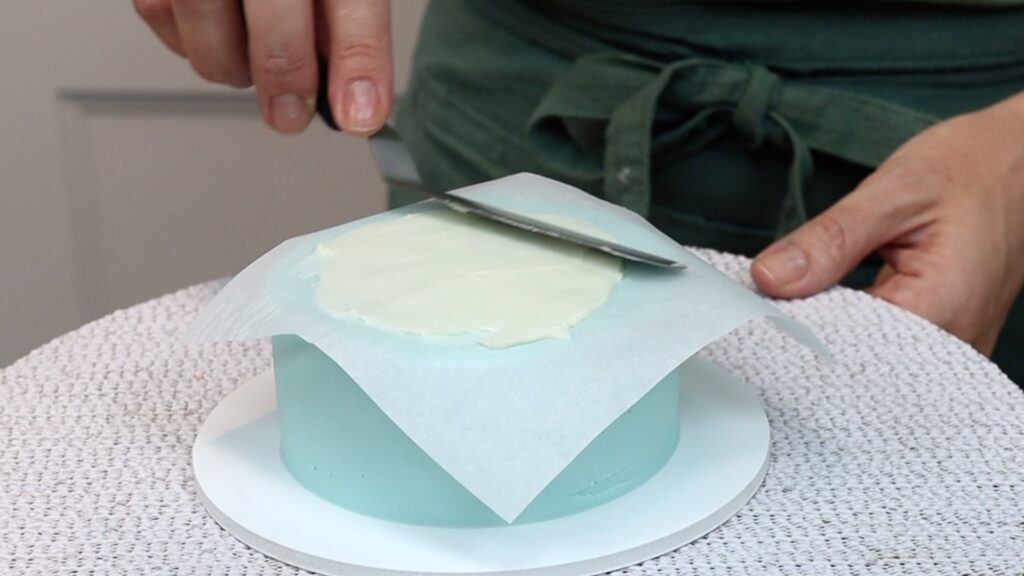 Then peel the parchment off to leave a snowflake outline behind. Optionally, pour sprinkles into a bowl to decorate the snowflake. Nonpareils work best, or hundreds and thousands as they're called in the UK. Pour a bit of water into another bowl and dip your finger into the water. Tap off the excess and then press it into the sprinkles and the sprinkles will stick to your finger.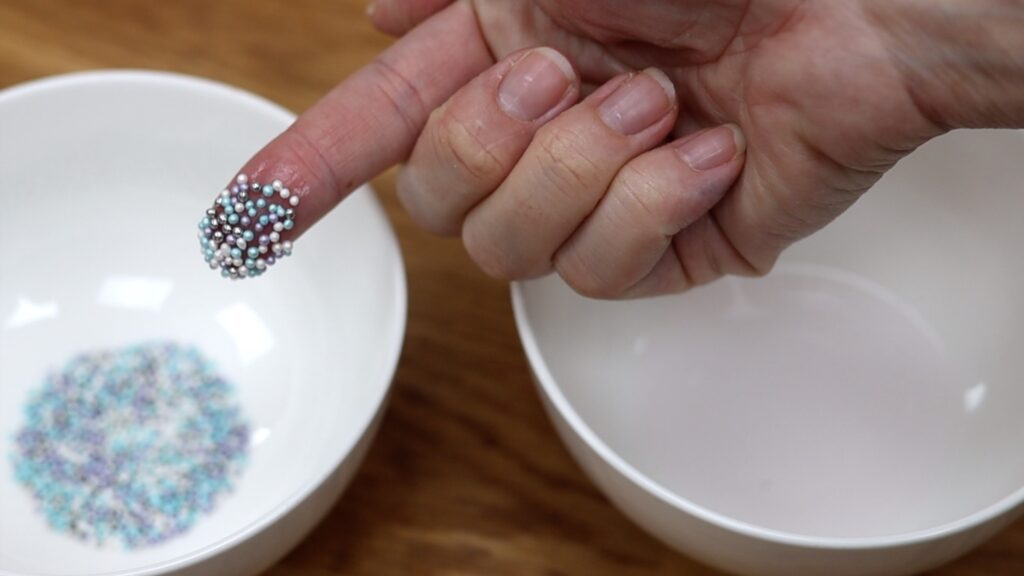 Then push your finger gently into the snowflake and the sprinkles will stick to the frosting. Even after chilling the cake, the sprinkles may still stick to the frosting if condensation has formed. (For help with this, check out my tutorial on everything you need to know about condensation!) So after pressing the sprinkles onto the snowflake, use a toothpick or a paintbrush to nudge the sprinkles onto the stenciled frosting. This makes a neat, sparkly snowflake!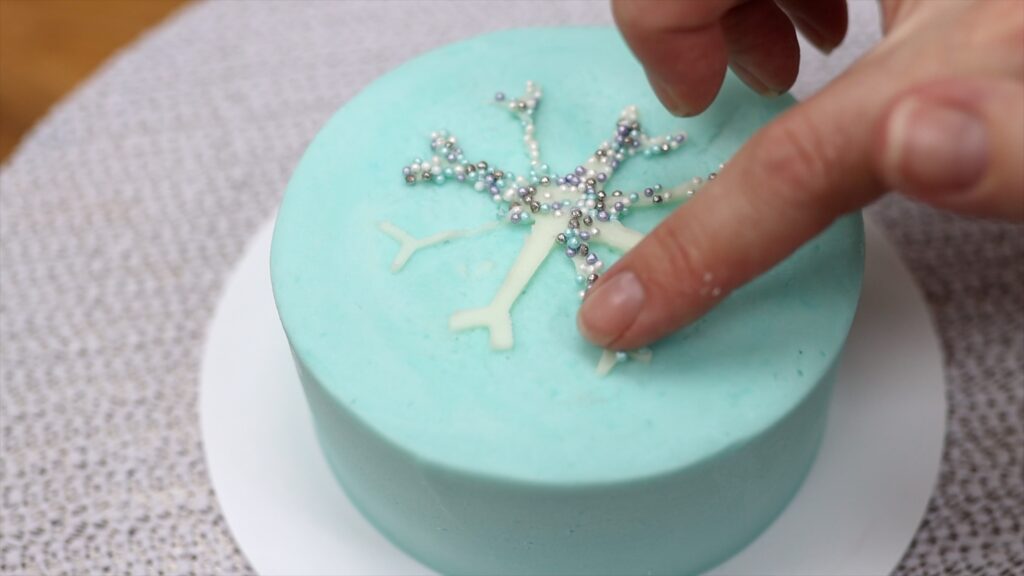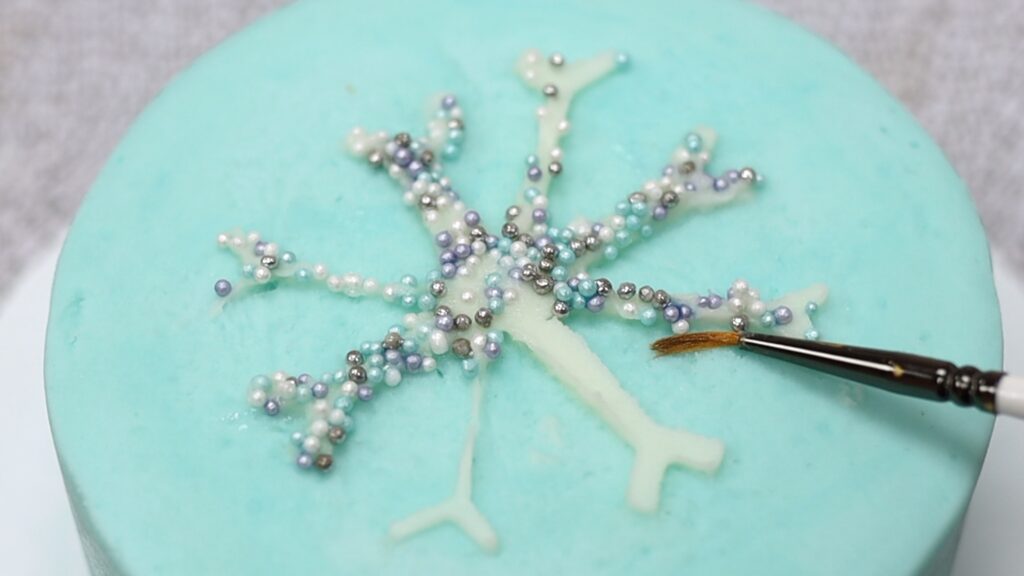 You can add a border if you like, like I'm doing with this open star tip. I'm using the same technique as I did for the Christmas tree, squeezing the piping bag while holding it still to allow the frosting to bulge out and then as you pull the bag away, stop squeezing to leave a little tail. You'll overlap the tail with the next dot.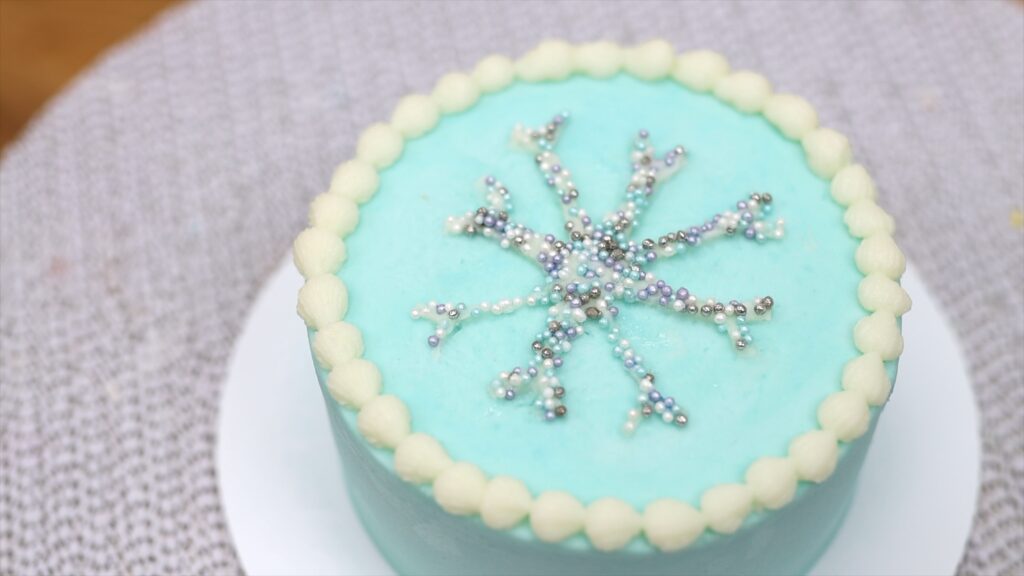 Poinsettia Cake
Poinsettias are gorgeous red Christmas flowers and you can make them with buttercream frosting. You'll need a leaf tip for this like a #352. Hold the tip so that it looks like an open Pacman mouth, with the two points above each other.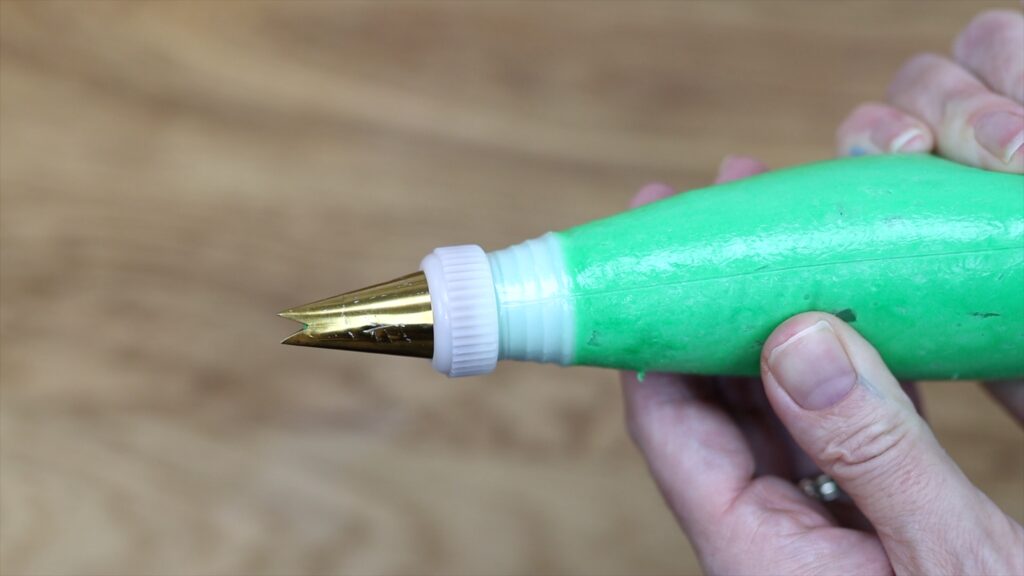 Squeeze the piping bag and wiggle it from side to side and up and down to make a ruffled leaf. Pipe a few of these around the outer edge of the cake.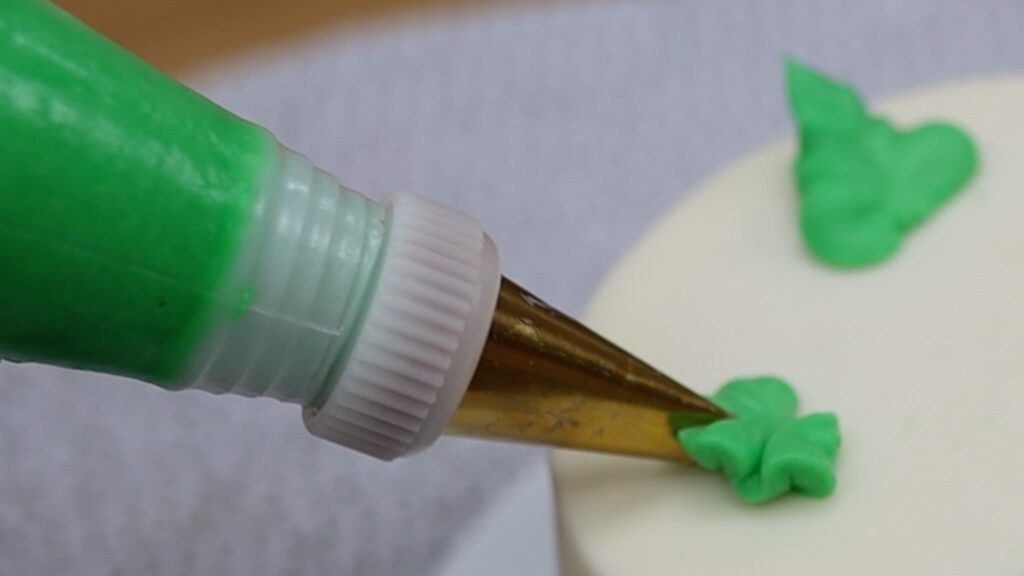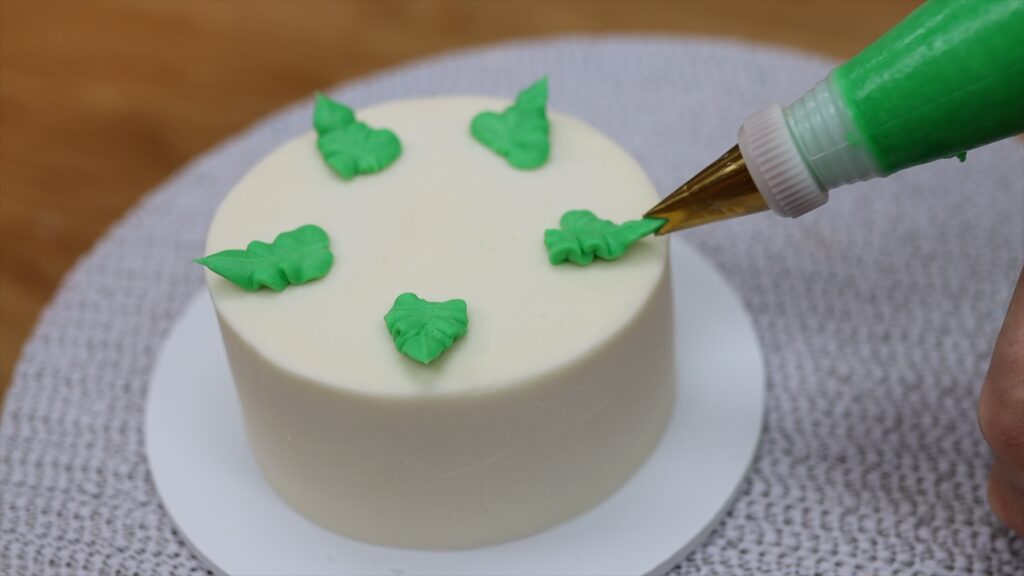 Then switch the tip to a piping bag with red frosting to pipe the petals of the flower, making a ring of them to overlap the leaves you piped. The petals will look really long and skinny at this point but you're going to cover the bases up in a minute.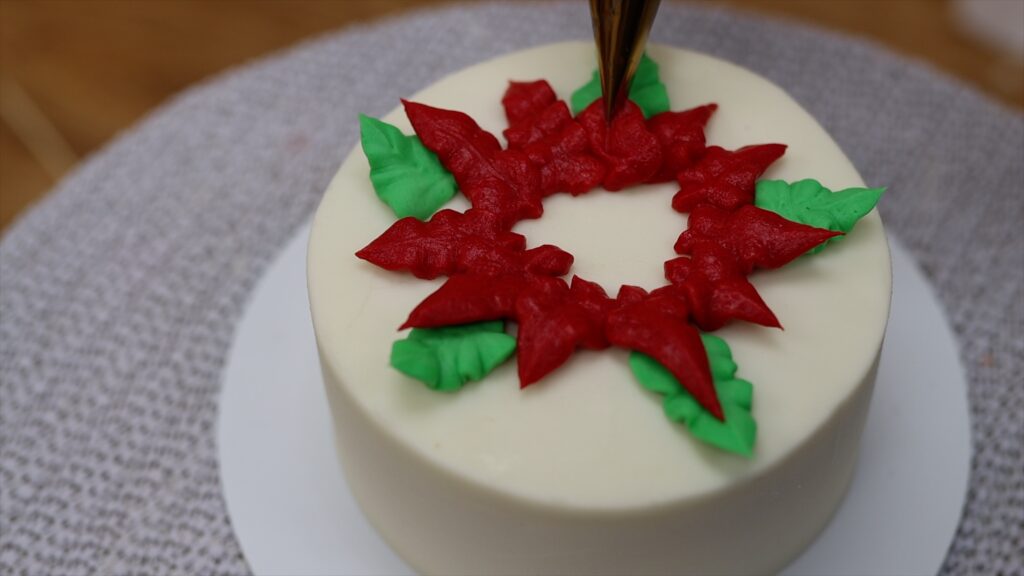 Pipe another ring of petals inside the first ring, overlapping the first ring of petals. If there are any gaps in the flower you can add more petals to fill those in. For the middle of the flower, pipe a few yellow dots using a small round tip.
You can make these flowers much smaller if you want to pipe several of them onto the cake instead of one large one, which in hindsight I think would have looked even prettier.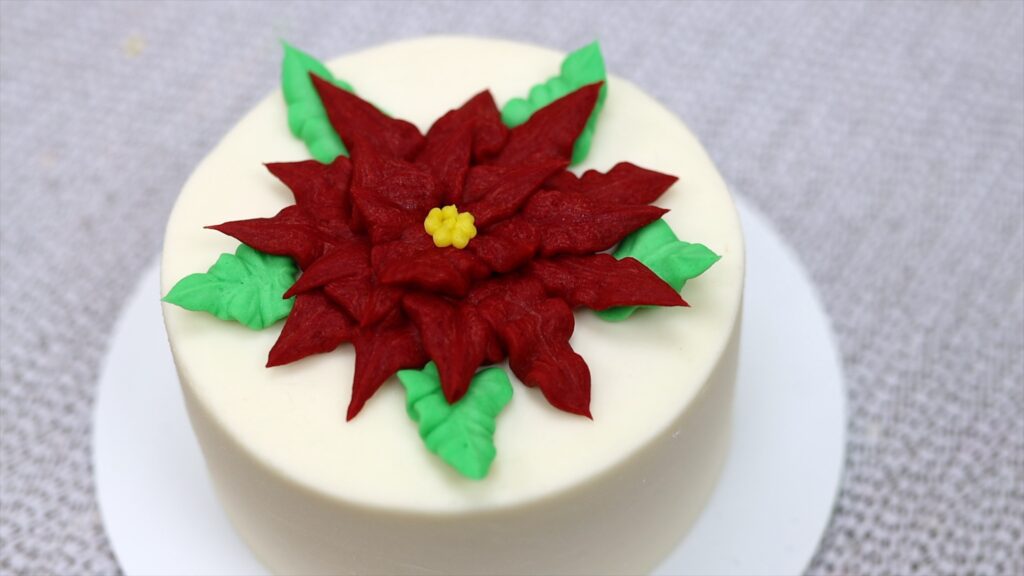 Christmas Cake Designs with Messages
Writing on cakes can be tricky but here are two easy ways to make lettering neat. First, layer your letters. Choose two star shaped tips, one wider than the other. This is a #32 on the left and a #199 on the right.
I like to outline my word with toothpick first, to check that it fits. Start with your larger tip and write your word. The smaller your cake is, the smaller your piping tips will need to be so that the letters aren't so thick and close together that they're impossible to read. Now switch to your smaller tip and a different colour and pipe over the top of these letters.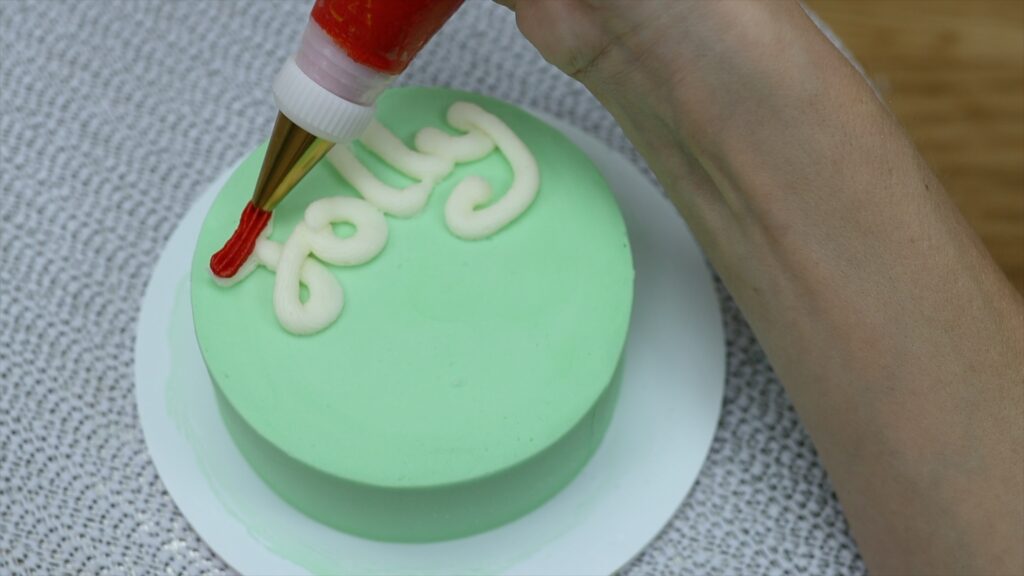 Cursive is a great option for lettering because it's very forgiving. By layering the letters you're creating more texture and colour and detail.
Using an '&' instead of writing out the letters is a quicker and way to write the word 'and'. It looks fancier, too!
The second easy way to write neatly on cakes is to use dots instead of lines. Again, you can outline the letters with a toothpick first if you like. I like to start with the first and last letter and work my way to the middle. This makes spacing them easier because you can make the final letter, the one in the middle, as wide or narrow as necessary to fill in the space that's left.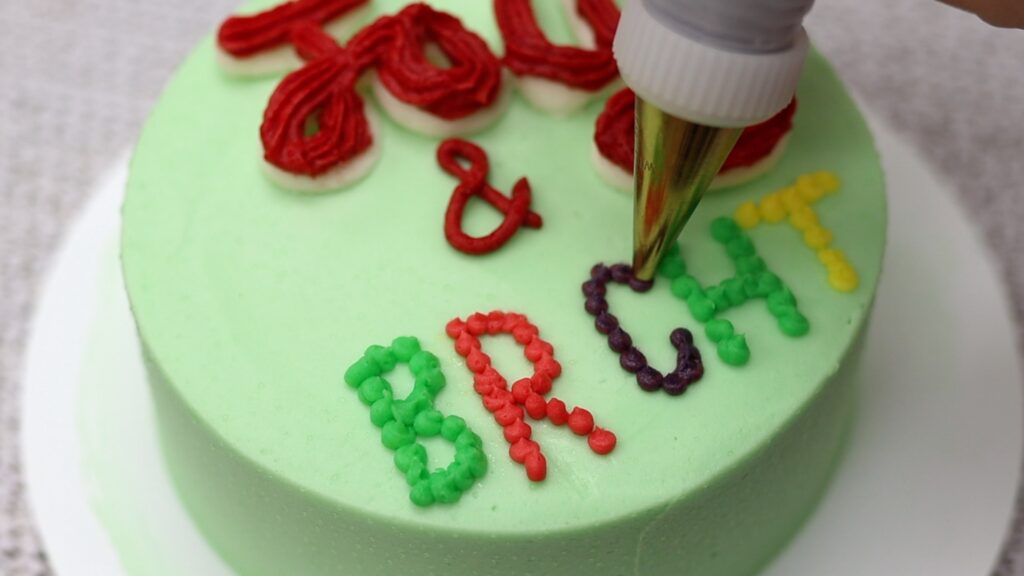 If your hands are shaky it's much easier to pipe neat dots than neat lines!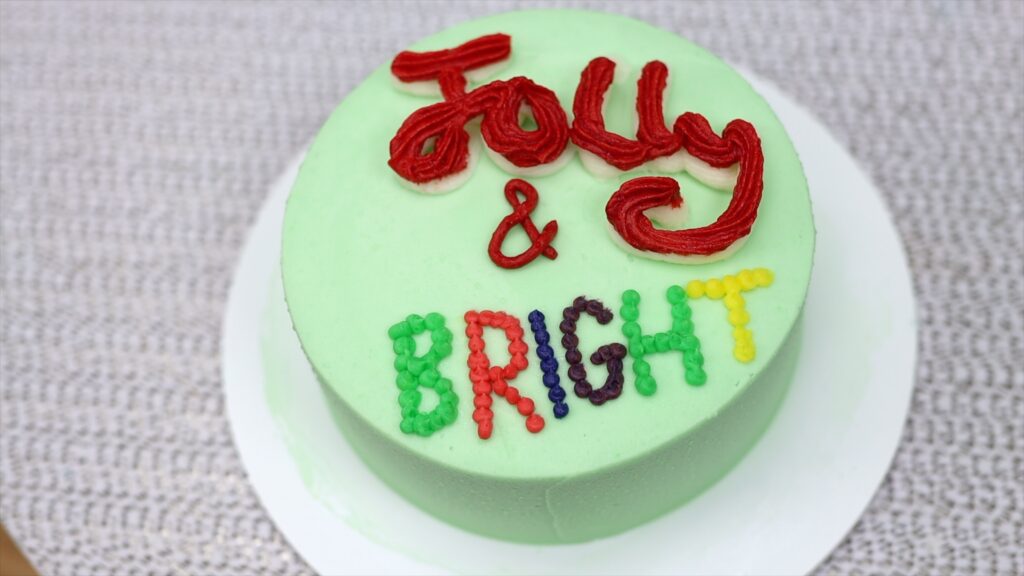 Which of these six easy Christmas cake designs is your favourite? Tell me in the comments below! You can watch a video version of this tutorial on 6 Christmas cake designs here:
Cake shooters are a fun and easy way to serve cake and they're a unique way to toast to any celebration! In this tutorial I'll share everything you need to know to bake, assemble, store and transport cake shooters.
What are cake shooters?
Cake shooters are made up of cake and filling and frosting. They're layered and served in shot glasses, disposable cups, or even champagne flutes! Choose something transparent so you can see the gorgeous layers of cake and filling and frosting inside.
How do you make cake for cake shooters?
Use any recipe to bake your cake. For my cake shooters I'm using my Very Vanilla and my Perfect Chocolate Cake. You can bake the batter in mini cupcake pans or in larger cake pans.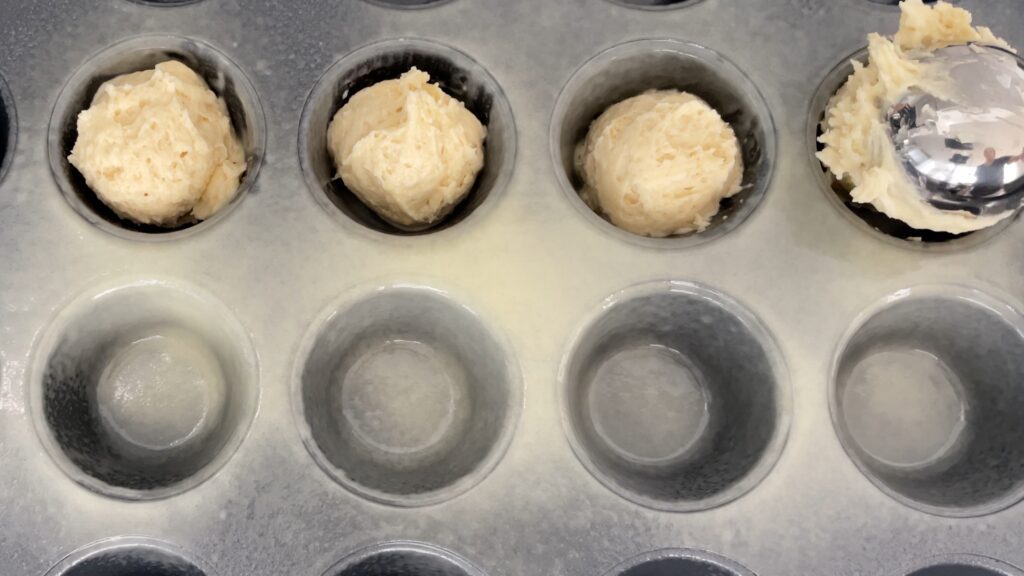 For mini cupcakes, I cover the pan with non-stick spray instead of using wrappers. That way I can skip the step of unwrapping them. Optionally, for the neatest and most tender tasting results, use a serrated knife to cut off any bulging tops.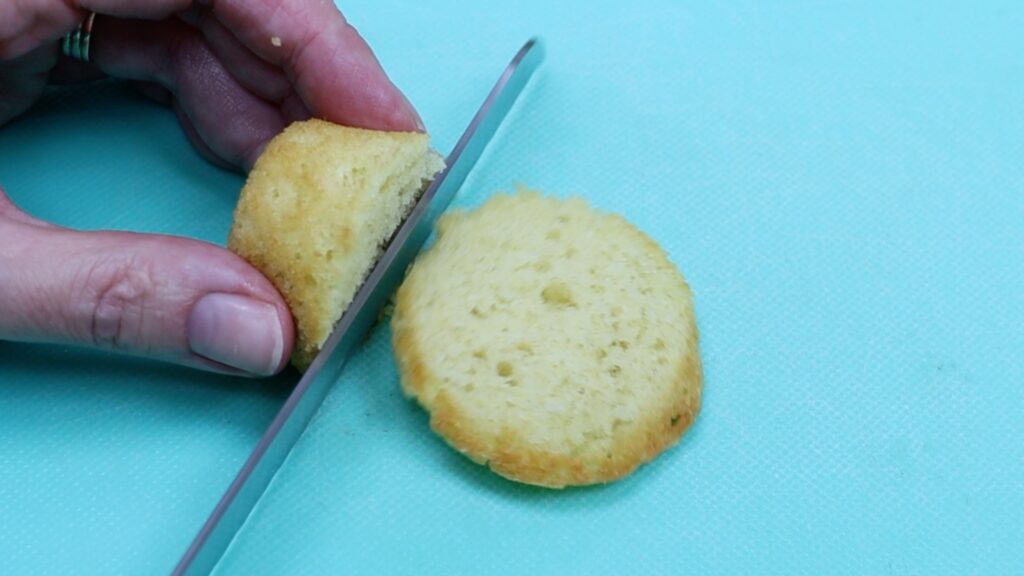 What if you don't have mini cupcake pans or your shot glasses aren't the same width as mini cupcakes? Bake your cake in any larger pan like a sheet cake or a round cake pan. Fairly thin layers work best. If a cake breaks when you turn it out of the pan don't throw it away! Those layers are perfect for cake shooters. After the cake cools, cut discs out of your cake. If you have one, you can use a small round cookie cutter the same width as your shot glasses. Or just use the glass you're going to make the cake shooters in.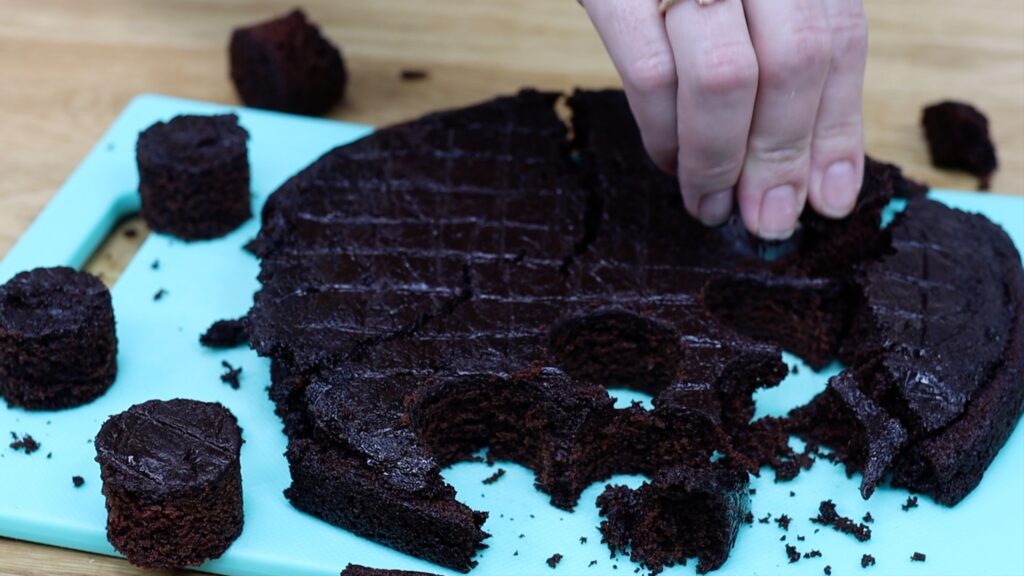 Optionally, you can drizzle your cake with simple syrup. Simple syrup is equal parts of water and sugar, brought to a simmer in a pan. Once the sugar dissolves, leave it to cool before you use it. This will keep the cake moist if you're not serving it until the next day.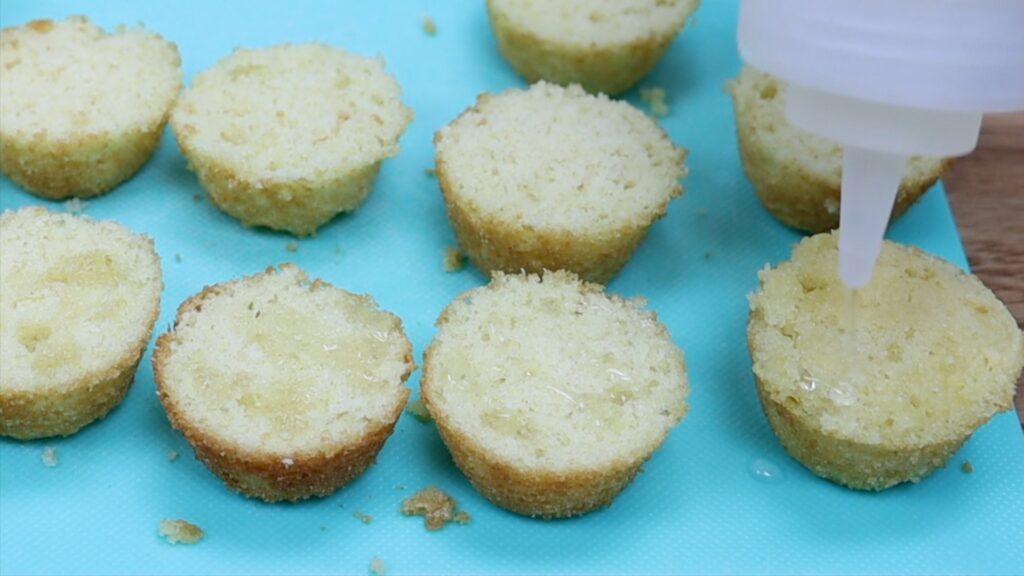 I'll show you later in this tutorial how to transport cake shooters across the country or even internationally!
What fillings and frostings can you use for cake shooters?
The answer is easy: any! I'm using my 4 Minute Buttercream frosting but you can use meringue frostings, ganache, and even whipped cream.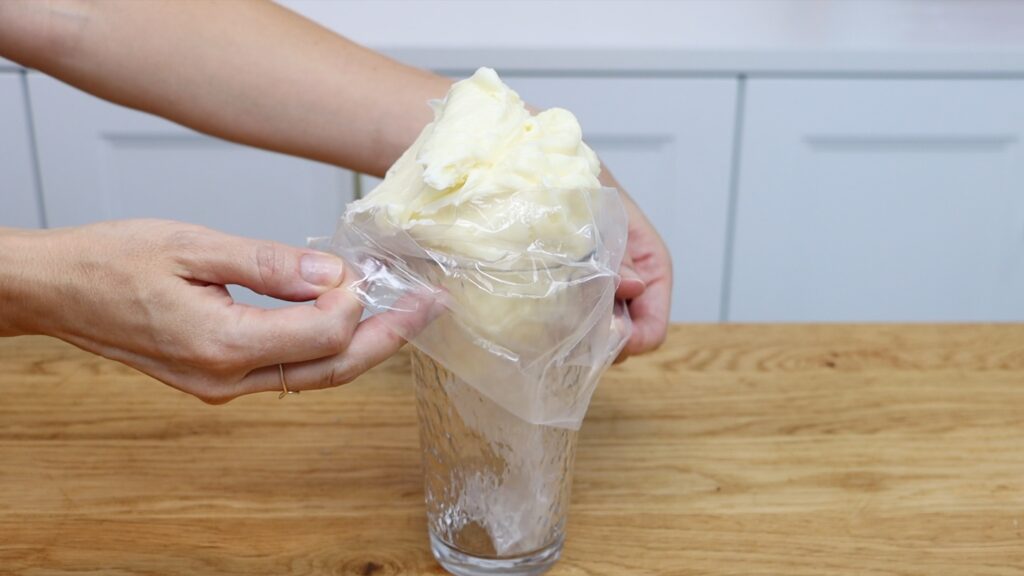 For fillings try fruit purees, caramel, Nutella, lemon curd, or any other fillings you like in cakes. It's easiest to put frostings and fillings in piping bags before making the cake shooters.
How do you make cake shooters?
Grab your glass and pipe some frosting into the very bottom. You can level it with a spoon if your piping bag doesn't reach all the way down. Then layer your cake and fillings and frosting all the way up the glass.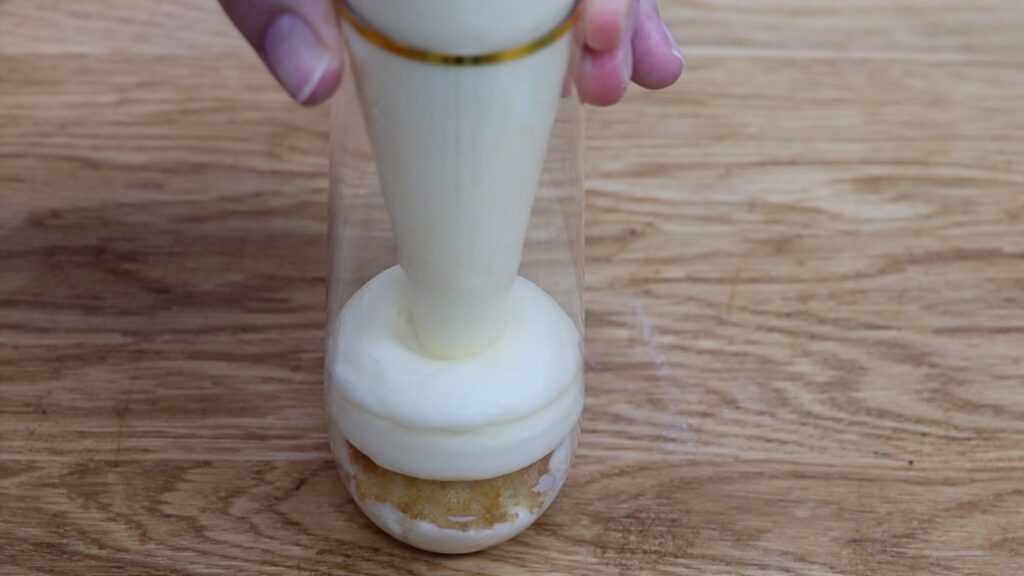 I recommend layering frosting above and below each cake layer if you're using fillings like fruit purees. If you don't, the puree will absorb into the cake and stain it, which won't look as pretty.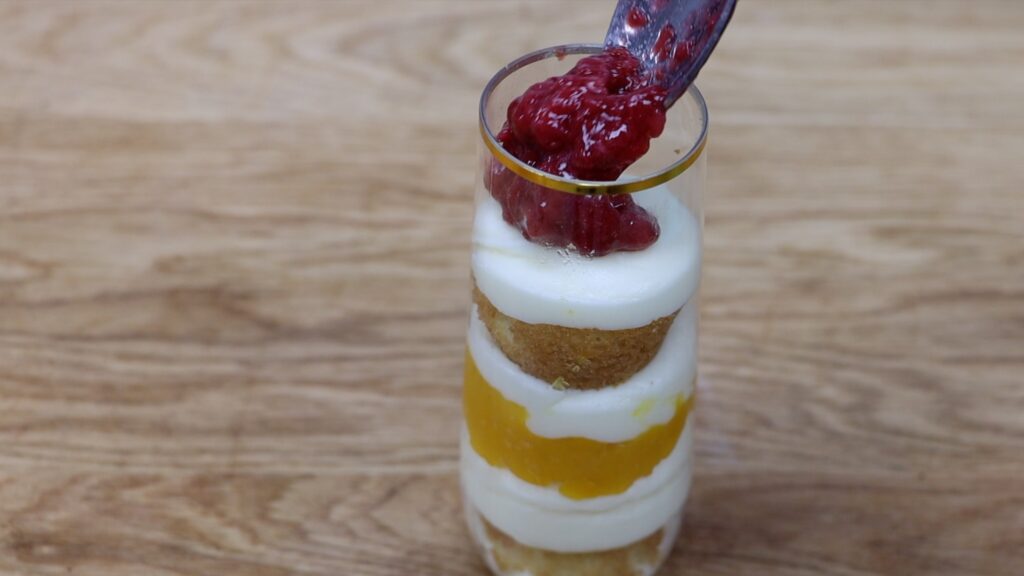 I teach how to make all sorts of fillings in my online course The Basics of Cake.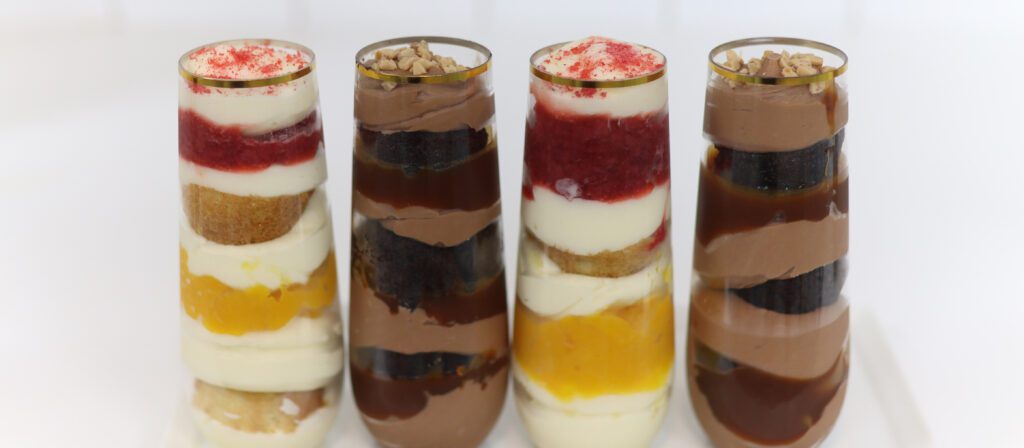 You can finish off each cake shooert with a swirl of frosting or spoon some filling on top, or even a dollop of whipped cream. Try a garnish like these crumbled dried strawberries or toffee crunch pieces, or sprinkles are always fun!
If these are for a birthday celebration you can of course add a candle for the birthday boy or girl, too.
Tips for making cake shooters
The challenge with tall glasses like these champagne flutes is that it's tricky to reach down to the bottom. You can spoon fillings and frostings into the glass but they're likely to smudge the sides of the glass. Using a piping bag helps you get lower down into the glass. You can use a piping bag with the end cut off, like I'm doing in the photo above. A long thin pastry tip, called a Bismarck Tip, is ideal because you can pipe down to the bottom of the glass without touching the sides.
It's much easier to get your cake and fillings into shorter glasses like shot glasses without making a mess! If you can, choose a cup that's a similar width all the way up and down. This was, you can cut your cake into the same size pieces and they'll all fit neatly into it, whether they're at the top or bottom of the cup.
How do you serve cake shooters?
With a spoon! I love long gold spoons but if the cake shooters are an order you can include plastic spoons.
How far in advance can you make cake shooters? How do you store cake shooters?
Like with any cake, these will taste best if you bake them as close to serving as possible. You can cover them with plastic wrap and store them in the fridge for a day or two. You can even freeze them if you want to make them in advance. But cake, fillings and frostings taste best at room temperature so take them out several hours before serving to warm up.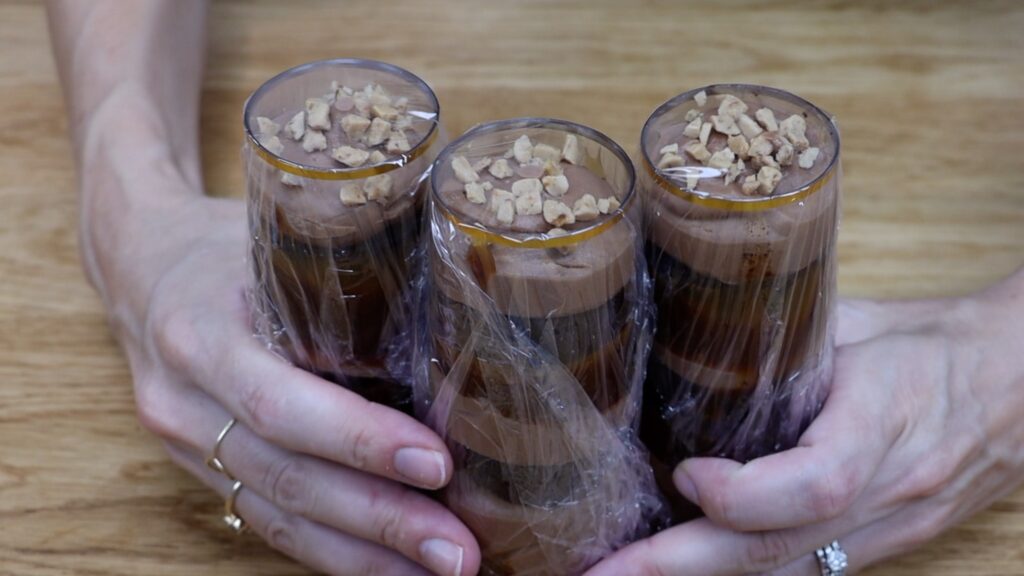 How can you transport cake shooters? Can you travel on an airplane with them?
Yes, you can fly with cake shooters in your suitcase! I recommend using buttercream rather than whipped cream because of its stability. First, cover each cake shooter with plastic wrap to prevent moisture from the freezer getting into them. Then place them upright in the freezer. The door of the freezer is perfect for this.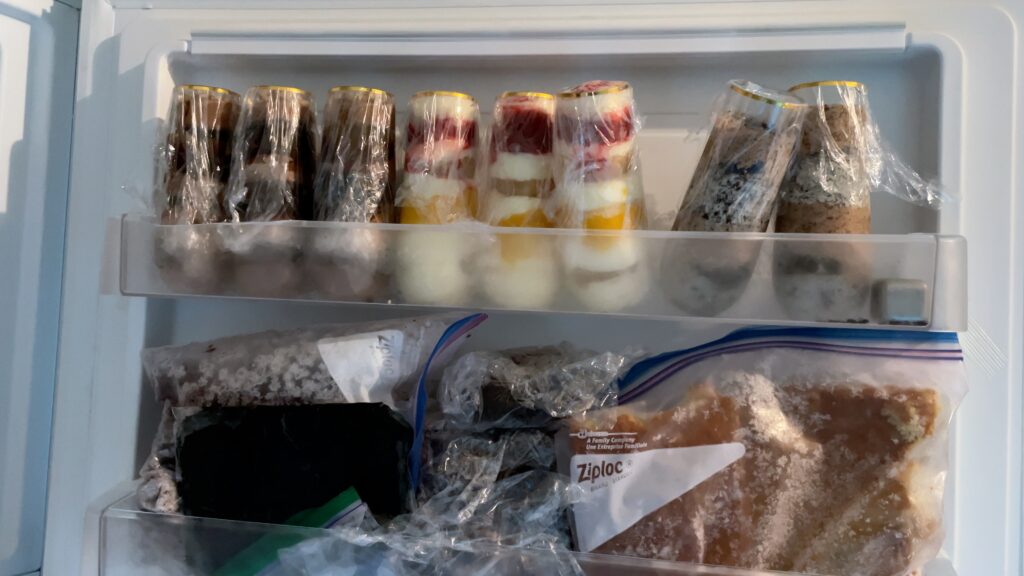 Once they're frozen, arrange them in a cooler with ice packs. Just before you leave home, put the cooler in your suitcase. By the time you get to your destination the cake shots will probably have thawed. Since buttercream is quite stiff, it will have held the cake and fillings in place within the glasses.
Enjoy! I hope this tutorial has been useful. Tell me in the comments if you're going to make some!
You can watch a video version of this tutorial here:
You don't have to be a professional cake decorator to make cakes that look professional! In this tutorial I'll share cake decorating tips that:
give your cake a stable structure and neat outline
make cakes look professional
ensure transporting and serving professional-looking cakes
#1 Buttercream dams
Firstly, prevent bulges in the sides of your cake. As you're assembling your cake, pipe a ring of frosting around the edge of each layer and spoon your filling into the middle.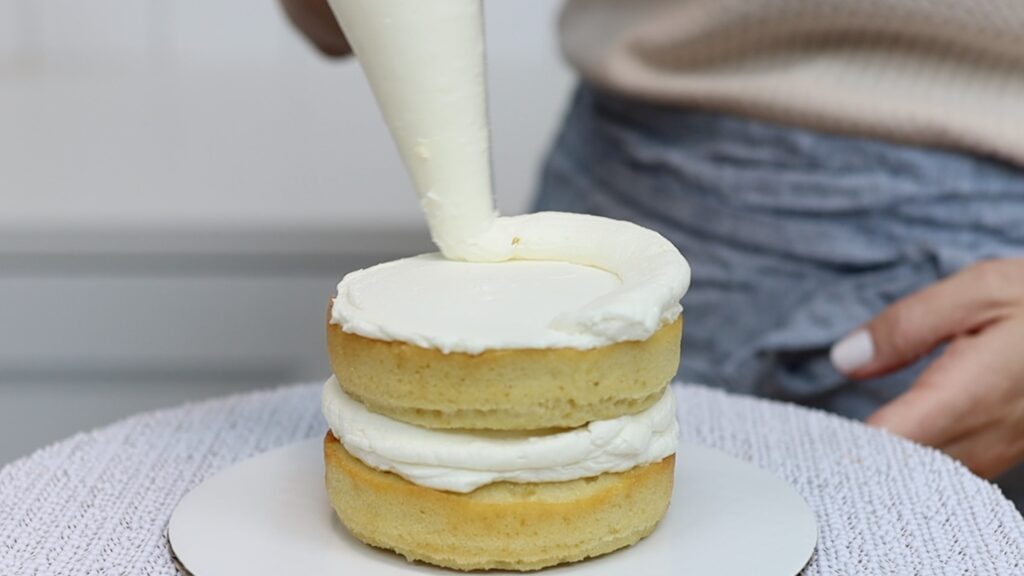 This is called a buttercream dam. It works well for lemon curd, caramel, jams… anything that's runnier than frosting. The dam will hold the filling in so it doesn't ooze out the sides. No cake decorating tips will fix a cake with bulges!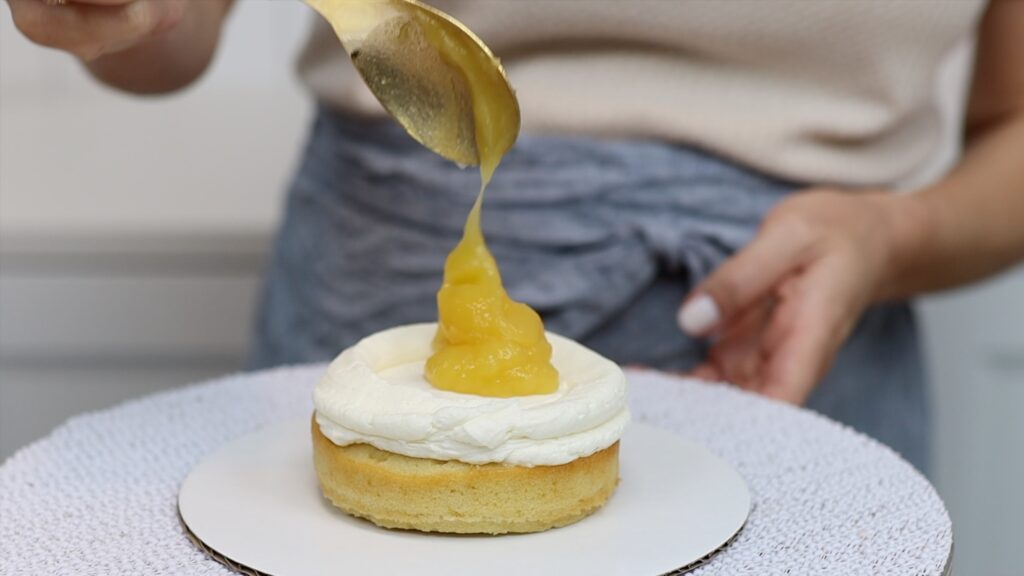 If you skip the dam you'll see bulges in the sides of the cake. Why? As you add cake layers and then frost the cake, the weight of the layers and frosting push down on the filling. As it squeezes out, it causes bulges under the frosting on the sides of the cake. Don't worry about the dams sticking out - those will become part of the crumb coat, which is the next hack for making cakes look professional.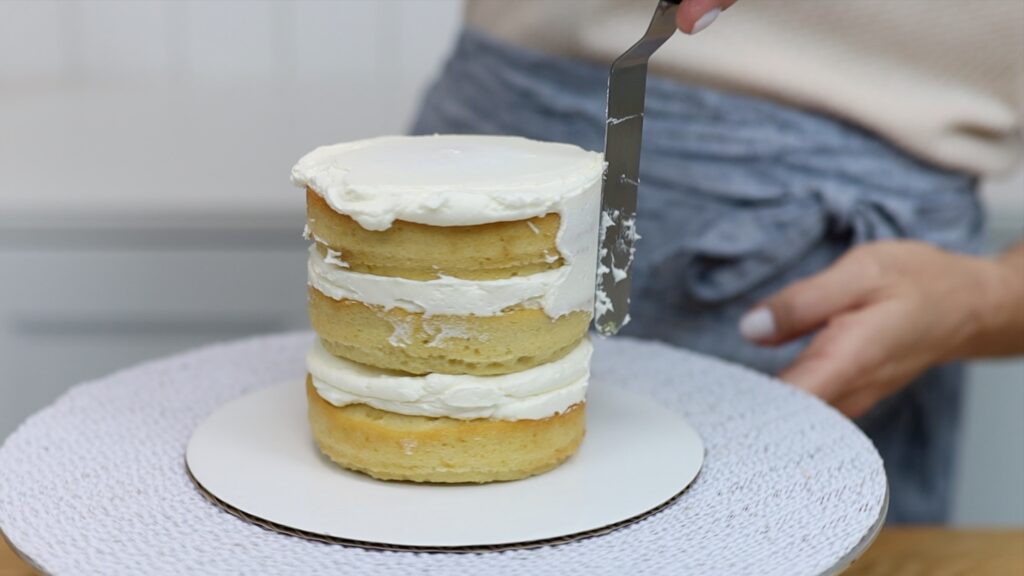 #2 Crumb coat
For super smooth frosting with no crumbs in it, take a few minutes to create a crumb coat. Spread frosting to cover the top and the sides of the cake and smooth it a little bit. You want fairly straight sides and a level top.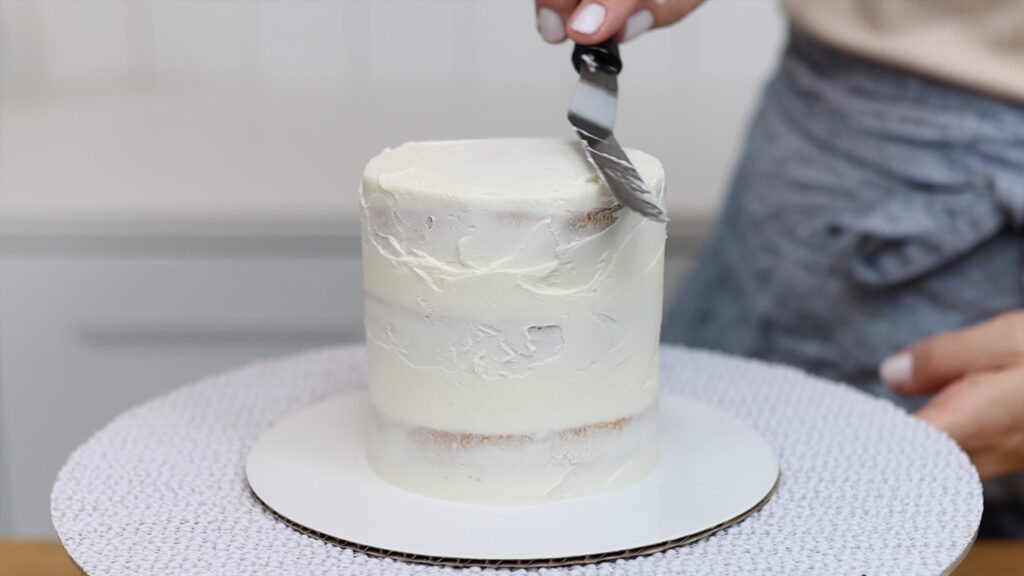 The purpose of this first layer, the crumb coat, is to trap any crumbs that come off the cake. Let the crumb coat set, which takes about 30 minutes in the fridge if you're using my 4 Minute Buttercream. You want the crumb coat to completely cover the entire cake so that there's no naked cake exposed.
Now when you spread on your final layer, none of the crumbs that came off the cake will get into it. The frosted cake will be smooth, with no visible crumbs.
#3 Super sharp edges
This is one of my favourite cake decorating tips or hacks! It's simple but really takes cakes to the next level. For a super sharp top edge around the cake, pour boiling water into a glass or cup. Dip a sharp knife into it to heat it.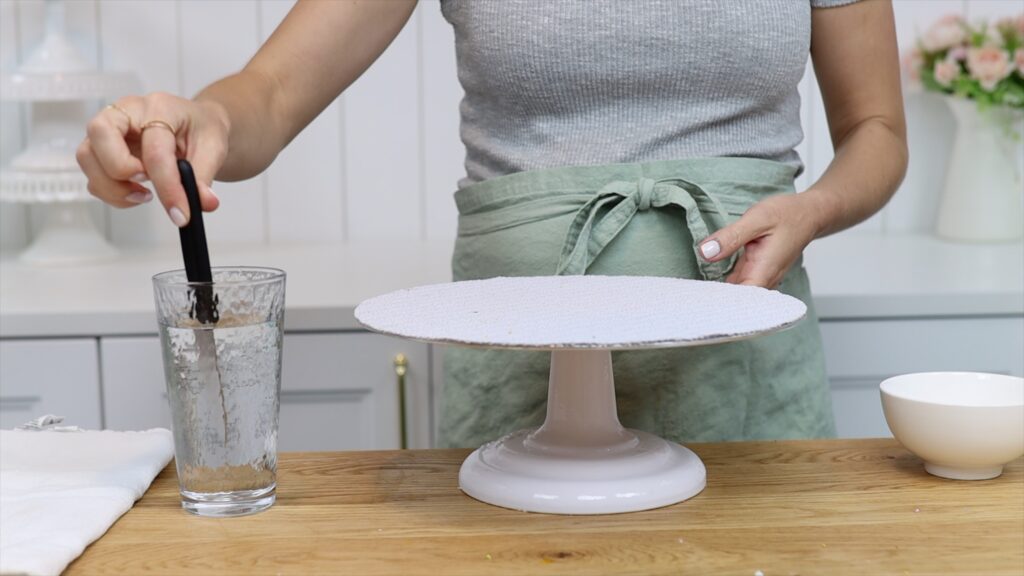 Then take your chilled cake out of the fridge or freezer. Dry the knife off and cut around the top edge of the cake. The hot knife will slice easily through the frosting.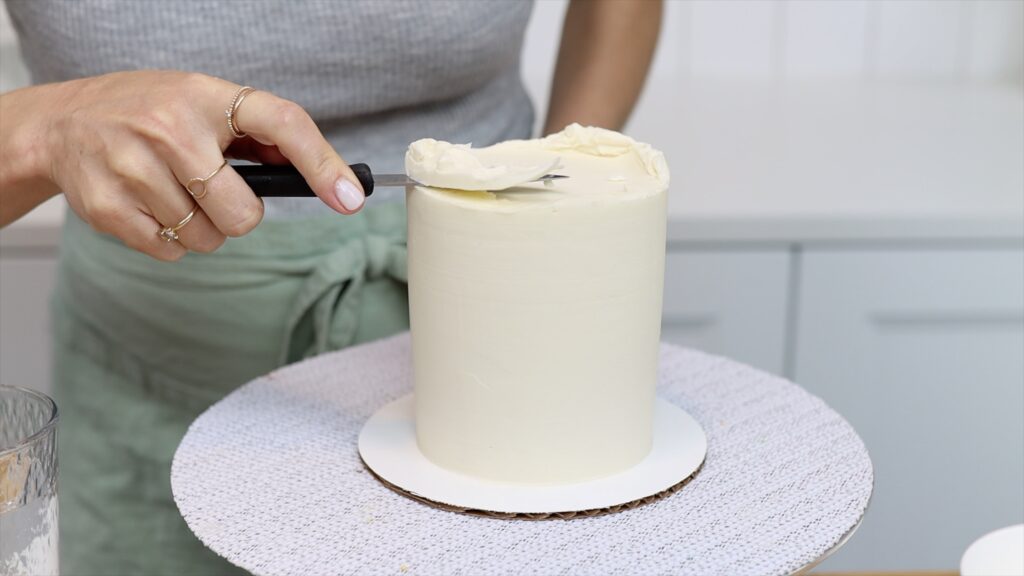 The cake only needs about 30 minutes in the freezer for the frosting to get very firm. If you prefer, put it in the fridge for an hour instead. After cutting off most of the excess, rest the knife on the top of the cake and spin the cake. This will trim off any more lumps and bumps.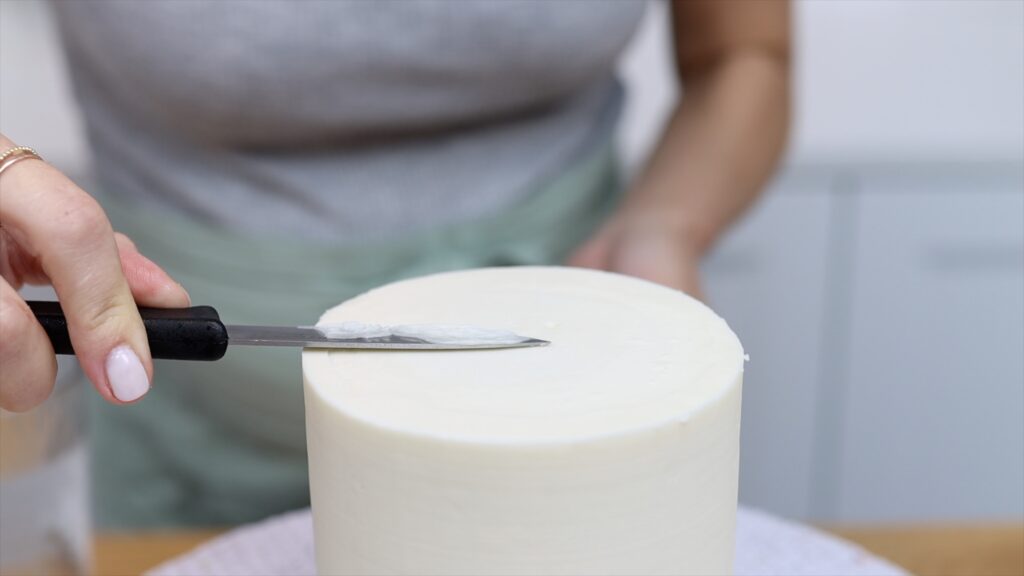 You'll leave a perfectly flat top with a sharp angle down to the sides of the cake. Look how effective these rainbow layers look on a cake with sharp edges!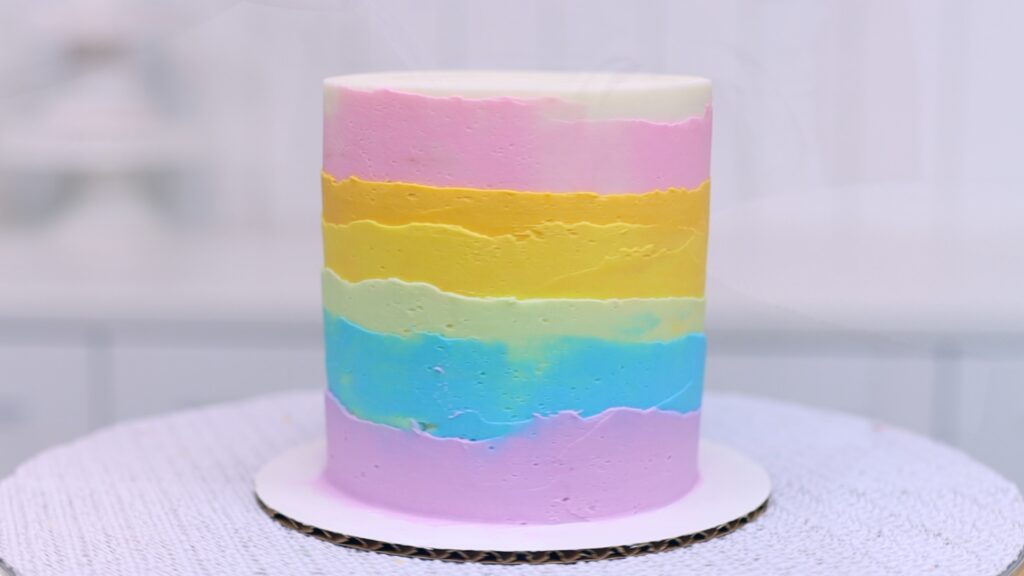 #4 Piped bottom border
However you decide to decorate a cake, a neatly piped border will make a cake look professional. A border covers the bottom edge of the cake where it meets the cake board, adding detail and texture too.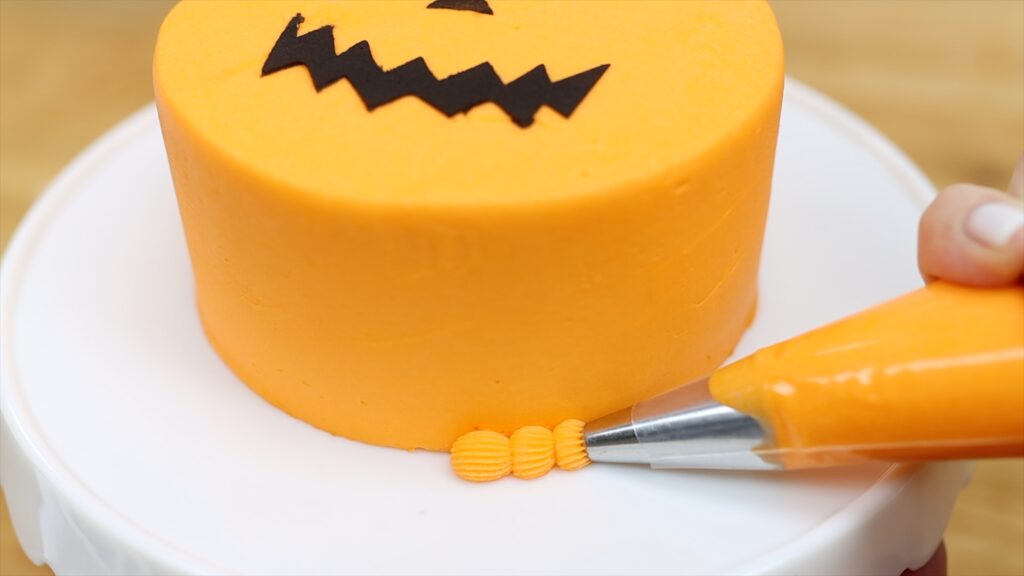 Expert cake decorating tips: Let your frosting set before piping your border to prevent any damage to the frosting. Then, choose an appropriately sized piping tip. Small cakes look silly with huge borders! For example this #199 tip is perfect for this tiny 4 inch cake.
#5 Get your colours right
For bright red frosting rather than pinkish red or true black instead of gray I recommend using gel colours. They're much more concentrated than liquid colours so you'll need to use less to achieve the colours you want.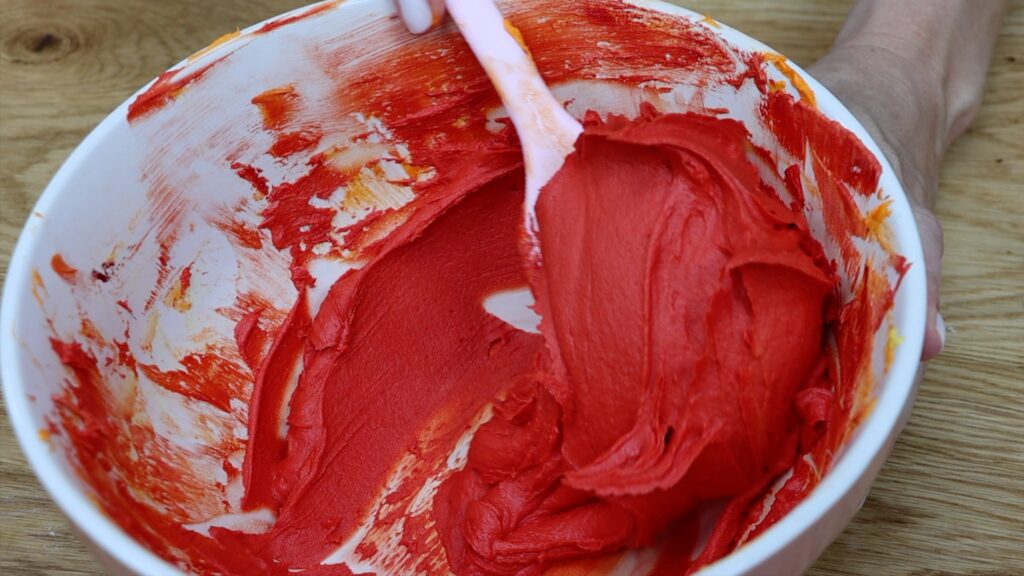 Check out my tutorial on tricky frosting colours or take my online course The Basics of Buttercream for all of my tips!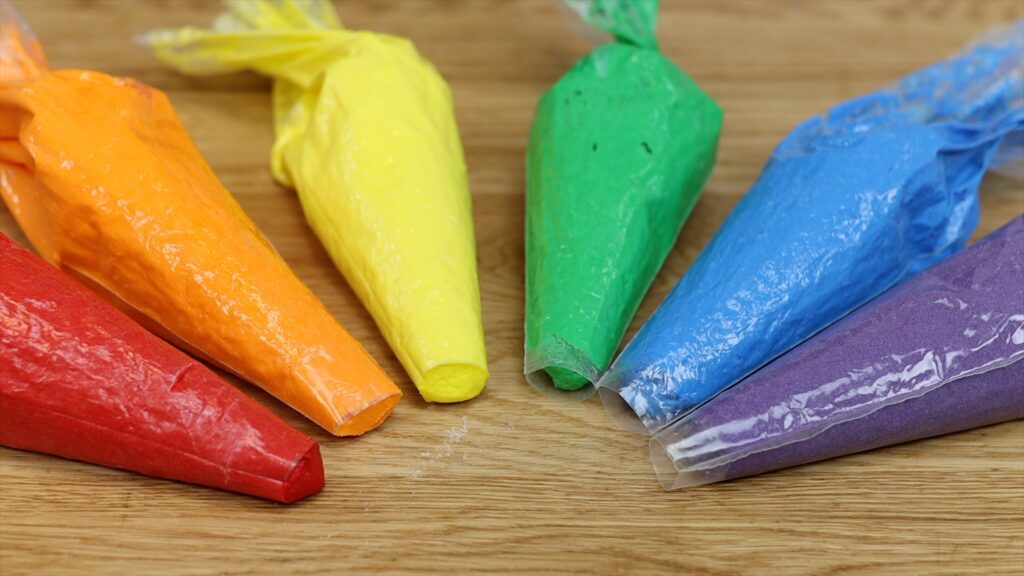 #6 Stencils for symmetry
Very simple patterns can look stunning on cakes if the patterns are symmetrical. The easiest way to ensure this is to use a stencil. As with any stencil, first chill your cake to set the frosting. Then use this method to save money on expensive stencils! Wrap a piece of parchment paper around your cake. Mark the top the cake and also where the ends overlap each other.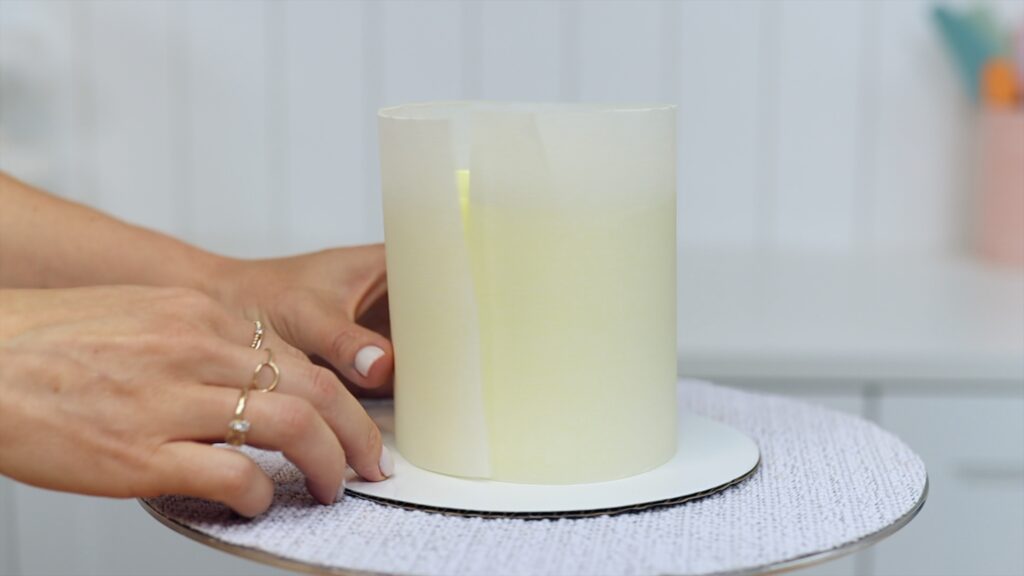 Fold the parchment in half and half again, horizontally and vertically. You'll make equally spaced creases to guide your pattern.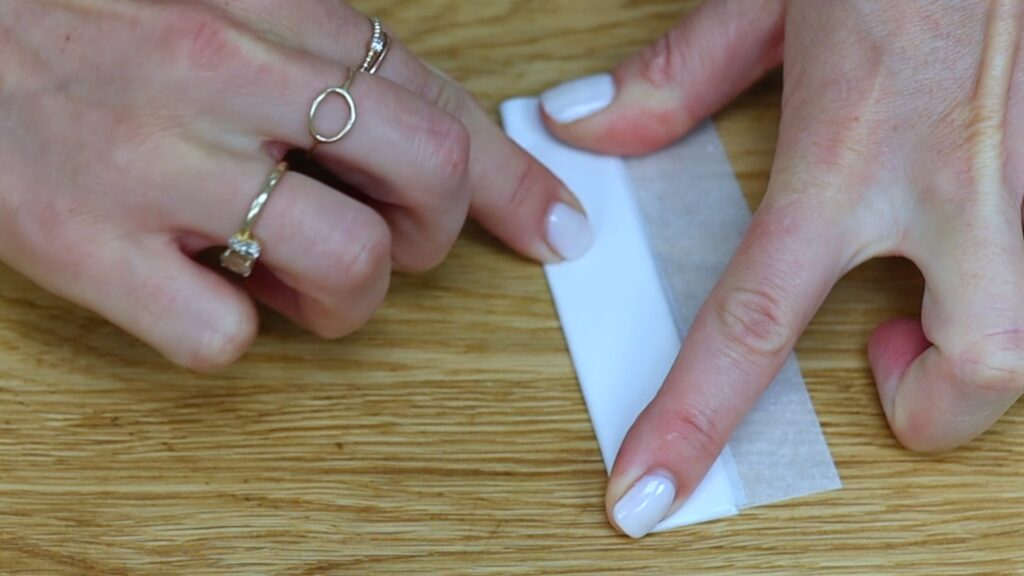 Wrap this homemade stencil around the chilled cake again and poke a pin or a toothpick through the points where the creases meet. When you peel the parchment off you'll have a perfectly symmetrical pattern to pipe onto! I love cake decorating tips like these, which don't require buying expensive tools.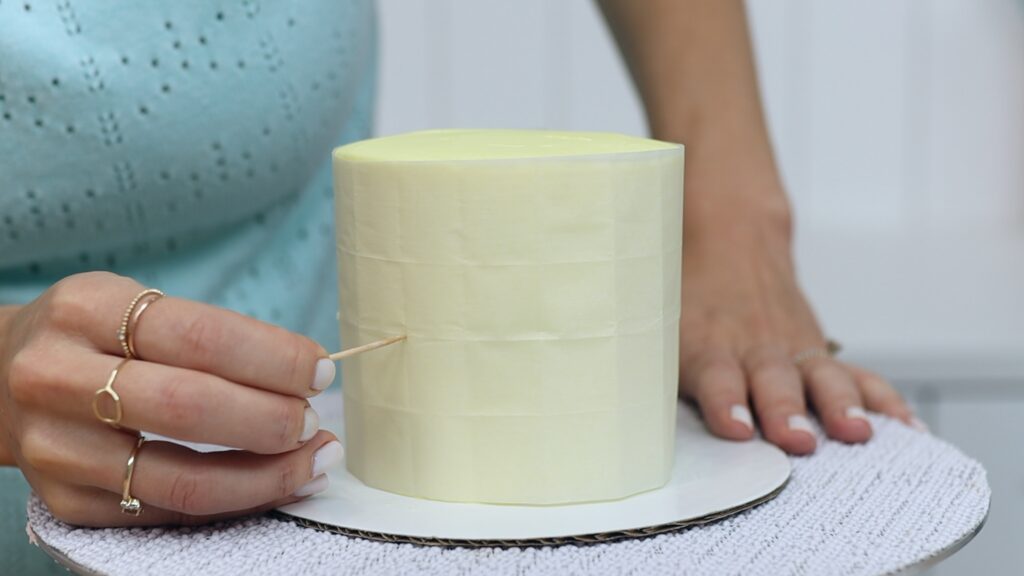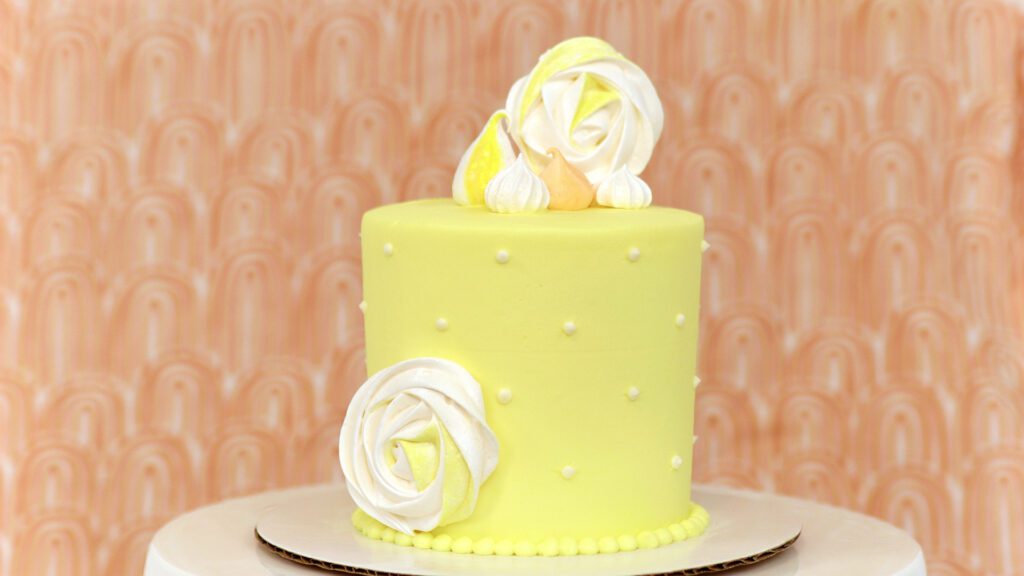 #7 Cake toppers
Make your own personalized and affordable cake toppers with just chocolate and sprinkles! Melt some white or semi-sweet chocolate chips and then spoon them into a sandwich bag. Cut off a little piece from one corner to pipe through.
Draw your shape or number or design and tape put a piece of parchment on top. Then trace over it with the melted chocolate. It doesn't need to be perfectly neat and smooth but try to stay within the outline. Then pour sprinkles on top and they'll stick to the melted chocolate. Chill it in the fridge or freezer for a few minutes and then peel it off the parchment!
To turn this into a topper, squeeze some more melted chocolate onto the back and press a paper straw into it. When the chocolate sets it will be firm so you can push the straw into a cake to make a fun, colourful cake topper!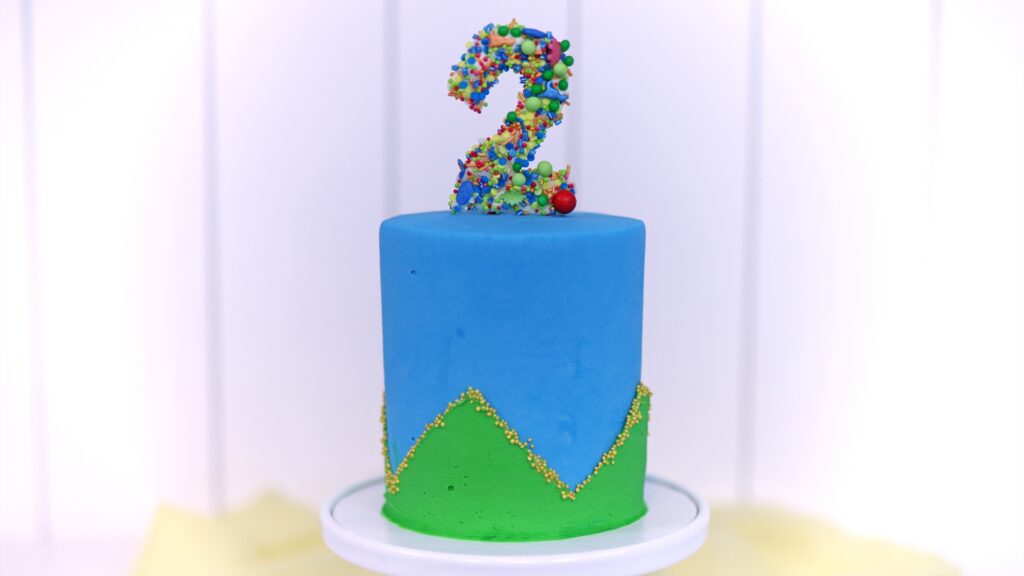 #8 Professional packaging
Cake decorating tips aside, let's talk about presentation. To make cakes look professional, instead of transporting your cakes in cake caddies, deliver them in pretty boxes. Choose a box with the same width as your cake board so that the cake doesn't slide around within the box. Make sure the sides are taller than your cake so that you can fit the lid on! Wrapping a piece of colourful ribbon around the box adds a nice finishing touch. If you buy boxes in bulk they're very affordable and really make your cakes look more professional.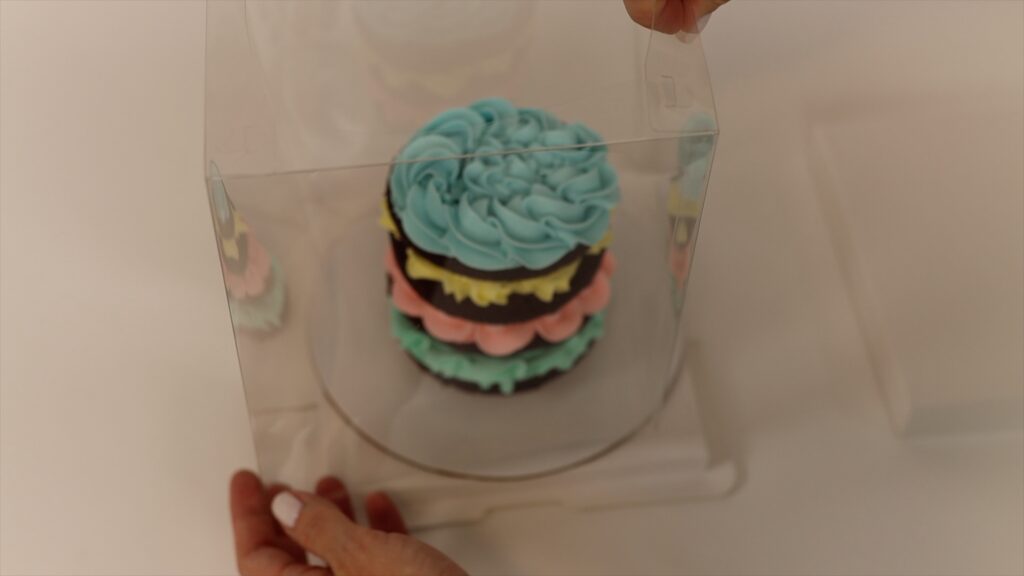 #9 Trimming cake layers
Let's compare two apparently identical cakes to demonstrate this next hack. As I'm assembling these cookie dough cakes, you can see that the layers look very different. On the left, I've leveled the layers so that they're flat but I've left the caramelized edges on each layer. On the right I've trimmed the top and bottom and the edges of each layer.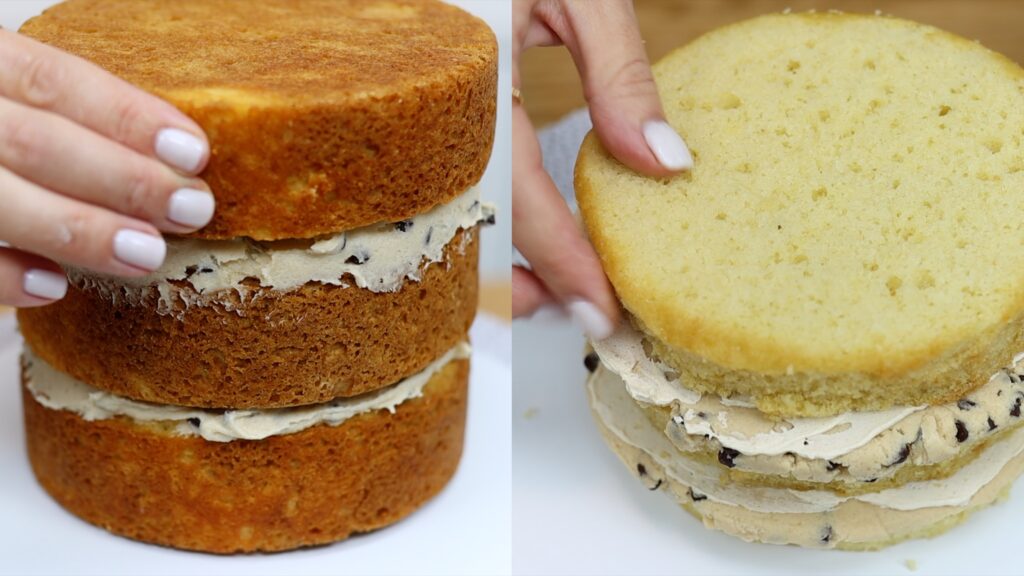 Before frosting the cake, the cake layers I didn't trim look neater. However, trimming the edges of the cake layers on the right makes a more tender cake to bite into. Also, the slices look much prettier without the darker edges around each layer.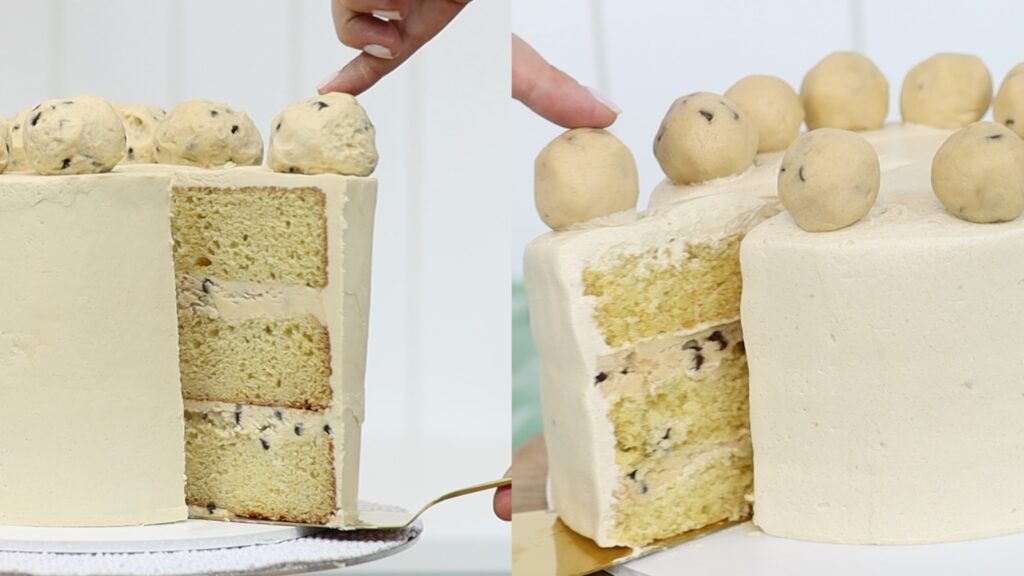 #10 How big should your cake board be?
The cake board is a very important part of your cake! Choose a cake board at least two inches bigger than the cake. This leaves space for frosting and decorations. The board in the photo below looks big enough at first...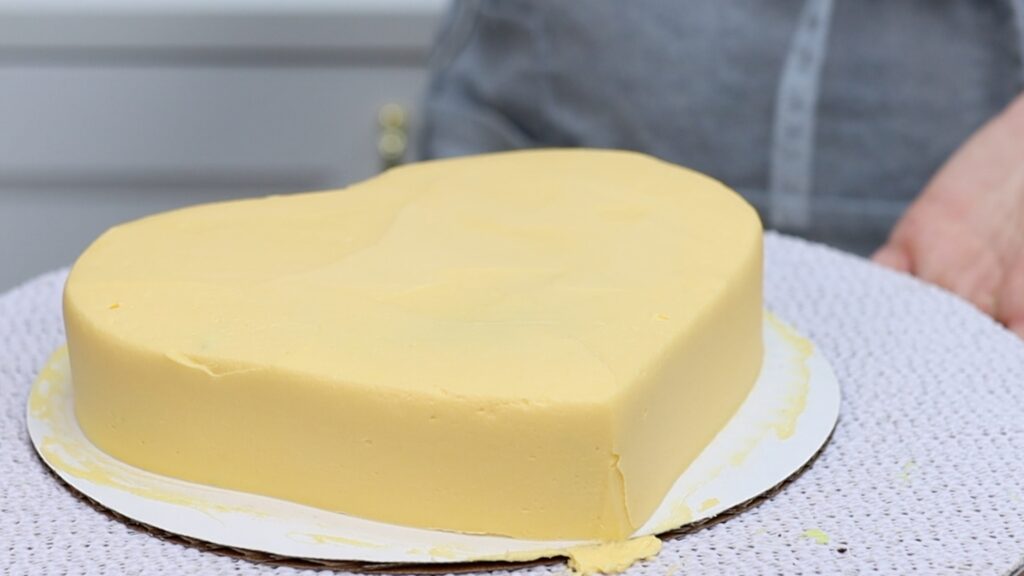 ...but after frosting the cakes, the bottom tip of the heart is almost poking over the edge of the board!
#11 What material is best for cake boards?
Cardboard cake boards are strong enough for small 6 inch cakes or for single-layer cakes. For larger and taller cakes, use a sturdier material like foam core or acrylic to support the weight. Thinner boards will buckle under the weight of the cake and cause your frosting to crack.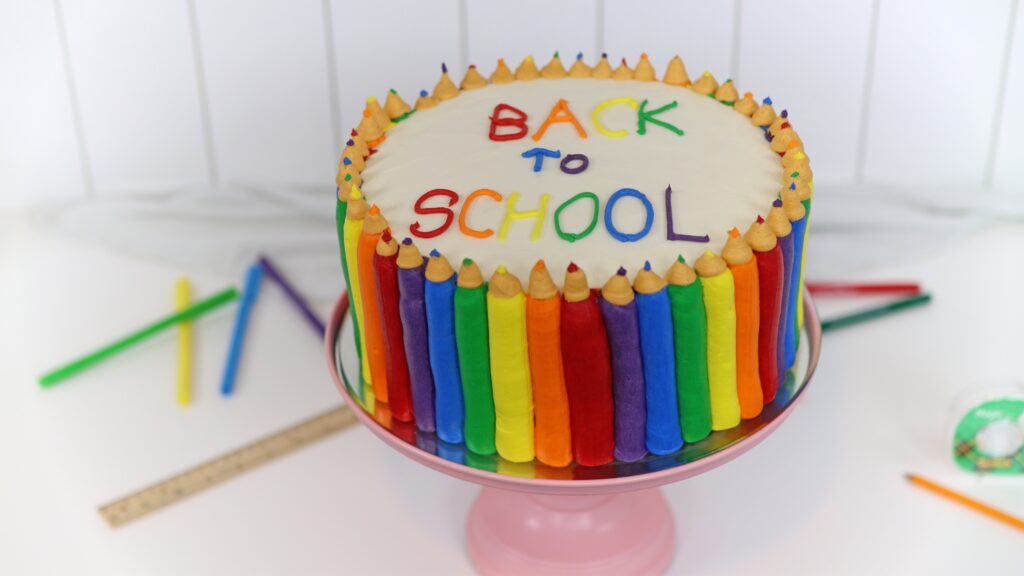 So, those are 11 cake decorating tips to make a cakes look professional. Check out my online courses for hundreds of cake designs and decorating techniques to take your cakes to the next level!
You can also watch a video on 11 hacks to make your cakes look professional: