In this tutorial I'll show you how to travel with a cake and how to prepare that cake in advance. I'll also show you how to add finishing touches at your destination with minimal tools and effort. Travelling with a birthday cake is much easier than you might expect!
Bake cake in advance
Baking a cake in your own kitchen is much more convenient than anywhere else. Also, doing this time consuming part in advance gets it out of the way before you travel. I've baked my Very Vanilla cake, scaling the recipe down to make two 6" rounds. After you bake your cake layers, turn them out onto a cooling rack and let them cool completely.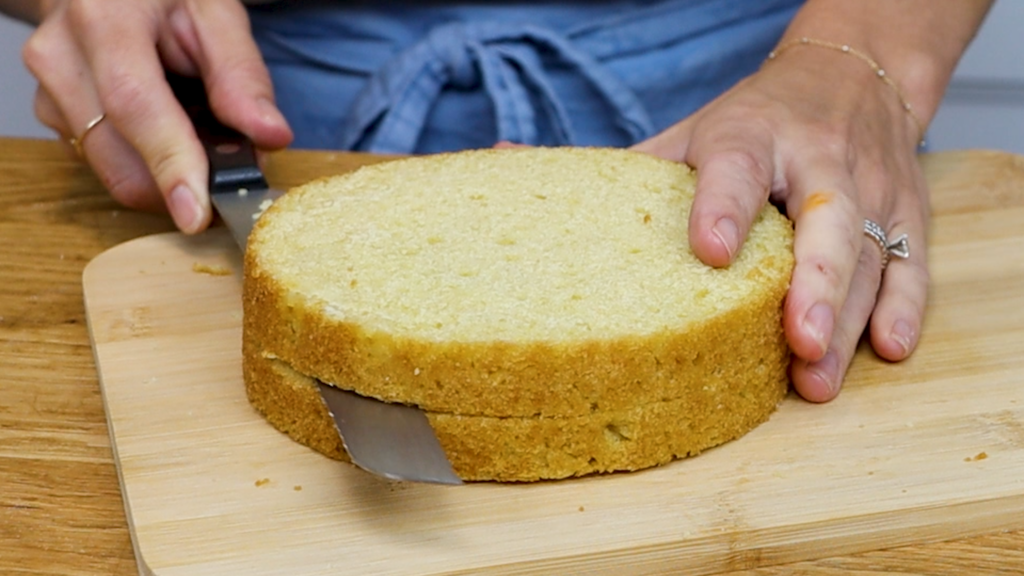 Level the tops of your cake if they're domed or if you don't want that caramelized crust. I'm dividing each cake layer in half across the middle using a serrated knife like a bread knife. This way I'll have four layers instead of two, which will give me more layers of filling as well.
Assemble cake in advance
Assemble your cake with whatever filling you've chosen. You can use buttercream like my 4 Minute Buttercream or anything else that's fine at room temperature for a few hours. I wouldn't use things like cream cheese frosting or lemon curd because those need to be refrigerated.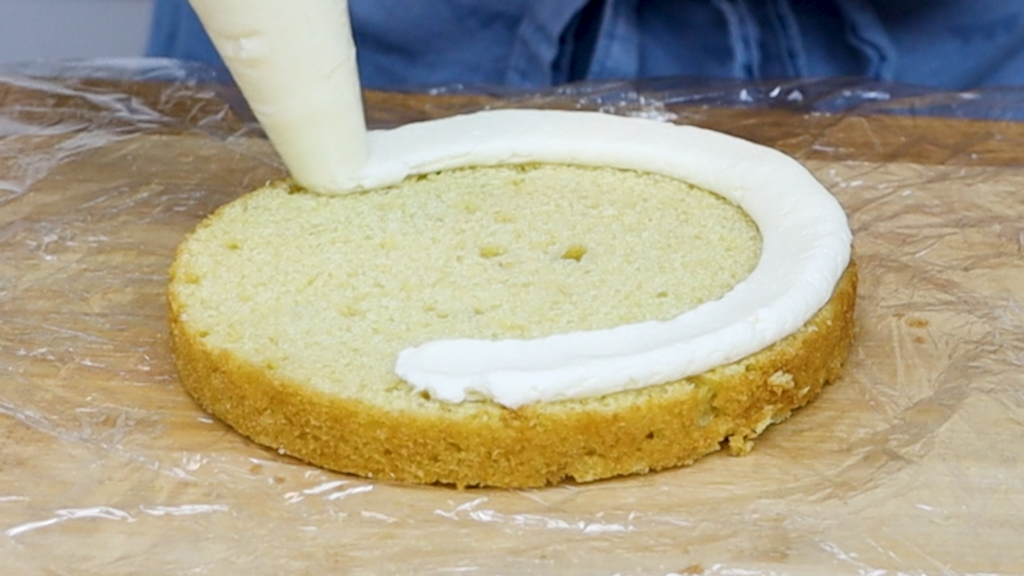 For any runny filling like this strawberry jam, pipe a dam first. A dam is a ring of buttercream around the outer edge of the cake that holds in your filling. After layering the cake, the weight of the upper layers won't push down on that filling and cause it to ooze out from between your cake layers.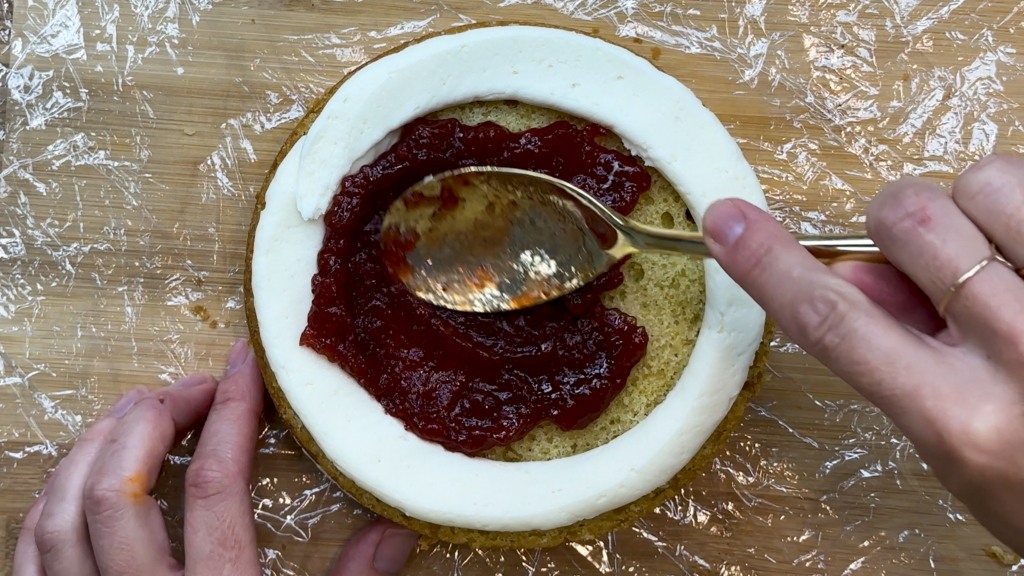 After assembling your cake, wrap the whole thing in cling film or Saran Wrap. Drop it down into one of the cake pans you used to bake the cake. It's fine if the cake sticks up above the top edge.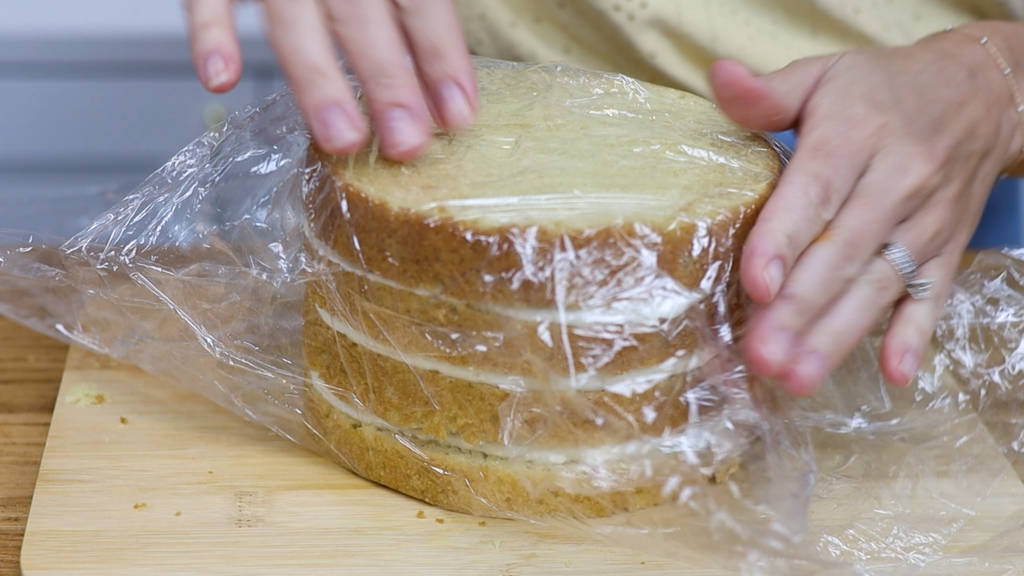 Turn your other cake pan over and put it over the top of the cake. This will protect it as you travel. If you want to take anything to decorate the cake at your destination, for example a piping bag of frosting ,put that on top of the cake before you lower on the top cake pan. Pad out any extra space with a kitchen towel so that the cake doesnt move around within the cake pans.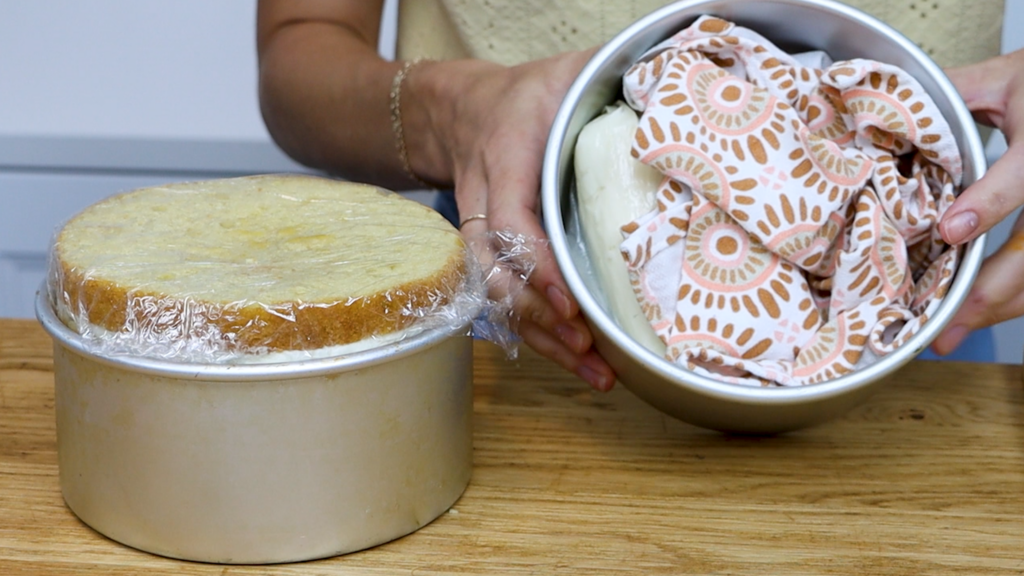 Now put the pans into the freezer until you travel. This will keep the cake fresh for up to two months so you can do this well in advance.
How to travel with a cake
When you're ready to travel, put the cake (still within the cake pans) into a cool box with an ice pack. The cool box will prevent condensation getting over anything else in your suitcase or your car. It will also allow the cake to thaw gradually. By the time you get to your destination it will be ready to decorate and serve. You can take it in a car, on a boat, on a plane or on a train!
Put the cake together at your destination
When you get to your destination the cool box will have allowed your cake to thaw gradually. It will be ready to add finishing touches and serve. At this point you can refrigerate it overnight if you like. Then unwrap the cling film or plastic wrap and put your cake onto a plate. If you've traveled with a piping bag of frosting, it will have also frozen and then thawed by the time you get to your destination. Now you can add some simple piping to the top of the cake to make it look a bit more elegant. I'm using a large round 1A tip to pipe these peaks on top.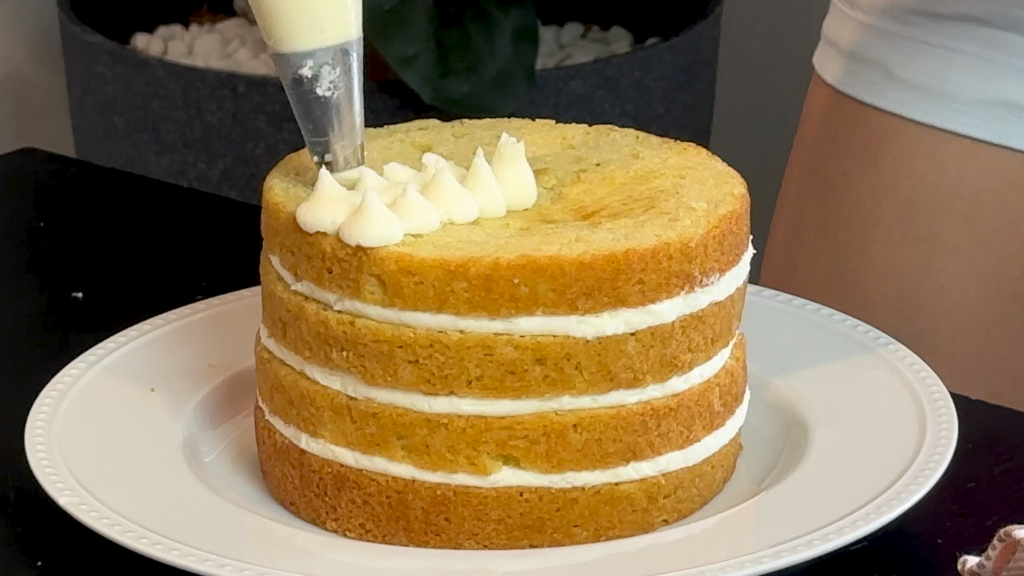 You could scatter some sprinkles on top or add berries, fresh fruit or flowers. If you want to frost the sides of your cake, check out this tutorial on how to get smooth frosting using no tools: no cake comb, no turntable, just a ruler! I also have a tutorial on how to make beautiful texture in frosting using a spoon in my tutorial on smash cakes.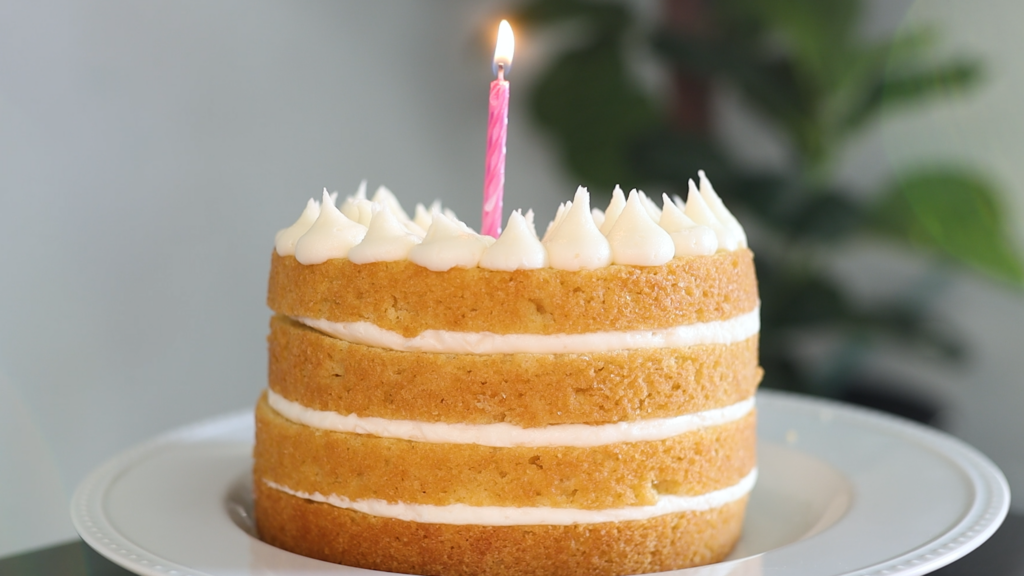 For more cake decorating techniques and designs, visit my cake school!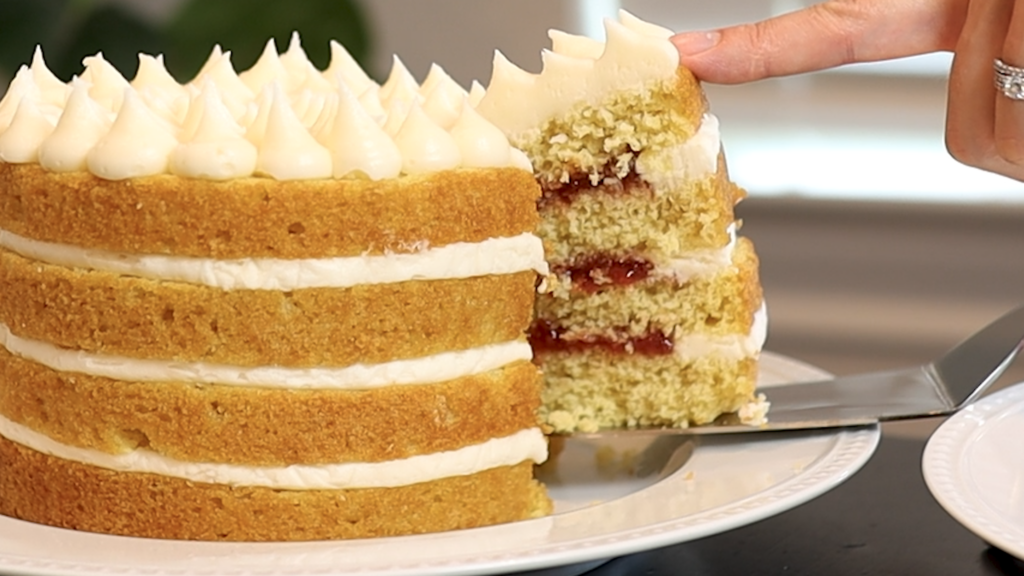 You can also watch a video of this tutorial on how to travel with a cake: