Project Description
Best Chocolate Buttercream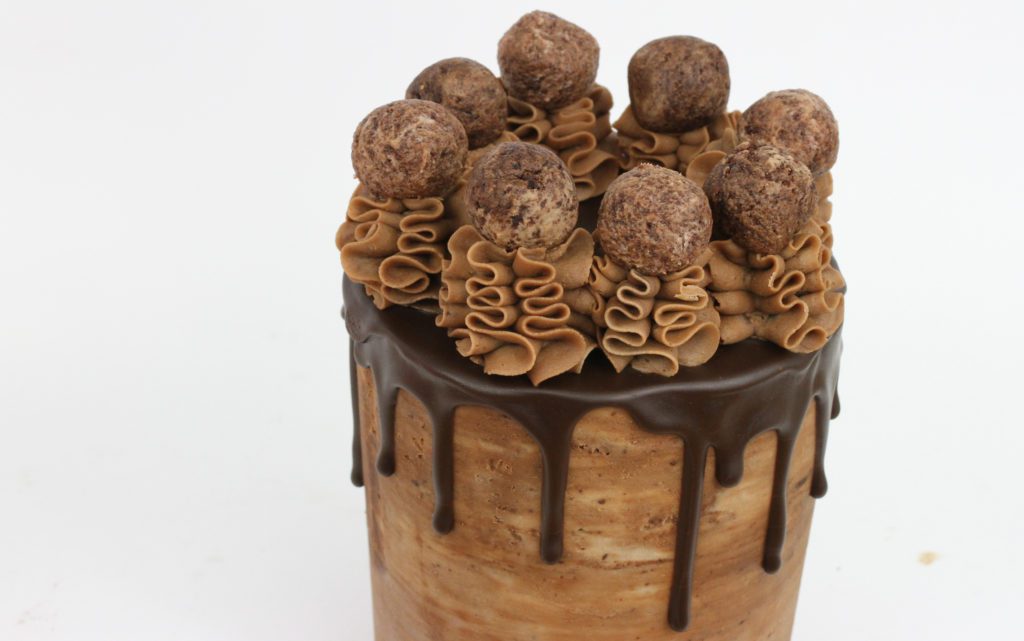 This buttercream is decadently chocolatey because it's made with two different kinds of chocolate: melted chocolate and cocoa powder. It's easy to make, stores well, and can be used for all sorts of frosting and decorating techniques!
This recipe makes 6 cups of buttercream, which is enough buttercream to fill and frost an 8″, 9″ or 10″ cake. If you halve the recipe you'll have enough buttercream to fill and frost a 6″ cake.
Ingredients
1/3 cup (35g or 1 oz) unsweetened cocoa powder
1/4 cup (60ml) hot water
3/4 cup (175g or 6oz) semisweet chocolate
2 1/2 cups (565g or 20oz or 5x4oz sticks) unsalted butter*
907g or 32oz (about 7 cups) powdered sugar
1/2 teaspoon salt
1/2 tablespoon vanilla extract

*If you use salted butter, omit the salt in the recipe
Method
Mix cocoa powder with hot water and stir until all of the cocoa powder has dissolved, to make a thin paste almost the consistency of melted chocolate. Leave it to cool.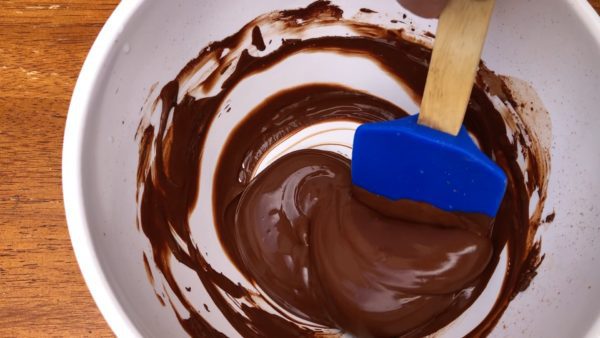 In a small microwave-proof bowl, measure out chocolate. You can use chocolate chips or chop up a bar of chocolate into roughly the same sized pieces so they melt at the same speed. Melt the chocolate in the microwave at 50% power for 1 minute and stir it until it's smooth.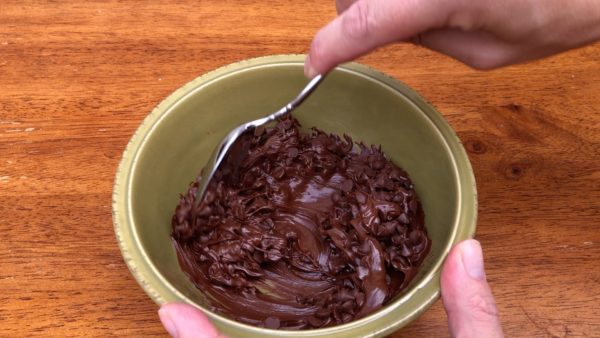 After stirring it, if there are still pieces of solid chocolate in it, melt it for another 30 seconds. When it's smooth, leave it to cool.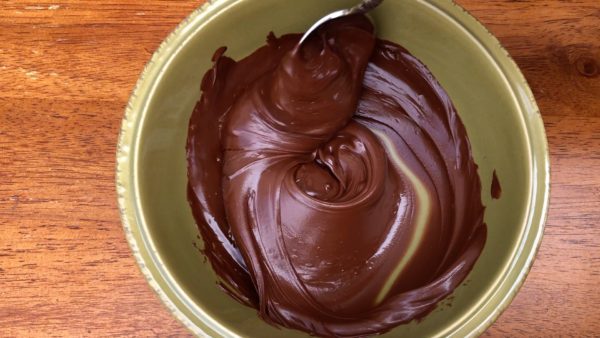 Make a batch of my 4 Minute Buttercream by mixing butter and powdered sugar in a mixer at the lowest speed setting until it's smooth. The butter must be at room temperature and I like to add the sugar a quarter at a time, mixing for 1 minute before adding the next quarter, so that the sugar doesn't spray out of the mixer when you turn it on. Add vanilla and salt and mix for a few more seconds to incorporate.
Add the cocoa powder mixture and melted chocolate to the buttercream and stir everything together.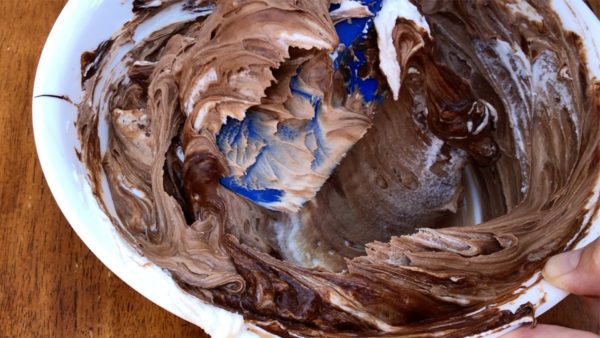 The buttercream should be silky smooth and easily spreadable. If it's too stiff and it pulls off the cake when you try to spread it on, add milk or cream a tablespoon at a time until it's the right consistency. I have a very detailed tutorial on my 4 Minute Buttercream with tips on how to check the consistency.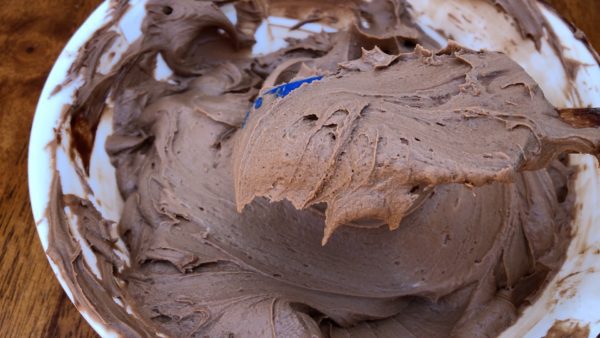 You can use this chocolate buttercream to frost a cake and I'll give you some fun variations on frosting techniques with this chocolate buttercream in a moment.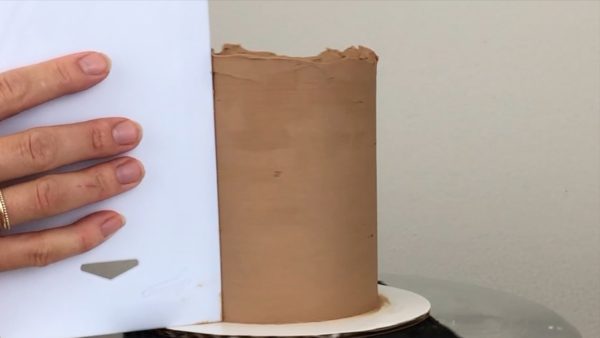 This chocolate buttercream also pipes well so you can use it with a 1M piping tip to pipe swirls or ruffles onto cakes or cupcakes to add texture and height to a cake like this: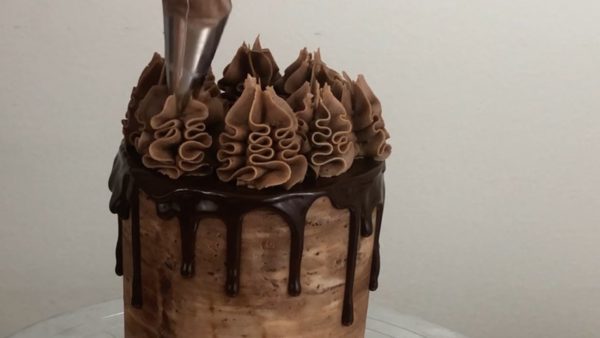 I love piping filling when I make mini cakes, using textured designs to add detail to the filling to make pretty naked cakes that don't need frosting:
You can pipe borders with this chocolate buttercream using a star tip like a 1M tip or an open star tip like a 4B tip: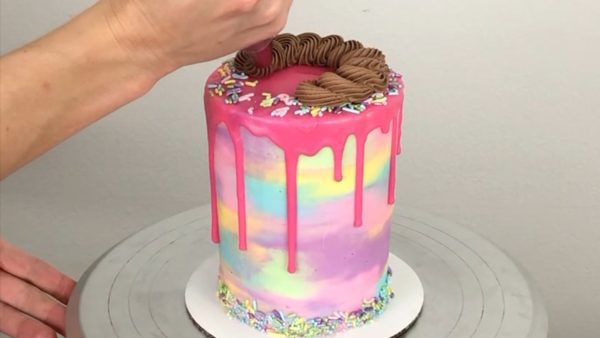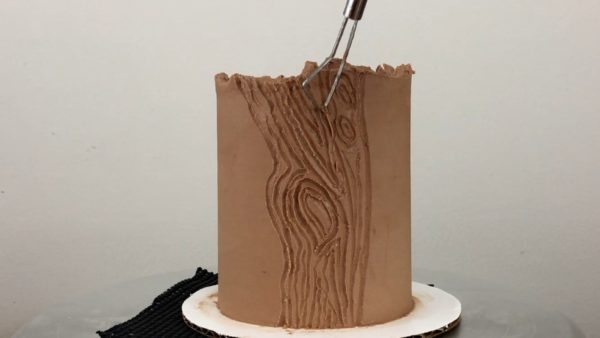 Brown buttercream might sound like a boring base for cake decorating but you can jazz it up by creating an ombre or watercolor effect. For a watercolor effect, don't mix the chocolate into the buttercream completely. Mix the cocoa powder and water mixture in first, to give the frosting a pale brown colour, and then pour the melted chocolate into the bowl but only stir it a few times to create a marbled look.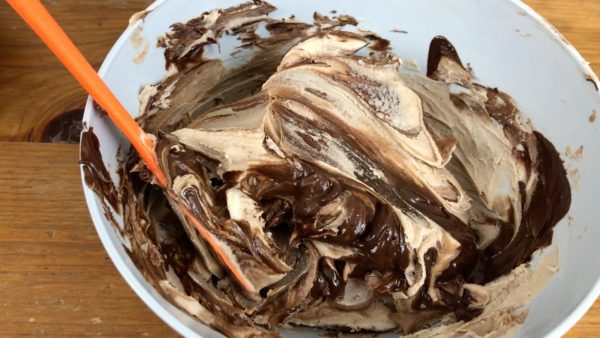 Spread the frosting onto your cake and you'll notice lots of different shades of brown in the frosting.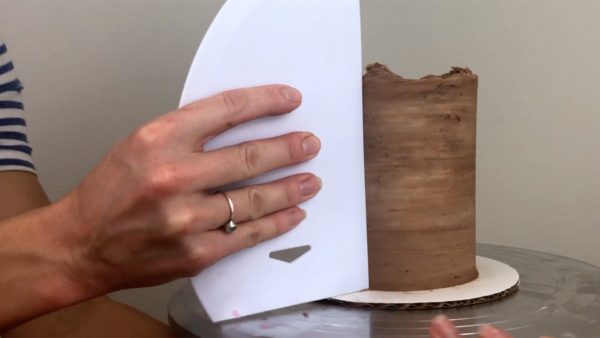 When you scrape the cake with a frosting smoother you'll take away the texture on the frosting and when the frosting is smooth, the watercolor effect will be even more dramatic!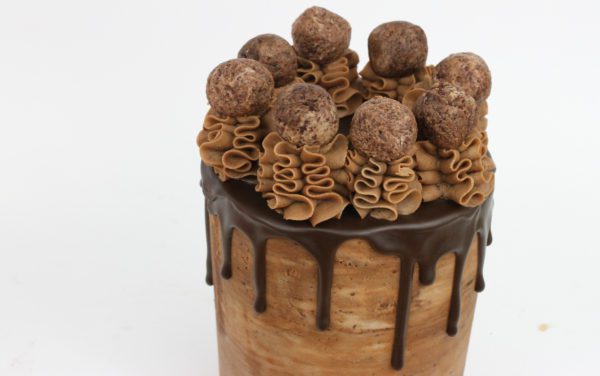 To change the shade of brown of your frosting, play around with the amount of chocolate you add to the buttercream. Divide your buttercream between bowls and add different amounts of melted chocolate and the cocoa powder mixture to each bowl.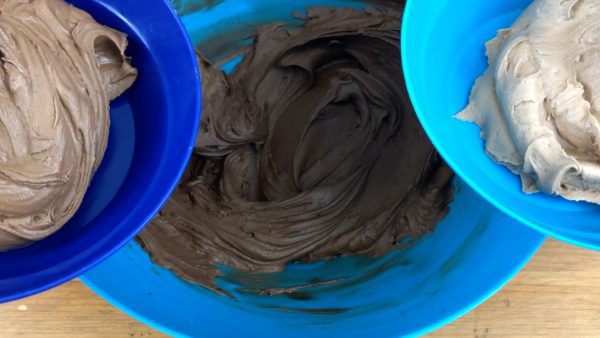 You can use these different shades of brown to vary the colours of chocolate buttercream filling between cake layers, or create a pretty ombre design on a cake!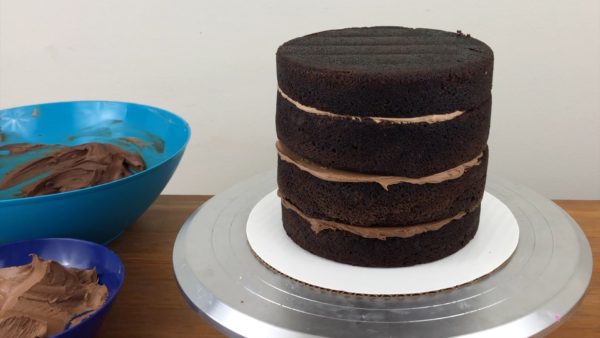 For ombre frosting, spread different shades of chocolate buttercream in layers around the sides of the cake so that the colour gets lighter or darker as you go up or down the cake. The bands of colour don't have to be neat with a straight division between each colour. By overlapping the colours you'll blend the shades of brown together, creating a more gradual gradient from light to dark brown.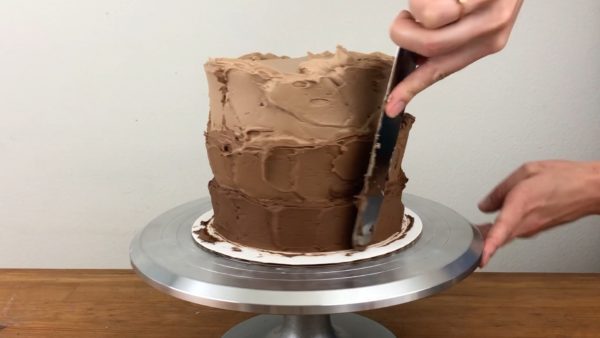 After each time you scrape around the cake with a frosting smoother, wipe the buttercream off your frosting smoother and use it to fill in any air pockets around the cake. By using this mix of colours four your touch-ups, you'll create less distinct divisions between the colours so that they blend together even more gradually.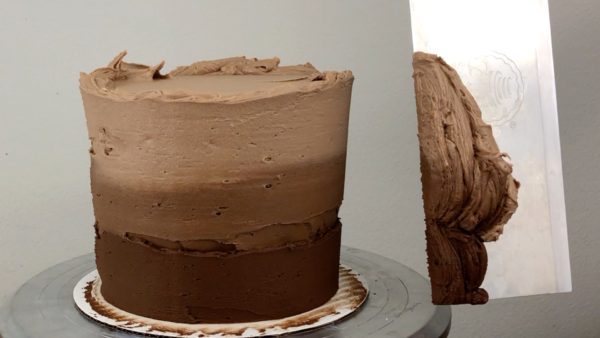 You can smooth the frosting with a frosting smoother or add texture with a textured cake comb like this pleated one, and the chocolate buttercream makes a cake that's beautiful as well as delicious!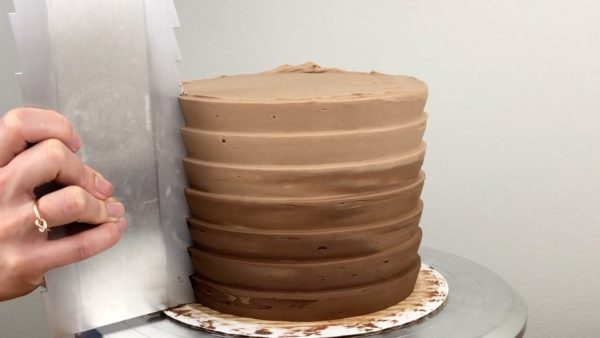 I store frosted cakes in the fridge until 2-4 hours before serving. To store just the chocolate buttercream, cover the bowl tightly with cling film or put the buttercream in an airtight container and leave it at room temperature for up to 3 days or in the fridge for a week or in the freezer for a month.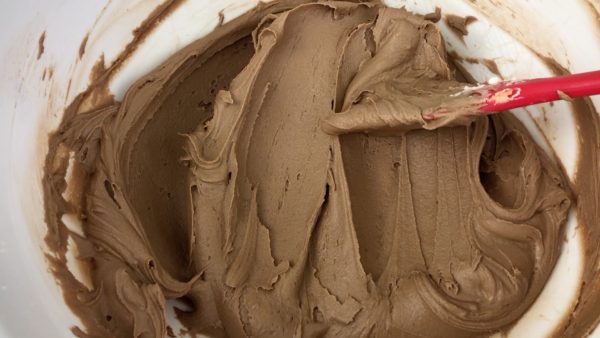 Take chocolate buttercream out of the fridge or freezer a few hours before you use it so that it can warm up to room temperature. Then stir it to get rid of any air bubbles. If there are any cold lumps of buttercream, leave it out for another hour and then stir it again. When it comes to room temperature, previously chilled chocolate buttercream will behave exactly the same way as freshly made buttercream!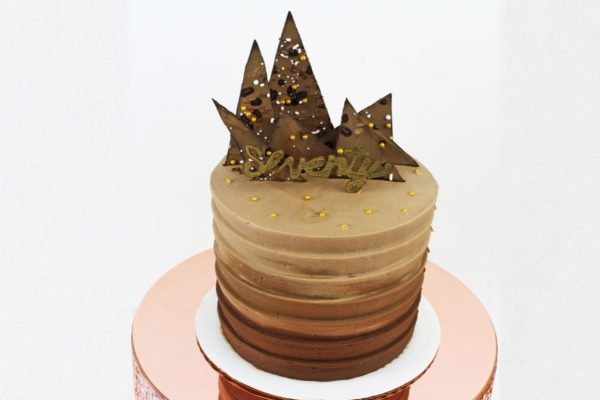 Another option for chocolate frosting is chocolate ganache and I have a detailed tutorial on 4 Ways To Use Ganache.
If you're looking for more information on how to make, troubleshoot, colour, store, and decorate with buttercream, check out my online course on The Basics of Buttercream.
I'd love to see the cakes you make with this chocolate buttercream frosting! Please tag @britishgirlbakes in your photos on instagram so I can see your creations!
Here's the video version of this tutorial:
Emily
2021-05-01T17:40:48-07:00